So I finally ponied up the money for a PlayStation 4. The first game I bought was Arkham Knight, the long awaited finale to the hit video game series. As I played through it, I thought about how truly wonderful this series has been, and I decided to do an in-depth look at each of the four games and talk about why they're so great and what makes them so successful. Because I honestly love every one of them (yes, even Origins; we'll get to it).
But this isn't going to just be a love fest; we'll talk about the negatives, as well. These games are strong entries into the video game medium on their own, but I don't think it's a stretch to call them the greatest superhero games of all time. And they've changed the way video games play, from their combat style to the integration of stealth gameplay to their eventual escalation into open world glory. We'll watch the slow progression from the confined terror of Asylum to the high-speed auto racing of Knight.
Note: If you haven't played these games, I would do so before reading my articles, because I'm going to spoil e-v-e-r-y-t-h-i-n-g.
If you don't feel like tracking down the originals, you can get Asylum and City in gorgeous HD as the Batman: Return to Arkham collection. And now, on with the show.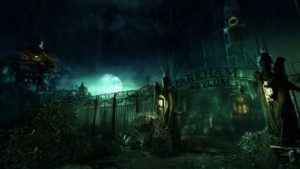 Source: batman.wikia.com
1. I'm Not Locked In Here With You…
For those who haven't played and are still sticking around, Batman: Arkham Asylum follows Batman as he arrives at the prison to drop off The Joker after a night's fighting. As The Joker's transferred in, he and Harley Quinn initiate a breakout, freeing the prisoners and sending the Asylum into chaos. Batman must save the day by stopping the Joker before it all gets out of hand.
Setting the first game in an enclosed environment was an incredibly solid choice. Arkham Asylum is a great setting, and the sense of creepy visual design that's maintained in the game makes it feel inherently antagonistic.
Also, because of its size, you get intimately familiar with it as time progresses. You repeatedly return to familiar locations and the island consistently changes in lasting ways. It also creates an environment that's its very nature filled with criminals and free of random innocents.
This is something the following games would have to go to extreme lengths to justify.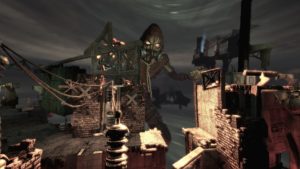 Source: youtube.com
2. Player Beware; You're in for a Scare
The one thing that Arkham Asylum does better than any of the follow-up games is set a tone.
Asylum is truly scary in a way the other games can't match. And that comes down to villain selection. Joker is obviously there, but the others are meticulously chosen. Killer Croc is a monster, and is presented as such; Bane's first appearance is pure body horror; Ivy is unsettling and inhuman; Zsasz is scary in a way that's REALLY human…and Scarecrow?
Dude's whole deal is being scary. There's a reason the Scarecrow nightmares were the most iconic things about Arkham Asylum. They're really incredible. The first scared the hell out of me on my first play-through, the second is elegant and creepy, and the third is unsettling as all hell. They're pretty great pieces of game design that feel challenging and inventive.
The game has a lot of very effective scares. Stalking Killer Croc through the sewers, watching Bane get pumped up for the first time, seeing Scarecrow pop out of the body bag…they're all burned into my head forever.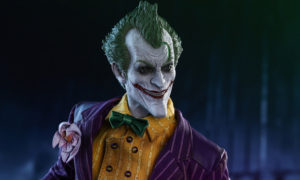 Source: comingsoon.net
3. BTAS Represent
One of the smartest things Arkham Asylum did was build off the goodwill and reputation earned by the all time classic Batman the Animated Series.
As they created the game, they recruited series writer Paul Dini to help pen the story and cast Kevin Conroy and Mark Hamil as Batman and The Joker, respectively.
As both actors had extensive experience in playing these characters, they were able to enter the roles with a depth and understanding most people never reach. This is Hamill's virtuoso performance as The Joker, and he lends the role such fun and menace with every breath. He looks truly scary, and he's an imposing villain just by being crazy.
By building off an existing template, the game foregoes the need for tons of pointless introductions. We know who all these characters are; just let us have fun. And the game does. With gusto.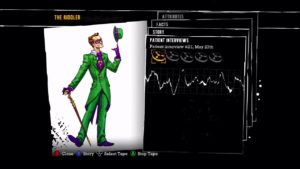 Source: youtube.com
4. Riddle Me This, Batman?
Arkham Asylum even did brilliant little things that went mostly unrecognized by the gaming world at large. For instance, The Riddler's puzzles.
Now, most of them just add collect-a-thon gameplay into an action adventure title – which isn't exactly new, but using The Riddler to facilitate these elements integrates them seamlessly. Plus, it adds tons of fun puzzles that you can either do or ignore, with a cute little reward at the end for 100 percenting the whole thing.
But the innovative thing about The Riddler's stuff is in the actual riddles. Most relate to finding items related to classic Batman characters and scanning them. That's right, they game-ified Easter eggs. Yeah, now instead of hiding fun villain-related Easter eggs that most of the audience misses, the game lets you know they exist and then dares you to find them.
It may seem small, but it's the kind of subtle detail that contributes to the overall experience.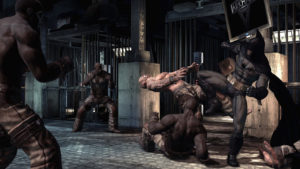 Source: amazon.com
5. Biff! Bam! Pow!
It's not an exaggeration to say that Arkham Asylum's combat engine revolutionize third-person action games as we know them.
That one button to attack, another to counter combat style has been stolen and reused a million times by now. And there's a reason: It feels great.
It's so smooth and stylish and incredibly fun. It makes you feel like Batman to take on a roomful of thugs all at once. And, while additional games would make the system even better, most of it's already there from the start. There are enemies you can't counter, enemies you have to stun first, enemies who need to be flipped over when they charge, and more. Every brawl makes you think. You can't just hammer the attack button mindlessly while looking away from the screen.
Timing your counters and moving around the room to clear out the most important targets is critical. And trying to keep the guns out of the hands of enemies by focusing on their locations adds a fun change of pace to the objectives of a fight. It's just so elegant.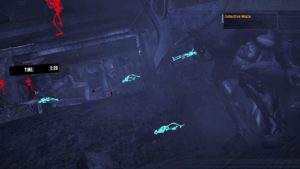 Source: youtube.com
6. Be vewy quiet! I'm Hunting Cwiminals!
…But it's the stealth gameplay that absolutely effing changes the game.
The so-called silent predator engagements are beautiful sequences of gameplay that show off what can be done with a Batman game.
Classic stealth gameplay is combined with Batman's suite of gadgets to manufacture a streamlined experience. Descending from gargoyles to snatch up unsuspecting thugs, tricking armed henchmen into positioning themselves under destructible roofs, blowing up an explosive charge to drop several tons of plaster on their heads, snatching them off ledges, and leaving them dangling…You can do it all.
It flows naturally with the rest of the game into the ultimate Batman experience. A game where you can pick off enemies one by one until the last scared henchmen sees the bat descending from the sky like a bat out of hell is just perfection.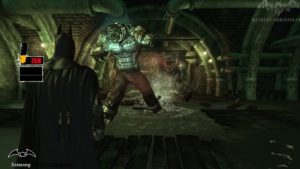 Source: youtube.com
7. Good Bosses
I've briefly touched on Arkham Asylum's boss battles, but I think they deserve a deeper look here.
The standouts are the Scarecrow fights and the battle with Killer Croc, both of which are super engaging, but for different reasons. The Scarecrow fights take place in the nightmare realm and test your platforming, stealth, and combat abilities to their fullest extents.
There's even more of this here than in the regular game, since the surrealist marketecture and landscape design caused by the nightmare provide unique jumping and grappling puzzles that would be otherwise impossible to realistically integrate. Using the Bat Signal to defeat Scarecrow is great symbolism and it allows the game to use the Bat Signal a little, when it wouldn't otherwise.
On the other hand, the Killer Croc fight is a version of the making Batman prey concept, but from a very different angle. In the Scarecrow boss fight, you can always see Scarecrow, towering over you. But Croc is lurking below, out of sight. You never know what direction he's going to come from. It's all suspense and dread, until that giant crocodile man leaps out of the sewers and tries to eat you.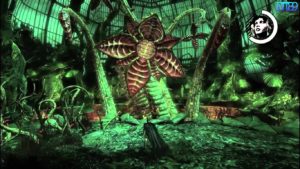 Source: youtube.com
8. Bad Bosses
Look, a retrospective means talking about both the good and the bad.
Not all of Arkham Asylum is perfect, and a few of the boss battles are good examples of this. For a game that's all about being scary and understated, that Poison Ivy fight sure is extremely silly. Jumping around trying to blow up a giant plant as it shoots lasers is sorta fun, but it's practically the last boss battle of the game, and it really doesn't deliver.
I understand why the game doesn't want to instruct you to punch a woman in the face (which is also why none of the four Arkham games featured a real Harley Quinn boss fight), but there had to be a better option than putting her in a ridiculous murder plant. But Little Miss Little Shop isn't exactly a fearsome or frightening antagonist.
And that's not even mentioning the final boss"¦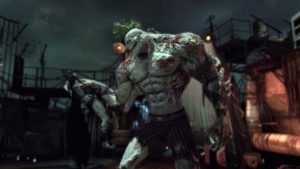 Source: smosh.com
9. The Ending is Bad
Okay, yeah, we kinda need to talk about this.
At the end of Arkham Asylum, The Joker finishes synthesizing Titan, a super-steroid that operates like Bane's Venom, only it's injected and much more intense. It turns him into a huge Mohawked monster, and Batman fights him. If that sounds kind of terrible, it's only because it's kind of terrible.
The fight isn't fun, it's kind of exhausting, and I totally understand why. All four Arkham Games know the truth: The Joker makes for a pretty bad final boss. He's not physically imposing. We'll talk about how they got around that in the followup games, but here they try to turn the Joker into a typical video game final boss and it falls flat on its face.
Dude looks like the Abomination from the Edward Norton Hulk. At the end, Batman sprays explosive gel on his hand and punches The Joker in the face so hard that it causes an explosion. Okay, that's awesome. I don't like this fight, but I can't deny that this is a great moment.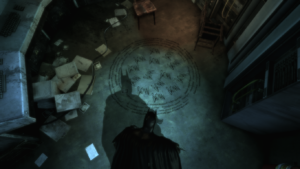 Source: batman.wikia.com
10. Side Questin'
Arkham Asylum may not have the plethora of additional tasks that its successors would have, but it definitely has some.
There's all the Riddler stuff we've already discussed, there's the audio logs, and then there's the secret diaries of Amadeus Arkham. Which. Are. Awesome. When pieced together, they go through the deep horror story of the founder of the Asylum and what drove him to his own madness.
When that beetle logo reappears briefly in Arkham Knight, it sends a chill down my spine. Most of the story comes from the best parts of Morrison's Arkham Asylum: A Serious House on Serious Earth and it's suitably great as hell. It's an excellent story of personal horror that doesn't feel the need to tie in pointless Batman characters to make it interesting. And it actually has a post-game payoff.
Admittedly, that payoff (the spirit of Amadeus Arkham possesses Warden Quincy Sharp) isn't really ever addressed again. But whatever, it's cool as hell in this game.
And there you have it: the game that started it all. Next time we do this, we'll be looking at the game that broadened the series' scope. From an Asylum, to something much bigger"¦