So I finally ponied up the money for a PlayStation 4. The first game I bought was Arkham Knight, the long awaited finale to the hit video game series. As I played through it, I thought about how truly wonderful this series has been, and I decided to do an in-depth look at each of the four games and talk about why they're so great and what makes them so successful. Because I honestly love every one of them (yes, even Origins; we'll get to it).
But this isn't going to just be a love fest; we'll talk about the negatives, as well. These games are strong entries into the video game medium on their own, but I don't think it's a stretch to call them the greatest superhero games of all time. And they've changed the way video games play, from their combat style to the integration of stealth gameplay to their eventual escalation into open world glory. We'll watch the slow progression from the confined terror of Asylum to the high-speed auto racing of Knight.
Note: If you haven't played these games, I would do so before reading my articles, because I'm going to spoil e-v-e-r-y-t-h-i-n-g.
If you don't feel like tracking down the originals, you can get Asylum and City in gorgeous HD as the Batman: Return to Arkham collection. And now, on with the show.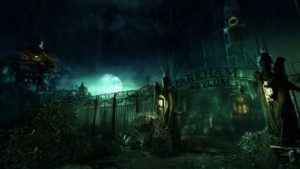 Source: batman.wikia.com
1. I'm Not Locked In Here With You…
For those who haven't played and are still sticking around, Batman: Arkham Asylum follows Batman as he arrives at the prison to drop off The Joker after a night's fighting. As The Joker's transferred in, he and Harley Quinn initiate a breakout, freeing the prisoners and sending the Asylum into chaos. Batman must save the day by stopping the Joker before it all gets out of hand.
Setting the first game in an enclosed environment was an incredibly solid choice. Arkham Asylum is a great setting, and the sense of creepy visual design that's maintained in the game makes it feel inherently antagonistic.
Also, because of its size, you get intimately familiar with it as time progresses. You repeatedly return to familiar locations and the island consistently changes in lasting ways. It also creates an environment that's its very nature filled with criminals and free of random innocents.
This is something the following games would have to go to extreme lengths to justify.