The Marvel Cinematic Universe, once just a dream or a fantasy, is now ten years old. A decade of landscape changing films, creating an entirely new vocabulary for how we talk about movies and movie franchises. The leader that everything else is chasing. To some, that all might sound like hyperbole, but this last weekend saw the release of The Nun, a shared cinematic universe entry based on the case files of two ghost chasing hucksters who profited off of delusion. If you think the Conjuring cinematic universe (or the DCEU or the Dark Universe or whatever Sony's doing with Spider-Man) would exist without the MCU's example, you're just incorrect. But the MCU succeeded not because it was all connected, but because it found a way to bring the characterization and heroism of the source material to life. The heroes of the Marvel Universe have truly been brought to the big screen, but how did that happen? And which ones are the greatest? Let's take a look.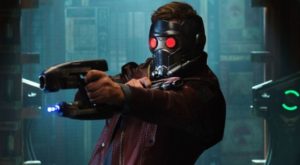 Source: comicbook.com
10. Star-Lord
It's weird to think of a time when Star-Lord wasn't a massively popular and iconic fictional character.
But there was such a time, when you had to be a huge nerd to know about the cosmic cyborg pirate astronaut. But now he's been simplified and streamlined into a version everyone can enjoy without a thorough Wikipedia dive. The MCU version of Star-Lord is a perpetual teenager, a man trapped in a terminal state of arrested development with a space ship and a laser gun. He's a rogue and a hero, and totally keeps the space pirate thing going.
It's crazy just how solidly defined the MCU version of the Guardians is. It has a defined aesthetic and design sensibility that stands apart from other Marvel movies. And Star-Lord owned everyone's hearts from the first second he was on screen.
The opening of Guardians of the Galaxy is one of the fastest I've ever fallen in love with a movie and its characters.