The Marvel Cinematic Universe, once just a dream or a fantasy, is now ten years old. A decade of landscape changing films, creating an entirely new vocabulary for how we talk about movies and movie franchises. The leader that everything else is chasing. To some, that all might sound like hyperbole, but this last weekend saw the release of The Nun, a shared cinematic universe entry based on the case files of two ghost chasing hucksters who profited off of delusion. If you think the Conjuring cinematic universe (or the DCEU or the Dark Universe or whatever Sony's doing with Spider-Man) would exist without the MCU's example, you're just incorrect. But the MCU succeeded not because it was all connected, but because it found a way to bring the characterization and heroism of the source material to life. The heroes of the Marvel Universe have truly been brought to the big screen, but how did that happen? And which ones are the greatest? Let's take a look.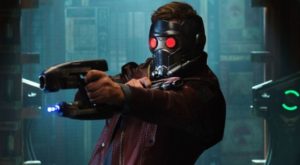 Source: comicbook.com
10. Star-Lord
It's weird to think of a time when Star-Lord wasn't a massively popular and iconic fictional character.
But there was such a time, when you had to be a huge nerd to know about the cosmic cyborg pirate astronaut. But now he's been simplified and streamlined into a version everyone can enjoy without a thorough Wikipedia dive. The MCU version of Star-Lord is a perpetual teenager, a man trapped in a terminal state of arrested development with a space ship and a laser gun. He's a rogue and a hero, and totally keeps the space pirate thing going.
It's crazy just how solidly defined the MCU version of the Guardians is. It has a defined aesthetic and design sensibility that stands apart from other Marvel movies. And Star-Lord owned everyone's hearts from the first second he was on screen.
The opening of Guardians of the Galaxy is one of the fastest I've ever fallen in love with a movie and its characters.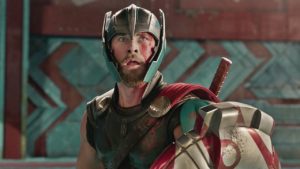 Source: eblnews.com
9. Thor
To be perfectly honest, I always thought Thor would be the hardest character to pull off in live action.
Not because he's bad, but because he's so specific and rides on the line of ridiculousness. He's a norse god. Who hits people with a hammer. And speaks in faux-Shakespearian dialect.
Look, I love that but it's so darn silly on every conceivable level that it shouldn't work. But they gave it to Kenneth Branagh who just likes making for-real Shakespearian epics and knew how to pull that into his superhero movie. People dump on the first Thor unfairly, I'd argue. But we can all agree that he more than came into his own in Thor: Ragnarok. Because holy heck if I never thought we'd get big Asgardian Thor, I one hundred percent thought we'd never get big cosmic Kirby/Simonson Thor anywhere near a movie theatre screen.
Holy crap though, we did.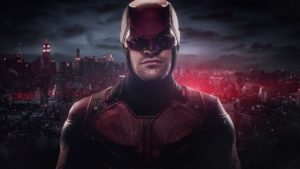 Source: newsweek.com
8. Daredevil
Matt Murdock is an all time great Marvel character.
Like, he might not be the most popular or famous but he's had, arguably, the most number of incredible runs by talented creators. And so he made sense as the first Netflix Marvel show to introduce a darker and grittier tone. And they nailed it. Charlie Cox is flawless casting and feels more like Daredevil than anyone I've ever seen. He's smarmy and swashbuckly but also brooding and gritty. His Matt Murdock is lovable and sexy and his Daredevil is determined and violent.
I remember seeing that first poster of Matt Murdock smirking at the camera with bloody knuckles and thinking "holy crap. They nailed it." Also, I'll say it, I like the red Daredevil costume more than the mask over his eyes one. That was my one complaint for the first season, put him in his real clothes. His name is already Daredevil, make him look like Daredevil.
And they did.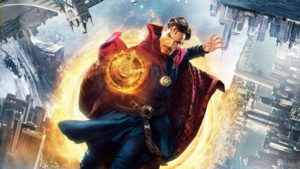 Source: bearcastmedia.com
7. Doctor Strange
I can't help it, I really love Benedict Cumberbatch's Doctor Strange.
His solo film is a movie my girlfriend likes to put on in the background a lot so I've seen it all the way through a couple of times and I just like it more and more every time. It's visually beautiful and it does something no other MCU movie except Spider-Man: Homecoming has done: it makes a movie about why a superhero won't kill.
And even Homecoming isn't that directly about it. But Strange's bringing of the "Do No Harm" code to the world of superheroing is all time great plotting and characterwork. And the film ends with him just being smart! And figuring out the problem!!! And not using violence!!!!!
God it's so great and the character really shines in all his subsequent appearances.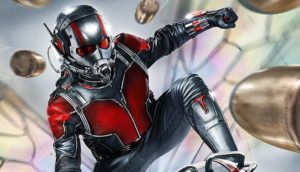 Source: 411media.com
6. Ant-Man
Paul Rudd is my favorite. If his charm could be bottled, it would power the earth for a decade.
And he is the perfect choice for Scott Lang. I remember when the Ant-Man movie was do to be released and people were clowning all over it. "lol, Ant-Man? What a silly idea!" and then Marvel basically came out and said "yeah it is. That's why it's fun."
And it was! Ant-Man is such a charming, fun movie that it's become one of my secret favorite MCU flicks. One I just like to slap on in the background and let play. It's funny and entertaining and has a lot of really cool set pieces. Lang popped up again in Civil War, where he and Spider-Man co-stole the show, and then his two-hander with the Wasp was a fun small breath of air after the mega blockbuster than was Infinity War.
Scott Lang may be small, but he has a big place in our hearts.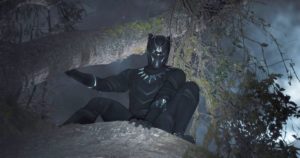 Source: huffingtonpost.com
5. Black Panther
Oh heck yes, I'm so happy they nailed this character and movie as hard as they could.
Black Panther is such a cool character and they definitely carried that through. He's like African techno Batman but also a king. That rules so hard. And all of those conflicting elements came together beautifully in his feature film this year.
The spy thriller meets political drama turned, yes, superhero movie was praised and beloved by the majority of audiences and critics, me included. But Chadwick Boseman brings so much regal class and wry humor to his character, both in his solo film and in the previously released Captain America: Civil War. He's charming and commanding and cool as all hell.
People want to be the Black Panther because he's everything we usually aren't: brave, noble, kind, and understanding.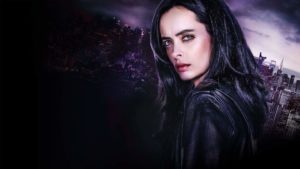 Source: mcuexchange.com
4. Jessica Jones
Netflix's best Marvel hero deserves a slot on this list.
Jessica Jones is a rarity: a completely original, recently (ish) invented marvel character who caught on and became popular. She's a private eye and a damn good one at that. And she transplanted to the screen incredibly well, partially because she was already in a Marvel MAX title, so swearing already sounds natural coming out of her mouth.
And with the lack of female lead characters in most of the MCU, Jessica is unquestionably the best. She's one of the deepest characters with one of the best villains and a real good set of personal motivations to pull from.
Jess rules pretty goshdarn hard, even if those wouldn't be the words she'd use to describe it.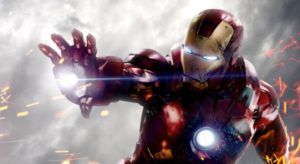 Source: wegotthiscovered.com
3. Iron Man
It's amazing just how formative Iron Man was.
For a film that built off of decades of super hero films, it also perfected the formula for making them work it's a huge, wonderful, special as all heck movie and introduced us to the classic character people love today.
And Iron Man was maybe at his most hatable at this point in time in the comics. He was a tin plated tyrant responsible for the first Civil War, he was the authoritarian head of SHIELD, he had just been Secretary of Defense for the Bush Administration, it was a bad bad time. But thankfully, Matt Fraction and Salvador Larroca came along to make the comics good and Marvel Studios knocked the film out of the park. But to be honest, without Robert Downey Jr., I don't think we have an MCU.
He was so perfectly cast and just owns every second of screentime in an undeniable way. He's an all-timer for superhero cinema and we're all lucky to have him.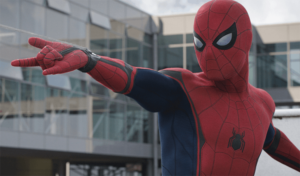 Source: n3rdabl3.com
2. Spider-Man
Peter Parker is the heart and soul of Marvel Comics.
And he's about as correct as possible in the MCU. Tom Holland is pitch perfect casting, really making Peter his own while bringing out an attitude unseen in filmic depictions of the character. He's my favorite movie Spider-Man for sure.
And because of the nature of the MCU he can be something no other movie Spider-Man was before: an upstart. He can be a kid among super powerful beings. He can look up to the heroes and try to be a hero. He can be a hero while still being a small scale hero. And that's why Homecoming is such a great film. It's a response to the original Iron Man, and is a movie about trying to be good and doing your best.
And that's the purest sense of Spider-Man one can get. And it's all onscreen with the MCU version.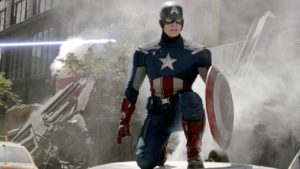 Source: dnaindia.com
1. Captain America
If Iron Man was the first MCU character, Captain America was the one that set the tone.
There's a reason people flocked to this depiction of the good Captain in droves. He captures the pure goodhearted desire for heroism that makes Captain America work. There's a lot of inherent silliness in a guy running around in the stars and stripes hitting people but Chris Evans's performance turns that silliness into earnestness in a way that makes him perfect for the part.
I'd put Chris Evans up there with Christopher Reeve as all time perfect casting for a superhero role. Like, it's impossible to picture Cap without his depiction immediately coming to my mind. Such a deeply good version of the character. Cap is the heart of the MCU, as he should be.
He is Captain America and when he walks in the room, you sit up and take notice. Sir, yes sir.