Theology in comic books is really weird.
There are tons of gods and famous mythological figures just bouncing around all over the place. Heck, the Avengers and the JLA both had myriads of gods and mythological beings on their teams and/or starting lineups.
But let's compare. Let's look at how each company took the same pantheons of godlike beings and integrated them in a completely different manner. Five sets of gods, two universes: Who did them better?
Is Marvel's Dark Avenger Ares better than DC's Wonder Woman Villain Ares? Mephisto vs. Neron? The New Gods and The Eternals? Does DC even have a Thor? We'll answer all these questions and more in a timely fashion (or a National fashion if you prefer, lol). But, all in all, let's buckle down, do some praying, and lock down the gods of the DC and Marvel universes.
Who's stronger, who's better, who's more accurate? Here comes the ultimate showdown over who's more godly.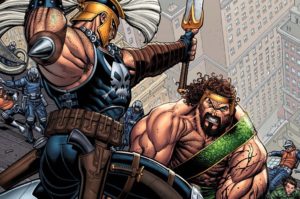 Source: houseofgeekery.com
10. Marvel's Olympus
A recurring theme that we'll see throughout this whole thing is that Marvel's gods are presented more like aliens or dimensional travelers, while DC's gods are just straight-up gods.
And it's no different here. Marvel's Olympus debuted in the obscure '40s comic Venus, which stared the titular goddess. The 2000s series Agents of Atlas would eventually reinvent Venus.
But the Olympians' prominence would actually come when a very different character was introduced. Originally introduced as a friendly rival of Thor, Hercules later became an Avenger, and he remained one on an on-again, off-again basis for some time. Olympus would have loose ties with the Marvel Universe until the Japanese god of evil, the Chaos King, attacked and Zeus died in the ensuing battle.
Hera took leadership, and the rest of the gods spread across the earth, waiting for their time to return.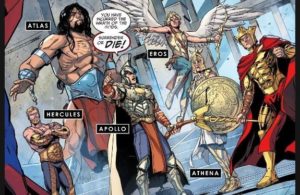 Source: quora.com
9. DC's Olympus
Mostly/entirely because of Wonder Woman, DC's Olympus is obviously much more prevalent than Marvel's version.
Oddly enough, both the Roman and Greek versions exist here, because they split themselves after Darkseid tricked them in order to dissolve their power. Wonder Woman came about on Themyscira as the daughter of Hippolyta and was shaped from clay. Or, I guess, now she's the daughter of Hippolyta and Zeus but that's a bad retcon that still kind of annoys me.
In this case, the most notable god is probably Ares, due to his role as a prominent Wonder Woman villain. His visual design is fantastic, and enjoys starting wars and trying to end the Earth. He's definitively more powerful than Marvel's version of Ares, just by virtue of having actual powers besides is very strong.
Neptune is also fairly significant, but largely as he relates to Aquaman and his lordship over the people of Atlantis.
Winner: DC