Folks, welcome back to this thing I keep doing, The First Ten. In this recurring segment, we look at the first ten issues of a comic book series. Sometimes a long running one, sometimes a flash in the pan. In the past, I've covered series like Immortal Iron Fist, Mister Miracle, Scud the Disposable Assassin, and Excalibur. But today, we look at the short lived X-Men spinnoff Rogue, centered around everyone's favorite untouchable mutant. The series ran a total of 12 issues, beginning in September of 2004 and ending August of 2005. I like Rogue fine enough. We will see, however, if this solo series is enough to sway me to the side of the die hard Rogue fans. Or, alternately, if it will reaffirm my disinterest in the fan favorite character. I like her better than Gambit! That has to count for something.
Oh also, minor trigger warning for sexual assault in this story. It's not super present but it's there and I wouldn't want anyone to be caught off guard by it.
Source for all images is www.comicvine.gamespot.com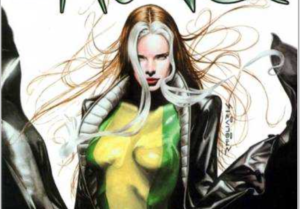 1. "Going Rogue, Part 1"
Writer: Robert Rodi
Artist: Cliff Richards
Well this was"¦ fine?
Like, it wasn't great but nothing terrible about it either. Just sort of decent. Rogue is feeling sad because she doesn't have a family other than the X-Men and because she can't touch anyone without knocking them out and stealing their memories. You know the drill. She goes out on a mission with the X-Men to recover a mutant child in Mississippi and stays behind to do recon and find the girl's family. But she runs into a young man who says he knows Rogue's long dead birth mother. And when Rogue touches him"¦ her powers don't work.
There are a lot of little nods at X-Men comics of the day here. Gambit is blind because of some event that I honestly know nothing about and the X-Team that Rogue is on is the Austen era squad. Havok, Polaris, Juggernaut, Iceman, Rogue are in story, and Gambit is out. Also, I need to draw attention to the fact that Iceman performs CPR on the Juggernaut while still in ice form, which just seems counterproductive.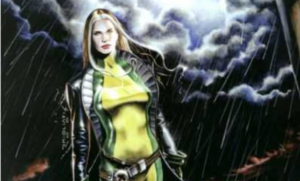 2. "Going Rogue, Part 2"
Writer: Robert Rodi
Artist: Cliff Richards
Aw hey, it's a nice little character piece!
After the weird encounter last issue, Rogue heads home to visit her father. But her father is nowhere to be found, and his house has been taken by Rogue's aunt, who helped raise Rogue and they do NOT have a good relationship. Apparently her father has bombed off somewhere and Auntie has no interest in helping her find him. They argue and eventually Rogue  has enough and grabs her aunt to get the information, but instead sees the events of their relationship from her aunt's perspective, finally understanding where she's coming from.
This understanding isn't helpful though because her aunt flips out because of the whole mutant thing and Rogue runs out. Outside though, she encounters someone: herself! What does this mean? We'll find out together next issue. Again, solid character piece and good backstory stuff.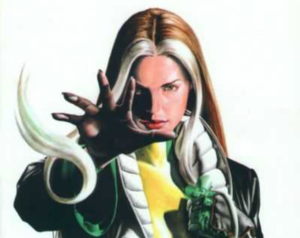 3. "Going Rogue, Part 3"
Writer: Robert Rodi
Artist: Cliff Richards
If this is what this whole series is going to be, I'm kinda down for it. Using Rogue as a vehicle for small character-centric stories. It feels incredibly current and not 14 years old. Oh god, 2004 was 14 years ago.
Anyway, in this issue, Campbell (you know, that guy Rogue could touch) takes her to the shaman who her mother and father visited before her mother disappeared. Just a shaman, not Shaman the Alpha Flight member. I know it's confusing. He's in a coma so Rogue touches him and absorbs his memories. This leads her to discover that her father was basically a cult leader and attempted to date rape her mother and the other women in the group. Rogue's mom flipped out and channeled the spirits on the other side of the void to attack all the men in the group before vanishing into the Far Banks forever.
Rogue is disturbed by this revelation about her father but before that can sink in, the spirits attack again. Rogue manages to fight them off, but Campbell is gone and the shaman has died. I'm enjoying this series so far for sure, but the undeniable fact is that Rogue is the least interesting character in each issue, outshone by the bit players who she absorbs memories from. We'll see if that continues next issue though.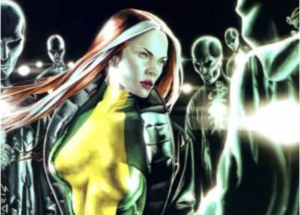 4. "Going Rogue, Part 4"
Writer: Robert Rodi
Artist: Cliff Richards
Hey folks, we got some Gambit in here now.
I am on record as hating Gambit but that's not entirely true. I hate Gambit 90 percent of the time but that remaining ten percent I super love him. The James Asmus series being the most recent example. But here, he's on the way to see Rogue using his charm to get places. Oh yeah, this was during one of those periods where they attributed Gambit's charm to an aspect of his mutant power? They tend to go back and forth on that a bunch. Personally I'm not a fan.
Also Gambit is blind still. Not sure why. Hang on let me look. Okay, so I found a thread from a guy who was also reading this specific series and was confused. It turns out Gambit went blind because he was in a fight and someone shot his charged up playing cards and they exploded in his face and blinded himself. That is incredibly dumb. There's a little bit of Rogue stuff, mostly sexual tension between him and Campbell but most of the issue is just Gambit traveling.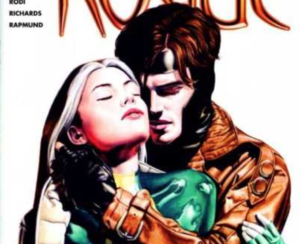 5. "Going Rogue, Part 5"
Writer: Robert Rodi
Artist: Cliff Richards
Whoo boy this sure was a comic book.
Gambit shows up to find Campbell in Rogue's room. He assumes the worst and tries to fight Campbell. His fighting method is just to swing randomly hoping he'll hit something and he does! He hits Rogue. Distraught, Gambit wanders into the street, is almost hit by a car, and runs into the weird ghost Rogue from the end of the first issue (I'll call her Anna for simplicity).  Gambit is a total idiot in this story. Meanwhile, Campbell explains his deal to Rogue.
Turns out, he's a mutant dream who can go into other people's dreams and cross into the Far Banks. And he needs Rogue to help him.  So Anna gets yanked into the dream dimension/Far Banks and Rogue agrees to follow Campbell into the portal"¦ just as Campbell tells her that she'll be fighting her mother on the other side.
Oops.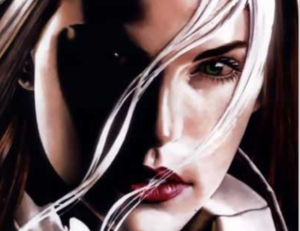 6. "Going Rogue, Part 6"
Writer: Robert Rodi
Artist: Cliff Richards
Well this was a whole lotta nothing to end the arc. I don't like being mean in these but I really just felt lost by the end of the story.
Essentially, Rogue, Gambit, Campbell, Anna, and Rogue's mom all square off in the dream world. And it turns out Anna is the Mom's dream but the mom is also a dream person, having died in the Far Banks some time ago. It's just kind of convoluted and messy and unsatisfying. The dialogue and art are all solid, and I think the last scene of the issue is fantastic, but overall the landing is not quite stuck. And that's a shame.
I think this arc is decent but not overall recommendable in specific. Which is a shame. But next issue we're switching writing and art team so maybe a change of pace will make a difference. Because for now I'd say that the worst parts of the arc were the parts that were actually about Rogue.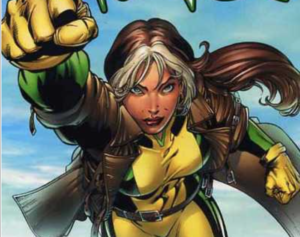 7. "Forget-Me-Not, Part 1"
Writer: Tony Bedard
Artist: Karl Moline
Well I'll be darned, this was pretty fun.
I have historically not been a huge fan of Tony Bedard as a writer but this was good. The story is simple: Japanese superhero and one-time X-Man Sunfire is revealed as being supposedly a traitor in a photo of him, Rogue and Mystique during Rogue's brotherhood days. But Rogue doesn't remember it being taken. And neither does Sunfire. So she heads off to Japan to help him solve this mystery.
But Silver Samurai, although pretending to be on Sunfire's side, is actually sabotaging him and working with Lady Deathstrike. I joked that this book is better the less it's about Rogue but it's kinda true. This is a great setup for an arc and I'm excited to see where it goes.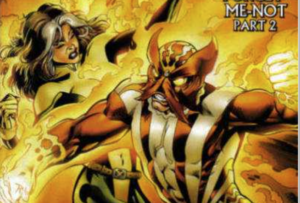 8. "Forget-Me-Not, Part 2"
Writer: Tony Bedard
Artist: Karl Moline
Good god I love Sunfire. He's such a phenomenally great character. Oh right, this is supposed to be a Rogue comic. And Rogue tracks down Sunfire and attacks him, convinced that he was the one who sicced Lady Deathstrike on her.
In order to find the truth, she touches him and absorbs his entire life's story. And we get a lot of wonderful Sunfire backstory. It is very good and I love it. Bedard writes a very good Sunfire and honestly it seems like he just wants to be writing a Sunfire book. The duo team up to figure out who's behind everything. Even though it's definitely Silver Samurai.
I will say that there are occasional lines and moments that feel like they don't represent Japanese culture that well or that accurately buuuuuuut as a white American I'm not gonna claim it's racist or problematic and will leave that to individual interpretation. Story's good so far though.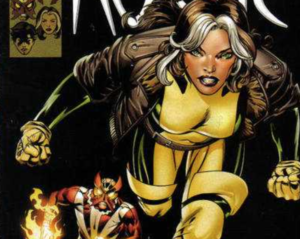 9. "Forget-Me-Not, Part 3"
Writer: Tony Bedard
Artist: Derec Donovan
Okay, we're stagnating a little here. So, this is probably due to a problem that is really common in early 2000s Marvel comics, it's called "writing for the trade". Essentially, this period of time was when the trade paperback market really took off, especially in bookstores and Marvel titles were essentially being written specifically to be collected in 6 issue installments.
Both of the arcs in this Rogue series are exactly six issues in length and both would benefit tremendously from being shorter and more condensed. In this issue, Rogue and Sunfire discover that Silver Samurai is evil now. and Silver Samurai takes over all of Japan's crime syndicates. That's not a ton of plot, but it still fills a full issue.
And we have three more issues in the arc (only one of which I'm covering.)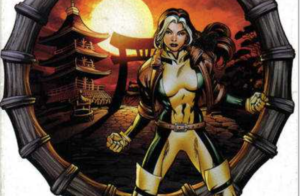 10. "Forget-Me-Not, Part 4"
Writer: Tony Bedard
Artist: Karl Moline
And with this, we wrap up our look at the first ten issues of Rogue.
This issue follows Rogue and Sunfire challenging Blindspot, the secret operative working with Lady Deathstrike and Silver Samurai. As it turns out, she has the memories of what Sunfire and Rogue did with Mystique in the past and gives them back to Rogue. The trio were brought on to take care of some business and did so, with Rogue stealing Sunfire's powers and using them to set fire to a whole buncha ninjas. That part is fun. But, like, this should be the end of the arc. And there are still two parts left. Writing for the trade, folks.
But this issue is again good! The sad truth of this series, and maybe the reason it was cancelled, is that it's at its most interesting when it's focusing on characters who are not Rogue. And that might be why I've never loved Rogue.