Well, Legends of Tomorrow is coming up soon, so let's talk about Hawkman. I like Hawkman A TON. I've been tracking down the Geoff Johns/ James Robinson run for some time now, I always enjoyed his time in the JSA, and I've been trying to put together a run of Hawkworld (I love what I've read already). But even as a guy who really likes Hawkman, I have to admit there's a lot about him that's kinda terrible. And let's be honest, isn't it better to hear criticism of the character from someone who loves him, as opposed to those wannabe comedians on Twitter still cracking Aquaman jokes?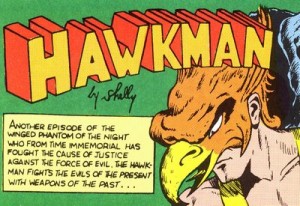 10. His Backstory Is A Mess
Let's start with the first Hawkman, Prince Khufu of Egypt. Yeah if, when describing a comic book character's history, you start in ancient Egypt? That means you're in for a serious infodump. So Khufu and his wife Chay-Ara were deeply in love until Khufu pissed off a high priest named Hath-Set who just went ahead and murdered them both. And now we cut to 1940, where archeologist Carter Hall realizes he is the reincarnation of Khufu himself and unlike when this happens in real life, he actually isn't crazy. He finds Shiera Saunders, the reincarnation of his true love, and they both decide to wear wings and use a mysterious metal to fight crime as Hawkman and Hawkgirl.
Got that? 40's adventurers reincarnated from Egyptian royalty. That'll be our starting point.