Don't worry about the future of Marvel Cinematic Universe beyond Spider-Man: Far From Home as eight Marvel movies have been scheduled for release in the next three year.
The Walt Disney Studios has recently announced its upcoming slate, which includes eight projects labeled as Untitled Marvel. Since 2017, we have been getting three MCU entries a year. In 2020, however, we will be getting two movies instead, bowing in theaters on May 1 and November 6.
But both 2021 and 2022 will bring us three Marvel movies each. The 2021 movies are coming out on February 12, May 7, and November 5. The 2022 movies have occupied the release dates: February 18, May 6, and July 29. Check out Disney's release slate from 2020 until 2022 below!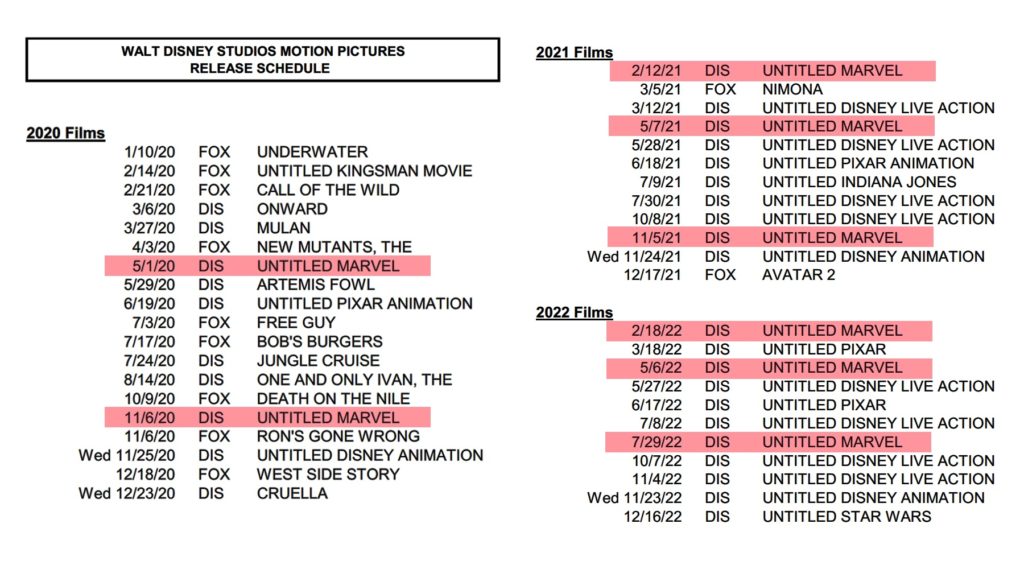 Although Disney has refrained from revealing the official titles of these upcoming MCU Phase 4 installments, we do have some idea about what they could be. It's almost certain that the two 2020 projects are Cate Shortland's Black Widow and Chloe Zhao's The Eternals as those are heading into production next. The former is expected to get the cameras rolling this June, while the latter will begin filming in August.
Destin Daniel Cretton's Shang-Chi, Ryan Coogler's Black Panther 2, and Scott Derrickson's Doctor Strange 2 are probably the Marvel movies hitting theaters in 2021. With James Gunn expected to move forward with the production of Guardians of the Galaxy 3 in early 2021, the movie is apparently eyeing one of the three 2022 release dates.
But what are the other two movies coming out that year? We don't have much of an idea about that. We know for sure that Tom Holland's Spider-Man will get a third standalone movie. We have also heard about an Ant-Man 3 and a Thor: Ragnarok sequel being discussed. And we are almost certain that there is going to be a Captain Marvel 2 after the original movie has grossed over $1 billion at the worldwide box-office. So, we have quite a few contenders for those two release dates.
Marvel Studios, unlike last year, is expected to show up at San Diego Comic-Con International this year. By then, Spider-Man: Far From Home will be a few weeks old in theaters. So, that is where the upcoming MCU slate will most probably be unveiled.
Share your thoughts on Disney's scheduling of eight Marvel movies for release from 2020 until 2023, and stay tuned for the latest updates!