Like media in general – and for obvious reasons – comic books repeat certain tropes, which make good stories and good characters. And the evil doppelganger has long been one of the most enduring. It's a logical extension. When you have a hero, the easiest possible villain idea is What if the hero, but evil?
Sometimes, it's done more thematically or subtly. For example, when your hero is a good guy who looks like a grim avenger of the night, his opposite would be…oh, I don't know…a monstrous psycho who dresses up like something cheerful. A clown, perhaps.
But true evil doppelgangers are a little more direct than that, and they usual share power sets with the good guys. So here are ten evil counterparts that are perfect mirror images of their chosen heroes.
First, an Honorable Mention:
The Squadron Sinister is an evil parallel to the Squadron Supreme, who themselves are ersatz counterparts of DC Comics' Justice League. They're very much their own thing, and actually appeared before their heroic counterparts did.
Check out the Secret Wars miniseries, an underrated little story starring the Squadron Sinister. It's a crime story in which they all constantly back-stab each other. It's really darn fun.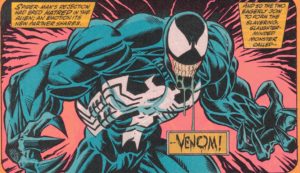 Source: comicbookherald.com
10. Venom
Venom may be the most popular of the characters we're going to talk about today, and by a pretty wide margin. The guy has a solo series with numerous fans, and Tom Hardy's playing him in a movie coming out this year. Most people don't get that.
The story of Venom dates back to the original Secret Wars, in which Spider-Man got a weird costume that bent itself to his will, which he questioned NOT AT ALL. It turned out that the suit was actually an alien life form commonly referred to as a Symbiote. Needless to say, Spider-Man freaked the hell out and removed the costume. But he still liked the design, so he just made a replica out of normal, non-parasitic clothing. Some time later, the Symbiote got out and bonded to Peter again.
Around this time, a journalist named Eddie Brock was in disgrace over his shoddy and incorrect reporting, as exposed by Peter Parker. As Spider-Man ripped the Symbiote from his body, Eddie was praying for guidance in the church below. The Symbiote dripped down through the ceiling and bonded to Eddie, at which point they both realized how much they hated Peter Parker, aka Spider-Man.
A match made in heaven, they went on to terrorize Spider-Man for a long, long time.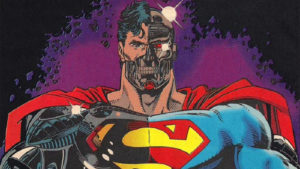 Source: nerdist.com
9. Cyborg Superman
I mean, is it any surprise that the guy who looks like Superman and made a baby with the Terminator is an evil psycho?
It was apparently supposed to be. After Superman died fighting Doomsday, four new Supermen took his place, three of whom claimed to be the real deal come back from the dead. Cyborg Supes looked like the definite villain of the bunch, but earnestly promised that he was the real Superman.
And despite his frightening metal face, a lot of people thought he was telling the truth, even the President! I mean, it was Reagan, so, like, okay, I buy it, but still!
The truth eventually came out that the Cyborg was actually Hank Henshaw, an astronaut who was thought to be dead after a Fantastic Four-esque space journey that took place years earlier. But after that, he tried to kill Superman, then decided that he'd rather try to kill Green Lantern.
Busy guy, that Cyborg.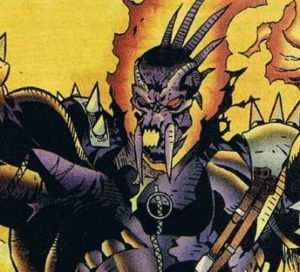 Source: comicvine.gamespot.com
8. Vengeance
I love the visual design thought that went into Vengeance:
Hmmm, we need to make an evil Ghost Rider, but Ghost Rider already looks kind of like a bad guy, so how do we communicate that this guy is actually evil?
Well, we could put spikes on his skull? And give him fangs? And spikes on his shoulder.
But Ghost Rider already has spikes on his shoulder.
Then give this new guy bigger spikes! AND GIVE HIS BIKE TEETH!!!!!
Michael Badilino was a cop – a detective, in fact – who was on the trail of the Ghost Rider. In that journey, Mephisto saw a pawn to be used and he tricked Ghost Rider (the original one) into attacking Michael's dad with hellfire. This drove the old man to murder his whole family and then himself, and that made Michael hate the Ghost Rider.
Then Mephisto appeared and offered Michael a chance to become a new Ghost Rider to get his"¦vengeance. Buuuuut he eventually made a face turn and sacrificed himself to help Ghost Rider.
Also, he had protruding ribs, which seems like a bad idea.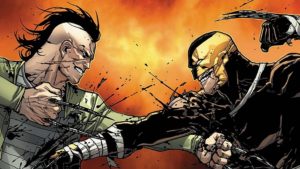 Source: alphacoders.com
7. Daken
Wolverines! Dark Wolverines, in specific.
Daken was the long-lost son of Logan, and he tracked Logan down to murder him. Daken had two claws that emerged from between his knuckles and one that came from his wrist, which was very weird-looking. I don't get why someone never tried just yanking on it until it popped off. There wasn't much skeletal support there.
Daken served as the Dark Avengers' first Wolverine (Gorgon was the second), and he wore that sweet brown and yellow costume that ruled and should come back. He also had a huge Ed Hardy arm tattoo, which was very silly. Eventually, Wolverine found him and killed him, but the Apocalypse brought him back as one of the Horsemen of Death during Rick Remender's first Uncanny Avengers run.
He was very silly, but he stuck around.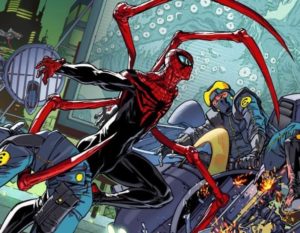 Source: comicvine.gamespot.com
6. Superior Spider-Man
I guess this one technically counts?
I mean, it was the real Spider-Man's body; it just wasn't his mind. For you see, a dying Doctor Octopus used his final act to transfer his brain into Spider-Man's body. He took over the hero, but was humbled when he was flooded with memories of the events that made Peter a good guy. He decided he would be a superhero, but he would do it his way.
This basically meant he was a giant a-hole who literally recruited henchmen. He superheroed the way most people supervillained. And he tried to pull a lot of creepy stuff with the people in Peter Parker's life.
The Superior Spider-Man wasn't explicitly evil, but he was definitely morally skewed, beating villains within an inch of their lives if they looked at him funny. He eventually gave up his foothold in Spider-Man's mind when he realized that Peter was the better hero. He then faded away and went full-on supervillain again.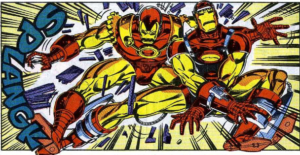 Source: berkeleyplaceblog.com
5. Iron Man 2020
Arno Stark, Iron Man 2020. Man, maybe they should have set that date a little further in the future, huh? Like, this character will be dated before my car's next service appointment.
I adore the Iron Man 2020 armor. It was so malevolent by design. It had teeth!! And a glower! And those huge gear things on the shoulders were so great, and so deeply silly. They must cut down on mobility, and they're definitely hell on air resistance. It would be the first Google Images result for How do I make the Iron Man suit look very evil?
Arno was a descendent of Tony Stark who decided he wanted to use his ancestor's technology to take over the world and be evil and stuff. You know, the basics.
He attempted to fight Tony on numerous time-travel occasions, but despite having a more technologically advanced suit of armor, he wasn't as skilled with it and lost repeatedly.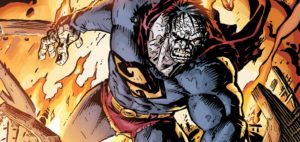 Source: dccomics.com
4. Bizarro
Bizarro am one of the worst supervillains ever. He doesn't have a parallel in the terrible and bad superhero Superman.
Imagine if I wrote the entire thing like that. How annoying would that be?
Anyway, Bizarro was an imperfect Superman duplicate who tended to have an iconic speaking style and a very memorable appearance.
Sometimes he was created through cloning gone wrong; sometimes he came from another dimension; sometimes he was generated through other means. But his manner of speaking and design stayed pretty consistent over time. Backwards "S", maroon-and-periwinkle costume, cracked white skin, messy hair, spoke like it was Opposite Day…You know the drill.
He was usually more of a threat than a villain, since he often didn't have the mental faculties to understand what his actions would do. Regardless, he was a pretty classic example of a villainous doppelganger.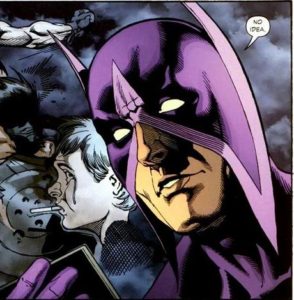 Source: comicvine.gamespot.com
3. Wrath
Two people were shot dead in an alley. Their only son swore vengeance against the breed of man that took them, and dedicated his entire life to waging war on them. He returned to Gotham City as a grim avenger, and brought his own brand of justice on the populace.
Think you know this story? Think again, because we aren't talking about Batman. We're talking about Wrath.
Wrath was the child of criminals, and after seeing his parents gunned down by the police, he basically became the Batman of cop-killers.
This all played out in Batman Special Number One, which is hard to track down, but you 100 percent should. The story of The Player on the Other Side featured Batman facing off against his own criminal duplicate, and it was incredible.
What if Batman, but evil? is such an excellent concept that it's been done a few times, but Wrath was one of the most underrated versions.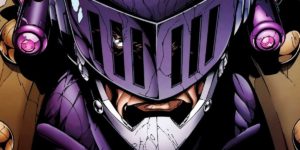 Source: pinterest.com
2. Prometheus
Hey there, folks it's another anti-Batman!
Prometheus was notable for being in one incredible JLA story, having a great moment in JLA/Avengers, and not being very good in anything else. But he was reeeeallly good in those two things. Prometheus was another kid whose parents were criminals, another kid who watched his parents' deaths at the hands of cops, and another kid who decided to become an anti-superhero.
He rigged his body and brain with a computer system that allowed him to duplicate and counter the moves of anyone he chose. Using that, and a totally sweet costume that ruled, he snuck onto the JLA satellite and beat down most of the team.
He also fought Captain America in JLA/Avengers, but Captain America very easily kicked the ever-loving s**t out of him. Dude fought the Wermacht. That teaches you focus.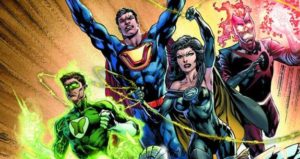 Source: purch.com
1. Crime Syndicate
Why discuss one character when I can do an entire team? The Crime Syndicate of America was the Earth 3 equivalent of the Justice League. But the most powerful people on Earth were villains instead of heroes. In their universe, Ultraman, Owlman, Johnny Quick, Superwoman, Power Ring, and others were the criminal empire to beat, and they went toe-to-toe with the Justice League numerous times.
Later incarnations added other members to more effectively mirror the Justice League. For example, Forever Evil had the Atom, Firestorm, Aquaman, and Cyborg. The Crime Syndicate gained Atomica, Deathstorm, Sea King, and Grid. The only thing that never changed was the fact that the JLA annihilated them in combat every time the situation came up. And it came up a lot.
If you're looking for Crime Syndicate stories, JLA: Earth 2 was the all-time great. But Syndicate Rules and the classic JLA stories from the 60s and 70s were also good. Forever Evil was fine, but I'd go to Earth 2 first, because it showcased some phenomenal work by Morrison and Quitely.
And there you go: A smattering of dark reflections on our favorite comic book superheroes. And this isn't even all of them; there are still a lot left to cover.