Comic book crossovers are fun little treats at their best and unbearable slogs at their worst. And a lot of them are just deeply weird. But even though some of them would go on to become imminently sellable collections like House of M or Civil War, there were many others that just languished by the wayside of crossover-dom. They ended and were quickly forgotten about, vanishing beneath the waves of books like a sinking ship. But that doesn't necessarily mean they were bad. Because most of these are good.
They just, for whatever reason, were totally forgotten about by the public at large. A ghost in the wind. A spectre. A forgotten comic book event. So let's blow off some dust and crack the spines of some comics, and talk about comic book events, the best, the good and the bad, but most of all, the forgettable.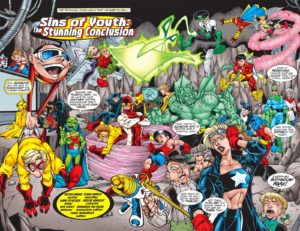 Source: blogspot.com
10. Young Justice: Sins of Youth
Included Titles: Young Justice: Sins of Youth # 1-2 and assorted one-shots.
The thing about most of these is that they are fun but inconsequential. Silly little one-offs that don't effect continuity too much. In this one, the world is age-flipped so the kids become adults and the adults become kids. And the Justice Society become babies. It's very cute.
But what results is that the Justice League get to act irresponsible and crazy while the kids of Young Justice get some growing up very quickly. It's a fun time and the format allows for a bunch of team ups. The newly aged up Impulse gets to see what his mentor was like as Kid Flash, Superboy has a groan-worthy time managing Superman's younger self, and Stargirl gets to be the adult, babysitting her formerly elderly teammates. There's a fun mix of soon to be classic writers here too. Oh, and if you ever wondered why Lobo was a child for a while in the 2000s, this event was why.
Long-term Effects: Lil Lobo, I guess? I think that's it. And that wasn't too long term.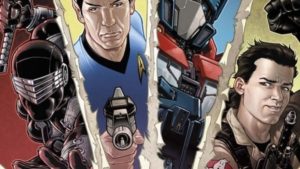 Source: i09.com
9. Infestation
Included Titles: Infestation # 1-2, Infestation: Transformers # 1-2, Infestation: Star Trek # 1-2, Infestation: Ghostbusters # 1-2, and Infestation: G.I. Joe # 1-2
A rare non-Marvel or DC crossover on this list, Infestation is a very fun time.
It's like the perfect Halloween comic event. In the opening chapter, some scientists unleash a horde of zombies across the multiverse. And those zombies flowed out across several of IDW's licensed property comics. Those being the crew of the U.S.S. Enterprise, the Autobots, the G.I. Joe squad, and the Ghostbusters. And they're all pretty fun. Star Trek is probably the highlight, with a wry sense of humor about the whole silly concept.
The universes don't cross over, but that's not what this is about. It's just about pitting some of our favorite characters against some fun Halloween zombies.
Long-term effects: I mean, this was sort of nebulously out of continuity for most of these comics. But the transformers one had some effects! It sent Kup to the netherworld for like three years. So that's a thing.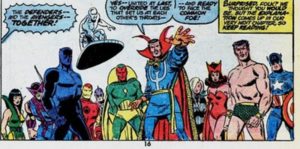 Source: comicvine.gamespot.com
8. Avengers/Defenders War
Included Titles: Avengers # 115-118 and Defenders # 8-11
Guys, it's one of the first ever classic style crossovers! The ones where you alternate which book you're reading to get the complete story. In this story, Loki and Dormammu team up to manipulate the Avengers and Defenders to fight each other to death. For clarification, this is the "Hulk, Valkyrie, Doctor Strange, Namor" Defenders, not the Netflix Defenders.
It's pretty simplistic and waaaaaaaayyyyyyyyy too long, but it's a fun little experiment, and a successful one as well. Heroes fight! Heroes team up!
Long-term Effects: None, lol.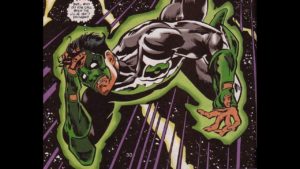 Source: youtube.com
7. Green Lantern: Circle of Fire
Included Titles: Green Lantern: Circle of Fire #1-2 and assorted one-shots.
I miss this style of crossover. One opening chapter issue, a bunch of one shots and then a concluding chapter. They're fun and stand-alone. So in this one, my personal favorite Green Lantern Kyle Rayner panics when the galaxy is menaced by a creature called Oblivion, who looks a lot like something Kyle designed as a kid. Kyle sends out a distress call, which somehow summons a group of Green Lanterns from all across time from other dimensions.
The Justice League vanishes trying to fight Oblivion and the new band of Lanterns team up with the heroes who are left to figure out what's going on. Adam Strange and Green Lightning, a Flash-Lantern from the future go to help Rann after Oblivion passed through. The Atom and the Teen Lanterns, twins who share one ring, check up on some earth villains who might be involved. Firestorm and early Manhunter/Green Lantern prototype G.L. hunt for the possibly mythical Omega Solution. Power Girl and the medieval Emerald Knight search for the Justice League. And Kyle and his alternate universe replacement AKA his dead girlfriend Alex, search for Oblivion's current location. They all come together and save the day in the end, and there's an obvious twist.
Long-term effects: Not too much. This did bring back Martin Stein though, the other half of Firestorm.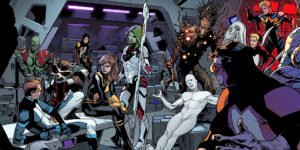 Source: comicbookherald.com
6. Black Vortex
Included Titles: Black Vortex Alpha # 1, Guardians of the Galaxy # 24-25, Legendary Star-Lord # 9-11, All-New X-Men # 38-39, Guardians Team-Up # 3, Nova # 28, Cyclops # 12, Captain Marvel # 14, and Black Vortex Omega # 1
This one's pretty recent. Both of the All-New X-Men/Guardians of the Galaxy crossovers are pretty fun, but this is the bigger one so I picked it over the Trial of Jean Grey. In it, The Black Vortex is rediscovered, a powerful doorway that unlocks the ultimate power of any who go through it. And it is being chased after by the Guardians, the X-Men, and Mr. Knife, aka Star Lord's father J-Son of the Spartax Empire.
The fun part here is the massive crossover of Marvel's cosmic books. Nova and Captain Marvel both get to pop up and hang out, which is a blast, and even Ronan the accuser gets to have a spotlight chapter. But what's most fun is seeing various X-Men and others go through the Black Vortex and go all super mode. They're great designs and they don't overstay their welcome.
Long-term effects: Angel kept his super-mode, what with the fire wings and everything! So not too major, but still a big character change.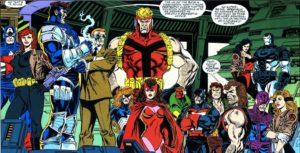 Source: ifanboy.com
5. Avengers: Bloodties
Included Titles: Avengers # 368-369, X-Men # 26, Avengers West Coast # 101, and Uncanny X-Men # 307
I don't understand any of this. This is about as late-nineties as it could possibly get. It's the X-Men Blue and Gold teams (the originals not the recent ones) alongside the just-pre-Heroes Reborn Avengers and the last days of the West Coast Avengers. And they fight over Genosha. Remember Genosha? Weird X-Men mutant island that Grant Morrison annihilated?
It's still a thing here. And it combines the most annoying X-Men bureaucracy minutiae of Genosha with the most annoying Avengers bureaucracy minutiae of their U.N. supervision. It's like if a headache came to life.
Long-term effects: I had to actually look this up because I couldn't remember any. But it turns out this was the end of the Avengers's U.N. period, so that's a thing.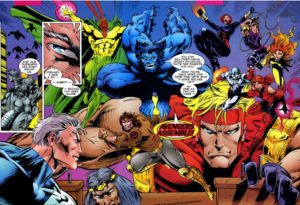 Source: blogspot.com
4. Avengers: The Crossing
Included Titles: *deep breath* Avengers # 390-395, Avengers: The Crossing # 1, Avengers, Timeslide # 1, Iron Man # 319-325, Force Works # 16-22, War Machine # 20-25, and Age of Innocence: The Rebirth of Iron Man # 1
Oh boy, this is a lot of comic books. And it's also famously pretty bad. In The Crossing, Kang shows up again to menace the Avengers, but this time he has a trick up his sleeve. Turns out, Iron Man has been working for Kang since the 60s. Not mind controlled, not an activated sleeper agent, no.
Iron man has been a bad guy since practically the beginning of his career. And he kicks all the Avengers's asses. So to stop him, they go back in time and recruit Tony Stark as a teenager to defeat his older self. And this somehow works (sorta). So Teen Tony replaces original Iron Man for good.
Long-term effects: None. I know, everything I just described sounds like it would be a permanent change, but this was so broken and so hated that less than a year later, Heroes Reborn and Heroes Return happened and totally erased this from continuity.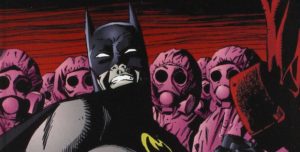 Source: thegothamarchives.com
3. Batman: Contagion
Included Titles: Batman: Shadow of the Bat # 48-49, Detective Comics # 695-696, Robin # 27-28, Catwoman # 31-32, Azrael # 15-16, and Batman # 529
Disease panics were big in the late nineties and early 2000s. And also, Gotham City is a horrible place to live that goes through constant disasters. Like, a few years after this it would get hit by a massive earthquake. But in this specific story, a horrible plague of disease in unleashed upon Gotham city and it's up to the Bat-Family to stop it.
Including Catwoman and Azrael, who both had books at the time. So they set off on a globe trotting adventure to find the cure and beat the illness, nicknamed The Clench for"¦ reasons? I guess. It's 11 parts and very little happens. But it's a nice snapshot of what was going on at that time if that's what you're into.
Long-term effects: none.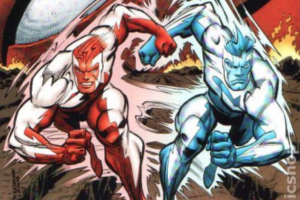 Source: mycomicshop.com
2. Millennium Giants
Included Titles: Superman: Man of Steel # 78-79, Aquaman # 43, Challengers of the Unknown # 15, Superman # 134-135, Teen Titans # 19, Supergirl # 20, Adventures of Superman # 557, Steel # 50, Action Comics # 744
Hey, remember when the Millennium was a huge deal? And everyone thought the world was going to end or something? That was weird. So in the DC Universe, three huge giants of various world mythologies rose from the ground and tried to end the world. You may recognize this as being weirdly similar to the premise and villains of this year's Justice League: No Justice, which is true.
But here the giants are foiled by the Superman family of characters, as well as the Challengers of the Unknown, Teen Titans, and Aquaman. And the Superman in this story is actually two Supermen. Superman Red and Superman Blue, the electric Supermen. I love electric Superman.
Long Term effects: this actually had a big one! It officially ended the electric Superman saga. To beat the giants, Supes had to sacrifice himself, even though he just came right back as normal vanilla Superman.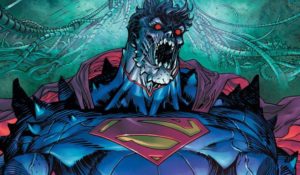 Source: dccomics.com
1. Superman: Doomed
Included Titles: Superman: Doomed # 1-2, Action Comics # 31-34, Superman/Wonder Woman # 8-11, Batman/Superman # 11, Superman # 31, Superman/Wonder Woman Annual # 1, Action Comics Annual # 3, Supergirl # 34
Here's another somewhat recent one, by which I mean it's only four years old. During the New 52 era, Doomsday attacked and when Superman defeated him, the monster infected him with a series of spores. These began slowly mutating him into a Doomsday monster of his own. Superdoom!
It's fun because it has all the wacky Superman mutation fun of a 50s Red Kryptonite story, but with the action and pacing of a more modern crossover. It's a tad long but in the end, it's worth it for the fun of the ride. And what a ride it is!
Long-term effects: none! It's just a fun time.