Bleep, bloop, my future Artificial Americans, and welcome to another list of comic book characters that fit into a very specific set of circumstances. In this case, it's robots. Honestly, it's a very large category to break down, so I had to cut out a lot of characters to narrow it down. So if your favorite automaton didn't make this list, maybe they'll be on the next.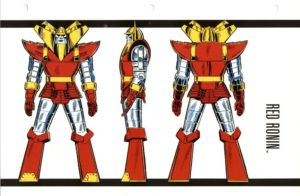 Source: pinterest.com
10. Red Ronin
(Godzilla, Marvel Comics)
The Red Ronin, aka the SJ3RX, is a giant fighting robot that regularly bounces around the Marvel Universe punching monsters in the face.
It was originally built by SHIELD for one single purpose: Fight Godzilla. That's right, Marvel used to publish Godzilla comics. What's more, they were all in continuity. There are panels of J. Jonah Jameson shouting at Godzilla, and they are exactly as wonderful as you always assumed.
Anyway, Red Ronin started out fighting Godzilla, but because this is Godzilla we're talking about, the duo wound up teaming up a bunch later on. The Ronin fell into disrepair for a while, and eventually just became a random piece of cultural ephemera that would show up from time to time. Sunfire and Wolverine encountered it, the Wasp fought it, the Thunderbolts got some use out of it.
From what I could find, the giant robot was used by the previously mentioned Thunderbolts during the first Superhero Civil War. Hopefully, he'll make a comeback soon.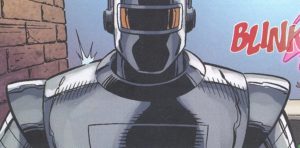 Source: marvel.wikia.com
9. M-11, The Human Robot
(Agents of Atlas, Marvel Comics)
The Agents of Atlas are so great.
And M-11 the Human Robot is maybe my favorite member. The automaton was created on behalf of the international terrorist Golden Claw by a scientist in his employ. In order to stop the robot from becoming a remorseless killing machine, the scientist had M-11 electrocute him to death, which embedded part of his consciousness deep in the robot's electronic brain. After this, M-11 became a member of SHIELD Agent Jimmy Woo's G-Man squad of strange 1950s heroes known as the Agents of Atlas.
But when they resurfaced decades later, M-11's evil programming resurfaced before being de-programmed so he could fight Golden Claw with his other Atlas friends. In the following years, he teamed up with Spider-Man, fought the Skrull invasion, resisted Norman Osborn's dark reign, and did battle with the X-Men and Avengers. He's a big part of the Marvel Universe now. And we're happy to have him.
But yeah, The Human Robot is a weird oxymoron of a name.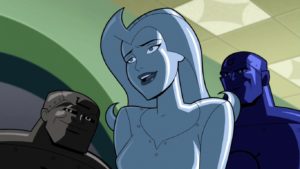 Source: comicvine.gamespot.com
8. Platinum
(Metal Men, DC Comics)
The Metal Men are pretty great, but if I had to narrow it down to just one bot, it's very easily the perpetually love-starved Platinum.
When Dr. Will Magnus built his Metal Men, he gave them all Responsometers, unique technology that let them feel emotions. Platinum's made her fall deeply madly in love with her creator. But Dr. Magnus responded by saying she was just a silly robot, and she couldn't be in love. If she didn't quit this foolishness, he would sell her to the science museum.
This seems mean. Doc, why would you make an especially thirsty robot and then spurn her at every turn? Is gaslighting a machine just a thing for you?
Platinum, sometimes called Tina, also happened to be very hot headed and occasionally mean spirited. Especially when it came to Dr. Magnus' love life. I dunno, I've never had a crazy stalker, but I imagine it's worse when your crazy stalker is the T1000.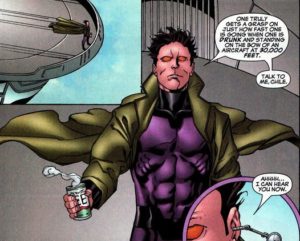 Source: comicvine.gamespot.com
7. X-51, the Machine Man
(Machine Man/Nextwave, Marvel Comics)
Aaron Stack!! X-51! The Machine Man!
The only one of 51 experimental robots that didn't go insane and turn murderous, X-51 first popped up in Marvel's 2001 A Space Odyssey comics. Remember how I said those old Godzilla comics were in continuity? Yeah, ALL of the licensed comics used to be (other than Star Wars, sadly).
Aaron made a name for himself fighting alongside the Hulk, Alpha Flight, and the Fantastic Four. He also had the misfortune of running into Tony Stark while he was in his "angry psycho drunk" phase. Aaron was able to save some people from Stark drunk driving his Iron Man suit. Later, he was infected with Sentinel tech and spent some time fighting the X-Men.
In the modern era, he spent some time working for Nextwave before going off to kill alternate dimensional zombies. He returned, and was most recently seen working as part of Domino's Mercs for Money team.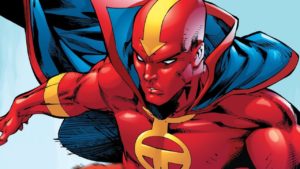 Source: youtube.com
6. Red Tornado
(Justice League of America, DC Comics)
I like Red Tornado. A lot of people don't, but I do.
Mad scientist T. O. Morrow took a break from having the greatest name of all time to create an android. At the same time, two elementals – the evil Tornado Tyrant and the good Tornado Champion – discovered the body.
There are several retcons, but the most common next event is that the Tornado Champion took control of the body, but had his memory wiped. Still, he became a hero, and helped the Justice League numerous times before joining them. Red Tornado has one defining character trait: He is sad. He spends most of his time being sad about how he's not a real boy, and then spends the rest of his time getting blown up and reassembled.
He's such a sad sack. Like if Charlie Brown was a frequently self-destructing robot with feelings. And I love him.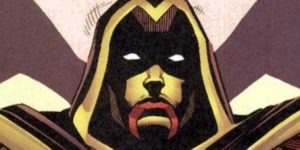 Source: cinemablend.com
5. Hourman III
(JLA, JSA, DC Comics)
Why did we all forget about Hourman III?
Created in the 853rd century, Hourman was an android who came to the present via some time travel shenanigans in DC One Million. He decided to stay in the present, and joined the Justice League of America under the name Matthew Tyler.
Throughout the late "˜90s and early 2000s, he worked with both the League and the newly reformed Justice Society of America. During this period of time, he had a chance to meet his genetic ancestor, Rick Tyler, or Hourman II.
You see, Matthew was built to include DNA from Rick's father and the original Hourman, Rex Tyler, who had died some years before. When Rick tried to travel through time and save Rex from death in the Zero Hour event, it nearly broke the timestream. Someone who was Rex Tyler's genetic match had to die. So Matthew stepped in and gave his android life for his progenitor, and saved the original Hourman from his fate.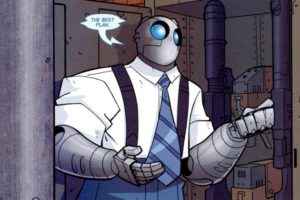 Source: comicsalliance.com
4. Atomic Robo
(Atomic Robo, IDW Publishing)
Brian Clevinger and Scott Wegener's Atomic Robo is so much fun.
I have Atomic Robo: The Everything Explodes Collection on my to-read stack, and after years of just reading one or two stories here and there, I'm excited to really dive into the thing. Atomic Robo was a robot created by Nicola Tesla who, if you count all fictional depictions, was the most prolific single organism in the history of existence. People haven't even attributed as many creations to God himself as sci-fi writers have to good ol' Nicky Tesla.
Robo was called upon to fight strange and paranormal foes, including"¦Dr. Dinosaur, a talking science dinosaur and Atomic Robo's arch-nemesis. And talking science dinosaur is literally the best set of words. I just want to throw money at it.
Thomas Edison is another of the robot's foes. I mean, this is a Tesla story; of course Edison is the bad guy. So if you want a story about a science-powered robot fighting a talking dinosaur, you literally can't do any better.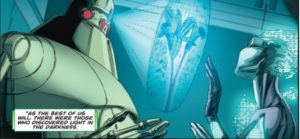 Source: bleedingcool.com
3. Sunlight on Snow
(Imperium, Valiant Entertainment)
Damn right, I'm using his preferred name. I'm not dead-naming a literal killing machine.
Sunlight was a medical droid that was reprogrammed by Toyo Harada to serve as his own personal weapon. Since the newly christened Mech Major wasn't a psiot, he could disarm psychic weapons ahead of Harada's invasion force. But the machine had its own mind. To prevent him from achieving the singularity and conquering Earth, Harada disconnected his mind from the internet, leaving him isolated.
But Mech Major discovered a dream he had, and re-named himself Sunlight on Snow, even though no one called him by that name. Buncha jerks. They'd regret it when SoS demolished them with his mechanical murder arms. As a member of Harada's Imperium crew, he worked alongside ethereal other-dimensional beings, alien murder assassins, and former terrorist government operations specialists. And he's arguably the most moral of the entire bunch.
He's a good machine, capable of multiple emotions and murdering a lot of PRS soldiers.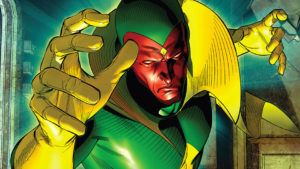 Source: marvel.com
2. The Vision
(The Avengers, Marvel Comics)
The Vision is like the Red Tornado, but he's better in every way.
Created by the evil robot Ultron, Vision was sent against the Avengers, but turned to their side almost immediately. He also went through the Am I a real boy? dilemma. I swear, that thing is the android's version of puberty; it sucks, it's annoying for everyone around you, but you get through it and grow up. And Vision did.
He grew to become a husband and a father. And then lost both of those things. Vision is also still inhuman (in the machine way, not the Black Bolt way) and some of his best stories remind us of that. If you haven't read Tom King and Gabriel Walta's Vision series, you need to as soon as possible. It's one of the best Marvel comics of the decade, and it will haunt you for weeks after you finish it.
A good android, a good hero, and a good man.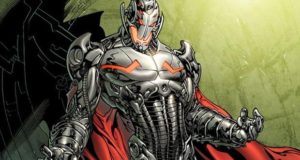 Source: schmoesknow.com
1. Ultron
(The Avengers, Marvel Comics)
Who else is this much fun to talk about?
Ultron is one of the greatest visual designs I've ever seen for a supervillain. He was a prototypical evil robot, and one of the best robots in all of comics. Ultron was an artificial intelligence created by Hank Pym. His original body looked like a moderately evil vacuum cleaner. But that evil Hoover had plans.
That haunting face burns itself into your brain. Like a robot jack o'lantern. But spookier. When you see that wide smile flowing with Kirby Crackle coming at you out of the darkness, you wonder if maybe this time he really is going to take over the world. Ultron is also scary for his habit of constantly re-building himself to be bigger and better. He's almost at the singularity. And we should all fear his terrifying wrath.
When I close my eyes and picture a comic book robot, Ultron's grin immediately comes to mind.
And there you have it. Ten wonderful machines for your reading pleasure. Good, evil, neutral, all manner of Artificial Americans. I, for one, welcome our new robot overlords. Can't do much worse a job.