Well, folks, you should have known this was coming. Welcome back to Dream Team, my semi-regular column in which I assemble a perfect superteam with one specific criteria. The last two were a Justice League of alternate-Earth Batmen and a Justice League of alternate-Earth Supermen. Now, to complete the trilogy, here's the third league to patrol the multiverse: The Justice League of Wonder Women.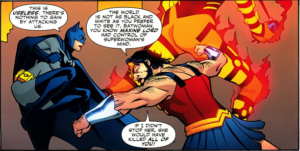 Source: comicsalive.blogspot.com
10. Wonder Man (Earth 11)
Team Role: The Brawler
Dane of Elysium is the gender-swapped version of Wonder Woman from Earth 11.
He is a ranty, angry psycho who goes by the name Wonder Man. After Maxine Lord controlled Superwoman into a rampage, Dane killed Maxine to save the day"¦and was promptly banished from Elysium for his trouble. Dane took this well. By that I mean he took his Amazons, attacked America, and fought the Justice League.
Good plan, Dane.
Team Role: The Brawler.
While he's not any stronger than his female counterparts (and is, in fact, a mite weaker) he is one thing: way dumber. Dane fights like a barroom brawler with reckless abandon. He's vicious and scrappy and mad all the time. Dude's like if toxic masculinity was a person. He's just all fists and drinking and anger. So putting him on the team in a role where he doesn't have to do any thinking is for the best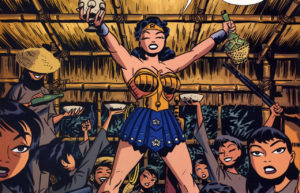 Source: legionofleia.com
9. The Warrior (DC: The New Frontier)
Team Role: The Field Leader
Darwyn Cooke's New Frontier is my favorite Justice League story of all time. And one of my favorite DC Comics ever.
And I loooooooove its Wonder Woman. This Diana is a badass, through and through. She takes no guff and gives no quarter. She's an Amazon, and fights tooth and nail for what she believes in. The scene in which she tells Superman to go screw, while standing up to reveal she's taller than he is, is one of my favorite Wonder Woman scenes of all time. Diana is a warrior, and that's why she makes the team.
Team Role: The Field Leader.
That's right, you need a warrior to lead in battle. And the best Warrior of the Wonder Women is easily New Frontier's. She does battle regularly, and fights with a fierceness unseen in most Dianas. In addition, she shows a propensity for barking orders in a way that really makes you want to listen.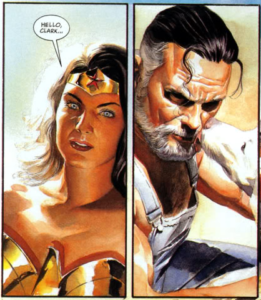 Source: pinterest.com
8. The Elder Stateswoman (Kingdom Come)
Team Role: The Strategist
Kingdom Come is really, deeply good. It's beautiful and, for most of the late nineties and early 2000s, it was the definitively accepted future of the DC universe.
And it's easy to see why. The Wonder Woman of Kingdom Come is essentially a fusion of Superman and Batman. She has the hopefulness and power set of Superman, but also the ruthlessness and fury of Batman. She's a warrior, and a warrior is sometimes necessary to accomplish what needs doing.
Team Role: The Strategist.
Kingdom Come Diana is a planner. She knows how to assemble a team and how to make them as effective as possible. She and her badass eagle armor COULD lead from the front, but she'd be even better moving the pieces around from behind the scenes. Especially because of her weaknesses. Kingdom Come Wonder Woman may be strong and smart, but she can get lost in the heat of battle and become too aggressive. Keeping her out of the heat of things might be in everybody's best interests, especially whoever they're fighting.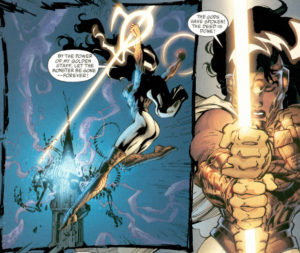 Source: dc.wikia.com
7. The Incan (Just Imagine…)
Team Role: The Swordswoman
Stan Lee. Why are we talking about him on a DC list? Well, I'll tell you!
A while back, more than a decade now, Stan Lee teamed up with DC Comics for a mini-event called Just Imagine, wherein we were asked to Just Imagine if Stan Lee had created the DC Universe. In a series of specials, Stan gave us his versions of characters like Superman, Batman, Robin, Captain Marvel, and others. One of those others was Wonder Woman. Maria Mendoza was an activist dedicated to preserving Peruvian sites of historical significance, until one of those sites gave her incredible powers. Empowered by the God of the Sun, Wonder Woman fought for justice in Los Angeles, using her staff of power to slay evil villains.
Team Role: The Swordswoman.
Maria is the best on this list when it comes to hand-to-hand weaponry. Her staff, imbued with godly power as it is, is capable of some powerful attacks, and Maria wields it well.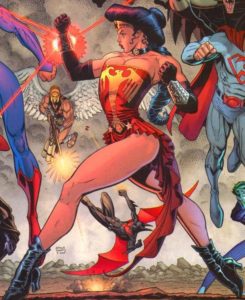 Source: comicvine.gamespot.com
6. The Amazon (Wonder Woman: Amazonia)
Team Role: The Detective
Diana of Amazonia was princess of her homeland, until a vile Royal Air Captain named Stephen Trevor kidnapped her, forced her into marriage, and slapped her into a freak show.
But, spurred by the horrible Jack the Ripper murders occurring at the time, she struck out as a superhero in her own right. She took down the Ripper, and wound up remarrying the wonderful Prince Charles. And all was A-Okay.
Team Role: The Detective.
That's right, some sort of investigator would be a great asset to the team, and who better than the Wonder Woman who beat down Jack the Ripper? On my Justice League of Batmen list, it was Gotham by Gaslight Bats who scored this role, and for a definite reason. The Ripper is one of the most famous unsolved mysteries in history. Anyone who can suss out what happened deserves to be hailed as an all-time great crime solver.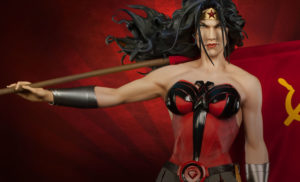 Source: the-newsbox.com
5. The Monarch (Superman: Red Son)
Team Role: The Powerhouse
Red Son is maybe the best Mark Millar comic. It's good and full of heart and smart, things that he tends not to incorporate into his most famous works.
In the story, Kal-El's rocket lands in Soviet Russia, where he becomes the country's greatest asset. This change shapes the rest of the world, as well. Green Lantern emerges as an American Air Force pilot, a young Russian terrorist becomes The Batman, and Diana emerges as a Soviet ally. This Wonder Woman (along with having a fantastic costume) is a major character and one of Superman's allies.
Team Role: The Powerhouse.
Red Son's Diana is pretty powerful. She fights with the best of them, and lacks a lot of the restrictive morals that the other Wonder Women have. She hits harder and faster, and with more brutality. And while the others would rather make peace than war, she disagrees.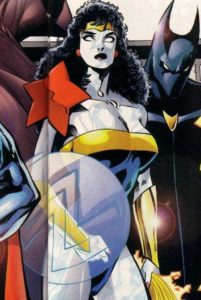 Source: dc.wikia.com
4. The Cosmic Protector (DC: One Million)
Team Role: The Tech
Deep in the 853rd century, the Justice Legion Alpha patrols and protects the entire known solar system. This Wonder Woman is actually not Diana, but a sort of spiritual successor.
While OG Wondy was made of clay and brought to life, the DC One Million version was born of marble and brought to life. Unlike her predecessor, she stayed artificial in appearance and didn't turn all human-looking. She also wasn't given a name other than Wonder Woman. WW was given sanction over Venus, where the Amazons now live (heh, get it, Venus? Like the godde""oh, you do get it.)
Team Role: The Tech.
Yeah, who better to outfit a superteam with technology than someone from the actual future. Wondy has at her disposal the original Lasso of Truth, as well as an Invisible Spacecraft and two wrist braces, Harmony and Charity, that manifest holographic weapons. Arming the team with holo-weaponry would be a smart move, and the marble hero from the future would be just the one to do it.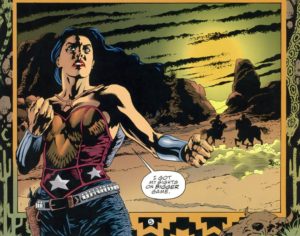 Source: wordpress.com
3. The U.S. Marshall (Justice Riders)
Team Role: The Markswoman
Welcome to the Old West, cowpokes.
Diana Prince is a U.S. Marshall in the Year of Our Lord 1873. Her hometown, Paradise, is annihilated by a Mr. Felix Faust, so she teams up with noted outlaw and gunsmith Wally West, aka The Kid Flash, to avenge the town. Diana is a hard-fightin' law-woman who takes no guff and has her goals firmly in mind. She winds up assembling the Justice Riders, composed of the aforementioned two, Cheyenne warrior Katar Johnson, old friend J'onn Jones, crazed inventor Ted Kord, and bounty hunter Michael Carter, the Booster Gold.
Team Role: The Markswoman.
This role normally goes to a Green Lantern, but since we don't have one of those this time who's worthy of inclusion, the smart pick would be the Diana who actually uses guns. As a U.S. Marshall, Diana was trained extensively in armed combat, and she's been shown to work well in a group. Saddle up.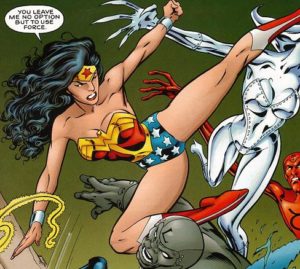 Source: dc.wikia.com
2. The Hero (Justice League of America: The Nail)
Team Role: The Leader
In a world where Superman's rocket wasn't picked up by the Kents, and Superman never emerged as a hero, the rest of the JLA had to step up.
Some characters, like Batman, caved to the increased pressure and compromised their moral integrity, but Wonder Woman never did. She fought for her ideals alongside the Superman-less League until Kal-El was eventually discovered.
Team Role: The Leader.
Yeah, that's right. You might be curious as to why I'm picking The Nail Diana when she's not really very different from normal Wonder Woman. That's why. Normal Wonder Woman is strong and brave and caring and powerful, and this WW is just the same, but she had to fight in a world without the Earth's greatest hero. She had to go through a darker and more violent universe, and came out strong. Welcome to the team, Wonder Woman.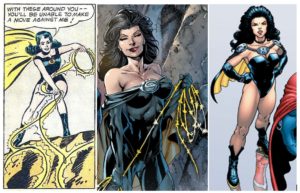 Source: pinterest.com
1. Super-Woman (Earth 3)
Team Role: The Villain
Once the alternate Earths were introduced, it was inevitable that one was "evil". And then Earth 3 came about. Lois Lane-Kent has superpowers and uses them for evil. That's the pitch. Yeah, she isn't even a Princess Diana, which I always found weird. She started on pre-crisis Earth 3, then post-crisis got shifted to the anti-matter universe before 52 brought back Earth 3, and then post-New 52 a brand new Earth 3, except the pre-crisis Earth 3 ones were also still around because of Convergence and boy, is this confusing.
Team Role: The Villain.
Once again, I had to pick a villain to round out the team, and there is a shocking lack of evil Wonder Women out there. A shocking lack. But this one is a great one. Super-Woman is a badass who is usually the most ruthless of the Crime Syndicate. She plays Ultraman and Owlman against each other, and could beat down almost anyone on this list.
And there we have it, another Dream Team, assembled for your pleasure. Maybe next time I do one of these, I'll take it in a different direction.