I just wanted to write this one, okay? I had a fun idea, so I decided to run with it. Then I found  a way to make an entire Top 10 list out of it. And here it is.
Superheroes and supervillains tend to do a lot of drugs in the course of their adventures. But we're not here to talk about recreational drugs. So, no, you won't see that famous cover with Speedy shooting Heroin anywhere on this list.
We are talking specifically about superheroes and supervillains who gain or their powers through drug use, so none of these count: super-characters who just use drugs on the side (Speedy, Iron Man); characters who use drugs to augment their abilities in some way at some time (Beast, Batman); characters who became addicted to regular drugs prescribed because of injuries (Moon Knight, Batman again).
Once again, the following is a list of characters who became superpowerful because of drug use. Pills, powders, and injectable liquids! Let's talk about why every anti-drug PSA I see in comics makes me feel a bit weird.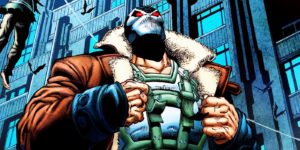 Source: screenrant.com
10. Bane
Drug of Choice: Venom
Well, of course he has to be here.
Bane may be the most popular of the drug-powered villains. But most people don't know that Venom, the drug that powers Bane, actually predates the character. In a 1991 Batman: Legends of the Dark Knight arc, Batman fails to save a child from drowning because he isn't physically strong enough to help her. During his ensuing depression, he tries a super-steroid a scientist invented for experimental use.
The steroid, an early version of Venom, makes Batman incredibly strong, but he also becomes increasingly violent and full of rage. He eventually locks himself in the Batcave to detox from the drugs.
But Venom resurfaces in an injectable form when Bane shows up. His steady supply of Venom makes him incredibly strong and capable of great shows of force. He does retain his sharp mind, even while he's pumped up on the stuff, so it's likely the injected Venom is more refined and more effective than the pill form.
Either way, Bane is perhaps the most famous villain with a narcotics-based power, so it's fitting that he should open this list.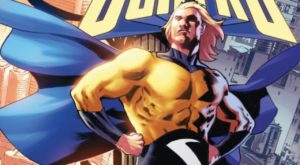 Source: comicbook.com
9. The Sentry
Drug of Choice: Sentry Serum
Oh, The Sentry, why are you coming back? No one likes you. Ah, well,  Jeff Lemire's going to write the new series, so it could actually be good.
But anyway. The Sentry initially seemed to be a long lost and forgotten Marvel character from the Silver Age. But the truth is that his evil archnemesis, The Void, is actually an extra personality that exists in The Sentry's head, and the truth comes out when the character finally well and truly snaps.
Bob Reynolds is a hopeless addict who breaks into labs to steal narcotic substances. One night, he breaks into someplace he absolutely shouldn't, and drinks down a serum produced in an attempt to produce vast powers by reproducing and overclocking the Super Soldier Serum.
Sentry uses his newfound powers to fight crime and then to murder hundreds. Then Thor beats him to death.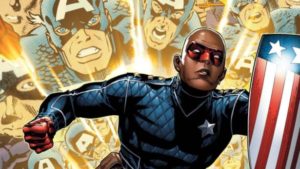 Source: nerdist.com
8. Patriot
Drug of Choice: Mutant Growth Hormone (MGH)
Everyone wants to be a superhero. But don't do it, because their lives are full of exhausting drama and all their friends die. Even so everyone still seems to want to do it for some reason. This is especially of those who come from a legacy of heroism but don't  have superpowers of their own, like Eli Bradley, grandson of the original Captain America, Isaiah Bradley.
But when Eli joins the Young Avengers under the name Patriot, it appears that he's come into his own, after all. He tells his teammates that after being critically injured, he received a superpower-granting blood transfusion from his grandfather.
Unfortunately, this is a lie. In reality, Eli's been using MGH, the drug known as Mutant Growth Hormone, a steroid that replicates mutant powers in its users. When the team learns of this, they force Eli to take a temporary leave of absence from the team.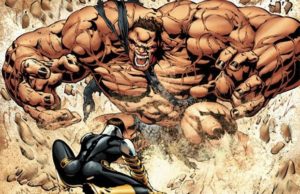 Source: screenrant.com
7. Mr. Hyde
Drug of Choice: Hyde Formula
Calvin Zabo is a brilliant researcher who's obsessed with the Strange Case of Dr. Jekyll and Mr. Hyde. I'm sure you can guess where this is going.
He purposely creates a formula that turns him into a hulking behemoth made of muscles and evil, tries to murder Thor, and fails. Then he joins the Masters of Evil and becomes a major Avengers villain. Along the way, he fathers Daisy Johnson, aka Quake. In this case, the apple falls relatively far from the tree, as Daisy becomes a SHIELD Agent and an Avenger.
Back to Mr. Hyde…He kind of bounces around for a time without really finding a place within the Marvel Universe, spending time in The Hood's gang and the Lethal Legion. He goes up against the Young Avengers, Moon Knight, and Ghost Rider, and then finally finds a completely unexpected place while imprisoned. He's placed with the Thunderbolts B-Team and becomes stuck in time during a mission. But, hey, he gets a shot at being the actual Mr. Hyde in actual Victorian London for a while.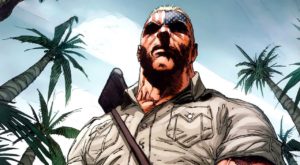 Source: player.one.com
6. Nuke
Drug of Choice: Adrenaline Pills
The Weapon Plus Project's attempts to pursue the Captain America formula don't exactly pan out, and there's no better example of this than Nuke.
Sgt. Frank Simpson, a Vietnam vet with a desire to give all for his county, is repeatedly experimented upon until he becomes a weapon of mass death. As such, he's monitored with Adrenaline Pills that come in three colors: red, white, and blue (presumably cherry, lemon, and blue raspberry in flavor).
Reds pump Nuke full of adrenaline to feed his rage, making him a violent madman. Whites drop his adrenaline level to a more normal range, bringing his rampages to an end. Blues repress his anger and pacify him on an ongoing basis.
We later learn that the initial pills may be placebos. But later instances of the red adrenaline pill used by the Nuke Platoon turn out to be very real.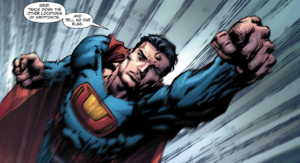 Source: comicvine.gamespot.com
5. Ultraman
Drug of Choice: Kryptonite
Earth 3 is weird.
At first, it's just Earth 3, an alternate Earth where everyone good is evil and everyone evil is good. Then it becomes the antimatter universe of Qward. The current version is somewhere in between the two. And I'm not even getting into the Dark Multiverse.
This version of Ultraman comes from the New 52's depiction of the character. As an evil version of Superman, sunlight makes him weak and snorting Kryptonite recharges his powers. Yup. You heard that correctly. Ultraman snorts Kryptonite to retain his powers, but Superman just has to sit around in the sun for a little bit. Doesn't seem like a fair trade-off, but what do I know?
Ultraman's beaten along with the rest of the Crime Syndicate at the end of Forever Evil, and now he can't snort no Kryptonite no more.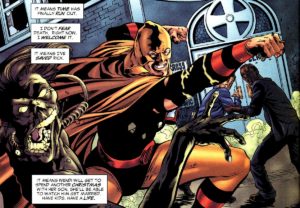 Source: dc.wikia.com
4. Hourman
Drug of Choice: Miraclo
Rex Tyler dates back to the Golden Age of comics, and is one of the earliest examples of a superhero powered by pharmaceuticals.
Rex invents his own supersteroid, a pill called Miraclo that gives him one hour's worth of super powers  that include strength, speed, invulnerability, agility, the whole suite. Unfortunately, he can only take it once a day. So Rex can only be super for one hour per day. I guess he waits in the car while the rest of the JSA finish fighting Per Degaton, The Fiddler, or whoever, but he does eventually manage to kick his addiction to Miraclo.
I've always had a soft spot for Hourman, mostly because I love Rex's successors. But Rex is pretty great, too.
And with all he does with his single hour of power, it appears that his real superpower might be time management.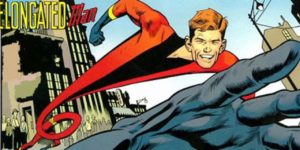 Source: medium.com
3. Elongated Man
Drug of Choice: Gingold
Ralph Dibny, boys and girls! Gaze upon this great character who's dynamited by one bad story.
Ralph's a friend of The Flash who travels the world to find the secrets of contortionism. He eventually finds that if he drinks a substance known as Gingold, he can stretch his body to fantastical proportions. He then uses this ability to become a happy-go-lucky detective with his wonderful wife Sue Dibny as his partner. They're great characters who have happy endings. Nothing stupid or bad happens to them at"¦okay, fine.
Identity Crisis takes this incredible mystery-solving couple and ruins them both by killing one and making the second a permanent mourner for the first. Turns out that Gingold can't help you stretch your way away from bad character direction.
Elongated Man nevertheless remains a wonderful character with a (mostly) great history.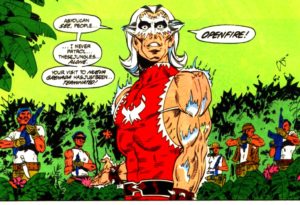 Source: dc.wikia.com
2. Snowflame
Drug of Choice: Cocaine (yes, really)
Oh, boy.
It's time to talk about Snowflame.
New Guardians is a very good-hearted – but extremely bad – comic book about a superteam that sets out to resolve the world's "real issues". The problem is that it's still a superhero comic book, so the team has to have member who can actually fight real-world problems. The New Guardians are really bad at this.
I've previously covered the first issue, which features the white supremacist vampire Hemo-Goblin, but now I want to talk about Issue Two.
This issue pits the New Guardians against Snowflame, a cocaine powered supervillain who does the drug and then shoots fire and moves super fast. He also has the Cocaine Touch, which means that he can literally give people a contact high. He defeats the New Guardians, dies when a chemical shed explodes during a rematch.
DC Wikia lists his official religion as "Cocaine Worship". I love comic books.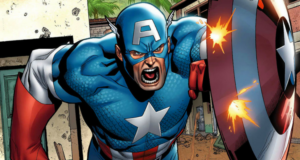 Source: boundingintocomics.com
1. Captain America
Drug of Choice: Super Soldier Serum
I mean, he's the most obvious choice for the Number-One spot here. He's a superhero who gets his powers from a chemical that's injected into his body. And don't forget the Vita-Rays. Everyone forgets the Vita-Rays. And they shouldn't, because if you don't follow up the Serum with the Rays, it can cause your sanity to irreversibly degenerate.
Steve Rogers is a poor Brooklyn kid during World War II. All he wants is to enlist and fight. But he's designated as 4-F, and the only way he can fight is to take part in Project: Rebirth, the Super Soldier Program. And that's how he becomes Captain America, champion of American Ideals, fighting for liberty, freedom, and equality for all.
Honestly, Steve Rogers is pretty much the perfect human. And his power set makes him as dreamy as he is perfect. He's just the best.
And there you have it: Ten superheroes powered by pharmaceutical means. Putting this list together has been…weird.