Infinity War is set to be the most ambitious crossover event in…blah blah, clever Internet meme. But what could possibly follow such a feat of filmmaking? Which Marvel story is major enough to follow Thanos' arrival on and subsequent destruction of Earth? Well, here are some options for what they could mess around with. Maybe the next big Avengers movie will be about"¦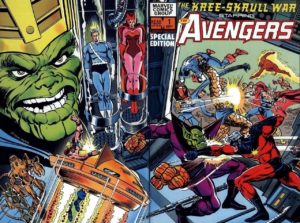 Source: nerdsonearth.com
10. The Kree-Skrull War
The Kree/Skrull War is THE Avengers event. It's a classic.
And the MCU is all ready to go with it. Captain Marvel will introduce the Skrulls and give us more of the Kree, but it's set in the 1990s. Here in 2018, we still don't know what these two feuding alien races are up to.
The fight against Thanos will inevitably lead to a better position for Earth within the cosmic scene, and that's sure to set off additional conflict. The Kree and the Skrulls have been mortal enemies since they first met, and I desperately want more of them in the MCU.
I only made it through about a season-and-a half of Agents of SHIELD, but I know they got into some Kree stuff there, and I assume that some of it was good development. I wouldn't know. But having the Kree and the Skrulls face off with the Avengers trapped in the middle would make for one hell of a movie.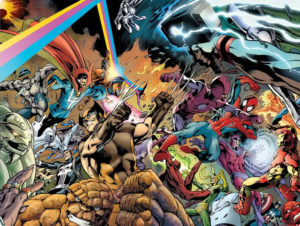 Source: comicvine.gamespot.com
9. Acts of Vengeance
I love Acts of Vengeance.
It may be the most fun of the Marvel Crossovers. I wish they'd do a sequel.
The crossover premise is fairly simple. The Marvel Universe villains are sick and tired of being beaten up by their respective heroes, so they come up with a plan to fix things. They'll swap opponents! For example, Ultron might try to beat up Daredevil, and Doctor Doom could take a crack at Iron Man. We haven't seen a lot of villain comebacks in the MCU (because a lot of them are dead), but it would be super enjoyable to see the Avengers split up and then have to fight each others' past foes.
Maybe Justin Hammer could come after Spider-Man with his army of drones. Or Vulture might attempt to take out Iron Man. Or they could do Captain America vs. The Abomination. Sounds fun as hell, if you ask me.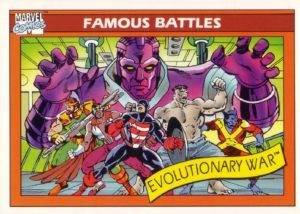 Source: comicvine.gamespot.com
8. Evolutionary War
That purple glove is probably a clue about a certain time-hopping villain we'll talk about later, but it could also be a tip of the hand toward the High Evolutionary, a super-genius geneticist who wants to hyper-evolve all of humanity into the future.
He decides to do this by dispatching teams to find the Marvel Universe's power sources, and then steal or eliminate them. The goal is to steal the Terrigen Mists and master the Savage Land.
His other aim is to sterilize the Mole People, which seems horrific. Also, the Marvel Universe has Mole People. And they're a little weird.
High Evolutionary would be a fun villain for the MCU to play with if they want a new big bad once Thanos becomes space dust. Plus, if they suddenly decide to introduce mutants, they could use High Evolutionary's experiments to easily sneak that through.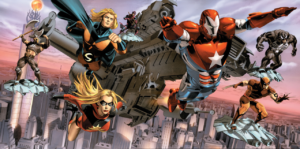 Source: comicbookherald.com
7. Dark Reign
They almost definitely won't do this, but it would be interesting to see them try.
Spinning out of Secret Invasion, the keys to SHIELD are handed over to the man who comes out of nowhere to save the day: Norman Osborn, aka the Green Goblin. We haven't seen the MCU's Norman Osborn yet, but I think introducing him as SHIELD's new director would be a dramatic change of pace.
HYDRA secretly perverted and weaponized SHIELD in Winter Soldier, but in this case, someone would very publicly take a governmental body down some extremely dark paths. This would give us an excuse to make Spider-Man a main Avenger, and that would set him up to take down Norman Osborn's Green Goblin in his own movie.
An evil businessman who corrupts a government force to make an illicit profit? I can see that resonating with some people.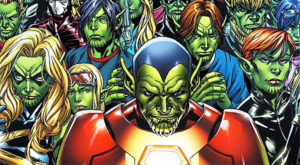 Source: comicvine.gamespot.com
6. Secret Invasion
We already know that 2018's Captain Marvel will introduce the Skrulls to the MCU, and that gives us a nice window into 2008's blockbuster storyline Secret Invasion.
That comic reveals that certain Marvel heroes and villains have been abducted and replaced with Skrull sleeper agents. Then, when that programming breaks down and they reveal themselves, the full-on Skrull battalion visits Earth. They're accompanied by a platoon of Super Skrulls, each of whom has been gifted with the superpowers of three Marvel heroes.
Revealing that there are Skrull sleeper agents in the Avengers' midst would create a major shake-up. In Winter Soldier, we had a taste of something similar with HYDRA (Sitwell, you bastard), but this would be on a whole "˜nother level. The Skrulls are scary villains with a unique ability to disappear and blend into the background. Their introduction would truly constitute an Avengers-level threat.
Plus, I like their bumpy green chins.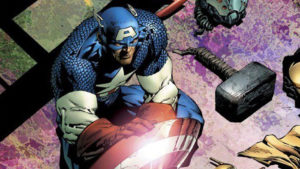 Source: marvel.com
5. Avengers: Disassembled
I mean, there's always this one.
If you want to reboot your Avengers team for a new generation, you can always adapt the comic that did that exact thing.
Scarlet Witch loses control of her powers in Avengers: Disassembled, and that sets off a chain of horrific events that kill half of the Avengers lineup and disillusions many of those who survive. In the aftermath, a group of heroes who responded to a prison break at the Raft band together to form a new team of Avengers. They keep Cap and Iron Man (the MCU probably wouldn't), and add Spider-Man (likely), Spider-Woman (maybe), Luke Cage (never gonna happen, sadly), and Wolverine. And if you want to bring X-Men characters into the MCU, it would be smart to begin by adding just one or two. And the obvious starting point is obvious.
This would be a good way to kick off a new MCU era, but Scarlet Witch would be wasted as a character, and that would kinda suck. Also, if they follow the storyline from the comics and kill off Scott Lang, I'll be endlessly pissed off.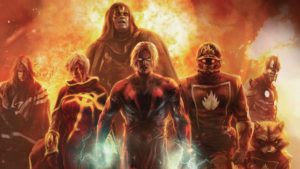 Source: walldevil.com
4. Annihilation: Conquest
Cosmic Marvel is quite fun.
I mean, we saw how awesome it could be in the Guardians films and Thor: Ragnarok, but it appears that the time has come to make a big space epic. And for that, I'd suggest combining the first and second Marvel Annihilation events.
In Thanos' wake, the Annihilation Wave heads for Earth, and our already beaten-down heroes have to pull it together to fight against it. They're way out-powered as they are, so they have to bring in additional cosmic-powered heroes, including Captain Marvel, Adam Warlock, and Nova. And once they fight their way through the first groups of aliens, they come face-to-face with the true threat: Ultron, who survived his incredibly brief Age by beaming his last refuges of consciousness into outer space, where they all found a home with the alien machine-people known as the Phalanx.
An old enemy returning in a new way is pretty much the only "pure Marvel comics" thing that we have yet to see in the movies. It would be fun!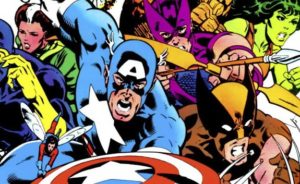 Source: purch.com
3. Secret Wars
The original classic Marvel Comics event.
A cosmic entity known as the Beyonder gathers a bunch of heroes and villains for the purpose of smashing them together like a toddler playing with his Marvel Legends"¦or me at my desk, playing with my Marvel Legends when I should be trying to brainstorm column ideas.
In this story, She-Hulk joins the Fantastic Four and Spider-Man gets his black costume. Obviously, most of the Marvel Cinematic Universe villains are dead, but the Beyonder has nearly unlimited godlike powers, so he can bring them back.
A big heroes-versus-villains brawl would be crazy fun, with the Avengers who survive Infinity War engaging in big punch-em-ups with Hela, Abomination, Whiplash, and The Red Skull. A big, all-out brawl is the kind of comic book storytelling that hasn't happened in the movies.
It would be fun to see.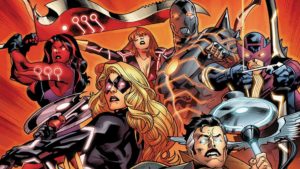 Source: alphacoders.com
2. Fear Itself
Fear Itself is one of those comic book stories that aren't great, but might become awesome movies. Like Civil War. Or Iron Man: Extremis.
Fear Itself has Odin's evil brother returning from exile and attempting to conquer Asgard by releasing a bunch of evil hammers that possess whoever picks them up. In response, the Avengers, the Asgardians, and the other nine realms team up to save the world from destruction.
You might be thinking, "How could the MCU do this story when there's no Asgard left to conquer? It was all destroyed!"
I'd say, "Exactly. Asgard's destruction awakens the long-dormant Cul, who weaponizes the secret reserve of evil hammers to conquer Earth and make it the New Asgard."
This would continue Ragnarok's commentary on imperialism, and would feature an Asgardian-Iron-Man-Armor-clad Tony Stark fighting Hulk with a Thor hammer. How is that not incredible?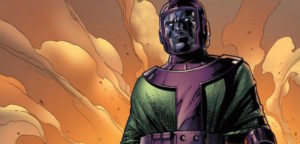 Source: biffbampop.com
1. Kang
Kang the Conqueror!!! Lord of Time! Dude who changes clothes more often than a sitcom character trying to simultaneously manage two prom dates!
Honestly, Kang may have the best chance of actually showing up in Avengers 4. The Russos have teased a purple glove and some set photos that make it look as though they plan to include time travel or extended flashbacks in the movie. Both of those point toward Kang.
Kang travels time in an attempt to defeat the Avengers and Fantastic Four, with the goal of ruling the future unchallenged. He's used several names in his quest, including Rama-Tut, the Crimson Centurion, Iron Lad, Immortus, and too many more to list here.
But for Avengers 4, he'd just have to show up as the Lord of Time and mess around with key moments in Avengers history. That way, you'll still have scenes with Avengers who died in Infinity War, but you won't have to bring them back to life!
The MCU is so expansive that there are all sorts of time periods to visit.