Ladies and gentlemen, there comes a time (right now) when we must objectively analyze the vast swath of comic book movies to pick the cream of the crop, the best of the best, the all-time greatest comic book films ever made. To that end, I combed through the depths of the genre, and picked out some of the greatest films of all time, the most brilliant works in history, the films that make Citizen Kane look like so much trash in the gutter! So strap in and get ready to appreciate some quality cinema.
NOTE: This article was originally published on April 1st, 2018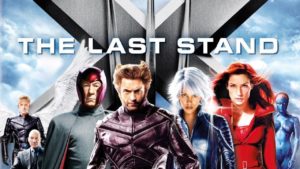 Source: youtube.com
10. X-Men: The Last Stand
Obviously the best of Fox's X-Men films, The Last Stand is a complete culmination of the beloved X-Men movies that pays off on tons of character beats from throughout the film series.
Magneto, who consistently used his powers in the previous films, loses them in this one. And Professor X, who was famously alive in the previous movies, is no longer alive by the end of this third film! Such a great transformation.
Also, the film clears out some of the stuffy old X-Men who weren't so well-liked. Cyclops? Glad they killed him off-screen. Jean Grey? Bor-ring; let's make her evil, then kill her. Nightcrawler? Not even in the movie! Good; I hope he died, too. And all so we could make room for awesome new characters like Blue Frasier and Juggernaut B*tch (I think that was his name; he yelled it at one point).
And, hey, the gross pervert who directed the previous films didn't direct this one; a completely new gross pervert was brought in to do the job!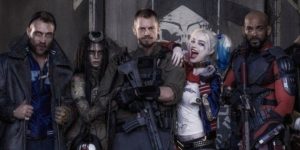 Source: huffingtonpost.com
9. Suicide Squad
This insta-classic from 2016 literally has everything you could ask for in a comic book film.
From the totally non-offensive depictions of women, to the completely flawless editing, to the performances – my God, the performances! When Leto comes onscreen as The Joker, you actually feel as if the Clown Prince of Crime is torturing you to death. What an experience.
Will Smith plays Deadshot with a dead-eyed boredom I haven't seen from him since After Earth. Jai Courtney also appeared in the movie, but that's not to discount the film's breakout star, Slipknot. Oh, man, I sure shed one hell of a tear during this fan-favorite's heroic sacrifice.
To me, the most important aspect was the film's beautiful aesthetic. I felt like I'd been transported from my movie theater seat to the inside of the Hot Topic in the mall next door. It was a whole 80 feet! Simply transcendent.
And the movies only get better from here.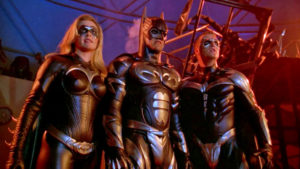 Source: nerdist.com
8. Batman and Robin
There have been numerous Batman adaptations over the years, but only one deserves to be called the best.
Batman and Robin is a masterpiece of subtlety, from the soft, unobtrusive backgrounds to the understated characters. It takes several viewings to understand the tableau of personalities that back each of Mr. Freeze's scenes. He's a note-perfect translation of the classic villain from Batman the Animated Series.
George Clooney's performance as the Dark Knight is very clearly the best and most nuanced ever. He simply embodies exactly the kind of movie Batman we've waited to see. Dark, brooding, in no way loaded with subtext.
And the costumes! So realistic. If Batman existed in the real world, this is exactly what he would wear. It's practical, yet cool-looking. And totally scary.
I know that if I saw that costume flying at me on ice skates, I would surrender at once.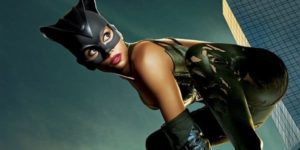 Source: cinemablend.com
7. Catwoman
Oh, Catwoman! This is perhaps the greatest role for a woman in all of cinema, and it's definitely so among comic book movies. Oscar-winning actress Halle Berry owns her role as Selin…uh, I mean, Patience Phillips, a Catwoman who has nothing to do with the character in the comic books. Because, you know, who could possibly want that?
This film is notable for its groundbreaking editing. The myriad of fast cuts and repeated actions make for a surrealist masterpiece. You'll never be able to tell what's going on at any point in the film, but that's all there to craft a unique sense of confusion.
As a film connoisseur, I'm able to truly appreciate the fact that this film completely lacks any sense. I encourage everyone to watch it, because it's like gazing into the tentacled maw of a lovecraftian horror.
                                      Source: tf.cdn.com
6. Iron Man 2
As the absolute high point of the Marvel Cinematic Universe, Iron Man 2 is a groundbreaking cinematic achievement.
Its world-building is unparalleled. It forces in tons of characters who don't really do anything in the movie; they're just in there so they can show up in future movies.
And the pathos!!!!! Mickey Rourke and his bird…my Lord, what a gripping relationship. Will someone bring his bird? WILL THEY? I simply had to know. I was on the edge of my seat the entire time. What a glorious achievement.
The film lacks the boring character development of the first movie and avoids all the annoyingly clever dialogue and interesting plot elements from the third film. Rather, it creates the perfect blend of things that happen and words that characters say.
And that scene at the donut shop, during which Iron Man sits in the big donut? What a laugh riot! Almost peed my pants over that one.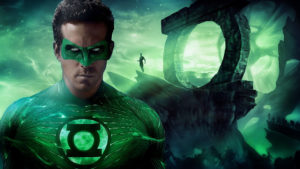 Source: alphacoders.com
5. Green Lantern
This is inarguably Ryan Reynolds's finest film. It's such a shame that he had to debase himself by following up this masterpiece with those silly Death-Pool films, or whatever they're called. For this…this is high art.
Reynolds plays ace pilot Hal Jordan, who's given a magic space ring so he can go fight a big space poo and a man with a large-ish head. Along the way, he begins an improper employer-employee relationship, and learns how to use the ring to make sweet Hot Wheels tracks.
But I really want to draw your attention to the film's use of symbolism. You see, Hal Jordan is attractive, so they pit him against Hector Hammond, who is very"¦not attractive. You see the duality, right? So clever. In addition, Parallax is the embodiment of fear, so he looks like a large poo, which symbolizes humankind's greatest fear of all: the fear of death. For, as we all know, when you die, you poop your pants.
I honestly feel that this film went right over a lot of people's heads.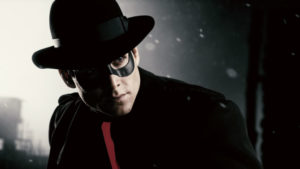 Source: dc.wikia.com
4. The Spirit
Frank Miller. What a smart, talented creator. And he totally didn't suddenly become incredibly bad right around the turn of the millennium.
Nope, nothing about his post-2000 work would cause anyone to worry about his ability as a writer and and director. Not at all. He adapted Will Eisner's genre-defining comic book to film in a completely respectful manner.
No, Miller's stylization isn't obnoxious at all. The type of griminess that worked for Sin City is definitely also perfect for The Spirit, who isn't a totally different kind of character or anything like that. The actors are all fully three-dimensional, and they're very deep in terms of the characters they play.
Oh, and that scene in which Samuel L. Jackson shows up in full Nazi gear is totally necessary. It most definitely couldn't be confused with Miller playing out a fetish in front of a paying audience. Nope. Not at all.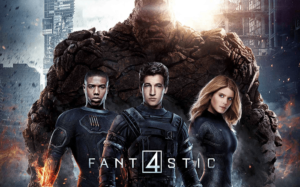 Source: blacknerdproblems.com
3. Fant4stic
Ah, yes, the characters who spawned the Marvel Universe finally have the movie they deserve.
And, as everyone always wanted, it's an incredibly bleak and dark Fantastic Four movie. Yup, we sure wanted some needless body horror in this movie. Who didn't shed a tear when we learned that It's clobberin' time was just a thing that Ben Grimm's abusive brother yelled as he beat him up? I know that when I first heard The Thing yell that phrase, I immediately had to know its origin story. I secretly hoped that it came out of years of familial abuse.
And what a great Doctor Doom. He's finally comic-book accurate: weirdly glowing and looking like an action figure that God melted in the microwave for a bit.
No longer constraining The Thing by making him wear pants is by far the filmmaker's best creative decision. I definitely never thought I'd be lucky enough to see a bare-assed Thing onscreen in my lifetime. When it happened, I stood up in the theater and applauded.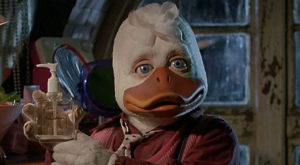 Source: comicbook.com
2. Howard the Duck
I know, I know. You're all shocked that this movie isn't at Number One. While I have to admit that this is commonly recognized as the best comic book movie of all time, it just isn't my favorite.
Yes, of course, I love the sharply written jokes. Yes, I know that this movie is a technological marvel, and some argue that no one's surpassed it. And that duck costume stands head and shoulders above any and all of the modern era's CGI effects. I mean, it's pretty short – not literally, but metaphorically.
Look, to the people out there who are gonna yell at me in the Comments section about how Howard the Duck's hilarious blending of silly kid jokes and incredibly dirty adult jokes make it the closest thing to Oscar-worthy cinema in comic book movies: I AGREE WITH YOU. But I just don't think it's the very best comic book movie. Second best? Sure. Better than anything else released that decade? Of course, duh. But best?
                           Source: filmschoolrejects.com
1. Batman v. Superman: Dawn of Justice
I mean, this is what it had to be. When I think back on everything I love about comic books, when I try to figure out where the medium's high point lies, I can only think of a jar of pee sitting on a senator's desk. And then it all comes flooding back.
Superheroes who needlessly murder people. A movie that requires a director's cut to even qualify as a movie. A villain who prefers to be incredibly annoying, as opposed to being in any way threatening. These are all of my favorite things.
From the opening scene, which finally shows us what happened to Batman's parents, to the ending, during which"¦hold on, I need to check"¦Holy s**t, Superman DIES? I had somehow totally forgotten this. Weird. Anyway, Henry Cavil shines with the direction he's given, which clearly involves this: "Stand there looking pouty. But not too pouty, because that would qualify as an emotion." And Ben Affleck does a good job, even though he hasn't decided whether he even wants to be in these movies at all.
All in all, the movie's incredibly long, super gray, and full of creative decisions that are so contrary to what any sane human being would do, you can only call it the greatest comic book movie of all time.
Well, everybody, that's the list. Ranked and presented, the greatest comic book movies of all time! Enjoy the rest of your April Fools Day. I hope this gave you a dumb little chuckle. I'll be back with a real, non-jokey list in a couple of days.