DC's film slate is in dire straits right now. And not the cool kind of Dire Straits who played Money For Nothing; this is the scary kind where people get fired and major structural changes are put into affect. And the shakeups going on at DC right now (Geoff Johns's ascension and Ben Affleck being put on as an EP of Justice League) are clear evidence that Warners is freaking the eff out.
Regardless of whether or not you enjoyed this year's entry into the "people in greyscale frown at and punch each other" film series or not, it very obviously underperformed seriously. Yes, it made money, but when it comes to movie studios, that doesn't matter. No one cares if it made money, the key is if it made ENOUGH money. And BvS did not. So I decided to suggest some other characters and teams for DC to give movies to.
My goal is to suggest films that A: feel like they'd explore new aspects of superhero cinema we haven't seen before, and B: films that AREN'T ALREADY IN DEVELOPMENT. Because otherwise, Booster Gold would be the top three entries on this list.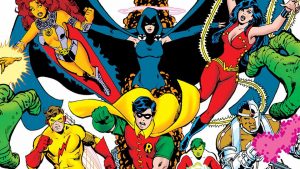 Source: avclub.com
10. Teen Titans
Let's start off with a crowd pleaser.
Due to the "˜80s comic book series and the "˜00s cartoon series, the Titans have always been super popular as a team. And, since we already know the DCEU had a Robin at one point, a flashback movie with the Titans would be a good way to flesh out the history of this film universe.
Obviously, our Titans would have to cut Cyborg, since they have existing plans for him. But the rest of the 80s team (Raven, Changeling/Beast Boy, Starfire), with maybe an additional member like Blue Beetle (the Jaime Reyes one) or Miss Martian, would make for a great adventure. It would also go a long way toward giving Robin a character, especially since the only thing we know about him right now is that he's a corpse.
And come on, people love the Titans, they'd be lining up down the block to see these characters on the big screen. It's not a hard call to make, and I'd personally love to hear a good old-fashioned "Titans Together" onscreen. Make it happen, DC!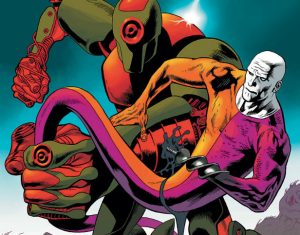 Source: scifinow.co.uk
9. Metamorpho
A weird one, but one I think would be a success. The Metamorpho comic book series was one of the best comic books to come out of 1960s DC and should be read by every fan of the company.
It followed adventurer Rex Mason, who comes into contact with the Orb of Ra and comes away hideously disfigured but gifted with incredible powers. Rex, his love Sapphire Stagg, her rich father Simon, and his caveman bodyguard Java, go off on globetrotting adventures, all while Simon Stagg secretly tries to sabotage and dispose of Rex.
It's an Indiana Jones-esque adventure flick with a Beauty and the Beast love story and an underlying sense of tragedy. That is a movie everybody would watch.
I've always said that superhero movies are at their best when they incorporate other genres. Winter Soldier is a superhero spy movie, Guardians is super hero sci-fi comedy, Ant-Man is a superhero heist flick. This would be a kick-butt adventure film with a super powered twist. Fresh, innovative, and exactly what the DCEU needs.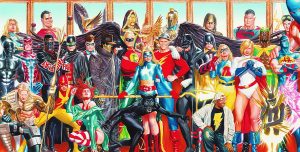 Source: newsarama.com
8. Justice Society of America
Joe Johnston has directed two superhero movies that I could watch on repeat with a huge smile on my face: The Rocketeer, and Captain America: the First Avenger. Both are fun, enjoyable films based in or around the Second World War. Both are loving tributes to comics of the era, with a charming sense of earnestness that doesn't feel overly goofy.
If we could get a Justice Society of America movie in that milieu, I would be happy as an un-shucked oyster.
The JSA were DC's original big superteam, composed of wartime heroes like Hourman, Starman and Sandman. The JSA's story is a perfect analysis of heroics and the fall of American idealism after World War II. The natural end of the movie (HUAC disbanding the JSA because of the red scare) is suitably sobering and perfect to give a JSA movie a point other than generic wartime adventures.
But again, the JSA would be a perfect way to expand the DCEU into the past in a fun way.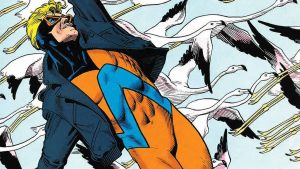 Source: vertigocomics.com
7. Animal Man
(SPOILERS FOR GRANT MORRISON'S ANIMAL MAN).
Deadpool showed that people respond very well to wacky, fourth-wall-breaking comedy in their superhero films. But what if you had a story that used a fourth-wall break to dramatic effect? To tell a metatextual story about creator and creation that challenged our preconceptions about storytelling? Well, then you'd have Grant Morrison's Animal Man.
Animal Man is one of those seminal stories that one really should read because it is simply groundbreaking. Plus, a fourth-wall break at this level could lead to a movie that elevates the typical superhero fare to something greater.
Hey DC fans, you want to know what a "serious" superhero movie would ACTUALLY look like? Go give Animal Man a read. While these films are never darlings of the highbrow critical set, this movie, if executed half as well as the comic book, could veer into awards-caliber territory.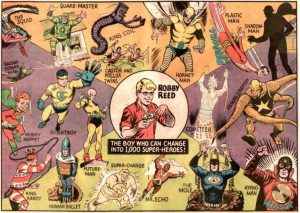 Source: scifinow.co.uk
6. Dial H for Hero
If Marvel found success in embracing the weirder corners of their universe in flicks like Guardians of the Galaxy, DC can probably do the same.
Robby Reed (whose name I didn't have to look up because I am a giant dork) came into contact with a mysterious artifact: a phone dial that""hang on.
A phone dial was this thing that"¦y'know what? No. I'm not explaining this one to you. I guarantee you I am younger than you are and I know what a phone dial is, so maybe you should, too.
But anyhoo, Robby figures out that, by dialing H-E-R-O, he can become a random superhero with a unique set of powers and abilities. Robby fights evil by switching at will between a myriad of these weird and wacky characters.
Also, Robby for some reason would regularly yell "sockamagee" as an exclamation. I"¦I don't know why. If this concept sounds familiar to you, it's because Cartoon Network would turn a riff on this idea into a massively successful franchise under the name Ben 10.
So yeah, I'm sure a Dial H movie would be just as successful, especially if it's taking on more of an "80s kids adventure movie" tone.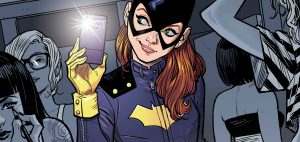 Source: dccomics.com
5. Batgirl
Barbara Gordon rocks. Seriously, she is the best. And while her time as Oracle was incredibly important to the character and all that, I will always love seeing her as Batgirl.
The most recent Batgirl of Burnside run was one of my favorite things to read every month, but that's not why I want a Batgirl movie. No, I want one because of Batgirl: Year One. Batgirl: Year One is absolutely no doubt incredible in art and story. My personal favorite Babs story of all time; NO DOUBT. Reportedly, we almost got an animated film based on the miniseries a few years back and it crushes my soul to know that won't come to fruition.
But in live-action, as an origin story for the lightest member of Team Dark Knight? Totally in. Yes, this one is at least a mite selfish of a request, but hey, the Batverse could use some expanding and a Batgirl introduction would be a great way to due that.
Plus, Batffleck could probably use someone to brighten up his mood now that Robin is six feet under.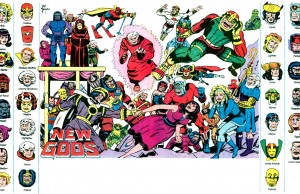 Source: cosmicteams.com
4. The New Gods
With the inclusions of Darkseid and the rumored Steppenwolf in the DCEU, it looks like we'll be getting some Apokolips (sic) action in the near future. But sadly, no plans for the heroes of New Genesis, the heroic counterpoint to Darkseid's forces.
The New Gods – or, to use their categorical term, the Fourth World – were brought to the DCU by Jack Kirby, one of the patron saints of comic books. Personally, I've never gotten too deeply into the New Gods stuff, but I really do like what I've read. And there are so many stories to tell.
How about the story of Orion, a monstrous child raised in a world of good? Or Scot Free, the greatest escape artist of all time, who is trapped in reality's most devious prison from childhood? Or the love story behind Scot (alias Mr. Miracle) and former Female Fury Big Barda? The manipulations of Glorious Godfrey and Granny Goodness, the heroism of Lightray and the Forever People, and so much more.
Kirby's work on Thor inspired much of that movie, so why not take his other great work involving mythology to the big screen? I can't think of a reason. And if I can't think of one, it totally must not exist.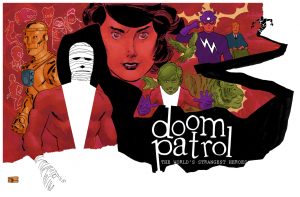 Source: Superheroes.wikia.com
3. Doom Patrol
If you are a Teen Titans fan, you probably know at least a tiny bit about the Doom Patrol, even if it's only because they're "that team that Beast Boy used to be a part of". But the good ol' DP are much more than that.
Niles Caulder, aka The Chief, gathered together three individuals whose lives had been ruined by terrible accidents (or "accidents", depending on which retcon you prefer). Cliff Steele was a racecar driver whose body was destroyed in a horrible accident. But his mind survived and was placed into a robot body, turning him into"¦Robotman!
Larry Trainor was a pilot, horribly irradiated. Wrapped in bandages, Larry developed the ability to shoot an energy being out of himself, although if the being stayed out of him for too long, he'd die. Saving the world sixty seconds at a time, he is the Negative Man. And finally we have actress Rita Farr, a young woman cursed with strange shape changing abilities. As Elasti-Girl, she can help do good despite her own fear of her newfound abilities.
The Doom Patrol are a ragtag band of misfits, brought together by shared tragedy. Although new members would join and leave, the original three are the ones I'd love to see get the big budget film treatment.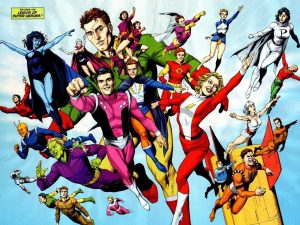 Source: fanpop.com
2. The Legion of Superheroes
The Legion could be an X-Men level franchise if treated properly.
A group of teenaged heroes in the 30th century, inspired by the legendary heroism of Superman, the Legion vacillates between "children's club with too many rules" and "teenaged rebellion of Les Mis proportions".
Many people pick on the Legion for overly complex storytelling and characters with absurd powers. These people confuse me. The Legion is about as comic book-y as it gets, and without those overly complicated storylines, we would not have modern comic books. Do you love it when characters die and come back and lose limbs and turn evil? The Legion did all'a that first. And with such a large cast, a core team of these characters would really give a filmmaker something to dig into.
Want to know what a Legion movie would be like? Think X-Men meets Star Trek. Sold yet? I thought so.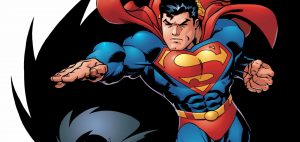 Source: dccomics.com
1. Like, a GOOD Superman Movie
Heh, I MAYBE could've picked a less inflammatory title for this entry, but here we are.
But in all seriousness, Henry Cavil is capable of being tremendously likable (check out Man From UNCLE if you don't believe me) but you wouldn't know it from his Superman portrayal.
The DCU always used Superman as the optimistic center, a beacon of hope in the darkest hours, and that is one thing the DCEU does not have. There simply cannot be a cohesive DC film universe without this factor. We need that tone-setting movie to show DC as it is: the universe where heroes are at their purest, rising above all else to fight for truth, justice, and the American way.
And you can't undercut that with grimdark pseudorealism or eye-rolling sarcasm. You have to do what the Captain America movies have done: own it. Own every scrap of Boy Scout, Truth n' Justice, All-American heroism you can possibly find. Because you know what other movie did that? Superman, the 1977 Richard Donner movie. And that one is responsible for the launch of modern Superhero cinema.
True, DC would lose the "we want our movies to be "˜realistic'" crowd (it is literally impossible for me to put enough air quotes around the word "realistic" there), but the audience they'd gain could save their cinematic universe. And after Cap Civil War blew past BvS' ENTIRE BOX OFFICE TOTAL in under three weeks, it does need saving.
But, as a tremendous DC Comics fan, maybe I'll get to see the characters I love done right one day. And if they make any of the movies I mentioned in this article, we'd be one step closer to having that dream come true.