DC's film slate is in dire straits right now. And not the cool kind of Dire Straits who played Money For Nothing; this is the scary kind where people get fired and major structural changes are put into affect. And the shakeups going on at DC right now (Geoff Johns's ascension and Ben Affleck being put on as an EP of Justice League) are clear evidence that Warners is freaking the eff out.
Regardless of whether or not you enjoyed this year's entry into the "people in greyscale frown at and punch each other" film series or not, it very obviously underperformed seriously. Yes, it made money, but when it comes to movie studios, that doesn't matter. No one cares if it made money, the key is if it made ENOUGH money. And BvS did not. So I decided to suggest some other characters and teams for DC to give movies to.
My goal is to suggest films that A: feel like they'd explore new aspects of superhero cinema we haven't seen before, and B: films that AREN'T ALREADY IN DEVELOPMENT. Because otherwise, Booster Gold would be the top three entries on this list.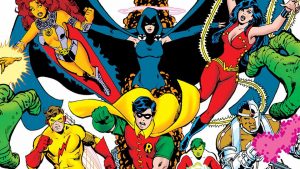 Source: avclub.com
10. Teen Titans
Let's start off with a crowd pleaser.
Due to the '80s comic book series and the '00s cartoon series, the Titans have always been super popular as a team. And, since we already know the DCEU had a Robin at one point, a flashback movie with the Titans would be a good way to flesh out the history of this film universe.
Obviously, our Titans would have to cut Cyborg, since they have existing plans for him. But the rest of the 80s team (Raven, Changeling/Beast Boy, Starfire), with maybe an additional member like Blue Beetle (the Jaime Reyes one) or Miss Martian, would make for a great adventure. It would also go a long way toward giving Robin a character, especially since the only thing we know about him right now is that he's a corpse.
And come on, people love the Titans, they'd be lining up down the block to see these characters on the big screen. It's not a hard call to make, and I'd personally love to hear a good old-fashioned "Titans Together" onscreen. Make it happen, DC!