Comic books are a forward-moving business. There's a new stack of them every weeks, and the events and crossovers just keep on coming. But with that constant forward momentum, we lose track of some really great stuff, including secret hidden-away gems that shine ever brighter once someone finally dusts them off. And dust them off we shall. Looking for something to read? Here we go!
                                                             Source: ebay.com
10. JLA: Incarnations
Hey, there. Do you love Justice League Year One as much as I do? Good! Then I have a book for you.
JLA: Incarnations is a seven-issue miniseries that tells selected stories from throughout the history of the Justice League, starting immediately post-Year One and progressing through the International Era League. And the whole thing is incredibly fun. As always, John Ostrander kills it, and Val Semekis does a solid Barry Kitson impression.
It really is a great spiritual successor to Year One, touching on the original team, the post-Batman squad, the Satellite Era squad, the Detroit League, and the International team. Honestly, the most impressive thing here is how well Ostrander writes the International team.
They're shockingly hard to handle, owing mostly to the very difficult tonal balance of the original book. But here, they really sing. Plus, any time I get more of the Satellite League is a good time.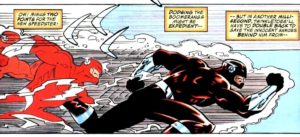 Source: dc.wikia.com
9. The Dark Flash Saga
I love The Flash. I love The Flash a lot. And in my process of reading as much Flash as I can, I've encountered some criminally underrated stories, including this one.
After Chain Lightning, Wally West vanished into Hypertime (Hypertime was that thing DC did so they could have the multiverse without having the multiverse). When he did, a new, mysterious Flash emerged. He took over, and people absolutely did not trust him, despite the fact that he sported the best Flash costume redesign of all time. Eventually it was revealed that the Dark Flash was"¦
[SPOILER ALERT]
…Walter West, an alternate-timeline Wally with a darker history. This left him more vicious and intense than his cohorts. He served on the Titans and Justice League for a while, until Wally returned. He eventually moved on to Earth Prime, our world, where he presumably still lives. Great character, awesome costume, good story.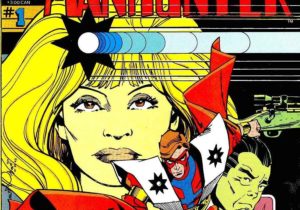 Source: blogspot.com
8. Manhunter
Archie Goodwin was incredible, and Walter Simonson is still one of the most impressive talents in the industry. Their collaboration is the stuff of legend.
The story, first serialized in Detective Comics as a backup feature before being wrapped up with a team-up with Batman, is a fun and exciting spy thriller.
Paul Kirk was a big game hunter who progressed to the pursuit of the biggest game of all: Man! More specifically, Nazis. He worked with the OSS and the All-Star Squadron before he was snapped up by The Council. The backups follow Kirk's work for the Council, until he did something he regretted, and turns on his former masters. So he and Batman beat the heck out of the council, and Kirk died doing it.
It's such a tight package of a story, and it feels unlike anything else from the time. With Goodwin's passing, it stands as a testament to how good he really was.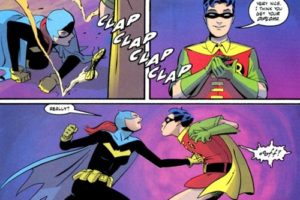 Source: tumblr.com
7. Batgirl: Year One
The Year One line of miniseries and specials was one of DC's most fun diversions, and it's kind of sad that they aren't around anymore.
Batman Year One may be the best story in the character's history, Green Arrow Year One was a reinvention of the hero, and even less notable stories like Teen Titans Year One and Black Lightning Year One were totally worth reading.
The Batgirl origin miniseries covered the first year of Barbara Gordon's crime-fighting career, and it did it beautifully. Marcos Martin, guys. Who said he was allowed to be this good? His art was the standout of the book, gloriously fluid and gorgeously bright.
Co-writers Scott Beatty and Chuck Dixon complemented each other and made up for each other's shortcomings, and the result was a truly special comic book. And for a nine-issue miniseries, it didn't feel like it was dragging. In addition, the one-off issue where she met Batman and Robin was perfect.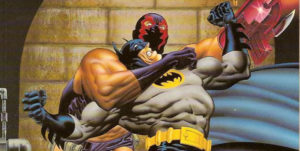 Source: darkknight.com
6. Batman: Ten Nights of the Beast
In Soviet Russia, Batman fights you! Look, it's been a long day, not all of the jokes are going to be winners.
Ten Nights of the Beast was the first appearance of the best-named Batman Villain of all time, the KGBeast. You can argue with me on this, but you will be wrong. In the story, a brand new assassin known as the KGBeast appeared in Gotham, and took ten nights to kill off multiple government workers, leading up to"¦dun dun DUN…President Reagan!!!!
Look, this was the eighties, as you should've been able to tell from the Cold War theming. Batman had to protect the President and other officials tied to the Star Wars (not that one) program.
It also included the scene in which Batman hooked KGBeast's hand with a rope, and KGBeast hacked off his own hand with a fire axe. That was pretty rad. And then he replaced the hand with a gun. That was double rad.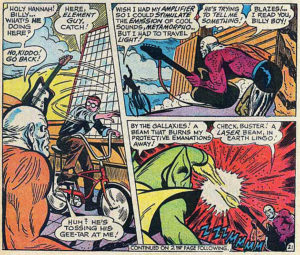 Source: comicsalliance.com
5. Metamorpho
This one is finally starting to get the credit it's due, but not enough credit and not soon enough.
To put it simply, this was "˜60s DC making a "˜60s Marvel Comic. Rex Mason was a hero in the classic monster mold, with a swingin' slang-filled vocabulary and a tragic origin. He was a Marvel Character. In the DC Universe. And they knew it, too.
That two-issue arc in which Metamorpho parodied Galactus' first appearance less than a year later? That thing was great. Plus, it was one of the few comics of that time that really arced its characters well. And of course, because of that, it was cancelled. That's why I feel comfortable sticking this entire run on this list; it was so short.
And you can get the whole thing, plus Metamorpho's Brave and the Bold and Justice League of America appearances, in one of those big, gorgeous Showcase Presents volumes. If you only ever buy one of those, you should make it this one.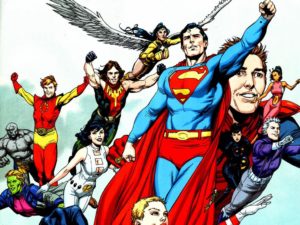 Source: pinterest.com
4. Superman and The Legion of Superheroes
Geoff Johns is a great writer, and although his Green Lantern and Justice League runs have tons of fans, I feel his Action Comics run is incredibly underrated. To be honest, it's better as a whole than either of the others.
His Legion of Superheroes arc is the crown jewel of that run. In it, Superman blasted into the future to see his old friends, and he found a dystopia in progress. It had been years since Superman visited the future, and a vast anti-alien sentiment had overtaken the Earth.
Earth Man, a rejected Legionnaire, had driven out much of the Legion with xenophobic sentiment, rewriting history to say that Superman was actually a human who fought against aliens. Supes showed up to help his remaining Legion friends, but he encountered a problem: Someone turned the sun red.
Without his powers, Kent first needed to be Superman in spirit. Plus, there were some all-timer Legion of Substitute Heroes in there.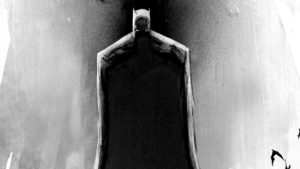 Source: dccomics.com
3. Batman: The Black Mirror
Sadly, this was not a comic book about Batman dealing with evil future technology in a clever parallel to modern society. No, this was Scott Snyder's "secret" Batman comic before his legendary run on Batman.
As the final storyline in the original Detective Comics run (before it was resurrected during Rebirth), this one brings back Batman Year One's James Gordon, Jr., the son of everyone's favorite mustachioed detective.
The son's whereabouts were the enduring mystery, and it turned out that he was terrifying. James, Jr. returned to Gotham, where his history of mental un-health and possible ties to serial killings raised the ire of Batman. But not Bruce Wayne. No, this was when there were two active Batmans at the same time. And Detective Comics was the Dick Grayson Batman book.
The mystery played out in expert fashion, and the book really kept you guessing right up until the end.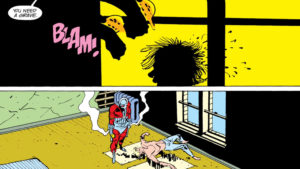 Source: comicbook.com
2. Deadshot
Ostrander, Yale, and McDonnel are all-time greats. How they found time for this, I'll never know.
Done during their classic Suicide Squad run, this miniseries was about the darkest chapter of Floyd Lawton's life. When his son was kidnapped, Deadshot went AWOL from the squad to cover his own business.
It's frustrating that this wasn't collected in the gorgeous new Suicide Squad trades, because it was a vital part of the story. Without it, Deadshot's mental decline came out of nowhere. But with it, you had a greater perspective on the character. He was so interesting and well-realized, and this was his time to shine.
It was also one of the darkest DC Comics ever printed while still being good. The scene in which Deadshot blew a guy's hands off with his wrist pistols is still perfect. Great cover work on these, as well. Each issue was distinct, but still a part of the greater whole.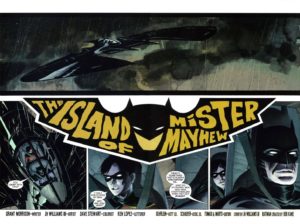 Source: imgur.com
1. Batman: The Club of Heroes
Grant Morrison and J.H. Williams III do not screw around.
These two comic book issues were master classes in writing AND art. Morrison loves his 1950s Batman comics, and his particular favorite is the Batmen of All Nations. In that story, a bunch of Batman-like heroes from around the world teamed up to fight crime. In this modern reinvention, the team, also known as the Club of Heroes, met up again on an island, only to be murdered, one by one. It was a murder mystery in which every suspect was a Batman.
A detective story with eight of the world's greatest detectives. Oh, and each one was drawn in a different artist's style, which was crazy good. And there were some layouts that I want friggin' framed. It was the best story of Morrison's Batman run, hands down, two perfect issues that were everything I love about Batman.
And there you have it, ten gems to fill your Christmas reading list. Light a fire, curl up under the mistletoe, and read some comics.