Another year of geek movies has come and gone. As always, there's a huge amount to choose from, but here are the ten best. Ranked from worst-best to best-best, consider this a year in review for nerdery at the cinema. Briefly, the list is limited to theatrically released narrative film, so animated DC projects and documentaries like Batman and Bill are all exempt. And quickly, films that were…uh…not good enough to make this list: Alien Covenant, Deathnote, and Justice League.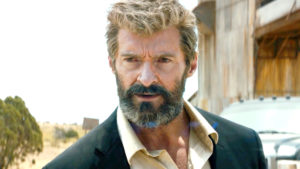 Source: lemonademagazine.com
10. Logan
You know this was a good year when Logan is barely in the Top Ten.
This movie is fantastic, and it's easily up there with the best X-Men films. It catches up with Logan years after the X-Men are done, and he's an old man taking care of another old man, Charles Xavier. He's just going about his life, trying to cause as little trouble as possible.
But when a mysterious girl with deep ties to his past comes into his life, Logan has to pop those claws and get out there one last time. This one is a really good time. It's grim and character-focused, but not afraid to be funny when necessary. X-23 is fantastic. Dafne Keen is an incredible child actress, and I hope she sticks around to make more movies.
Logan also gave us Rictor, and I'll always be happy with that. There are minor problems with some of the themes and character moments, but nothing to really write home about. Overall, a touching movie about people that's also soaked in blood and gore.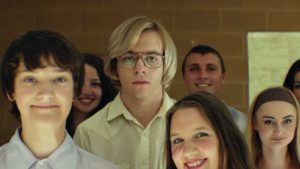 Source: nziff.co.nz
9. My Friend Dahmer
What, you thought these were all gonna be superhero or Sci-Fi movies? Nope!
My Friend Dahmer is based on the graphic novel by Derf Backderf, a true retelling of the cartoonist's time attending high school with notorious serial killer/cannibal Jeffrey Dahmer. The film switches perspectives to Dahmer's point of view, which I feel is a mistake, but overall it's a great telling of the story and it strikes a good tonal balance.
It's scary, but it's also funny. It shows why Dahmer was so disturbed, but never tries to excuse his actions. Ross Lynch gives a really solid performance as the young killer that makes him an interesting main character, if not a sympathetic one. And Alex Wolf gives a really likable portrayal of Derf that makes me really wish he were the main character.
It's not a big movie, and it's not an outwardly violent movie, but it focuses on what's bubbling underneath the surface of someone like Dahmer. If you get a chance to see it, I really would. You probably won't, though, because it's in an incredibly limited theatrical release. I had to drive half an hour to find a theater playing the thing. Worth it, though.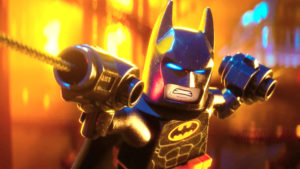 Source: chicagonow.com
8. The Lego Batman Movie
Aside from being the best movie to feature Batman in almost a decade, this is also a better superhero satire than we're likely to get for a long time. But underneath, it has definite heart.
In the film, Batman has spent years as a dark avenger of the night, closing himself off from the world. But within the span of 24 hours, a new Police Commissioner has been appointed, he's adopted a son, and he's given the Joker the motivation for his best plan yet. What makes this film work as well as it does is its theme. It's a movie about family, and I'm shocked that it took this long to make a Batman movie with that theme so well executed.
I mean, we're talking about a guy who keeps adopting children to fill the hole in his heart; it's a theme that's bound to come up. There are numerous scenes in this movie that regularly reduce me to tears. But the other thing about it is just how much it loves Batman. From the cute little references to the parade of silly villains in the first act, it has a deep respect for the source material, as any parody should.
The best Batman parody of all time, and one of the best Batman movies, as well. For sure the funniest.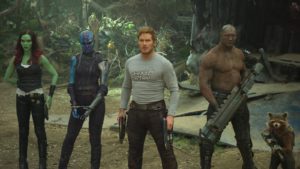 Source: rte.ie
7. Guardians of the Galaxy Vol. 2
The Marvel Cinematic Universe had an incredible 2017.
Three incredibly good films, released only months apart, [spoiler alert] all of which appear on this list. The lowest ranked, Guardians 2, is still an incredibly heartwarming (by the end) and emotionally real film.
A few months after the events of the first film, the Guardians are doing odd jobs around the galaxy, but their personal flaws are starting to create conflicts among them. When Peter runs into his father, a space-being named Ego, the team fractures even further. These movies really are about the characters, and the way they grow and change across the film makes it a unique experience. It's fascinating to see that James Gunn isn't simply playing up the team's personal dysfunctions for comedic effect. He's also digging into the serious realities of living life the way they do.
It's a great movie that tackles some tough themes, and I can't wait to see where this film series goes next.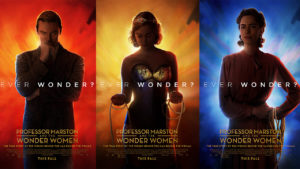 Source: aintitcoolnews.com
6. Professor Marston and The Wonder Women
In a just world, this would be a solid awards underdog, as opposed to a wonderful little movie no one saw.
The film follows William Moulton Marston, his wife Elizabeth, and their partner Olive Byrne through an unconventional relationship that inspired the creation of the most popular female superhero of all time. Let's get it out of the way up front that the film's of dubious historical accuracy, at least according to some sources. Buuuuuuuuut…it's also incredibly written and full of great performances. Rebecca Hall, specifically. Like, what a wonderful performance.
Just a friendly heads up, though. This one earned a pretty hard R-rating. If you thought Logan was this year's least child-friendly comics-related movie, then hoo boy, are you in for a surprise. This one digs into a lot of the BDSM subtext that was present in Golden Age Wonder Woman comics, and explains the characters' very personal origins. And after sitting through two 50 Shades of Grey movies (I watch a lot of movies; don't judge me) it was interesting to see BDSM portrayed on screen in a way that wasn't terrible.
A good movie about the genesis of a character that really digs into the people behind the story.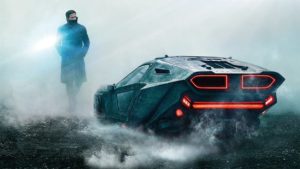 Source: twitter.com
5. Blade Runner 2049
How pretty can a movie get before it tries to literally steal your eyes? Blade Runner 2049 aims to answer that question.
Denis Villeneuve made a sequel that feels earned on every level. It's a follow up to the original's themes, using some incredible talents to make a one-of-a-kind movie. Ryan Gosling's cold, detached stare is practically his best resource as an actor as far as this movie and Drive are concerned. And Harrison Ford really gives this his all, showing he truly does care in a way that many of his recent performances haven't.
Like the first, it's a long, quiet movie, but we need more of those sometimes. It's the kind of film that left me paralyzed, staring at the screen as the credits rolled. I couldn't move, I was hypnotized by the atmosphere, the world, the storytelling on display.
This one isn't for everyone, but its target audience? It's gonna very much be their thing.
                                                           Source: uproxx.com
4. Thor: Ragnarok
After careful, meticulous research, it appears that I can't find a way to make The Immigrant Song play as soon as you load this page. So, darn.
But Thor Ragnarok is that song's building energy, pounded into a live-action mix of Walt Simonson and Jack Kirby, and it is glorious. Historically, I've not been a huge Taika Watiti guy, but I adored this.
The best Thor movie by a long shot, Ragnarok leans hard into the cosmic, and it's so earned. Thor goes in search of Odin, who's been banished. The resulting events bring Hela, a forgotten Asgardian and the Goddess of Death, back into the fold, and she's intent on conquering Asgard. Thor and Loki are exiled to Sakaar, the garbage dump of the universe, and they must find a way to get home. Outright hilarious, but also fist-pumping, Ragnarok is a straight-up thrill ride. And it's beautiful. It's the best-looking movie Marvel's made in years.
Plus, Skurge! And Surtur! And, holy hell, Valkyrie. I didn't care about Valkyrie before this movie, but I sure as hell do now. And I love this movie.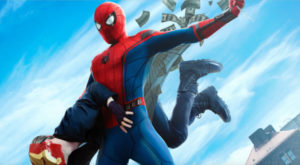 Source: comicbook.com
3. Spider-Man: Homecoming
Spider-Man is one of the all-time greatest comic book characters of all time, and I'm glad we finally got a movie version like this one.
A Spider-Man movie you could only make in a shared universe, Homecoming tells the story of the upstart superhero as he tries to find his place in the world. It's funny and sweet and emotionally powerful. Warning: From here on out, every movie on this list made me tear up in some way. Lego Batman also made me do that, for what it's worth.
We've seen good Spider-Man performances before, but this is the best Peter Parker across six movies. The high school movie energy makes this film feel very different in a very good way from other attempts at the character. It's the first Spider-Man film I've seen that feels like it was ripped right off the comic book page. Not changing a character to fit a film, but seeing exactly how well that character can be realized in a new medium.
Spider-Man came home and showed us everything he's got.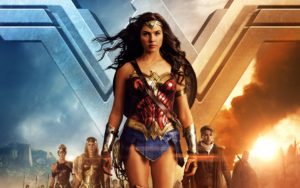 Source: denofgeek.com
2. Wonder Woman
A straight-up miracle.
Everyone involved in this deserves a pat on the back for knocking this film out of the park. As the first film to adapt such a classic character, it was imperative that it wasn't screwed up, and Patty Jenkins and Allan Heinberg created a film that's as good as it is important. The film is an impressive balance of depth, humor, character, and kindness that elicits a one-of-a-kind emotional response from me and many others.
I can't watch Wonder Woman going over the top and stepping into No Man's Land without crying, and I've talked to countless others who feel the same way. It's the kind of deeply powerful moment that's as iconic as Christopher Reeve taking flight. It's a movie that will be deeply important to numerous people for years into the future. It makes the entire DCEU worth it for me. And you don't know how much that means.
The best superhero movie of the year by an immense amount. But it's only number two on this list, and that's because"¦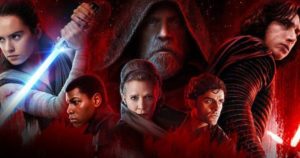 Source: flickeringmyth.com
1. Star Wars Episode VIII: The Last Jedi
I haven't seen a blockbuster this smart, unpredictable, and franchise re-defining in a long, long time.
My love for this movie could be its own full article (and still might be). There's just so much to say.
MAJOR SPOILER WARNING: PLEASE DON'T READ UNTIL YOU'VE SEEN THE MOVIE.
I'm not going to go out of my way to spoil stuff here, but with this movie, any detail is a spoiler, so be advised. This is the first Star Wars movie I've seen that prioritizes theme and character as highly as it does plot. It's a beautiful deconstruction of everything that's come before, and it addresses the franchise's only remaining flaws. It torches the terrible "Mystery Box" storytelling that was the only bad thing about Force Awakens. Be warned: This movie doesn't give a s**t about your fan theories, because it's too busy weaving all of that stuff into the best theme-work of the Star Wars series.
It's a film about relinquishing the old and moving on to the new, a film that re-examines what Star Wars has always told us about heroism, a film that looks and sounds gorgeous. It's one of the best films of the year, and it may be the best Star Wars movie yet. It's definitely the smartest. It feels like a bold, fresh direction for the franchise, and it feels like a movie that will guide us into the future. Oh, and again, no spoilers, but that last scene is one of the most emotionally powerful in the series. I can't stop raving about everything in this movie. It's nearly perfect. Full article coming soon.
And there you go, my top ten Geek-related movies of the year. If your favorite isn't here, that doesn't mean I hated it. It's possible that I didn't see it or didn't feel it belonged with the others. But it's also just a ranked list of movies, so enjoy the rest of your year, and don't get too worked up about it.