DC Comics has revealed what they're bringing to the party for Free Comic Book Day 2020. The publisher will be bringing two samplers, Generations Zero and DC Middle Grade Graphic Novels, to comic book stores for fans to enjoy, free of charge. Both books offer something different, but both are jam-packed with stories. 
Generation Zero is billed as the march towards DC's future. The book kicks off with the "Flash Forward: Epilogue," an extension of the unbelievable conclusion to the Flash Forward six-issue miniseries, with all-new content from the series team of writer Scott Lobdell and artist Brett Booth. The synopsis reads as follows. 
"In order to save his children and the multiverse itself, Wally West makes the ultimate sacrifice, taking his place in the Moebius Chair. Unbeknownst to him, the chair is packing a little extra power, having been imbued with the godlike powers of Dr. Manhattan! Now armed with infinite knowledge – and the powers of a god – Wally West can see the past, present and future of the DC Universe all at once… Including what needs to be changed."
The Free Comic Book Day edition of Generation Zero will also come with a reprint of "A Brave New World," from Wonder Woman #750, Written by Scott Snyder with art by Bryan Hitch. The synopsis reads as follows. 
"Wonder Woman makes her debut as DC's first superhero, saving the life of Franklin D. Roosevelt during an assassination attempt at the 1930 World's Fair in New York. As a nation hears more about her heroic exploits, it inspires some citizens to consider their own unique gifts, and how they could be used to help protect the world – among them Alan Scott, who will become the first Green Lantern!" 
As for the DC Middle Grade Graphic Novels, these are aimed at younger readers, but can be enjoyed by anyone. Included in the sampler will be Batman: Overdriver, written by Shea Fontana (DC Super Hero Girls) with art by Marcelo Di Chiara. It's described as a heartfelt story touching on the importance of friendship, trust, and forgiveness. The synopsis reads as follows.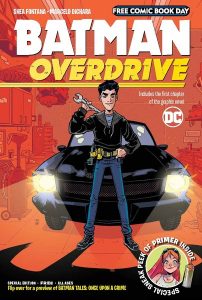 "Driven to solve the mystery of his parents' murders, teen loner Bruce Wayne sharpens his detective and fighting skills as he searches Gotham City for clues to the identity of those responsible. Bruce processes the pain and guilt of their deaths by rebuilding his dad's first car. As he finds parts to restore the car, Bruce is forced to open himself up to new challenges and friendships, finding out that what he really desires most isn't vengeance, but freedom." 
Batman Tales: Once Upon A Crime will also be part of this second sampler and includes four stories featuring Damian Wayne, Alfred, Batman, and more. The synopsis reads as follows. 
"An anthology that combines characters from the DC Universe with classic fairytales, this book encourages middle-grade audiences to read on their own with short, hilarious stories that help foster a sense of reading accomplishment. The creative team of writer Derek Fridolfs and artist Dustin Nguyen (of Li'L Gotham fame) have returned to their Bat-roots to combine Bat-characters with fairytales such as Pinocchio, Alice in Wonderland, The Princess and the Pea, and The Snow Queen." 
In addition, this free sampler includes sneak peeks at exciting DC middle grade titles, My Video Game Ate My Homework and Primer, which feature all-new original characters.
Free Comic Book Day 2020 is set for Saturday, May 2. For more information on Free Comic Book Day, visit the website at www.freecomicbookday.com.
So what do you think? Are you excited for Free Comic Book Day? Will you be heading out to your local comic book shop to pick up either of these books? Join in on the conversation over on Facebook or Twitter!