So, you're a fan of DC Comics, are you? In which case, you'll no doubt be interested in DC merchandise.

With that in mind, why not go the whole hog and totally "superfy" your home with masses of DC homeware?

We can help you with that – because, in this piece, we'll be taking you through thirty amazing pieces of DC homeware to superfy your home.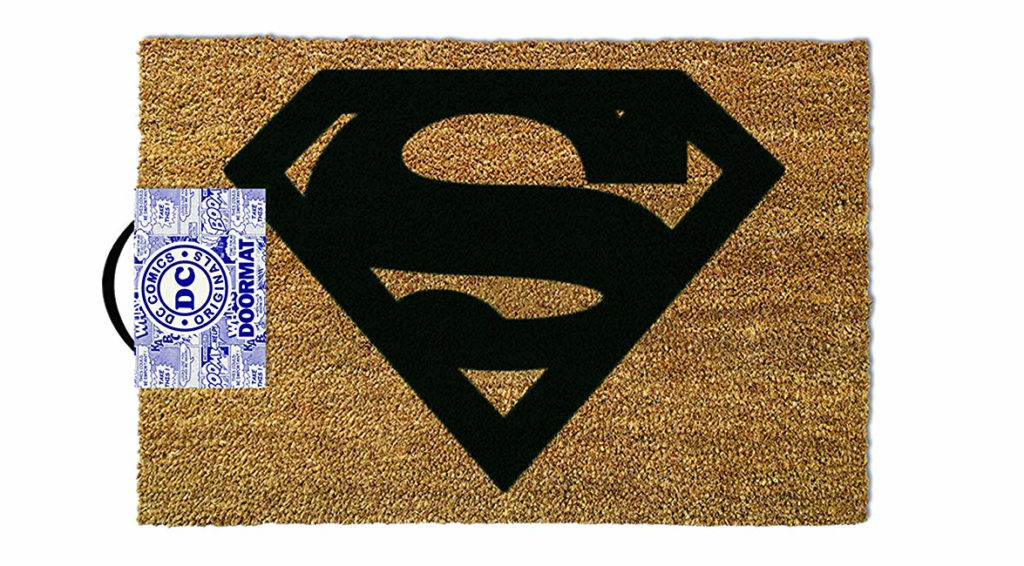 You're proud to be a fan of DC Comics, right? And you're not going to be ashamed of your "superfied" home, are you?

No? Cool. In that case, you'll be wanting to let everyone know about your DC love before they even step foot inside – and the best way to do that is with this welcome mat.

It's made of the usual coconut brush material and features Superman's iconic emblem – so it's the perfect way to introduce guests to your own personal Fortress of Solitude!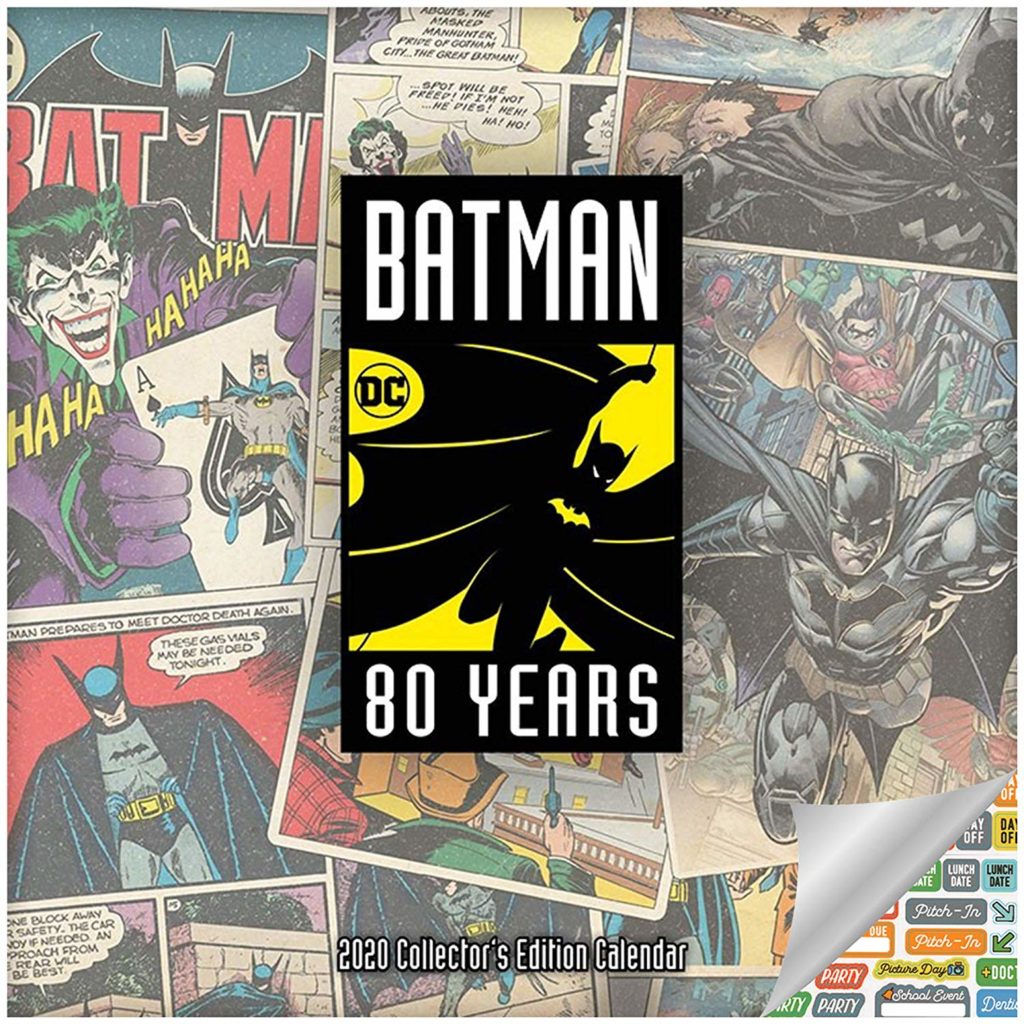 2019 is almost at an end (yes, really!) and you'll soon be needing a new calendar to hang up in your kitchen to manage and monitor your schedule.

As a fan of DC Comics, it's only right that your 2020 calendar is a DC one – and this one is, therefore, absolutely perfect for you.

It's a Batman calendar, celebrating 80 years of the Dark Knight – and it features loads of characters characters from Batman lore, including Batman himself, Robin and the Joker.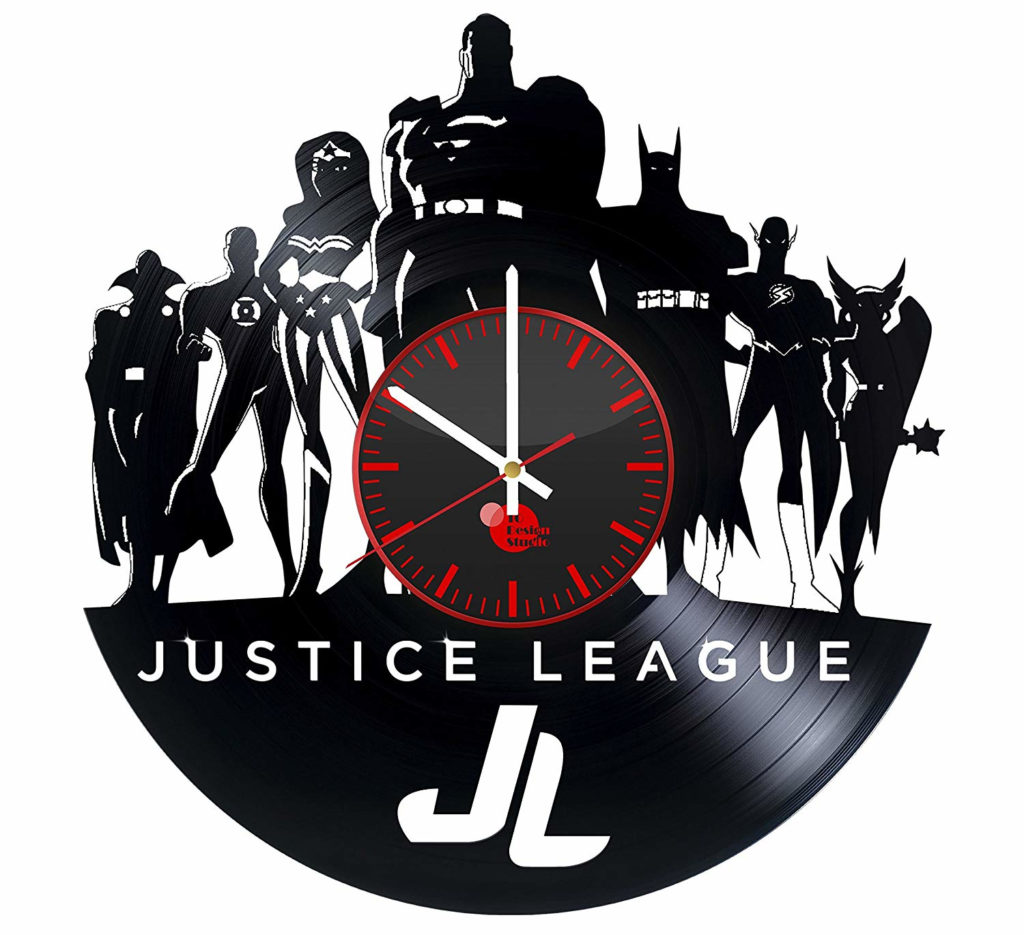 There is, of course, another sound way of managing your schedule and maintaining your punctuality – and that's by keeping your eye on the clock.

As a DC Comics fan, having a cool timepiece featuring the company's iconic characters is a great way to do that!

This clock is an old vinyl record customised into the shape of the Justice League (Martian Manhunter, Green Lantern, Wonder Woman, Superman, Batman, the Flash and Hawkgirl) and the Justice League's logo! It looks absolutely awesome – and we bet you'll be the only person in your social group to own it!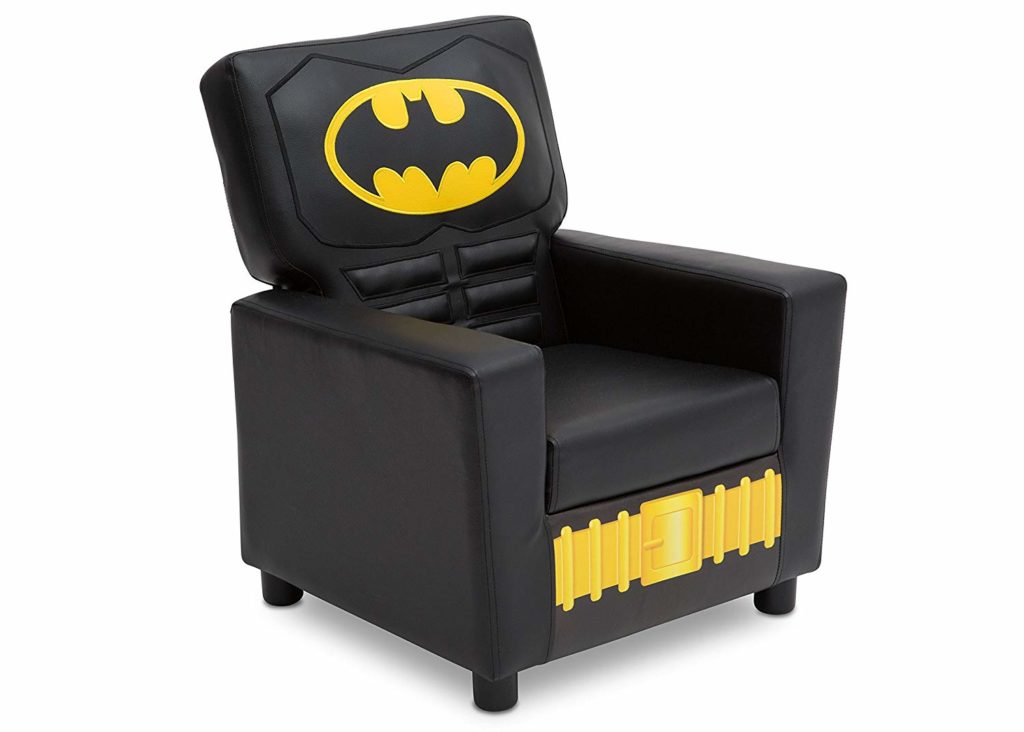 Even superheroes need somewhere to sit, so when you're not zooming around doing your thing, this awesome Batman chair will provide some ideal respite.

Look, let's be perfectly clear here: THIS IS FOR CHILDREN. If you weight more than 100lbs, DO NOT SIT IN THIS CHAIR.

That being said, if you have a kid, and you're looking for an excuse to superfy every room in your home, buy this and put it in their bedroom right now!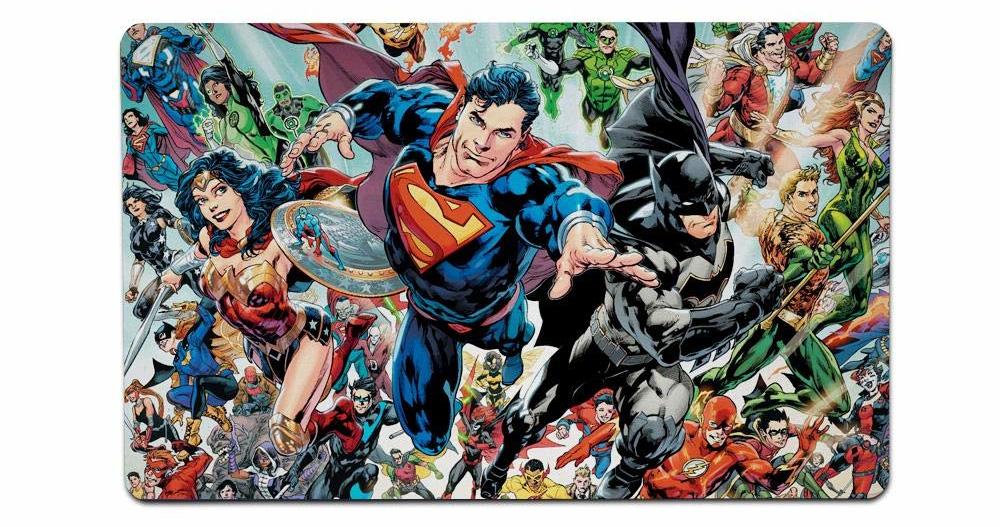 Now we come to our next item – in the form of this very cool DC Comics mouse pad.

Perhaps you're a PC gamer, maybe you enjoy surfing the web on a desktop computer, or maybe you work at a desk and use a PC to type – either way, this mouse pad will make those experiences a little more colourful and fun.

It features dozens of characters, including Superman, Batman, Wonder Woman, Aquaman, Mera, Shazam and various Green Lanterns.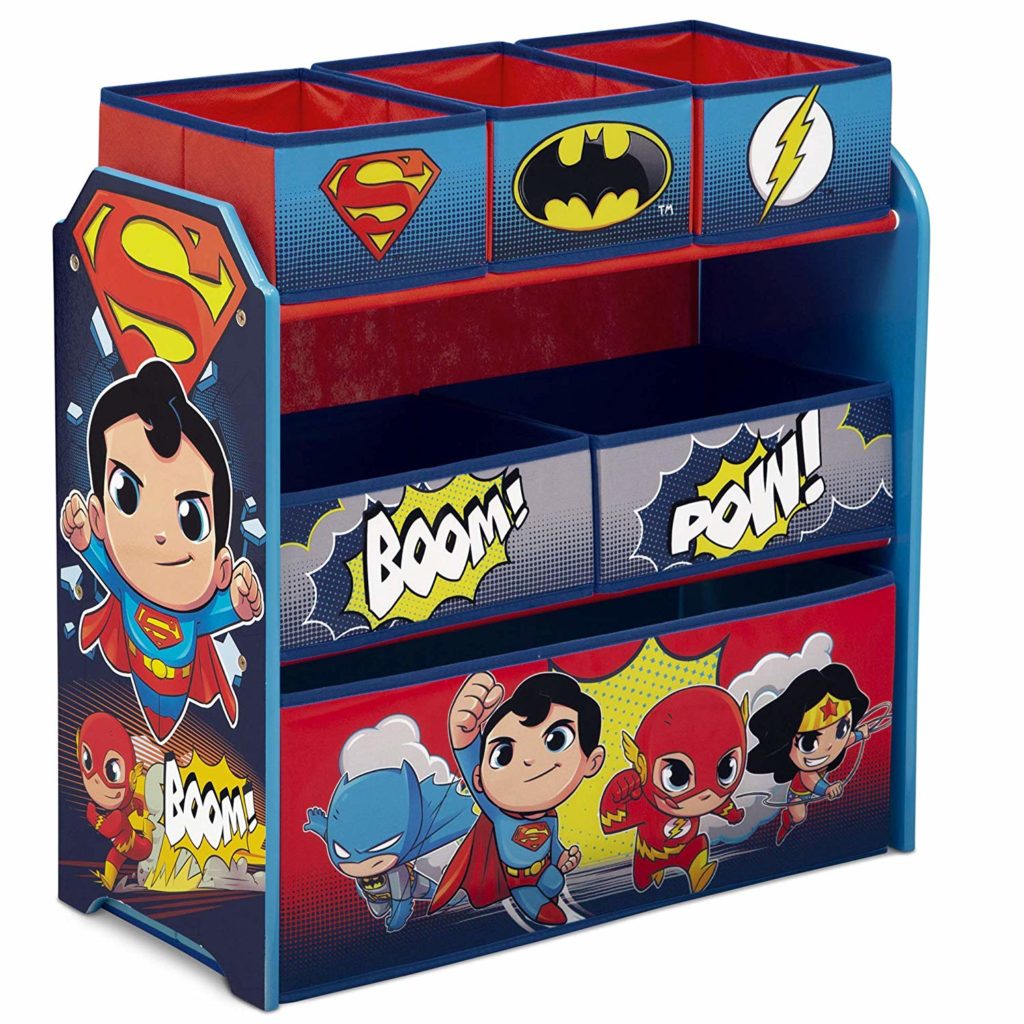 Again, this is a product that's obviously aimed at kids, but if you have children of your own or if you're such a huge fan of DC Comics that you don't care who it's aimed at, you might buy it anyway!

Truth be told, regardless of how old you are, this DC toy bin is ideal for storing all kinds of different items – DC-themed or otherwise!

It features Batman, Superman, the Flash and Wonder Woman – and you could pretty much store anything in it!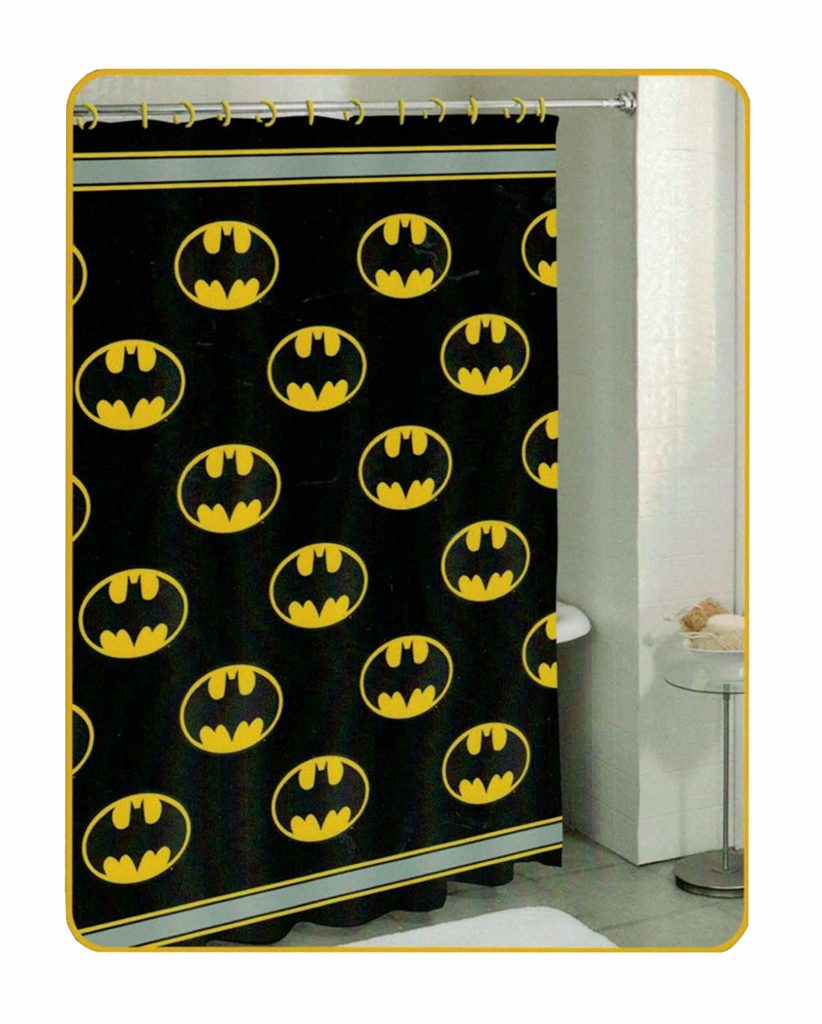 You're a true DC Comics fan, right? And that means you want to superfy EVERY room in your house, yes? In which case, you'll definitely need to put some DC stuff in your bathroom! This awesome Batman shower curtain is a good start in that regard!

It's black and emblazoned with the classic Batman logo, so it'll make your bathroom feel like your own personal Batcave… or Batroom, if you prefer. Bathroom/Batroom, get it? Never mind.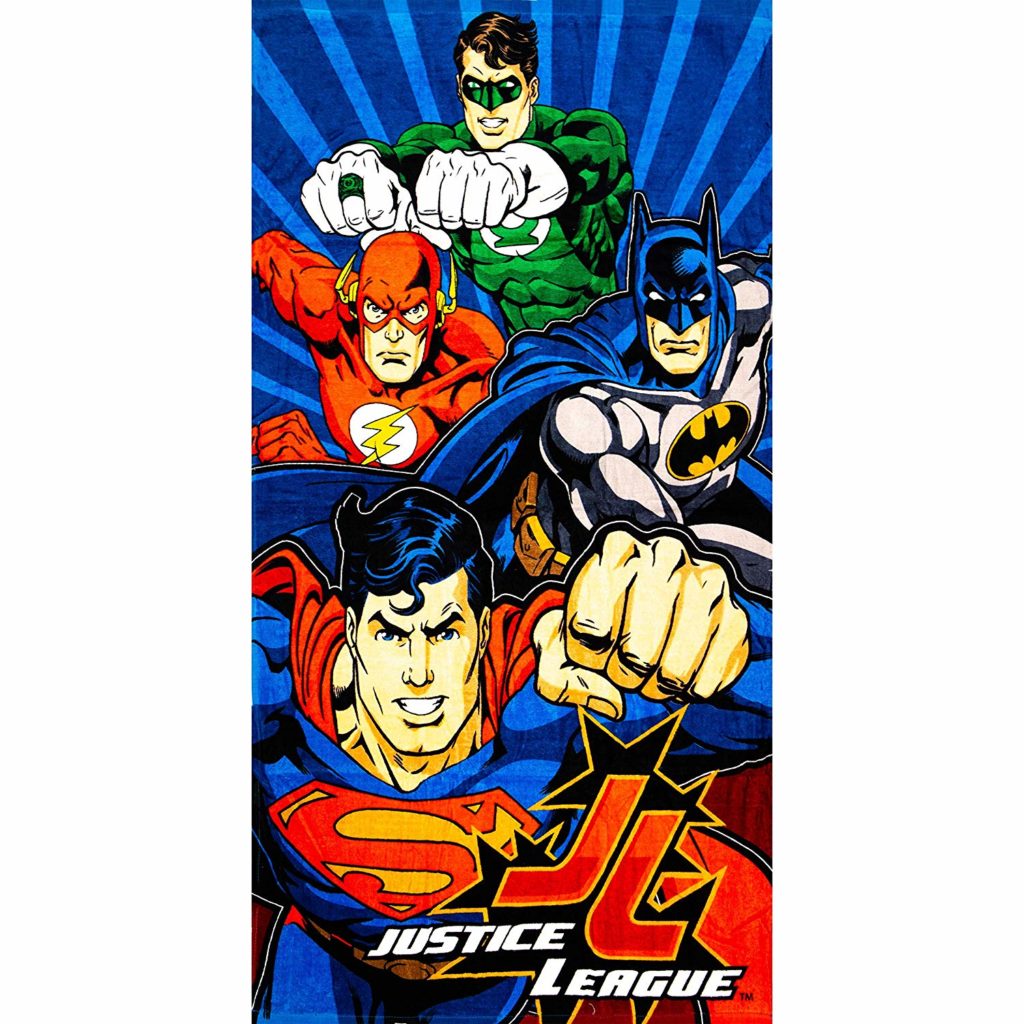 Obviously, when you get out of the shower, you'll need to dry yourself off – and as a fan of DC Comics, there's no better way to do that than by using this awesome Justice League towel.

It's got the Justice League logo on it, as well as Superman, Batman, the Flash and Green Lantern – and when you're using it to dry yourself down, there'll be no doubting your DC fan credentials.

You could, of course, also take it to the pool or beach with you!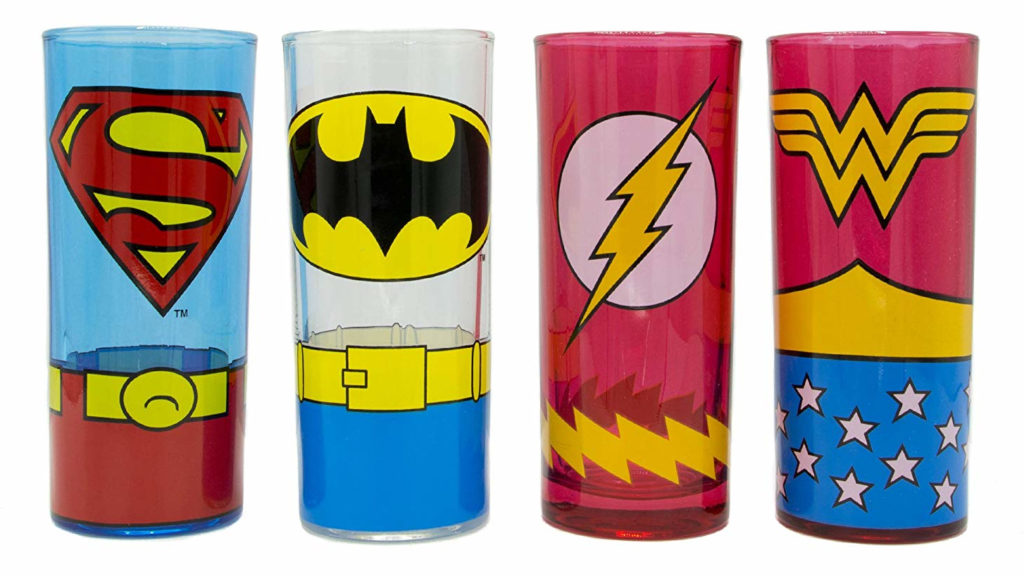 We all love a nice cool drink when we've got a thirst on, whether that's a glass of fruit juice, some fizzy soda, or a nice healthy glass of ice cold milk.

As a fan of DC Comics, you'll be wanting to drink all of those things out of a DC glass – so you'll be definitely be needing these beauties!

This quartet of DC drinking glasses features the logos of four iconic superheroes – Superman, Batman, the Flash and Wonder Woman – and they're very snazzy indeed. So buy them now!

There is, of course, another kind of liquid refreshment – and it comes in the form of alcohol!

Now, obviously, you could drink beer from an ordinary glass – such as the ones we just discussed – and wine obviously goes in a wine glass, but when it comes to shots, you're going to need something else.

These ceramic DC shot glasses are simply fantastic – and they feature the logos of Batman, Green Lantern, Superman and the Flash.

As well as cold drinks and booze, everybody loves a hot drink – whether that's coffee, tea, hot chocolate or something else – and there's a DC product to drink those out of as well!

These mugs are perfect – and they come with the logos of four of the most iconic DC superheroes.

So if you'd like to drink from mugs fit for Superman, Wonder Woman, Batman and the Flash, these ones are definitely for you! So buy them immediately – you'll regret it if you don't!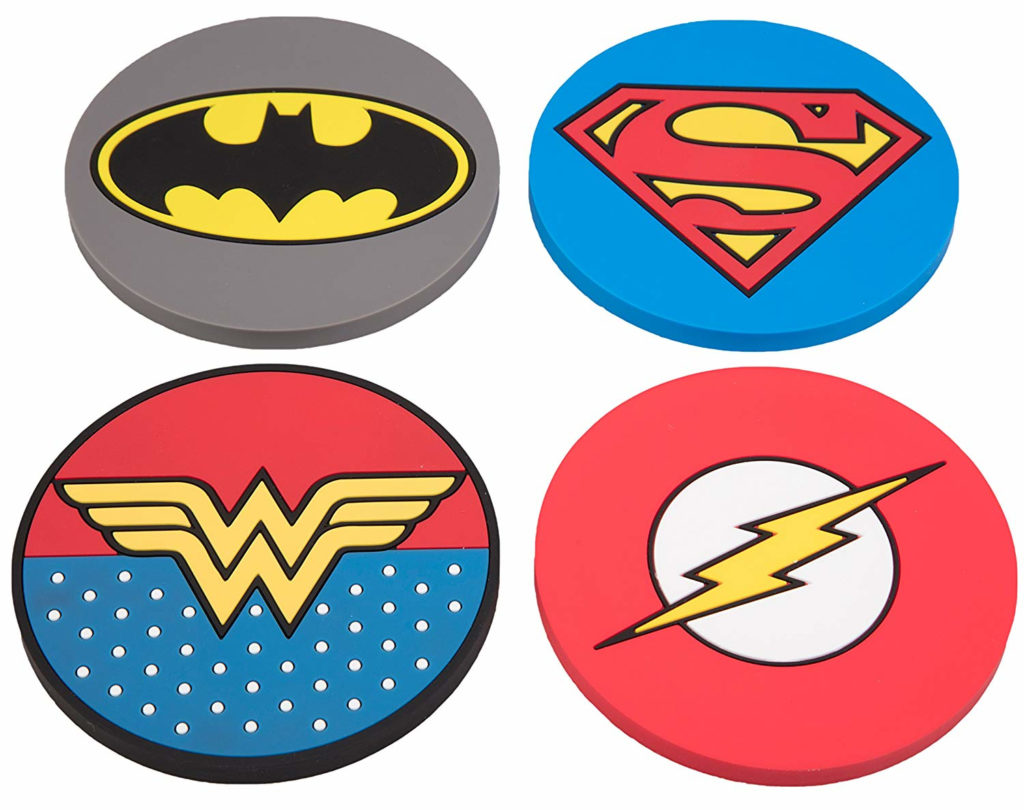 You'll be needing a place to put your DC drinking glasses, shot glasses and mugs while you're using them and once you're finished drinking out of them – and what could be better for that than these DC Comics coasters?

They've got various emblems and logos on them – namely Batman's, Superman's, Wonder Woman's and the Flash's – so there should be a coaster fit for everyone in your household.

Just don't get into arguments about who uses which one, okay guys?!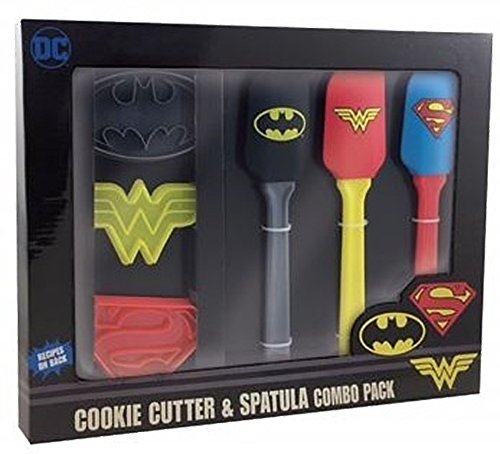 Even the most mundane kitchen utensils become more exciting when you give them a DC Comics twist, as this unique product combination undoubtedly proves!

It's a pack of three spatulas and three cookie cutters – all of which have been given a DC holy trinity makeover.

Specifically, the spatulas have Batman, Wonder Woman and Superman's logos on them, and the cookie cutters allow you to make cookies in the shape of those same three logos – awesome!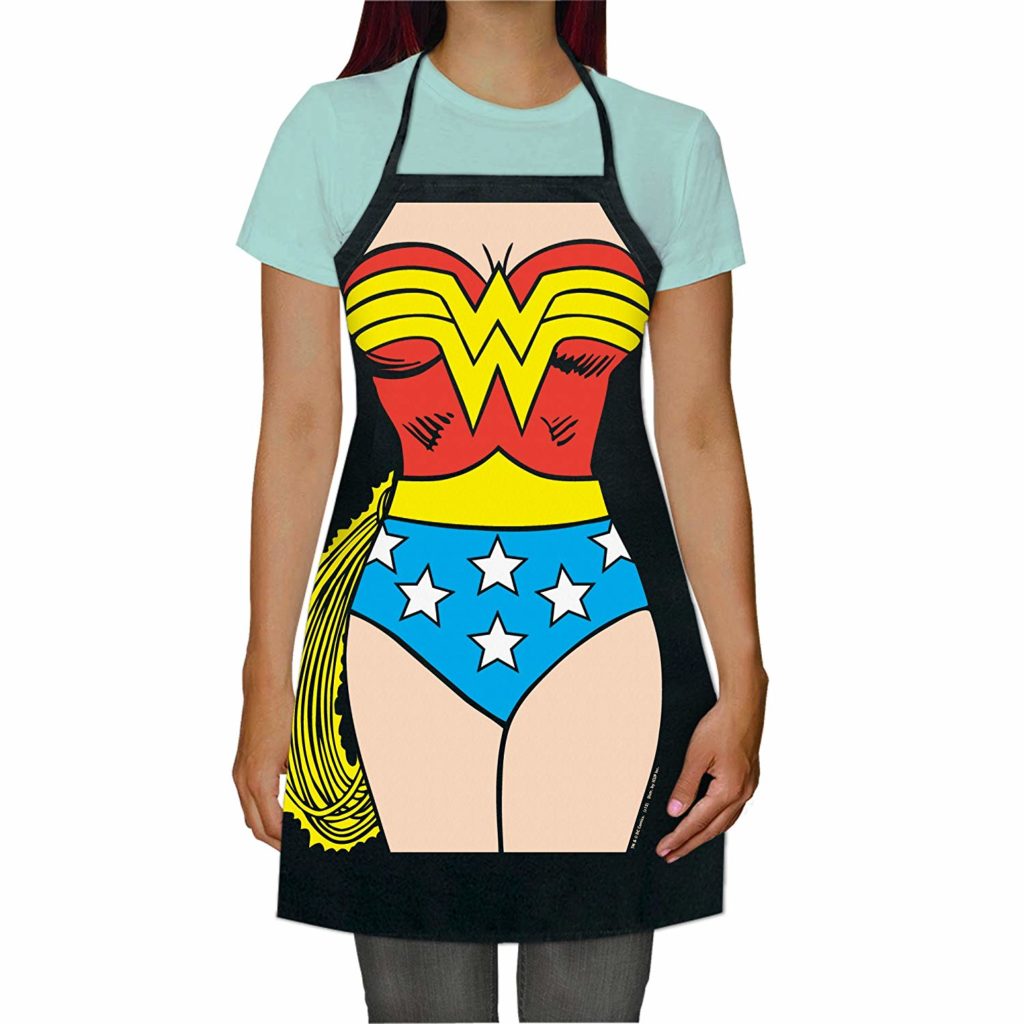 If you're being a goddess – or even a god – in the kitchen, wouldn't you like to do it while wearing this awesome Wonder Woman kitchen apron?

It's an extremely fun product that gives the person wearing it the body of DC's iconic Amazonian warrior – and that's particularly entertaining if the person in question is a male!

So if you want to look totally kick-ass (and hilarious) while cooking up a storm, make sure you buy this product immediately!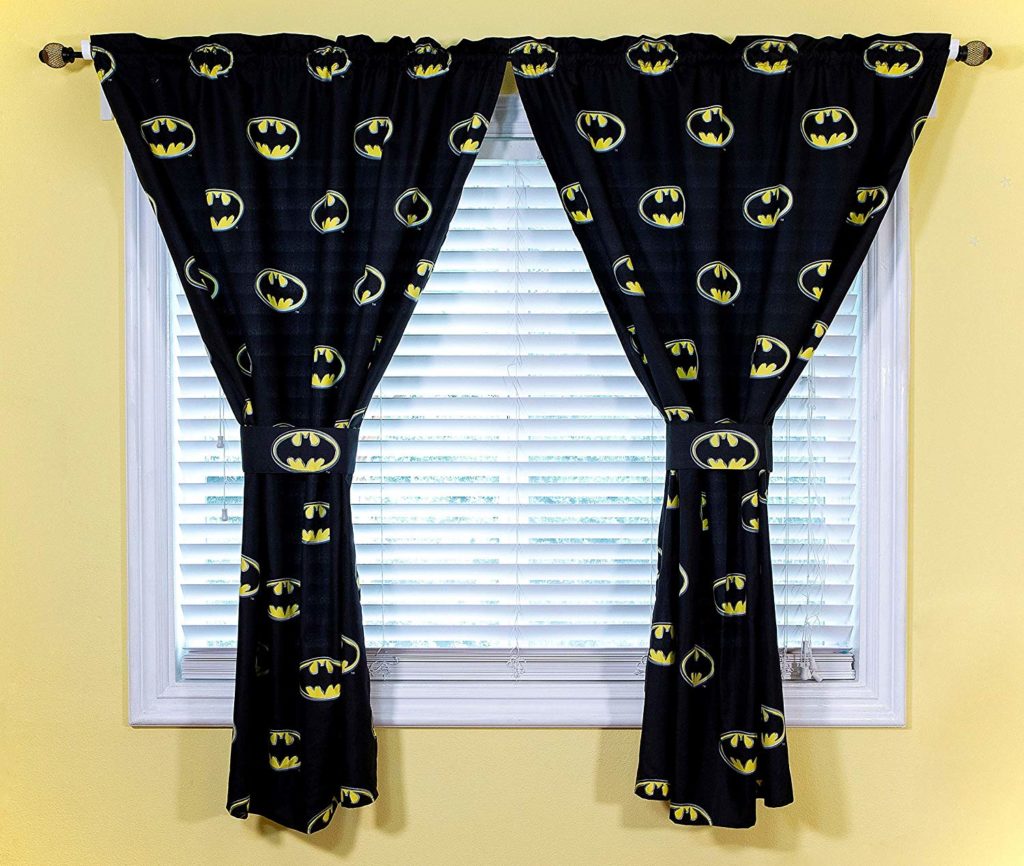 If you really want to superfy your home, you'll need to adorn your windows with superhero curtains – and these Batman curtains are just the ticket!

They're black and emblazoned with the Batman logo – and closing them will really make you feel like you're cosy and nestled in your own little Batcave!

Of course, they're meant for children – and you may be buying them for your kid's bedroom – but don't be ashamed to put them in your own special room, either!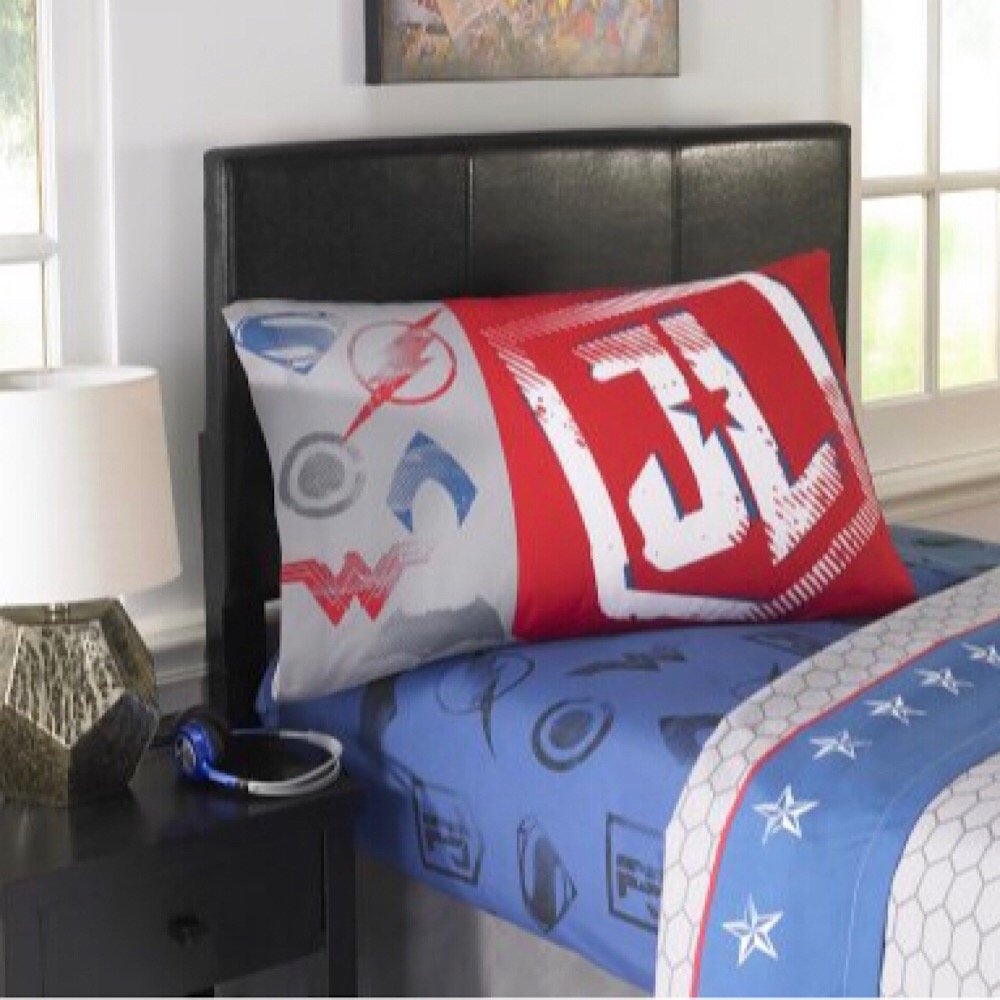 Whether you have children who'd love a bed adorned with superhero merchandise, or whether you have a bedroom of your own that's devoted to your geeky guilty pleasures, you'll love these Justice League bed sheets!

They're red, white and blue (God bless America!) and feature imagery associated with the iconic superhero team and its core members, such as Superman, Batman, Wonder Woman, Aquaman and the Flash.

They're enough to make any bedroom look ten times cooler!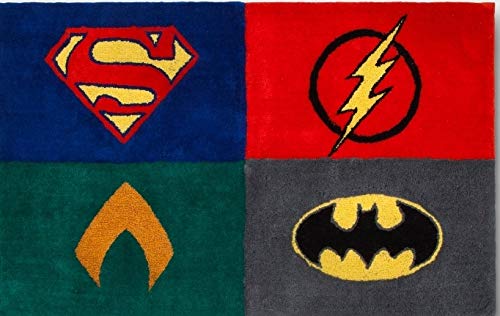 Don't forget to consider the floor when it comes to decorating your house with DC Comics merchandise!

This multipurpose rug is split into four sections – each of which has a different DC superhero's logo on it!

There's Superman's, the Flash's, Aquaman's and Batman's – and it can be used as a standard, decorative rug or as a play rug for your children and their friends – it's easily big enough for a couple of them to sit on it and play!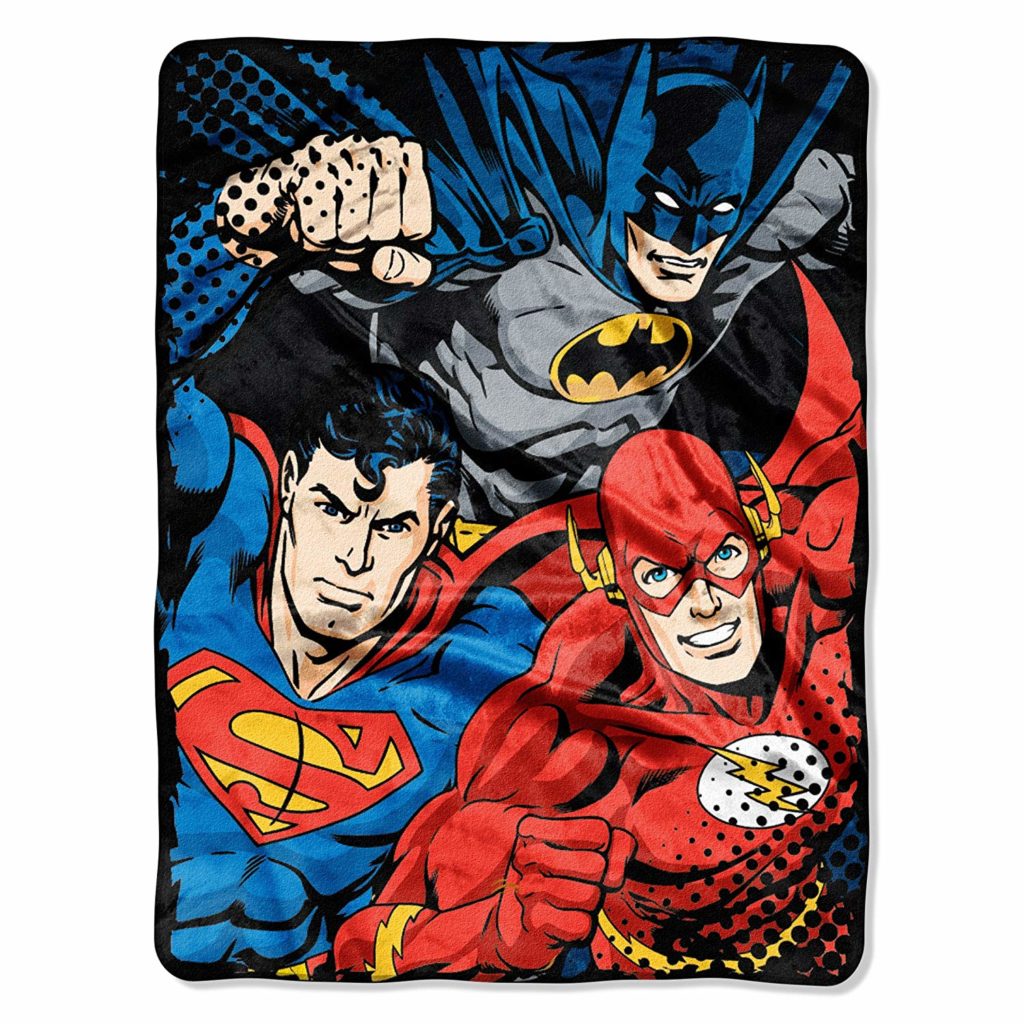 Items like sofas, chairs and beds often need a little extra decoration – and one of the best ways to do that is with a throw blanket.

This particular throw blanket is perfect for any DC Comics fan, as it features three of the company's most iconic superheroes.

The superheroes in question are Batman, Superman and the Flash – and the nice array of colours associated with those characters will make any room brighter. We bet you can imagine yourself sitting on a chair with this draped over it!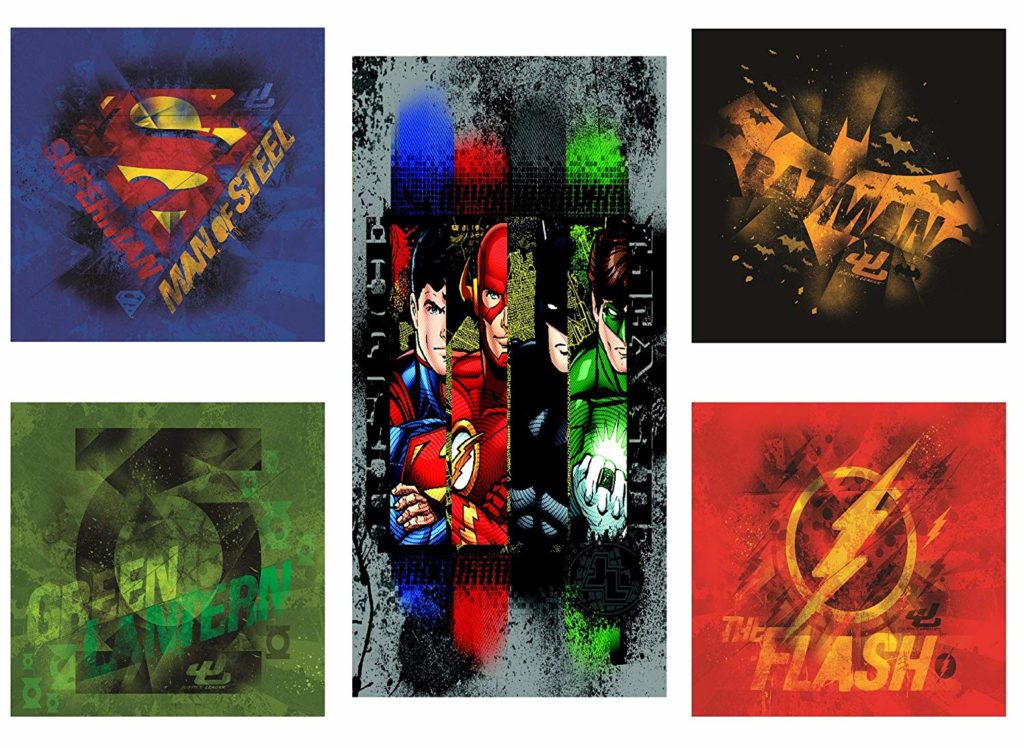 There's nothing quite like a few good pieces of wall art to finish a room off – and if you're a fan of DC Comics, you'll simply love this little collection.

It's a five piece set of canvas art that feature cool designs based on several of DC's most iconic characters.

There's a Superman piece, a Green Lantern piece, a Batman piece, a Flash piece, and a centrepiece with all four of those heroes on it. These are seriously awesome!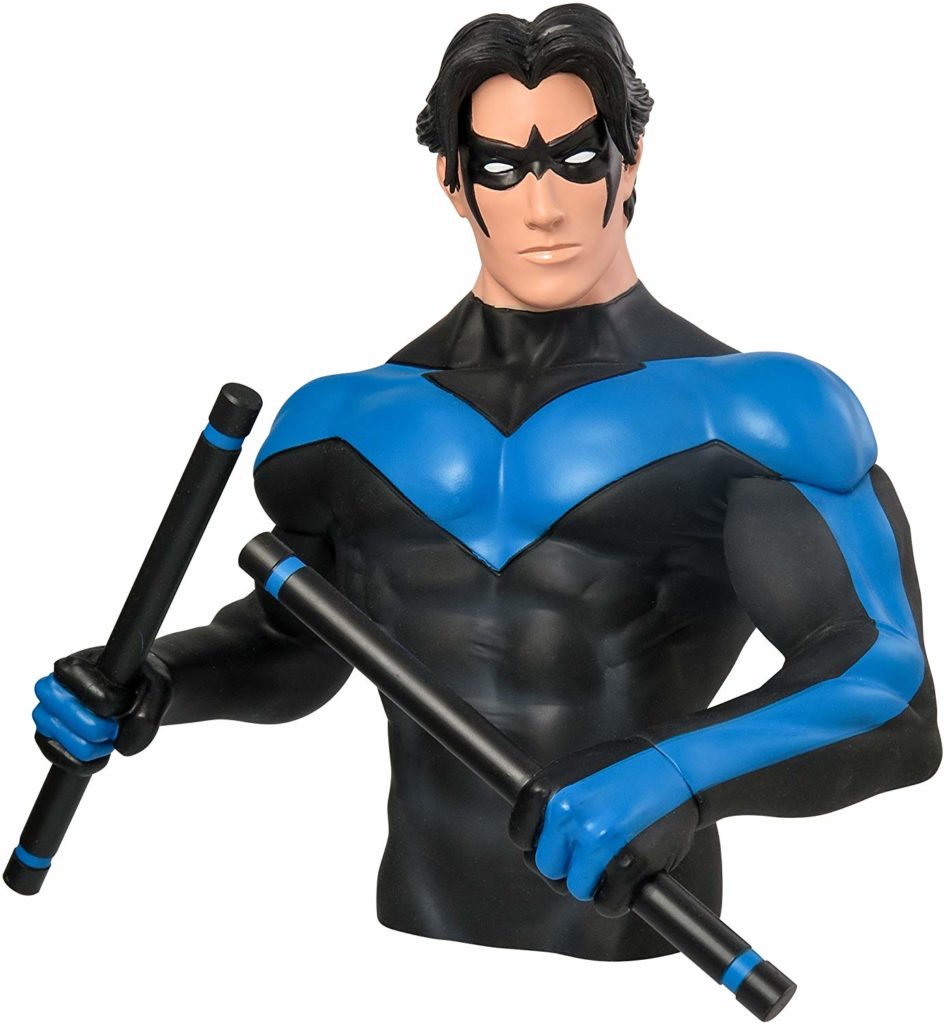 All of us end up accumulating a lot of loose change – and it often gets to the point that it's a chore storing it all. We have a very cool DC-themed solution to that problem!

This Nightwing coin bank is ideal for all those small value coins – and it'll hold enough of them that, by the time it's full, it'll be worth emptying!

Seriously, who better than this highly skilled superhero to guard your precious accumulated money?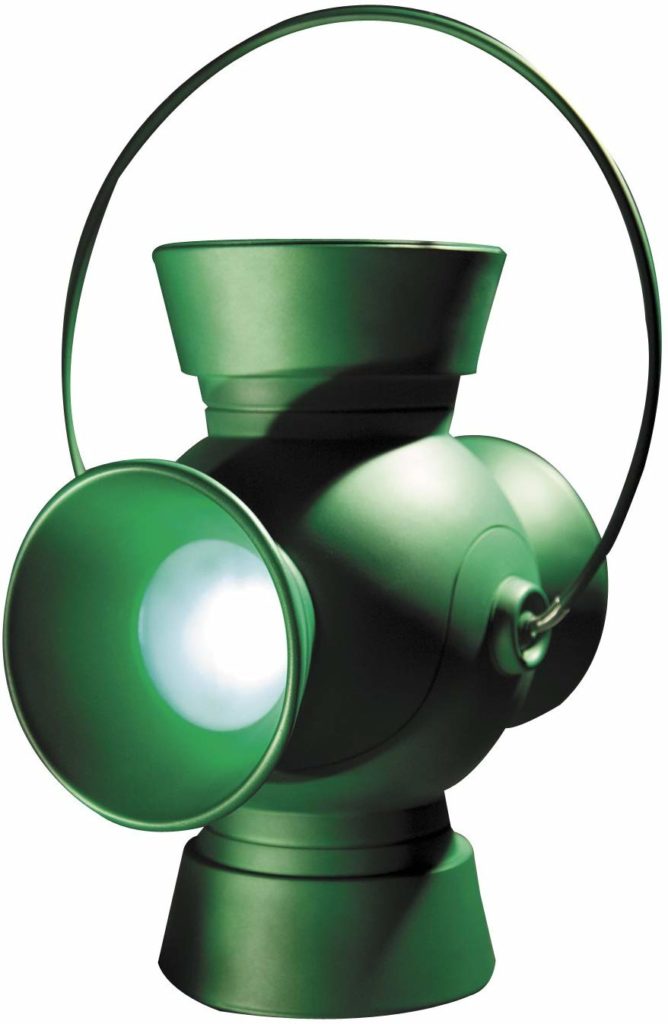 All homes need some lighting – and if you're a DC Comics fan looking to superfy yours, this lamp is absolutely ideal for you.

It comes in the form of the Green Lantern power battery – which is an absolutely awesome idea – and you can use it however you like!

You could use it as a bedside lamp, a desktop lamp or something else entirely! Regardless of how you use it, it's brilliant and it'll definitely make your home look great!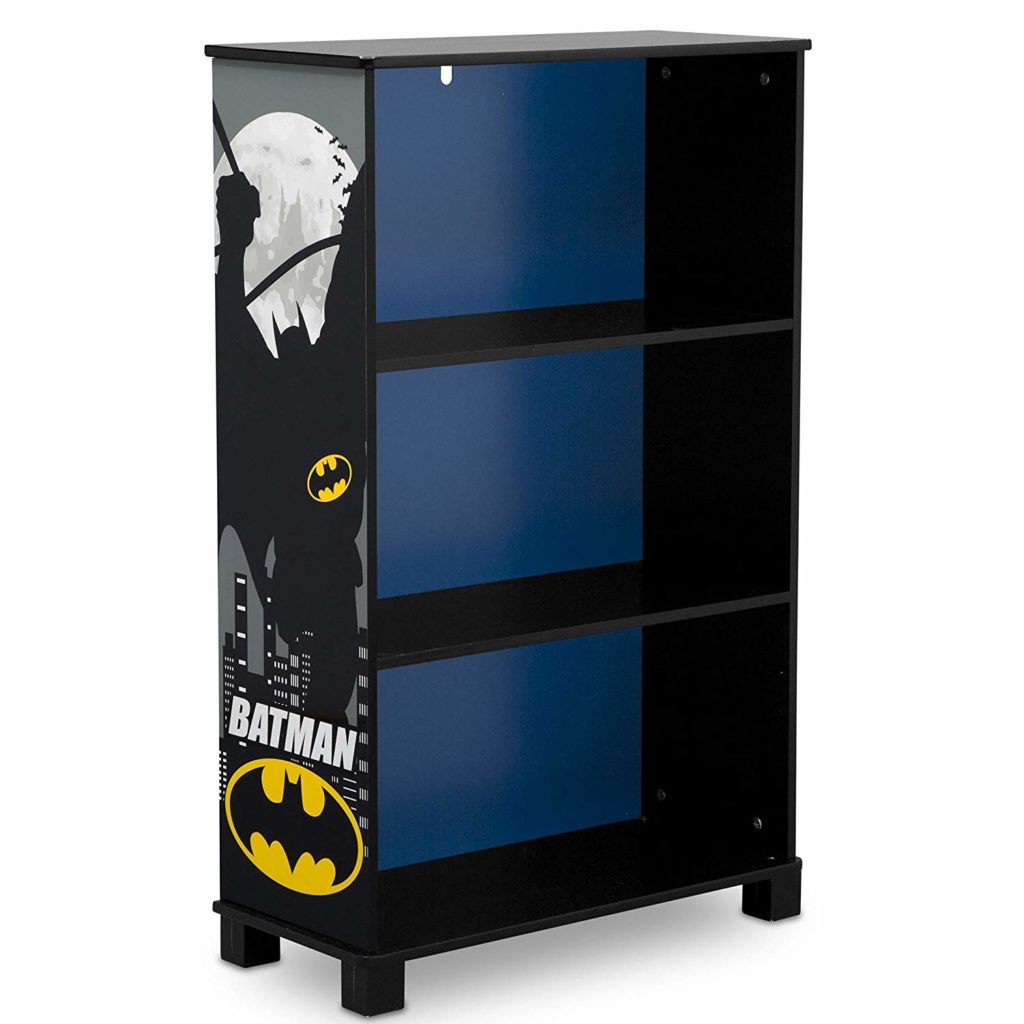 As a fan of DC Comics, you've no doubt got a decent collection of graphic novels and trade paperbacks – and there's no better place to store them all than in this awesome Batman bookcase!

Featuring the Dark Knight's logo, a silhouette of the Caped Crusader himself, and a Gotham City backdrop, it's a cool addition for any room in your house!

Either buy it for yourself or your kid – it'll look great wherever you put it!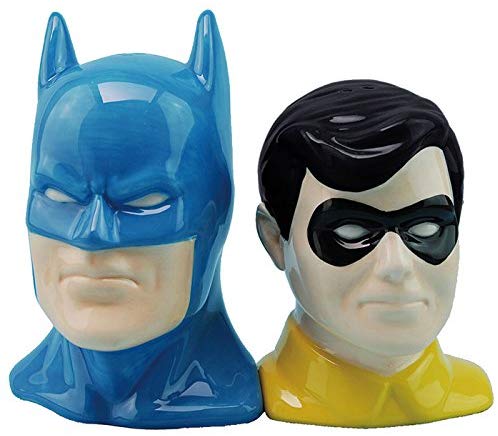 It's fair to say that salt and pepper shakers are normally pretty boring – but not these ones! Absolutely not!

They come in the form of Batman and Robin – the Dark Knight and the Boy Wonder respectively – and they'd undoubtedly improve any dinner table!

But which one would you put salt in and which would house the pepper? Tough call, but we'd go Batman for salt (because he's the main man and salt is most people's favourite) and Robin for pepper!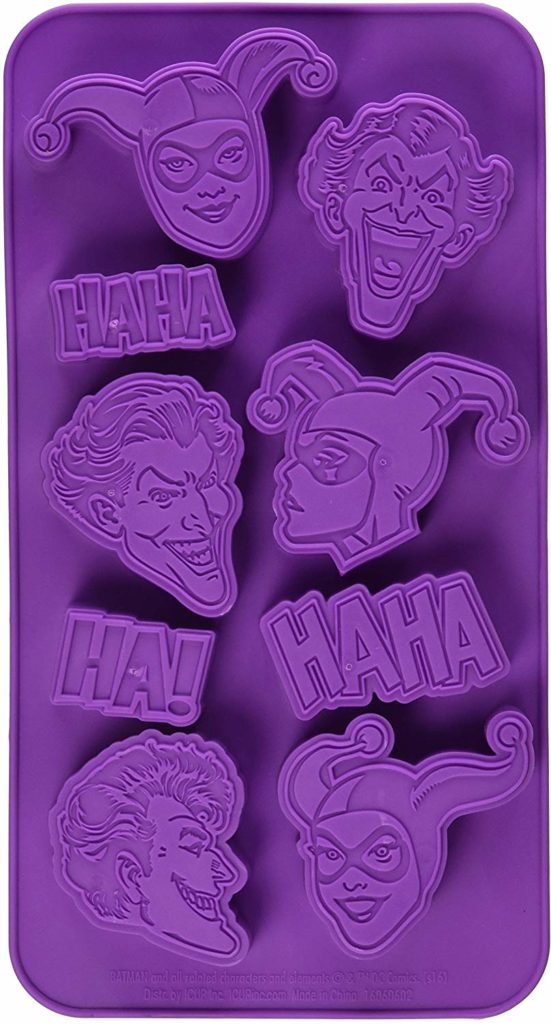 There's simply nothing better on a hot day than an ice cold drink filled with ice cubes to cool you down.

Ice cubes are usually pretty boring, though – but that won't be the case when you buy this very cool (sigh!) ice cube tray!

It'll shape your ice cubes into the faces of the Joker and Harley Quinn, as well as the words "ha" and "haha" – which will surely make your drinking experience all the more enjoyable!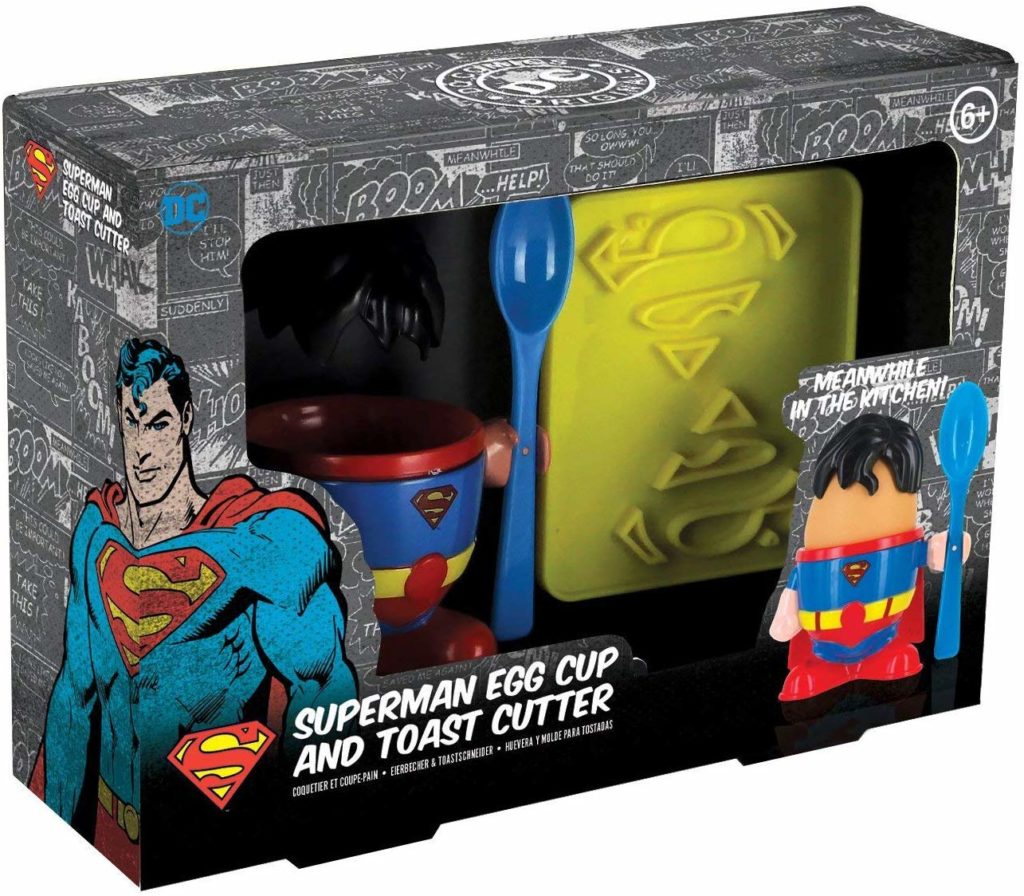 Now this product is a lot of fun! And we think you should use it even if you're a fully grown adult!

It's a Superman egg cup and toast cutter! So now, you can eat your boiled eggs out of a little Superman egg character, and dip in toast that's been shaped into a fun Man of Steel logo design!

Remember, even though this is obviously aimed at kids, don't be ashamed to enjoy your dippy eggs Kryptonian style, even if your years are somewhat more advanced than those of a child!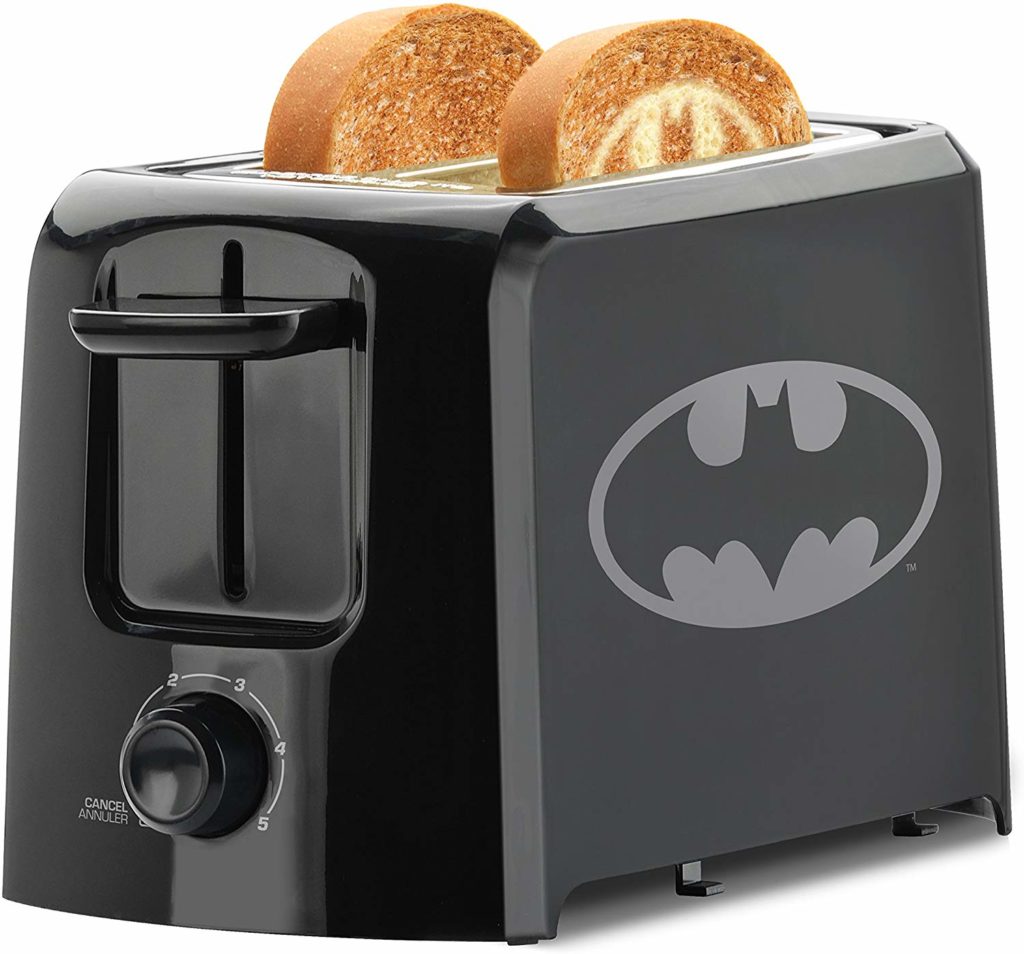 Everyone loves a slice of toast or two, don't they? But, when it boils down to it, toast is just a slice of warm, crunchy bread, which is undoubtedly a little bit dull.

This product adds a touch of excitement to your toast – a touch of DC Comics excitement, to be precise!

You see, it cooks in a design in the shape of the iconic Batman logo, which is amazing! It almost feels as though putting butter on will ruin it!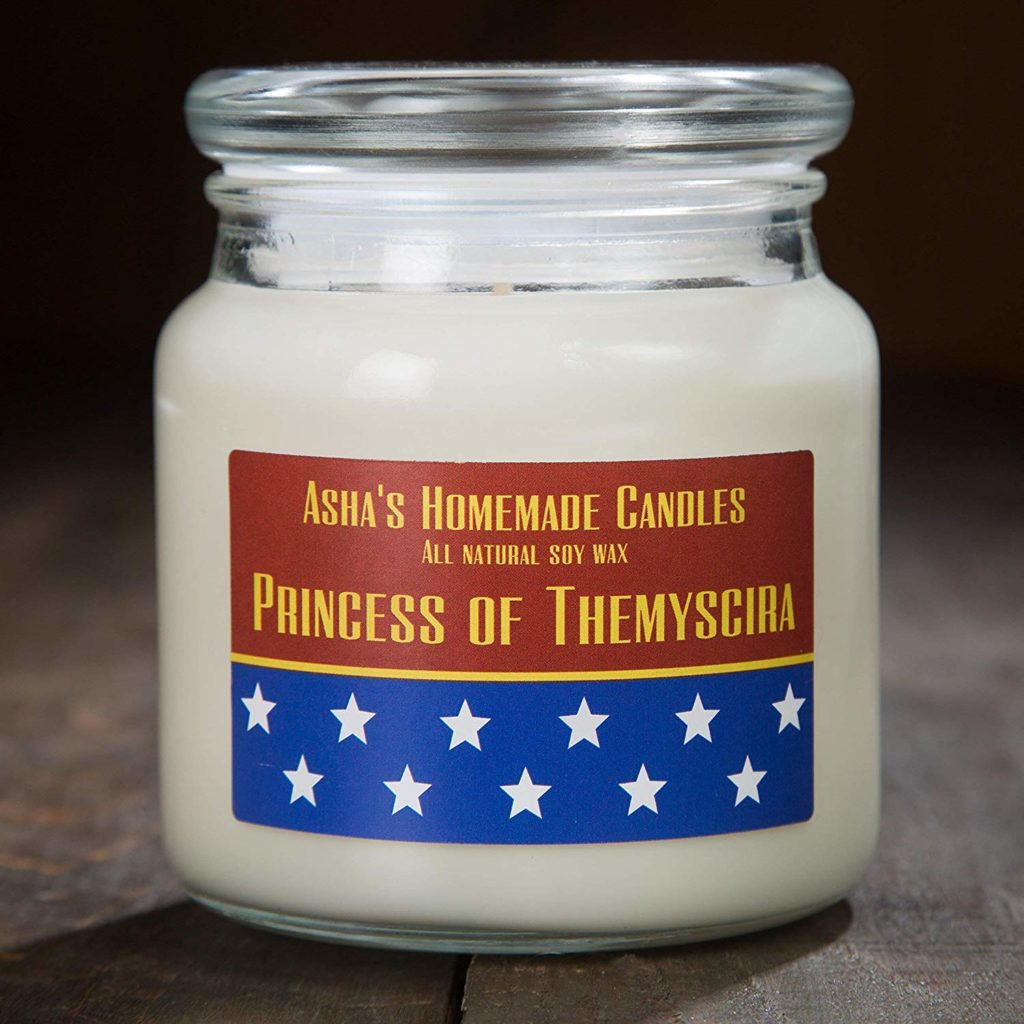 You'll want your superfied home to smell like a home fit for a superhero – and this candle will make that happen.

It comes from Asha's Homemade Candles and is made from all natural soy wax – and the name of its scent is "Princess of Themyscira".

As a fan of DC Comics, you'll obviously be aware that that's one of the various titles assigned to Wonder Woman! Essentially, this will make your home smell absolutely amazing!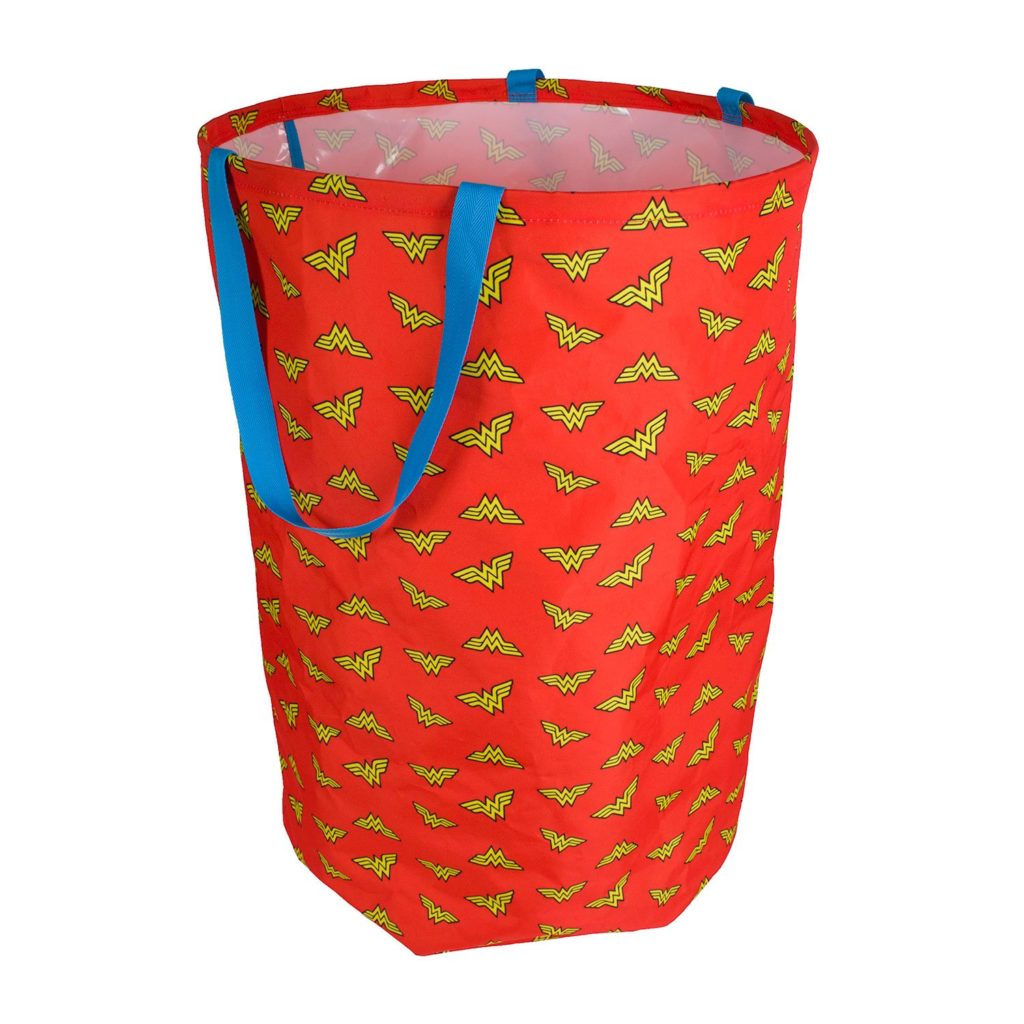 You probably own a lot of DC Comics clothing, right? T-shirts, lounge pants, socks and so forth? Well, like any other clothes, they'll need to be washed.

Before they get washed, they'll need to placed in an appropriate location, where they'll remain until enough of them have accumulated to warrant turning the washing machine on.

This Wonder Woman laundry hamper is the ideal product for that – so get it bought and dump your dirty washing in there!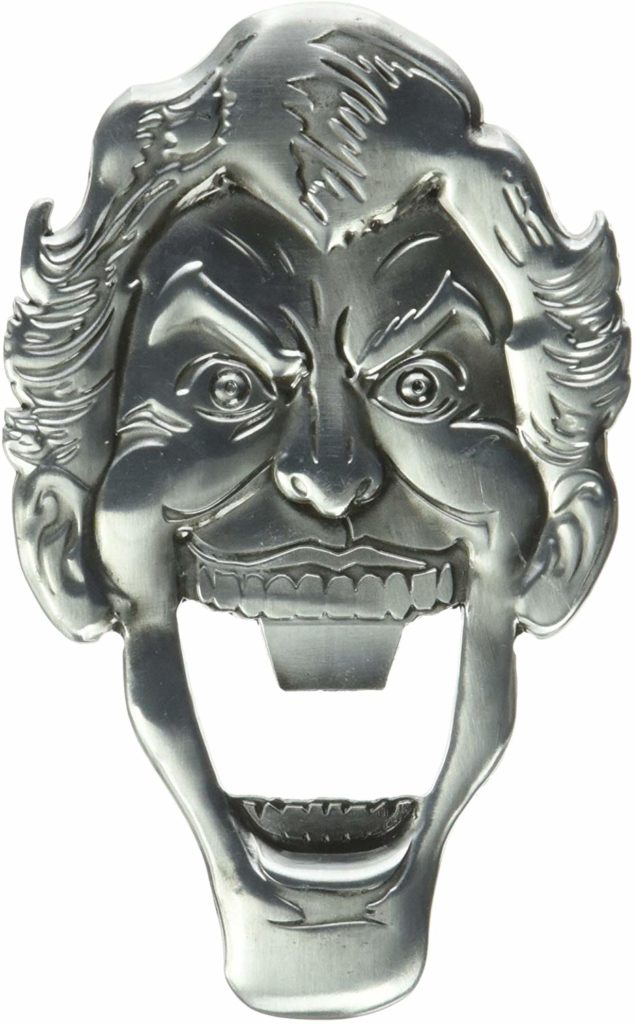 We all like an ice cold beer every now and again – or a classic bottle of Coca Cola, if you're not old enough to consume alcohol – and bottle openers are essential when it comes to getting into some of those bottles.

As a DC Comics fan, you'll love this awesome metal Joker bottle opener, shaped to look like the Clown Prince of Gotham's maniacal face.

Of course, you'll be needing somewhere to drink your refreshing beverages, so let's finish with a bang…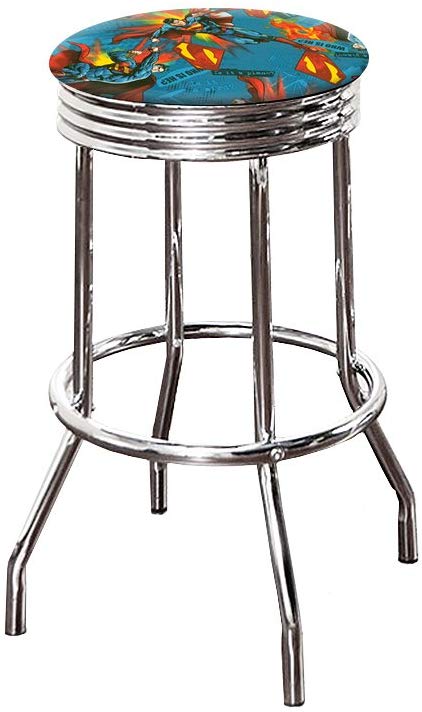 Okay, let's bring this piece to an end with a VERY cool item.

You may be the kind of awesome DC fan who has a bar in their home – in which case this awesome Superman bar stool is perfect for you!

You could buy several of these, so every guest in your bar will have a cool place to sit – and they'd go just as well in a kitchen, as they're also perfect for sitting on whilst eating your breakfast.
Did you like these items? Do you own any of them already? Let us know!