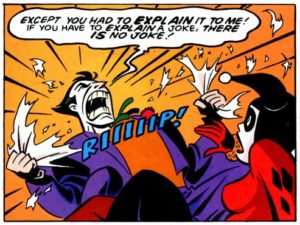 Source: dccomics.com
9. He's Fundamentally Unlikeable
Yeah, sure, people like the Joker. But that's not what I mean.
He's likable as a villain but as a protagonist he's just not. The Joker is a monster. Like, a hardcore murderous monster. And he's not in any way a character you can root for. No matter what you think, not even the Hot Topic-iest of 13 year olds can spend two hours rooting for a mass murderer. And that's not even getting into the current U.S. climate of mass tragedy.
Joker poisoning children and stabbing kittens might be #Edgy but it's not interesting. And it's sure as hell not likeable. The way to get an audience to root for a character doing horrible things is to give them relatable motives. We root for Walter White because he may be selling Meth, but he's doing it to provide for his family. Jimmy McGill is committing lots of fraud and unethical behaviors, but he's doing it to fight for himself. The Joker is mass murdering Gothamites but he's doing it because… um… he wants to?
Yeah, not gonna fly.