Hey folks, I know I normally cover comics and movies primarily but I super duper love the CW-verse DC Comics shows. I don't talk about them super often because I am dreadfully behind on most TV but they are charming and fun and solidly great all around. And one of their best aspects is the costuming. I remember back at the beginning of Arrow, they were a little skittish to go full on comic book with the costumes and character designs, and that's understandable. I mean Smallville never put its main character in the Superman costume really, tv was afraid of comic booking it up. But now they are having friggin' King Shark show up and all bets are off. So I wanted to look at some of the best, most distinct DC TV CW costumes. Note: I'm only covering Arrowverse shows right now so that's Arrow, Flash, Legends of Tomorrow, Constantine, Supergirl, and the Vixen and The Ray animated online series. So Black Lightning, Gotham, Doom Patrol, and Titans are ineligible even though I really love the Black Lightning costume a lot.
                                                                             Source: warnerbros.wikia.com
10. Gorilla Grodd
Look, we're using "costume" loosely for this one.
But the sheer fact they did Gorilla Grodd as a big smart ape is, if you may excuse my language, baller as hell. It has to be classified as a crazy power move to step up to the plate, say you're making Gorilla Grodd in live action on television, and not just hit the ball, but crank it out of the park. For tv cgi, Grodd looks phenomenal. And just for sheer going for it, this deserves a spot here. Just because they didn't half-ass it, they didn't ignore it, they saw the challenge and went for it full tilt.
Seeing a ten foot tall psychic gorilla lift up the Flash by the face on my television set was one of the most perfect and surreal experiences I've ever head.
And I wouldn't trade it for the world.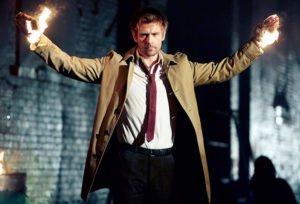 Source: tvline.com
9. John Constantine
Look, just because they don't wear a cape and tights doesn't mean the don't have a costume.
Like this guy here, John Constantine. He has a distinct uniform and visual design to him and the show got it exactly correct. I mean, other than him not smoking.
But that's a television thing so I can't blame them for that too much. But Matt Ryan looks the part and the dingy trenchcoat and dirty suit and tie combined make for the perfect occult detective wardrobe. I was thrown when I heard they were doing a Constantine series because of the previous failed attempt at American-izing the source material but once I saw what they were doing, I was like "oh sweet, they've got it".
A fun character and I'm glad he's sticking around after his show's unfortunate cancellation.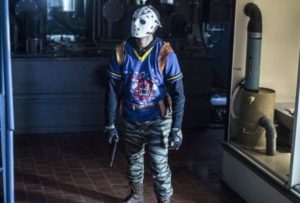 Source: cbr.com
8. Wild Dog
I cannot believe this happened.
Wild Dog is a bats**t insane character who exists by sheer grace of god. And they somehow got him on television in his silly perfect comic book costume. "What if the Punisher was a hockey fan" sure is an aesthetic and it carried across into live action. Look at that glory. That beautiful wonderful gorgeous silliness.
Look at the scourge of the twin cities. This is why I love DC TV. Marvel tv gives you "realistic down to earth" versions of grim villains and dower heroes. DC says "hi there, we noticed you were missing a Wild Dog, and we felt like correcting that." There are maybe eight people who love Wild Dog and all of us are working in the "writing about comics" field.
But not changing a darn thing from page to screen earns Wild Dog a spot on this list for sure.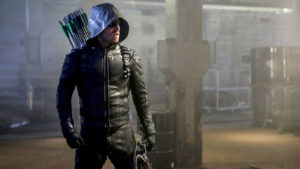 Source: hollywoodreporter.com
7. Green Arrow
I was a little hesitant when the show first started but I have nothing but love for the Green Arrow suit.
It adopted the hood and jacket thing from Smallville's Green Arrow but gave him a mask and a bit more subtle of a super suit. I've always been partial to the goatee and Robin Hood hat version but hooded Green Arrow is a time honored tradition and I will respect it. And even goatee-less, Amell has more than made the character his own over the years. The color palate is a little muted, but that works and is even necessary for the tone of the show.
A neon green parka would have stuck out like a sore thumb in a healthy thumb convention. The costumers for the Berlanti stable of DC shows have only gotten better and more confident in their designs as time has gone on and I feel their work goes unappreciated by the masses. As a tone-setter for the entire universe, this costume kills. It establishes an aesthetic that would go on to influence every other costume on this list.
Talk about a good first impression.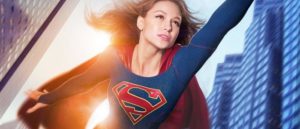 Source: slashfilm.com
6. Supergirl
Supergirl is just so wonderful and wholesome and charming. It's like everything I love about the Flash but with all the goodness of the Superman universe.
And their Supergirl costume is pretty perfect. It's an exact translation of the comic book to screen with, like, maybe one exception, that being the chest emblem, but that makes sense. This costume is a little more navy blue and crimson than the traditional bright red blue and yellow. But that works better for TV so who am I to judge?
The Superman outfit is also phenomenal but we haven't seen it that much and it's riffing pretty heavily off the Supergirl suit. So putting that on here over this would be wrong. I'm impressed they pulled off the skirt as a part of the costume in a way that feels functional and not just a call to sex appeal.
What a good costume.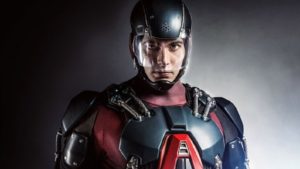 Source: syfy.com
5. The Atom
A lot of the costumes on this list are good because they're translations of the comics.
But this one is different while still being true to the concept of the character Ray Palmer AKA the Atom is, in my mind, the third member of a lesser DC trinity. Superman, Batman, and Wonder Woman are the classic DC trinity, the one everybody knows and loves. But for me the silver age trinity, the best of the silver age reinventions of golden age character names are Flash, Green Lantern, and the Atom.
Palmer is a unique character who has a costume with a great color palate, but not the best execution. It's just another skintight supersuit with a cowl. The only unique aspect is the belt, which adds a technological component to the look. So the tv version took that and ran with it. Tech-ing out the Atom costume gives him a distinct look and one that lets him stand out from Flash and Green Arrow in a lineup.
While still keeping that iconic look of the Atom.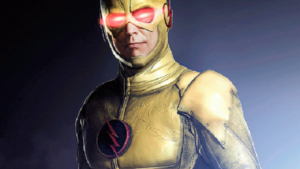 Source: denofgeek.com
4. Reverse Flash
I really like this costume and I'm glad they got to it so quickly.
Eobard Thawne AKA Professor Zoom AKA the Reverse Flash is one of the best Flash villains and his costume is so elegant and such a great concept for a villain's design. Just reversing the colors creates a unique silhouette but they went farther with crafting a unique visual aesthetic. I really love the use of black on the Reverse Flash suit. It makes it look burned, like the crash suit of someone who ran through the timestream.
Also, it should be too silly and bright to be sinister but the glowing red eyes and blurred image and voice are downright creepy.
They kept this thing going for a full season and even into some of the other shows. Some of that is obviously down to the acting talent of (SPOILER) but the mystery of the Reverse Flash is only part of the creepiness. And a lot of it is that evil-ass costume.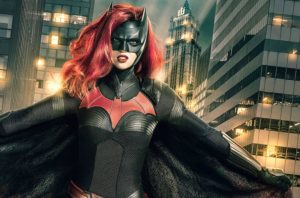 Source: cultress.com
3. Batwoman
This is the newest addition to the Arrowverse and I am quite excited for it.
This version of Batwoman debuted back in the weekly series 52 in 2006 and has remained one of the all time best comic book costumes of the 21st century. Seriously, if you asked me which two reinventions of classic looks were the all time best, it'd be Kate Kane Batwoman and Miles Morales Spider-Man. And I was incredibly surprised by how well they managed to translate it to live action.
This image they released was so on-point exact that when I first saw it I thought "aw man I love that fan art but there's no way they go that comic-accurate. It goes a little lighter on the red and heavier on the black than the comics suit but like the Flash costume, it'll probably slowly shift closer to color duality.  But speaking of the colors, it looks like they're going to keep her as a pale shadow that almost looks monochromatic.
Kate Kane is a great character and they seem to really be doing her justice.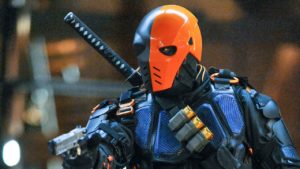 Source: cinematographe.it
2. Deathstroke
So in the pilot for Arrow, there was one big thing that got my hyped.
In the establishing shot of the island where Oliver was stranded, we catch a glimpse of the Deathstroke helmet skewered by an arrow like Slade was Steve Martin. And when we finally saw Deathstroke in action"¦ it wasn't actually Deathstroke but the entirety of the character's visual appearance was incredibly well done.
So much so that when I saw the nine seconds of Deathstroke after the credits of Justice League, I was like "um, that's not what he looks like. He looks like the Arrow version". Deathstroke remains many people's favorite longterm Arrow villain and I think at least some percentage of that is down to his tactical assault look and brutal costume design.
He looks like a one man war and you want to stay the hell away.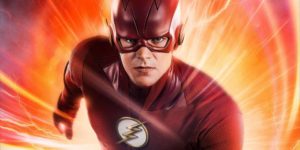 Source: digitalspy.uk
1. The Flash (Current Version)
I remember when I first saw the costume they were going with for The Flash, I thought it was okay. The Flash is maybe my favorite comic book character of all time and I had a lot personally riding on the series. And when I saw the series, the character was dead on perfect but I still didn't love the costume.
But every year, they change it a tad and make it closer and closer to the comics version. And it's only getting better and better. The red chest circle changed to white, the lightning bolt grew more pronounced, more and more yellow found its way into the suit. And images from Season 5 that are being officially released look phenomenal.
I'm so thrilled that my favorite DC hero is slowly becoming exactly like the comics.
I love it.