Welcome back folks to the first ten, the series where we take a look at a comic book series' first ten issues and figure out how it all came to be. Today, like I hinted last time, we're checking in with the star of everyone's least favorite Netflix series, Iron Fist. And we're looking at perhaps the most beloved of all his series. The Immortal Iron Fist launched to widespread acclaim in 2006, coming from then relatively new Marvel writers Matt Fraction and Ed Brubaker. Brubaker, you should know from his great Daredevil run and from his legendary time on Captain America, which introduced the world to the Winter Soldier. Fraction, on the other hand, would go on from this book to absolutely slay as the writer of Invincible Iron Man and the award winning Hawkeye series, which re-teamed him with David Aja. (Also Kill or Be Killed and Sex Criminals are phenomenal). The series began in November of 2006 and ran 27 issues, ending in August of 2009. Along the way it also spawned off several specials and a follow up miniseries, The Immortal Weapons. But let's punch a dragon in the heart and get started!
                                                                                       Source: marvel.com
1."The Last Iron Fist Story, Part 1″
Writers: Matt Fraction & Ed Brubaker
Artists: David Aja & Travel Foreman
It's interesting, because I feel like this is the perfect template for what a good 2000s Marvel comics first issue is and that's not to say it's formulaic because it isn't, but that it immediately puts me in a time and place.
It's more a prologue than a first chapter. A lot of mood and tone setting. In the issue, Danny Rand turns down a $10.6 Billion deal because his thinks the company offering is shady. When he investigates, he runs into a squad of HYDRA agents.
Meanwhile, across the globe, Orson Randall, the previous Iron Fist, is seemingly still alive. It's an intriguing first issue that gives me questions and makes me thirst for answers.
And the art is gorgeous, especially David Aja's beautiful work. I want one of those pages in my home to hug at night. They're so atmospheric and dripping with space and depth. They feel like beautiful paintings. But yeah, so far this is exactly what I want from it.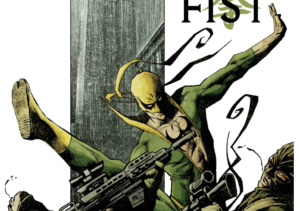 Source: marvel.com
2. "The Last Iron Fist Story, Part 2"
Writers: Matt Fraction & Ed Brubaker
Artists: David Aja, Travel Foreman, & John Severin
If issue one was a tone setter, issue two is more about establishing the character of the series.
Danny Rand has vacillated to a huge degree over time, from a steadfast hero to more of a goofball bro. For the record, I like all of these. Here he's a little closer to the way Fraction and Aja portrayed Hawkeye. Rand is a little bit of a loser, but he has way more self esteem than Hawkeye for certain.
In the issue, Danny gets knocked out by HYDRA agents and is found and rescued by his old friend Luke Cage. He notices that his ex-girlfriend, Misty Knight, has become a pro-registration activist in the superhero Civil War (which was just starting at that point). The Danny-Luke relationship is on point here and I hope we see a little more of it at least. Meanwhile, Orson Randall is back in New York and the target of an assassination squad. After we get a glimpse of his time as the Iron Fist in WW1, Orson activates the Iron Fist and attacks"¦ causing Danny to collapse in pain across the city. It's one shared power.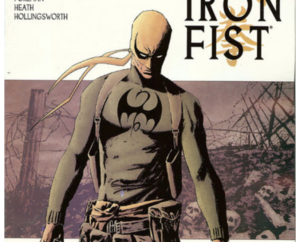 Source: marvel.com
3. "The Last Iron Fist Story, Part 3"
Writers: Matt Fraction & Ed Brubaker
Artists: David Aja, Travel Foreman, & Russ Heath
Every issue starting with a snippet of a previous Iron Fist is a really cool idea. It's a big retcon but one that makes a lot of sense. As well, the ancient China influenced aesthetic of Iron Fist in this series works in a wide variety of time periods and settings.
Anyway the actual focus of the issue is half on the attempted corporate takeover of Rand's company by HYDRA and half on Danny trying to track down Orson. What works so well is that both are equally fun! It's odd that Fraction and Brubaker are able to make boardroom drama as interesting as punching supervillains in the face.
By the end, Danny and Orson finally meet. They square off with their powers before Orson reveals the truth"¦ he taught Danny's father in the ways of the Iron Fist. I really adore the way Aja draws Danny. He's beaten and a little hang dog and has kind of a baby-face, which all makes him feel distinct. Aja's just great at drawing unlucky white blonde dudes, I guess.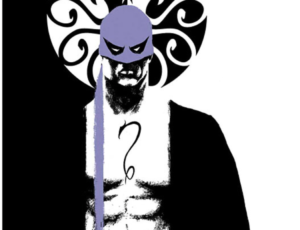 Source: marvel.com
4. "The Last Iron Fist Story, Part 4"
Writers: Matt Fraction & Ed Brubaker
Artists: David Aja, Travel Foreman, Sal Buscema, & Tom Palmer
There's some good stuff in this series. I adore the Iron Fists' chemistry and the slowly building mythology is really something to enjoy.
This issue re-introduces us to the classic Iron Fist villain known as the Steel Serpent. It appears he will be HYDRA's enforcer, with the aim of killing Orson. Speaking of, we get really fun interaction between the duo and learn that Orson can focus his energy through his bullets, which is pulpy as hell and I love it.
The character work is really fun and Aja is easily able to differentiate the two despite them wearing almost identical costumes. I'm interested to see where this is going because the pacing is very deliberate. It's not a bad thing it's just that the mid-2000s Marvel decompression is in effect.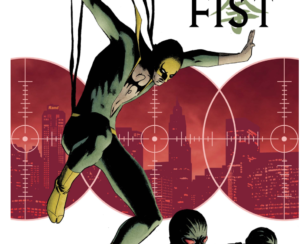 Source: marvel.com
5. "The Last Iron Fist Story, Part 5"
Writers: Matt Fraction & Ed Brubaker
Artists: David Aja & Travel Foreman
Oh my god that art, are you kidding me? Holy god it's so gorgeous. There's a single page that shows Iron Fist kicking a HYDRA agent through a train and it's so elegant I read it over three times.
In the issue, Orson and Danny fight off HYDRA goons and recover the tome containing the secret history of the 66 Iron Fists. After some banter on the way back, they arrive to come face to face with the Steel Serpent. Meanwhile, Jeryn Hogarth (who you might remember by a different name, sex, and gender from Netflix's Jessica Jones) has gone to Luke Cage, Colleen Wing, and Misty Knight for help in recovering his wife from HYDRA.
We're almost at the big climax and it's shocking how much and how little has happened. The actual plot events are minimal but the tone, character, and world building is off the charts. Also the book gives its artists a lot of breathing room, which is much appreciated. There are some gorgeous pages spread throughout.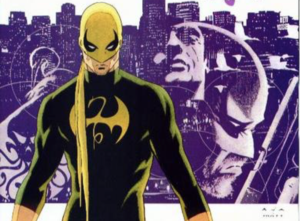 Source: marvel.com
6. "The Last Iron Fist Story, Part 6"
Writers: Matt Fraction & Ed Brubaker
Artists: David Aja & Russ Heath
And here we go, the big finale to the book's first arc! And it's a showstopper.
Orson and Danny go up against the Steel Serpent for the power of the Iron Fist. And in the chaos, we lose one of our characters. Well, two, I guess actually. In that Luke, Misty, and Colleen LITERALLY lose Jaryn Hogarth when HYDRA abducts him. But I meant that Orson Randall is killed by the Steel Serpent. He cedes his power to Danny, enabling Danny to win the fight and drive off the Serpent. And I have to say, I didn't see this coming. And I'm mad about that. Because it seems so obvious but the story sweeps you up in it so much that you aren't trying to predict anything really.
After the battle has ended, The Thunderer arrives and tells Danny that he has been summoned to fight on behalf of K'un L'un in some sort of huge tournament. And off that, cliffhangers and mysterious hints as to the future, we end "The Last Iron Fist Story" oh hey, I get the title now. Heh, that's clever.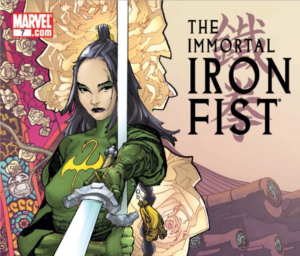 Source: marvel.com
7. "The Pirate Queen of Pinghai Bay"
Writers: Matt Fraction & Ed Brubaker
Artists: Travel Foreman, Leandro Fernandez, & Khari Evans
This is such a wonderful way to break up a series like this. Have a big story arc, then do a one off about an Iron Fist from a previous time period.
Honestly, reading this gave me echoes of later comic books that had similar structures like The Wicked + The Divine and the Aaron/McGuinnes Avengers run. This is the story of the Pirate Queen of Pinghai Bay, also known as Wu Ao-Shi, the Immortal Iron Fist.
Wu was a young street urchin in K'un L'un who was taken in by The Thunderer and trained to become the Iron Fist. As she reached adulthood, she began a doomed romance with a fisherman and abdicated her role forever because of it. Of course, that didn't stop her from using her powers to free the land from the tyranny of the Pirate King. She did this with a lot of punching. All in all it's a very fun one shot with some really solid narration that adds to the story as a whole.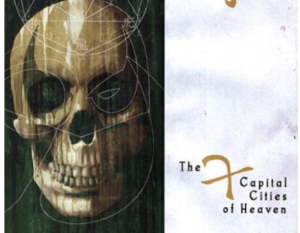 Source: marvel.com
8. "The Seven Capital Cities of Heaven, Part 1"
Writers: Matt Fraction & Ed Brubaker
Artists: David Aja & Roy Allan Martinez
And now we are kicking off the book's second arc in earnest and it is a banger. Danny has been called back to K'un L'un for a martial arts tournament fight between the titular Seven Capital Cities of Heaven, of which K'un L'un is one.
Meanwhile, we are slowly getting the story of Danny's father Wendell Rand and his quest to become the Iron Fist decades ago. And I'm super invested in both stories! Maybe it's the two writers but there's no slack in this book anywhere to be found. Not in the writing, not in the art, nowhere, no how. It's impressive.
By the end of the issue, we've met the other fighters, including Fat Cobra, the first opponent Danny will have to face. They do a good job of introducing a varied cast of characters who all seem dangerous and deadly, but in very different ways from Danny. It does not seem like it'll be an easy fight.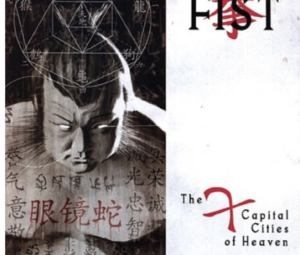 Source: marvel.com
9. "The Seven Capital Cities of Heaven, Part 2"
Writers: Matt Fraction & Ed Brubaker
Artists: David Aja, David Allan Martinez, & Scott Koblish
Huh, well that was unexpected. I was assuming this was going to focus on the big tournament and Iron Fist beating everybody. But NOPE, dude loses in the first round. In the first match of the first round.
But not for no reason. You see, Danny has been told that he needed to throw the first match, since it wouldn't eliminate him from the tournament, just bump him down into the secondary bracket. But using the tournament as cover, he can sneak out and find Orson Randall's biographer, to uncover the secrets of his father's life.
Meanwhile we the readers are seeing those days, specifically focusing on the friendship between Wendell "not quite the Iron Fist" Rand and Davos, the future Steel Serpent. But this arc is fun as hell and I'm pumped for more super powered tournament fighting between the other immortal weapons.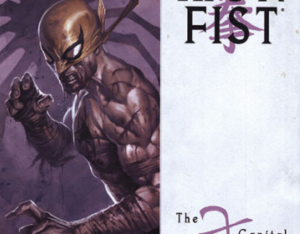 Source: marvel.com
10. "The Seven Capital Cities of Heaven, Part 3"
Writers: Matt Fraction & Ed Brubaker
Artists: David Aja & Kano
And wrapping up our look at the Immortal Iron Fist, we go out in the middle of the arc. As the tournament continues, Danny goes off on his search, Orson Randall's daughter and The Thunderer are planning against the leader of K'un L'un and we get a little more insight into the collapse of Wendell and Davos's friendship.
There's a lot covered but it's balanced well. Heck, the main characters of this issue aren't even Danny! It's Wendell and the Thunderer. Once again, I've never been a huge Iron Fist guy so I'm not that familiar with the Thunderer but I really like him from his depiction here. And I'm excited to get more of his relationship with his son.
And with that, I think it's time to call it. Well for you guys. I'm going to go read more of this great comic book. Highly recommended, especially if you didn't get what you wanted out of the Netflix series.