Welcome back folks to the first ten, the series where we take a look at a comic book series' first ten issues and figure out how it all came to be. Today, like I hinted last time, we're checking in with the star of everyone's least favorite Netflix series, Iron Fist. And we're looking at perhaps the most beloved of all his series. The Immortal Iron Fist launched to widespread acclaim in 2006, coming from then relatively new Marvel writers Matt Fraction and Ed Brubaker. Brubaker, you should know from his great Daredevil run and from his legendary time on Captain America, which introduced the world to the Winter Soldier. Fraction, on the other hand, would go on from this book to absolutely slay as the writer of Invincible Iron Man and the award winning Hawkeye series, which re-teamed him with David Aja. (Also Kill or Be Killed and Sex Criminals are phenomenal). The series began in November of 2006 and ran 27 issues, ending in August of 2009. Along the way it also spawned off several specials and a follow up miniseries, The Immortal Weapons. But let's punch a dragon in the heart and get started!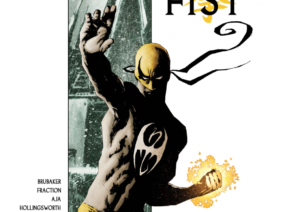 Source: marvel.com
1."The Last Iron Fist Story, Part 1"
Writers: Matt Fraction & Ed Brubaker
Artists: David Aja & Travel Foreman
It's interesting, because I feel like this is the perfect template for what a good 2000s Marvel comics first issue is and that's not to say it's formulaic because it isn't, but that it immediately puts me in a time and place.
It's more a prologue than a first chapter. A lot of mood and tone setting. In the issue, Danny Rand turns down a $10.6 Billion deal because his thinks the company offering is shady. When he investigates, he runs into a squad of HYDRA agents.
Meanwhile, across the globe, Orson Randall, the previous Iron Fist, is seemingly still alive. It's an intriguing first issue that gives me questions and makes me thirst for answers.
And the art is gorgeous, especially David Aja's beautiful work. I want one of those pages in my home to hug at night. They're so atmospheric and dripping with space and depth. They feel like beautiful paintings. But yeah, so far this is exactly what I want from it.