Look, there's one fundamental truth in writing: Every character is exactly as powerful as you need him or her to be for a given story. Anyone can beat anyone as long as the plot serves it. That being said, however, there are some cases where it's just unfair. Like, come on, some of these guys can extinct a universe backhanded, and we're just going to pretend that's not crazy? So here are some Marvel and DC villains who are just The Most Powerful. Like, maybe we need a patch to nerf literally all of them.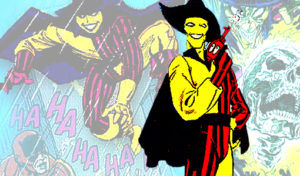 Source: marvel.com
Honorable Mention 1: Madcap
You ever make something and then immediately realize it was a huge mistake? AIM did that.
The fine folks at Advanced Idea Mechanics developed a chemical weapon that would grant the power of super healing to anyone exposed. While trying to destroy it, they accidentally exposed a bus full of innocent civilians to its effects. All civilians died horribly, except one. That remaining dude lost his mind over the accident and decided to kill himself, but upon realizing he couldn't die, he went completely insane. He bought a costume and a bubble gun, and soon discovered his other power: the ability to drive anyone stark raving insane.
After fighting various Marvel heroes, including Captain America, Daredevil, She-Hulk, Ghost Rider, and the Power Pack, Madcap ran into Deadpool. They both ran into Thor, who reduced the duo to ash. When Deadpool re-formed, he absorbed Madcap into himself, and the villain became a temporary part of Wade Wilson's mind. Eventually they unfused and Madcap, driven to further insanity by Deadpool's depravity, decided to kill the Merc with a Mouth and destroy his life.
Power Level: Immortal, insane, and incredibly terrifying.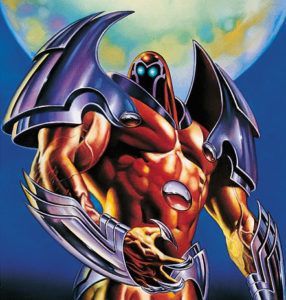 Source: marvel.com
Honorable Mention 2: Onslaught
Look, when two superpowered men hate each other very much, sometimes a baby is made!
During a fight, Professor X of the X-Men used his powers to shut down Magneto's mind. This intense trauma to both parties caused a breakage, and pieces of both mens' psyches broke off and fused together to create a new creature. You might recognize this as not being how literally anything works, but whatever. Onslaught freed himself, and tried to murder all of the X-Men and their band of weird time-traveling buddies, but to no avail. He then stole a bunch of Sentinels and locked off New York City. The Avengers, X-Men, and Fantastic Four all showed up to stop him.
The Hulk bashed apart his armor first, leaving him a purely energy-based being. Thor, the Avengers, the Fantastic Four, Hulk, and Dr. Doom all entered Onslaught to disrupt him from the inside. The X-Men sat this part of the adventure out. Moments later, Onslaught disintegrated, along with all of the heroes inside him. After that, they all agreed that maybe this idea had been for the best. Onslaught returned to first menace Franklin Richards and then to fight the Secret Avengers and Young Allies. Eventually, he possessed Nomad, who sacrificed herself to stop him once and for all.
Power Level: Time to talk about the telepathic birds and the magnetically charged bees…