This year has seen two month-long series of crossover specials between DC Comics characters, and I couldn't be happier. I love Hanna Barbara cartoons, and I love Looney Toons, and I REALLY love superhero comics. So here are all the DC/Cartoon specials, some history on each half of the crossover, and why the crossover is 100 percent nutter butters insane. Enjoy!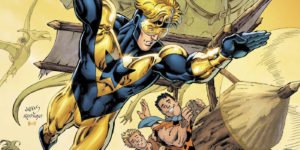 Source: cbr.com
10. The Flintstones/Booster Gold
The Flintstones were the modern Stone Age family. The Flintstones was the first-ever animated prime time comedy, a ground-breaking show, and the progenitor of successful shows like The Simpsons and King of the Hill decades later. The show featured a family getting by in caveman days through the use of seemingly modern appliances and attitudes, retrofitted for Stone Age technology. Its purposefully anachronistic humor and love of puns cemented it in the popular consciousness, and it gave birth to several pop culture touchstones (Yabadabadoo, "It's a living", that eminently catchy theme song).
Booster Gold: Going back in time to get ahead, Michael Jon Carter was a failed football star and security guard for a museum in twenty-fifth century Gotham City. Stealing and reprogramming a security droid named Skeets, Michael decided to go back to the twentieth century, make a name for himself as a superhero, and rake in the money from product placement and licensing deals after doing so. Under the name Booster Gold, he fought crime, and even joined the Justice League, but was still thought of as a joke. Years later, he saved the multiverse from Mr. Mind, and became a secret time-traveling superhero, operating under everyone else's radar.
Why it's insane-mazing: Booster is one of my favorite comic book characters of all time, and slapping such a charming but buffoonish hero into the satire-dripping world of Mark Russell's recent Flintstones comic (which you NEED to read) is genius.