This year has seen two month-long series of crossover specials between DC Comics characters, and I couldn't be happier. I love Hanna Barbara cartoons, and I love Looney Toons, and I REALLY love superhero comics. So here are all the DC/Cartoon specials, some history on each half of the crossover, and why the crossover is 100 percent nutter butters insane. Enjoy!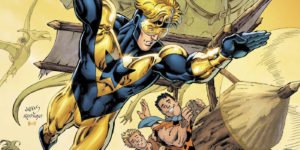 Source: cbr.com
10. The Flintstones/Booster Gold
The Flintstones were the modern Stone Age family. The Flintstones was the first-ever animated prime time comedy, a ground-breaking show, and the progenitor of successful shows like The Simpsons and King of the Hill decades later. The show featured a family getting by in caveman days through the use of seemingly modern appliances and attitudes, retrofitted for Stone Age technology. Its purposefully anachronistic humor and love of puns cemented it in the popular consciousness, and it gave birth to several pop culture touchstones (Yabadabadoo, "It's a living", that eminently catchy theme song).
Booster Gold: Going back in time to get ahead, Michael Jon Carter was a failed football star and security guard for a museum in twenty-fifth century Gotham City. Stealing and reprogramming a security droid named Skeets, Michael decided to go back to the twentieth century, make a name for himself as a superhero, and rake in the money from product placement and licensing deals after doing so. Under the name Booster Gold, he fought crime, and even joined the Justice League, but was still thought of as a joke. Years later, he saved the multiverse from Mr. Mind, and became a secret time-traveling superhero, operating under everyone else's radar.
Why it's insane-mazing: Booster is one of my favorite comic book characters of all time, and slapping such a charming but buffoonish hero into the satire-dripping world of Mark Russell's recent Flintstones comic (which you NEED to read) is genius.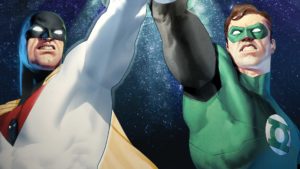 Source: dccomics.com
9. Space Ghost/Green Lantern
Space Ghost: Space Ghost was a space-based crime fighter who worked with three side kicks, Jan and Jace the humans and Blip the monkey. He flew around space fighting evil villains, including Zorak the Mantis, Moltar the Molten Man, and Brak the Cat Alien. Decades later, Space Ghost would be revived sans sidekicks for a Cartoon Network show and proto-Adult Swim humor originator Space Ghost Coast to Coast. Which is the best show ever, and one you need to watch. Watch it now. Seriously. Go away. Watch it. Zorak was the best fictional character of all time. He was the lone locust of the apocalypse, and you'll think of him as you look to the night sky.
Green Lantern: Hal Jordan was a test pilot with Ferris Aircraft who had reputation for fearlessness. One day, when Space Sector 2814's Green Lantern Abin Sur crash landed, leaving him near death, his ring sought out the most courageous person on the planet. And that turned out to be Hal Jordan. Hal was given the ring and made a part of the universe's team of space cops, the Green Lanterns. Hal fought for numerous years, escaping both possession and death and helping to found the Justice League of America.
Why it's insane-mazing: Two powerful space crime fighters working together to defeat space evil once and for all? In space? Sign me up!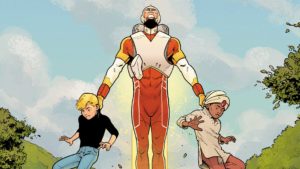 Source: dccomics.com
8. Future Quest/Adam Strange
Jonny Quest: An adventure series about boy adventurer Jonny Quest, his best friend Hadji, his scientist father Dr. Quest, and his bodyguard Race Bannon. In the series, they match wits with the evil Dr. Zin and his villainous forces and use gadgetry and ingenuity to save the world. If any of this sounds vaguely familiar, it might be because the series has been lovingly parodied in Adult Swim's The Venture Bros. for going on six seasons now. Jonny is a beloved pop culture icon, and he and his friends have been central facets of DC's Hanna Barbera team-up adventure comic Future Quest for the past year.
Adam Strange: An archeologist by trade, Adam Strange (yes, that's his real name) was blasted with Zeta Beam radiation and accidentally teleported to the planet Rann, where he became their greatest hero. Now he spends half his time on Rann fighting for justice and the other half traveling the globe looking for more Zeta Beams to send him back to his adopted home. Adam, his wife Alana, and the various characters that make up Rann's population are fun and lovable, but the real draw comes from Adam using his fifties spaceman aesthetic to travel the world. Well, two worlds, to be exact.
Why it's insane-mazing: A world-traveling adventurer meets more of his ilk? Sounds fun. Seeing Bandit the Dog and Rannian jetpacks in the same story? That's a hook I'm interested in.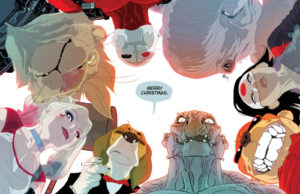 Source: tumblr.com
7. Banana Splits/Suicide Squad
Banana Splits: A joint venture between Hanna Barbera and Sid and Marty Krofft, the Banana Splits show mixed live-action costuming with animated segments to produce a fever dream of a weird show that was sure to induce nightmares in any viewer. The show featured a band of wacky animal musicians who were all friends as well. Fleegle the Beagle played guitar, Bingo the Gorilla took drums, Drooper the Lion was the Bassist and Snorky "Snork" the Elephant rocked out on the keyboards. The theme song, Banana Splits (Tra La La Song), was a chart-topping single that's been covered numerous times and even appeared in the movie version of Kick-Ass, oddly enough.
Suicide Squad: Director Amanda Waller needed a team to carry out dangerous missions, the kind that the U.S. Government wasn't supposed to be carrying out. So she came up with a solution: Grab a handful of inmates from Belle Reve Penitentiary and have them execute these missions in exchange for shortened sentences for some and fun excursions for the lifers. Thus was born the Suicide Squad, a branch of Task Force X. The team was deeply expendable, and always at risk of losing a member or two on a job. Plus, if they were ever caught, the government would pretend to know nothing about their activities. Perfect deniable ops team.
Why it's insane-mazing: Look at those two groups! Imagine them together! I can't!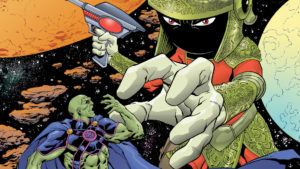 Source: dccomics.com
6. Marvin the Martian/Martian Manhunter
Marvin the Martian: Marvin and his dog K-9 came from the mostly abandoned planet Mars, where he had developed an overwhelming desire to destroy Earth. Why? Because it obstructed his view of Venus. That was pretty solid reasoning, to be honest. He was most famous as a Bugs Bunny opponent, but also had some success as one of the primary villains in Duck Dodgers, a cartoon about Daffy Duck fighting evil in the future (the twenty-fourth and a half century, to be exact).
Martian Manhunter: J'onn J'onzz was a resident of Mars before Dr. Saul Erdel accidentally teleported him to Earth shortly after testing his prototype communications device. J'onn took up residence on Earth, where he used his shapeshifting powers to create a new identity as Police Detective John Jones. He was also a founding Justice Leaguer and a main part of the team for the rest of its lifespan. He was also just a pretty solid guy all around. Worthy of a Choco Cookie, for sure.
Why it's insane-mazing: Just hearing about this pairing made me laugh out loud. Like, there is no possible version of these crossovers where they didn't make this one. It's the obvious pick, and we're all better off for it.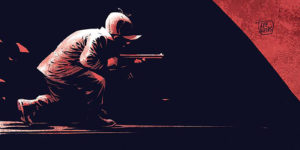 Source: cbr.com
5. Elmer Fudd/Batman
Elmer Fudd: Bugs Bunny's archnemesis, and the most recognizable human in all of Looney Toons, this dude hunts "wabbits" like there's no tomorrow. Elmer may have taken some time to reach his completed form, but once he did, his appearance and voice stuck. In fact, he's been pretty much solid since 1951, at the earliest. He's always been on the hunt for Bugs (or Daffy if it turns out to be Duck Season, after all) but his double-barreled shotgun is iconic.
Batman: Young Bruce Wayne watched as his parents were murdered during a routine mugging gone wrong. He then dedicated himself to the eradication of all crime, and committed himself to many disciplines to eventually become the world's greatest crime fighter. He would adopt the mantle of the Bat to become Batman, the Dark Knight of Gotham City. Bruce fought regularly with all manner of costumed crazies, locking them in Arkham Asylum with the assistance of various partners, many of whom were pre-teens. The preceding paragraph was for the benefit of the one person in the world who didn't know who Batman was. Now, don't you see what all the fuss is about?
Why it's insane-mazing: I never would have asked for this crossover, but it's the one I'm most excited about. I mean, it had Lee Weeks art and was written by actual current Batman writer Tom King! I'm so psyched! And Kite-Man better be in it.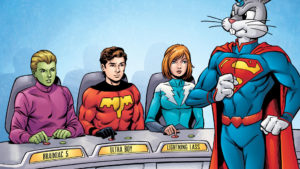 Source: dccomics.com
4. Bugs Bunny/Legion of Super-Heroes
Bugs Bunny: The trickster god of animation, Bugs first appeared in A Wild Hare, and he's been delighting audiences for decades since. He was one of the most popular cartoon characters of all time, and hands down one of the most influential.
We literally would not have modern-day cartoon characters if not for Bugs Bunny. That's just a blatant fact. Bugs has a Hollywood walk of Fame star, and is the most prolific cartoon character of all time. He was also in Space Jam, if you care about that, which you shouldn't, because Space Jam was terrible.
Legion of Superheroes: Superman was an icon revered the galaxy over. As such, his legend inspired numerous teen heroes to band together as the Legion, a superteam of petulant, childish a-holes who sometimes fought crime. But mostly, they just played increasingly mean pranks on each other. Seriously, those comics were great. The Legion were also depicted as teenage freedom fighters who used their by turns cool, scary, and silly superpowers to save the universe and the thirtieth century.
Why it's insane-mazing: I don't know who put these two groups together. Like, taking Bugs friggin' Bunny and sticking him with the Legion of Superheroes? Okay, sure, that was an interesting idea.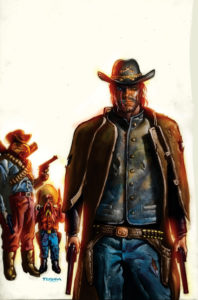 Source: graphicpolicy.com
3. Yosemite Sam/Jonah Hex
Yosemite Sam: Another Bugs Bunny foe turned main character, the weirdly hairy little bandit has been around since 1945's Hare Trigger, and his odd speech patterns and rootin' tootin' gun totin' attitude have been staples since the beginning. His mustache may or may not be prehensile. However, the idea that it could be is quite frankly terrifying, so I'm ignoring that possibility with every fiber of my being. He was an outlaw, and wore a mask to display that.
Jonah Hex: Hex was an Old West bounty hunter who fought outlaws for years. He even went to the far future once, and fought sci-fi outlaws in the post-apocalypse. Jonah famously wore a Confederate Army jacket after the Civil War, not because he was a racist jerk, but because he didn't want anyone to talk to him, and looking like a Confederate soldier was the easiest way to accomplish that. No kinda dude wants to talk to one of those treasonous d-bags.
Why it's insane-mazing: An Old West face-off between the world's goofiest outlaw and the world's scariest bounty hunter? I'm down for that.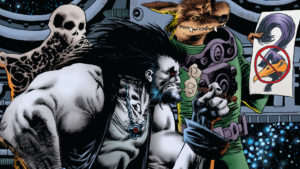 Source: dccomics.com
2. Road Runner/Lobo
Road Runner: Created for the Road Runner and Wile E. Coyote Looney Toons segments, aka the best Looney Toons segment of all time. And I would know. I'm not just the world's foremost scholar on the Lex Luthor Presidency, but also one of America's best Looney Toons-ologists (according to me). The Road Runner cartoons were pitch-perfect visual comedy, and the Road Runner himself was the best-ever force of nature for Wile E. Coyote to waste his time pursuing with increasingly elaborate inventions.
Lobo: Lobo was the last Czarnian. Not because of an accident, but because he killed them all. The biggest Bastich of them all traveled the galaxy on his beefed-up hoverbike, being creepy and weird and looking like an Altamont Hells Angel had a baby with a Raiders Fan. He was actually a character many people liked. Those people were not me. But it's my job to write about him, so I'll do it. Lobo was a DC Universe mainstay, and held down a few long-running comics in the past.
Why it's insane-mazing: I love the Road Runner, oh, so much. Having him tracked down by someone like Lobo was a neat twist. And Wile E. Coyote was in it, so that was pretty rad.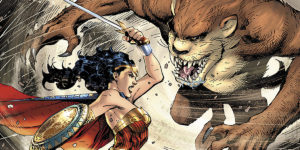 Source: cbr.com
1. Tasmanian Devil/Wonder Woman
Tasmanian Devil: First appearing in 1954's Devil May Hare, the Tasmanian Devil, usually referred to as Taz, has been a part of the Looney Toons canon ever since. Taz (real first name: Claude) was famous for his tornado of movement and gibberish-speak. In the most recent incarnation, he was depicted as Theodore Tasmanian, a married accountant with kids. Taz was an all-time great Looney Toon, and you should pay him the utmost respect.
Wonder Woman: Princess Diana of Themyscira was made from clay on the beach by her mother Hippolyta. She grew up to become a strong warrior who wanted to join the outside world. Her mother forbade it, but Diana successfully won the right in a contest and became Wonder Woman, champion of peace. She fought with the Justice League, and became one of DC's Big Three, alongside Superman and Batman, a place she truly earned.
Why it's insane-mazing: Taz was honestly exactly the kind of oddball mythical creature that would be right at home facing off with the Amazing Amazon.
Aaaaaaaaaaaand there you have it, all of the DC/Cartoon crossovers you can already, or will soon be able to, purchase from your local comic shop. If they sound good to you, definitely give them a shot!