Long-running comic book series are miracles of sorts. It's so hard to find a readership, and it's so easy to be cancelled that every comic book that makes it past its tenth issue should be celebrated. But what is it about those ten issues that marks a book for success? If we were to go back to a successful comic and look at those first ten issues, what would we find? Well, let's take a look, starting with the British-based X-Men spin-off Excalibur.  Facts: The comic ran 125 issues (126, if you count the -1 issue) in total, and lasted from October 1988 to October 1998, ten years to the month. But let's take it back to the beginning.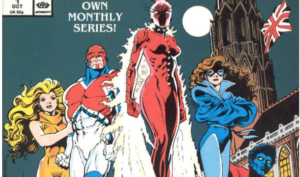 Source: mycomicshop.com
1. Warwolves of London
Writer: Chris Claremont
Artist: Alan Davis
This may be the first issue of Excalibur, but it isn't the first appearance.
Predating this is the 1987 Excalibur special that introduced the team, which I read before starting this column. It introduces the team, and sets them up to fight the Warwolves. Issue 1 has our cast of characters go on a hostage-rescue mission. It goes okay, but Phoenix suffers a psychic seizure in the process.
Later, the team have some R & R, and Kitty Pryde decides to disguise herself as Phoenix to lure out whoever it is that's after them. The Warwolves appear, and she tries to use her phasing against them. It doesn't work, and they wind up capturing her. Of note in this one are the Warwolves which are…absolutely horrifying. They drain people down to just their skins and then wear the skins. It's the scariest shit ever, and I hate looking at it.
It's a decent start, and it sets off an ongoing story, but it's not as action-filled or excitement-heavy as some first issues.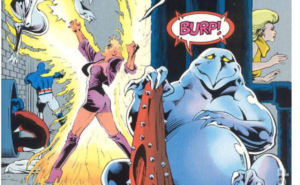 Source: mycomicshop.com
2. A Warwolf Possessed
Writer: Chris Claremont
Artist: Alan Davis
Here we go. To be honest, this issue and the first issue probably should have been combined into one issue.
I know we talk about decompression a lot now, but you can see it all the way back here. So Kitty's been captured, and Excalibur heads off after her. She and Nightcrawler survive the Warwolves long enough for the team to show up and beat them up. As I said, this issue is a lot more fun. And most of that is owed to the Warwolves. They are a**holes. And it's great.
Seriously, once they start talking, they spend all their time being sarcastic, snarky jerks to each other. They're really funny. Also, the art looks phenomenal. Alan Davis is always great, but here, it's Captain Britain that draws out his real talents. That costume is fantastic, regardless, but it looks especially good under Davis's handling. Also, the ending is just hilarious.
If that's the tone we're gonna get from this book going forward, I'll be thrilled.