The Marvel Comics Super Special is weird as hell. It's exactly the kind of deeply odd comics treasure that I love talking about. It was intended as a special magazine-formatted comic that was to be designated for special subjects. That sometimes meant weird Marvel characters that didn't quite fit in with the rest of the universe – like Star-Lord or Howard the Duck – and sometimes it was for weird musician-focused stuff. And it was sometimes for adaptations of feature films. But you and I, dear reader, are going to dig in and have some real fun looking at just how weird these books could get.
                                               Source: comicvine.gamespot.com
10. #6: Jaws 2
The Thing: Jaws 2 is a sequel to Jaws, one of the most enduring and respected horror movies of its era. Jaws 2 was not that. It isn't bad (certainly not as bad as its follow-ups), but it isn't fantastic, either. It's on Netflix right now if you really feel like you need that experience in your life. Roy Scheider is back as Chief Brody, although Hooper and Quint are not. Quint for obvious reasons and Hooper for "I'm not doing this movie" reasons.
No Spielberg either. Dude figured he'd made THE shark movie and didn't need to do another. In retrospect, he was correct.
The Comic: Well, it exists. It adapts the movie. It's weird that there were none of these before or since. It's listed as the only comic book appearance of Jaws the Shark. And yes, that is how Comic Vine's database labels him. As a shark. Named Jaws.
Jaws the Shark.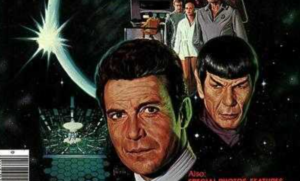 Source: comicvine.gamespot.com
9. #15: Star Trek: The Motion Picture
The Thing: Right up front, I have to make it clear that I am not a Star Trek guy. I watched the reboot movies, I've seen Let That Be Your Last Battlefield, and thaaaaaaat's about it. But as a person who's invested in geek culture, I've picked up some stuff through osmosis. Namely that Star Trek, the Motion Picture is apparently boring as hell.
Wrath of Khan is supposed to be The Good One, right? And then the third one is okay, the fourth one has whales, and the others also exist. Do they actually fight God in one of those?
The Comic: It's also boring and drawn-out. It's shorter, so that's a nice benefit or whatever. Oddly enough, Marvel Comics Super Special has never done any of the other Star Trek movies, despite having done two Indiana Joneses and two Conans.
I know there was an ongoing at some point, but those were DC Comics.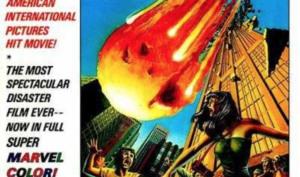 Source: comicvine.gamespot.com
8. #14: Meteor!
The Thing: Meteor is a Chinese/American co-production about an asteroid heading straight for Earth during the Cold War, causing international incidents to occur. Sean Connery is in it. And Natalie Wood. This movie is so flipping extra. Like, the asteroid heads for Earth because it's hit with a comet.
It's kind of a bonkers movie, as especially evidenced by the fact that it was kind of quietly remade in 1998 as Armageddon and Deep Impact, and then was actually remade in 2009 as a miniseries.
The Comic: Again, nothing special in adaptation. Oh, except for one thing. The cover – and, I believe, some of the interior art – was done by Frank Miller. Yeah, that Frank Miller. Dark Knight Returns, Batman Year One, Sin City Frank Miller.
It's deeply weird that the part-time penciler of this comic would go on to have a bigger pop cultural impact than the feature film he adapted. Neat!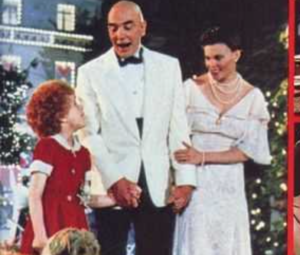 Source: comicvine.gamespot.com
7. #23: Annie
The Thing: Annie is a movie based on a stage musical, which is in turn based on the Little Orphan Annie comic strip, which is, I believe, still running. As of yet, I have not seen this Annie film.
I have seen the 2015 remake. It's fun enough. The theater's power went out right before the movie because LA was having one of its rare windstorms, but other than that, nothing objectionable.
The Comic: It's always so weird to me when a comic is adapted to film and then that film is adapted into a comic again. Both the Batman '89 adaptation and the Superman IV adaptation have places in my collection, and both are super weird.
And this oddity is no exception.
Read More: The Most Crazy & Insane Marvel Characters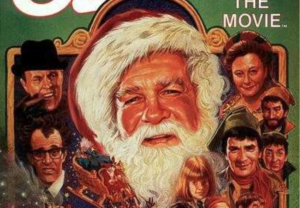 Source: comicvine.gamespot.com
6. #39: Santa Claus: The Movie
The Thing: Why are John Lithgow and Roy Scheider in so many of these? This is a Lithgow movie. I absolutely love the title of this thing. It's not just a Santa Claus movie. It's Santa Claus: THE MOVIE. The film tells a dual time period story, half about Santa coming up and finding his destiny, and the other half about one of his elves trying to use his toy making abilities for his own gain in the present.
As far as Christmas movies go, it was a financial failure, and one of those famous bad Christmas movies. It's not a Santa Clause movie, so at least there's that, I guess?
The Comic: As far as Santa comics go, it's not the best. The DC Comics Christmas specials are better, as is that DC Comics Presents with Santa in it.
I have yet to read Grant Morrison and Dan Mora's Klaus, but I've heard it's rad as hell, so I'm going to assume it's also better.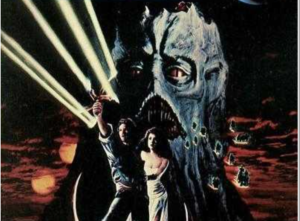 Source: comicvine.gamespot.com
5. #28: Krull
The Thing: I don't even know, folks. Krull is a movie in the same sense that a labyrinth is a hallway. Krull is famously confusing and weird and badly explained. There's a reason the only thing from this film that stays in the public consciousness is the Glaive.
A cool weapon can be detached from the nonsensical film it's embedded in and reduced to a pop culture icon through sheer memetic repetition. No one remembers Colwyn or The Beast. No one wants to revisit the Black Fortress. If you want to know anything about Krull, its Wikipedia page is longer and more detailed than those of many countries.
So much has been written about Krull, that I am but another paragraph on this tome.
The Comic: It's at the same level of WTF, but in comic book form. It makes no more and no less sense.
Krull is cinematic overload. I had an easier time grasping the plot nuances of Battlefield Earth.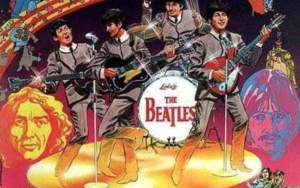 Source: comicvine.gamespot.com
4. #4: The Beatles
The Thing: Oh, you mean The Beatles? You want me to explain The Beatles to you? Really? If you don't know who the Beatles are, welcome to Planet Earth; we're not doing too great at the moment.
The Comic: This isn't the only Beatles appearance in Marvel Comics Super Special, but it is the first. It's also far from the band's only comic book appearance.
According to online database Comic Vine, they've appeared in 89 comic books, including an issue of Batman, an issue of Secret Origins, and"¦an issue of Star Wars Tales? What the hell?
They're in From Hell, Strange Tales, and X-Men. But the best Beatles comic is definitely The Fifth Beatle, a quasi-biographical story about Beatles manager Brian Epstein. It's a huge hardcover, but it's gorgeous, and way more worth your time than this is.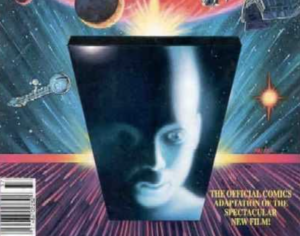 Source: comicvine.gamespot.com
3. #37: 2010
The Thing: 2010 is the almost completely unknown sequel to Stanley Kubrick's all-time classic that I've never been able to get into, 2001: A Space Odyssey. It's based on Arthur C. Clarke's sequel novel, 2010: Odyssey Two. It seems that Mr. Clarke saved his creativity for his work and not for his titling.
The book is"¦Look, it's a sequel to 2001. Do you really think I'm going to be able to give you a summary that makes any degree of sense? Also, Roy Scheider's in it. So he makes another appearance on this list.
The Comic: I know what you're thinking. Why did Marvel adapt 2010, and not 2001? Actually, they did. In a Jack Kirby miniseries that introduces Machine Man. It's also maybe the weirdest Marvel comic of all time. Weirder than this.
This one is kind of overshadowed, because, as odd as it is, it doesn't start as an adaptation before introducing a character who would later be in Nextwave.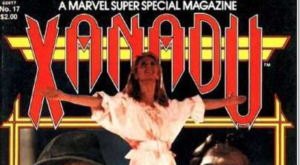 Source: comicvine.gamespot.com
2. #17: Xanadu
The Thing: Xanadu, one of those famously bad movies that people in film nerd circles mock endlessly. This one is an Olivia Newton-John vehicle that flopped pretty hard at the box office. It just barely made its budget back, and with the way marketing costs work, that almost definitely means it was deep in the red.
But it's not all bad! There's some ELO music in there. That rules. And it also has a little bit of Don Bluth animation, which is, quite frankly, shocking. It's like finding out that Walt Disney did some work on Showgirls. Xanadu is so legendarily bad that it was part of the inspiration for John Wilson to start the Razzie Awards.
The Comic: This comic is pretty much a perfect example of why I wanted to do this article. No one ever really knows what's going to be a hit. Sometimes you're dead wrong. And when you are, you create a comic book adaptation of Xanadu.
It's a comic adaptation of a musical, for godsakes. Why would you do that?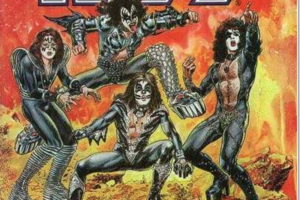 Source: comicvine.gamespot.com
1. #1: KISS
The first issue of this comic turns out to be its weirdest BY FAR. This one is"¦just…What the hell?
The Thing: KISS was a band. They sang some songs, but were mostly known for their very visually appealing stage personas. TBH, I've never been a huge KISS guy. They aren't bad, but not my thing, overall.
The Comic: Looking at the cover, I'm sure you assume that this is some sort of biography about KISS or something. That is NOT what this is. It's about the Band members being normal teens who find a mythical artifact called the Box of Khyszc that turns them into the KISS members, but with superpowers or something.
Also, this takes place in the mainstream Marvel universe. They fight Doctor Doom. The Avengers are in this. And the Fantastic Four. Hell, the effing Defenders are in this. What the hell? How does this exist?
And there we go: A bunch of weirdness from a weird magazine comic that will most likely never be reprinted because of rights issues, so most people will never get to read it.