The Marvel Comics Super Special is weird as hell. It's exactly the kind of deeply odd comics treasure that I love talking about. It was intended as a special magazine-formatted comic that was to be designated for special subjects. That sometimes meant weird Marvel characters that didn't quite fit in with the rest of the universe – like Star-Lord or Howard the Duck – and sometimes it was for weird musician-focused stuff. And it was sometimes for adaptations of feature films. But you and I, dear reader, are going to dig in and have some real fun looking at just how weird these books could get.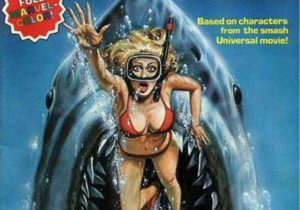 Source: comicvine.gamespot.com
10. #6: Jaws 2
The Thing: Jaws 2 is a sequel to Jaws, one of the most enduring and respected horror movies of its era. Jaws 2 was not that. It isn't bad (certainly not as bad as its follow-ups), but it isn't fantastic, either. It's on Netflix right now if you really feel like you need that experience in your life. Roy Scheider is back as Chief Brody, although Hooper and Quint are not. Quint for obvious reasons and Hooper for "I'm not doing this movie" reasons.
No Spielberg either. Dude figured he'd made THE shark movie and didn't need to do another. In retrospect, he was correct.
The Comic: Well, it exists. It adapts the movie. It's weird that there were none of these before or since. It's listed as the only comic book appearance of Jaws the Shark. And yes, that is how Comic Vine's database labels him. As a shark. Named Jaws.
Jaws the Shark.