One thing about the comics blogger internet is that we all have the same beloved punchlines. But a lot of those punchlines are obscure BS comic books that most people haven't read. So I wanted to go about giving you some context for this stuff.
SOME STUFF RIGHT UP FRONT: This story is famous for being a good-intentioned but horribly executed story about the problems black Americans faced in the seventies. As a white guy who grew up much later than that, there are problems with this story that I couldn't adequately express. For an analysis of the flaws in its racial commentary, I'd encourage you to look to commentary from black writers. But making fun of a racially insensitive comic book? That, I'm qualified for.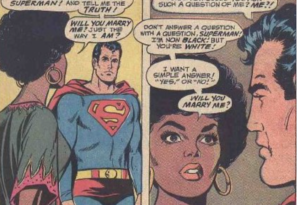 Source: comicbooksrevisited.com
1. Well, That Sure is a First Page
(Page 1)
This thing opens like a gunshot to the face.
Black Lois Lane accosts Superman to ask if he'll still marry her now that she's black. No context, no information about what in the hell is going on, just this super serious splash page asking if Superman is a racist.
I'll say this: It's pretty ballsy. It's funny because it mirrors many comics of the time. Hit 'em with a crazy in medias res splash page to tease the upcoming story. The only problem here is that the story is bats**t insane and pretty racist, so getting smacked in the face with it on page one is hilariously shocking.
We'll get back to this scene when it happens in the story because it's even funnier there, but it's already pretty insane. This story is only fourteen pages! I don't know how it has the time to be that deeply insane.
But here we go. Let's get started.