What is greatness? How do you define it? Prepare for me to answer neither of those questions as I dive into some Batman comics. You see, in 1989, a little movie called Batman was released. Tim Burton, Michael Keaton? You might have heard of it. So the year before, DC Comics put out a collection, through Warner Books, of what they dubbed the Greatest Batman Stories Ever Told. And exactly 30 years later, I bought a copy in a used book store. So I figured it might be interesting to break out this volume, and see how the stories within hold up. The book collects tales from between 1939 and 1983. As well, it pulls stories from titles like Detective Comics, Batman, Star-Spangled Comics, World's Finest Comics, DC Special Series, Brave and the Bold, and the Batman Newspaper strips. And so let's take ourselves back to the late thirties, as world war 2 was on the upswing, for our first story, of the Dark Knight.
                                                                                     Source: youtube.com
1. Batman vs. The Vampire parts 1 & 2
Detective Comics # 31-32 (1939)
*Extremely Krusty the Clown Voice* "¦The hell was that?
That was insane. I am baffled AND befuddled. So in the Story, Batman stops his fiancé Julie from murdering a man and no there is no explanation of why Bruce Wayne has a fiancé but okay.
It turns out she was hypnotized by The Monk, a mysterious hypnotic figure. Batman flies off into the night and winds up tracking The Monk to Paris in Paris he is put in a trap with a gorilla, which he beats up. He captures a snake charmer named Dala who turns out to also be a vampire in the thrall of The Monk. She whacks Batman in the head but Batman beats her.
Our hero makes Dala lead him to The Monk's castle who puts him in another trap, this time with wolves. Batman gasses the wolves and escapes the pit while they are sleeping upon realizing that The Monk and Dala are vampires, he melts down a silver statue and makes it into two bullets before shooting The Monk and Dala while they are sleeping in their coffins. He then goes back to Julie, his fiancé. That's really weird, right?
One of the Greatest Batman Stories of All Time?: No. Weird, but no.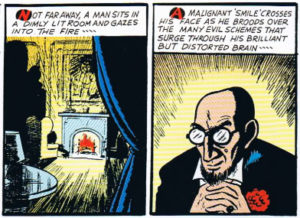 2. Dr. Hugo Strange and the Mutant Monsters
Batman # 1 (1940)
Hey look, it's a villain we all recognize! Well, okay, some of us recognize.
This story comes from Batman # 1 and it sure does exist. Hugo Strange has broken out of jail and Bruce Wayne hears about it. But he doesn't do anything else and so a month later, a giant monster man attacks the city. These Monster Men look like original series Scooby-Doo villains. They cause chaos and destroy the train tracks, which Batman does not save?
Batman arrives at Strange's hideout, where he's ambushed and captured. Hugo Strange pumps Batman full of Monster Serum and knocks him out. He wakes up eighteen hours later, with only 15 minutes to go before his transformation. First he punches Hugo Strange out a window, like you do, before flying off to machine gun his henchmen to death. Then he throws a rope out of the Batplane and"¦ lynches a monster man. Yeeesh. That's not great. The final monster man climbs a skyscraper before Batman knocks him off to his death. Not, uh, not my favorite Batman story.
One of the Greatest Batman Stories of All Time?: Nope!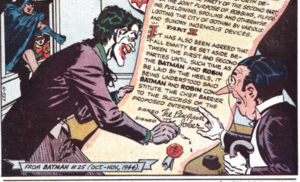 Source: thegreatestape.com
3. Knights of Knavery
Batman # 25 (1944)
It's a good old fashioned villain team up, folks!
And also the first appearances in this collection of two classic Batman Villains. Those being The Joker and The Penguin. After having his robbery foiled by Batman and Robin (hey, Robin's here!) The Penguin gets thrown in jail, winding up in the same cell as The Joker. The two argue over who's the best villain and decide to break out of jail and have a little contest: whoever can steal the prized emerald first wins.
They break out and both try for the emerald, but in attempting to sabotage each other, they draw Batman and Robin to the scene. They escape and agree to work together to kill Batman and Robin, but can't decide on how, getting into an argument and allowing the dynamic dup to break free and beat them up. Worth noting, Penguin wants to water-torture Batman and Robin which is surprisingly hardcore.
One of the Greatest Batman Stories of All Time?: Eh, it's okay.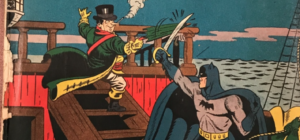 Source: goldenagecomics.com
4. 1001 Umbrellas of the Penguin
Batman Newspaper Strips (1946)
The Batman newspaper strips are an underrated piece of Batman ephemera so I'm glad they are represented here.
In this story, The Penguin is breaking into a post office when Batman and Robin catch him. They see that he was stealing one piece of mail, addressed to Oswald Cobblepot. That's right, it was this newspaper strip that established Penguin's real name for the first time! Neat! The letter is from Penguin's Aunt, Miranda Cobblepot, who is coming to visit.
Penguin laments that his aunt will find out that dear Nephew Oswald is a criminal and Batman and Robin pity him. So they pretend to be Oswald's personal friends escorting him and his aunt around the city. But seeing Batman and Robin hangin' with the Penguin makes his gang panic, assuming Cobblepot has turned government stooge. So they try to kill him and Penguin, Aunt Miranda, Batman, and Robin have to fight them off. This story is delightful. It's very silly but every panel is amazing.
One of the Greatest Batman Stories of All Time?: Yes. This fully deserves to be in this collection. It's great.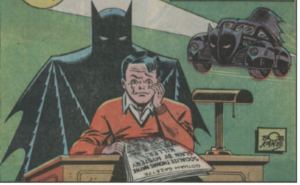 Source: babblingaboutdccomics.com
5. The Origin of the Batman
Batman # 47 (1948)
I kid around, but this is a truly excellent Batman story with some powerful moments that still ring true to this day.
In the story, Batman catches on to a new racket in Gotham, run by a gangster named Joe Chill. Upon seeing a picture of Chill, Batman immediately recognizes him as the man who killed his parents and flashes back, showing us that origin again. Batman goes after Chill, eventually cornering him and unmasking, telling Chill that he knew who he was and as Batman, he would make sure Chill never knew peace again. Chill, horrified, runs outside and tells his gang that he knows who Batman is and accidentally created him.
The gangsters focus on the "I created Batman" part and gun Chill down before realizing "oh hey, maybe we should've asked who Batman really was before shooting him, that information could have been useful. Batman beats up the gang and finally closes the case file on his parents' murder. All in all a really powerful story and one that might sound familiar, as it served as the inspiration for the critically acclaimed Batman: Brave and the Bold episode "The Chill of the Night".
One of the Greatest Batman Stories of All Time?: In all seriousness, yes. This is an all-time great and if it was left out, it would be a travesty.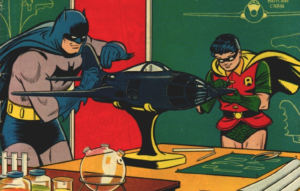 Source: wwcomics.com
6. The Birth of Batplane II
Batman # 61 (1950)
Um, this one was fine?
In the story, Batman and Robin are visiting a Military base to help them test out a new weapon, designed to blow out the engine of enemy planes. But the device malfunctions and locks up the controls of the Batplane, forcing Batman and Robin to eject. The plane crashes near a band of crooks who kidnap an ace pilot and use the Batplane to commit daring robberies.
Meanwhile, Batman, Robin, and the US Military team up to build a new, better Batplane that's a bit more Jet-like. There's a daring sky battle and the criminals are forced down and captured by the dynamic duo. And the new Batplane would go on to become Batman's favorite aircraft until the Batjet and Batwing came along.
One of the Greatest Batman Stories of All Time?: No. it's not bad, but it peaks at fine nowhere near great.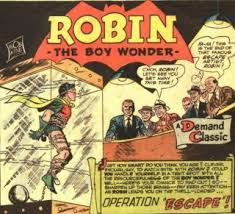 Source:scansdaily.com
7. Operation: Escape
Star-Spangled Comics # 124 (1952)
This. Is not. A Batman. Story.
I am disappointed. It is a Robin Story. Batman is not in a single panel of it. In the story, Robin is giving a lecture to the Gotham Police Academy. Look, hear me out on this, maybe Gotham cops are so bad because they are being educated by a twelve year old in short pants. That might be part of it. Anyway, Robin tells them a story about a time when he tracked a gang back to their hideout, but was captured. They threw him down a trap door.
But luckily for Robin, they had left a bag of random sports equipment in the basement? I am not sure why? Which thug needed to store his sports equipment and decided "oh hey, I'm lazy, I'll just throw these down our trap door." Okay, the more I say about it, the more I understand it. Anyway, the equipment includes a Baseball cleat (just one), a baseball, a golf ball, and a tennis racket. Just roll with it, it'll be easier that way. Robin asks the cops and the reader if they figured out how he escaped before explaining how he did it. Again, this is not a Batman story.
One of the Greatest Batman Stories of All Time?: Disqualified.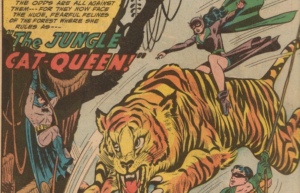 Source: blogspot.com
8. The Jungle Cat-Queen
Detective Comics # 211 (1954)
Catwoman is baller as hell. That is all I learned from this story.
In it, Catwoman starts by robbing a plane with a panther. As I said, baller as hell. She then flies off in a PLANE SHAPED LIKE A LARGE CAT. Batman and Robin arrive on the scene and find mud residue that allows them to track her back to a mysterious island. Once there, the dynamic duo tries to set up a trap for the panther but they are caught in their own trap and captured by Catwoman's gang. Catwoman arrives with a Panther, a Lion, and a Tiger and drags the dup back to her base. There, she strips them of their costumes (but lets them keep their masks for some reason) and gives them loincloths.
She them sends them into the jungle so she can hunt them down with her cat army. I. Love. Her. Batman and Robin wind up beating back the cats, realizing that they are actually circus animals she stole. Catwoman captures Batman, gives him his costume back after stripping all the gadgets out of it and throws him down a waterfall. Batman uses his secret compartment gadgets to escape and beats up Catwoman's gang, who it turns out were laundering Diamonds. Catwoman escapes RIDING A TIGER. And then flies away in her CAT PLANE. Baller. As. Hell.
One of the Greatest Batman Stories of All Time?: Hmmmm. It's good, but I don't know about greatest ever. It is maybe my favorite Catwoman story ever though.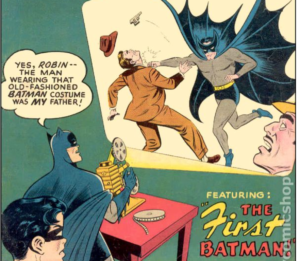 Source: mycomicshop.com
9. The First Batman
Detective Comics # 235 (1956)
Ah, here's a fine story, and the other half of the inspiration for the Batman: Brave and the Bold episode "Chill of the Night". In the story, Bruce Wayne and Dick Grayson discover a secret compartment in Thomas Wayne's old drawers containing a strange version of a Batman Costume.
This sparks Batman's memory and they also watch a film that shows a costume party that the Waynes attended at which Thomas was kidnapped by a mobster named Lew Moxon. Moxon needed surgery and they press-ganged Thomas into operating on him. Thomas did, but then beat them up and called the police.
So as it turns out, Moxon hired Joe Chill to kill the Waynes as revenge. Batman goes after Moxon, eventually putting on Thomas's Batman costume and scaring Moxon into the street where he's hit by a car.
One of the Greatest Batman Stories of All Time?: Here's the thing, I might be more willing to give this one credit if I hadn't read "The Origin of the Batman" which is just the better version of this story. It's cleaner, it's more impactful, it's just all around better. So as a result, this one, while not bad, kind of feels like that scene in Spider-Man 3 where it turns out Sandman shot Uncle Ben. It's just overcomplicating a great story when it doesn't need to.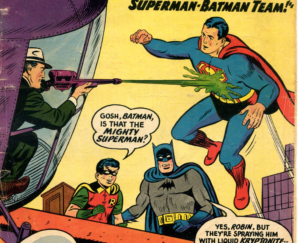 Source: dc.wikia.com
10. Origin of the Superman-Batman Team
World's Finest Comics # 94 (1958)
God, silver age DC heroes are such children. These guys just cannot be direct about anything.
So this story is about Batman and Robin seeing that Superman might need some help with Lex Luthor so they head off to Metropolis. But Superman has a new partner it seems, Powerman, a guy is a hooded mask who looks hell of sinister. And the duo tell Batman and Robin that they're doing good and do not need their help. Batman and Robin are hurt by this and flash back to the first time they teamed up with Superman, that being when they helped him fight a gang who'd filled liquid guns with Kryptonite.
Batman and Robin are suspicious of Powerman and try to spy on him and Supes, but this is unsuccessful as Superman can friggin see them from a mile away because he's literally Superman. It turns out that Lex Luthor has a laser ray and Superman was afraid for Batman and Robin's safety so he built a robot, dressed it in a costume and called it Powerman all so Batman and Robin wouldn't involve themselves and get hurt and oh my god I'm dumb, I'm tapping out.
One of the Greatest Batman Stories of All Time?: NO.
And there we go folks, the first set of stories from this Batman Collection. Next time, we'll start with the most famous weird as hell Batman story of all time. Out of this lineup, I'd say one qualified as perfect and we had two other pretty good ones.