What is greatness? How do you define it? Prepare for me to answer neither of those questions as I dive into some Batman comics. You see, in 1989, a little movie called Batman was released. Tim Burton, Michael Keaton? You might have heard of it. So the year before, DC Comics put out a collection, through Warner Books, of what they dubbed the Greatest Batman Stories Ever Told. And exactly 30 years later, I bought a copy in a used book store. So I figured it might be interesting to break out this volume, and see how the stories within hold up. The book collects tales from between 1939 and 1983. As well, it pulls stories from titles like Detective Comics, Batman, Star-Spangled Comics, World's Finest Comics, DC Special Series, Brave and the Bold, and the Batman Newspaper strips. And so let's take ourselves back to the late thirties, as world war 2 was on the upswing, for our first story, of the Dark Knight.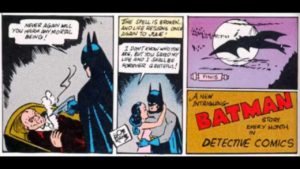 Source: youtube.com
1. Batman vs. The Vampire parts 1 & 2
Detective Comics # 31-32 (1939)
*Extremely Krusty the Clown Voice* …The hell was that?
That was insane. I am baffled AND befuddled. So in the Story, Batman stops his fiancé Julie from murdering a man and no there is no explanation of why Bruce Wayne has a fiancé but okay.
It turns out she was hypnotized by The Monk, a mysterious hypnotic figure. Batman flies off into the night and winds up tracking The Monk to Paris in Paris he is put in a trap with a gorilla, which he beats up. He captures a snake charmer named Dala who turns out to also be a vampire in the thrall of The Monk. She whacks Batman in the head but Batman beats her.
Our hero makes Dala lead him to The Monk's castle who puts him in another trap, this time with wolves. Batman gasses the wolves and escapes the pit while they are sleeping upon realizing that The Monk and Dala are vampires, he melts down a silver statue and makes it into two bullets before shooting The Monk and Dala while they are sleeping in their coffins. He then goes back to Julie, his fiancé. That's really weird, right?
One of the Greatest Batman Stories of All Time?: No. Weird, but no.