The Man of Steel, the Man of Tomorrow, the big blue boy scout. Superman always comes out on top, he takes what ever is thrown at him and comes out smiling. But does he always? Aren't there times when he fails? When he looses? I mean yes, all the time. Because comic books are an ongoing serialized fiction medium and it's a good way to ramp up tension. But what are some notable losses of the Man of Steel and who dealt them out? What are the big ones in the game of massive failure?
Let's have some fun and look at the people who most frequently kick Superman's ass and how they've historically done it. Most of them involve kryptonite. Hell, if I was a huge jerk who loved cop-outs, I'd just make the number one entry on this list "Kryptonite".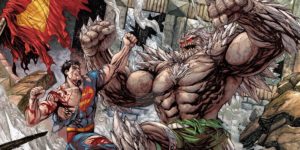 Source: medium.com
10. Doomsday
Yeah, yeah, let's start with the famous one.
Doomsday was literally created to beat Superman. Well, he was a big bone monster in biker shorts who was designed to kill Superman both in and out of story. You see, Doomsday was a genetically engineered superweapon that adapted based on its each and every defeat to be better equipped the next time. He broke out of his cell and whipped the entire Justice League's asses.
Hell, he hit Booster so bad, the dude changed costumes. Do you know how hard you have to hit a guy to realign his wardrobe? Because Doomsday does. After the JLA, Doomsday went after Superman and they punched each other in the face a lot. Until they both died, in fact. It was very homoerotic. In a good way, obvs. They're making an animated movie out of it! Again.
I remember when they adapted it into an animated movie the last time. I mean, it was only *checks Wikipedia* eleven years ago. Jesus god I'm old.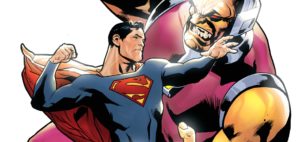 Source: dccomics.com
9. Mongul
Okay, so Mongul loses a lot. Very often, in fact. He has a hard time trying to win anything other than a punch in the face. But there was one time where he kind of won sort of.
That being the classic story "For the Man Who Has Everything". In it, Mongul gets Superman a birthday present. That birthday present was the Black Mercy, a plant based life form that acts as a psychic parasite that gives you your wildest desires. So it put Superman on a Krypton that never exploded, with a wife and family of his own. In order to remove the parasite, Superman had to watch this family and planet die horribly.
This made him very mad. Mad enough to beat the piss out of Mongul. But at the end of the day, Mongul still made Superman live through all of that hell and came out the other side.
Superman also pacified Mongul by strapping the Mercy to him, meaning Mongul got to have a nice fantasy for a time while Superman was mourning his dead fake wife and child. Oof.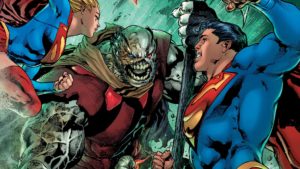 Source: dccomics.com
8. Rogol Zaar
It's by far the newest entrant on this list, the Retcon Renegade, the Krypton Killer, Rogol Zaar!!
So Zaar first appeared in Action Comics # 1000 and has only appeared in a handful of comics. I think I technically own every issue he's been in just by happenstance. He has two differently colored eyes and a big ask and teeth like the bottom of a broken bottle.
Also he maybe destroyed Krypton or something? They haven't made it clear yet but I really hope it's a red herring. I mean, Krypton being destroyed by a guy who looks like the tattoo Lobo would get just seems wrong. But if it happened, then Rogol Zaar sure beat Superman. As a baby. He drove him right off the planet.
Again, I hope this isn't what's going on, but they brought back friggin' Jor-El like a year ago so who even knows.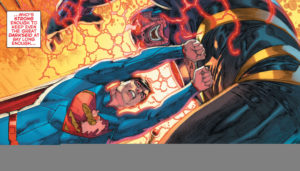 Source: collider.com
7. Darkseid
OOooOoooOOOh! Darkseid is great.
And, while I get annoyed by people calling him a Superman villain, he has beaten the hell out of Supes more than once. Darkseid is literally a god, he is on a whole "˜nother level. And while Superman is pretty strong and powerful, he is not equipped to go toe to toe with the embodiment of evil, the tiger force that is Darkseid.
Read More: Marvel Characters Who Can Defeat Superman
Except in Justice League Unlimited where Supes wiped the floor with him. But normally, Darkseid can stomp Superman into the ground and Omega Beam his face off. And he's done stuff like it plenty of times. And if you're watching Superman get bounced off a wall by somebody, odds are it's either Doomsday or Darkseid.
And of the two, only Darkseid is an actual character with traits and personality and stuff other than being a big bone monster.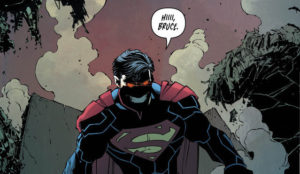 Source: doomrocket.com
6. The Joker
Yeah, shocking, right?
Joker and Superman have actually interacted a couple of times, indeed. One time was during the Emperor Joker event, where Joker stole Mr. Mxyzptlk's powers and remade the world in his own loony image. Now, I would've put a spoiler warning on this because it isn't revealed it's the Joker until halfway through the arc but when DC reprinted that story they put Emperor Joker on the cover so that ship has sailed and sunk my friend.
Joker used his cosmic powers to imprison Superman in Arkham Asylum and create a whole fake Justice League of doofuses. Another time the two matched wits was during Batman: Endgame. Joker used his toxin to take over the minds of the entire Justice League save Batman, who had to fight his mind-controled friends. By punching them with a giant robot suit.
It's a fun comic book.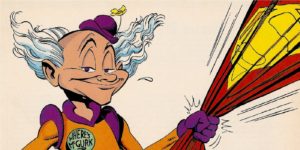 Source: cbr.com
5. Mr. Mxyzptlk
I love good ol' Mxy and people do not give him the credit he deserves.
And he pulled maybe the best one over on Superman ever. In "Whatever Happened to the Man of Tomorrow" (WARNING: SPOILERS FOR A COMIC FROM THE LATE "˜80S INCOMING) Superman's life falls completely apart, losing friends and family and those he's cared about in sad and murderous ways.
Eventually, it's revealed that Mr. Mxyzptlk was behind it all and that he's far more powerful than he ever let on. Now this happens because Alan Moore read Superfolks I mean, uh, because it's a good idea.
And, while Mxyzptlk did lose and die at the end of the story, he still demolished Superman's life and got him to kill, breaking his moral code and forcing him to resign being Superman and give up his powers. He lost his life, but he had a victory over Superman, specifically one that ended his career.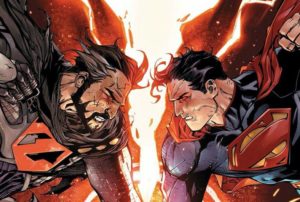 Source: thoughtco.com
4. General Zod
The problem with putting Zod on this list is that there are a number of Zods. Like, there are too many.
I think there was one a year at some point in the 2000s. my favorite was the one who turned out to not be Zod and dressed like Red Lobster Black Manta. He shattered Superman's jaw once. That's a pretty solid way to show a character's skills. Have him crack Superman's jaw once or twice.
Several Zods have beaten Superman into the dirt a time or two. The most recent one fought Supes while the man of steel was blind, temporarily and that was a curb stomp battle if I've ever seen one. Dude got hit hard AF and kept on coming.
Also, Zod had perhaps the biggest victory ever against Superman when he tricked Superman into co-starring with him in a bad movie. But hey, Zod at least got an easy way out of that one.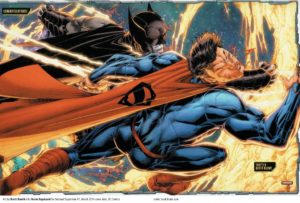 Source: pinterest.com
3. Batman
Yep, Batman has gone up against Superman numerous times and won numerous times as well.
Usually, they fight because one of them has been mind controlled. This happened in Batman: Hush, when Poison Ivy used her abilities to force Superman to attack Batman, resulting in Batman beating up his big blue boy scout friend to snap him out of it.
Another version of this happened in the previously mentioned Batman: Endgame. In that story, it was The Joker who got into Superman's mind which was pretty terrifying. Superman was the one justice leaguer who Batman couldn't easily take out.
Poison Ivy got another shot at puppeteering the man of steel in the recent Tom King run which went"¦ less well. Batman wound up making Ivy angry and Ivy doesn't have a great handle on restraint and Batman took a Superman level punch to the face and almost died. He was able to pull through that one and win the day though.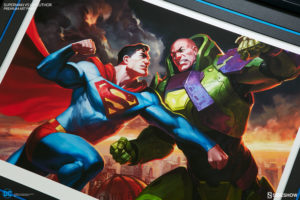 Source: sideshowtoy.com
2. Lex Luthor
Ah yes, Lex Luthor, Superman's greatest foe! And a man who beats Superman a lot.
Usually by punching him in the face with Kryptonite. But I want to talk about a time that he did it by being as extra as physically possible. In an imaginary story Lex Luthor decides to reform and be a good guy. He does this by first curing cancer. Not fake curing cancer, doing it for real. Very easily.
So he and Superman became close friends. And then Luthor killed Superman because this was all a trick. That's right, Lex Luthor figured out how to cure cancer just so he could kill Superman. That's frigging insane. The problem with Luthor is he usually can't win, but mostly because he stops himself.
Often he will be granted ultimate power and be ready to achieve everything he ever dreamed of, but that power usually just makes him realize how flawed his ideology is. The best examples of this are the finale of Justice League Unlimited and the last issue of All-Star Superman.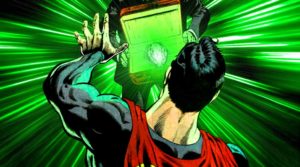 Source: screenrant.com
1. Kryptonite
AH-HA! Turns out I AM a huge jerk who loves cop-outs!!!
Kryptonite is the source of, like, ninety percent of Superman's defeats. And not even just those at the hands of super villains! A lot of Metropolis gangsters have blasted Supes with water guns full of Kryptonite juice or whatever was the style at the time.
Kryptonite gets a lot of flak but it's a very helpful storytelling device and is a great way for less physically imposing villains to get the jump on the man of steel. Titano has Kryptonite vision, Metallo has a Kryptonite heart, Kryptonite Man is, um, made of Kryptonite, etc. It's a score card evener. And a smart one at that. The mightiest man on earth and he can be brought down by a colored rock. Poetic.
And there you have it, a list of people (and"¦ uh"¦ things) that have felled the man of steel. Superman rules and is great, but if he doesn't suffer a defeat at some point, then where are the stakes?