Batman is such an enduring part of comic books that like half of all new ideas in the medium are just "what if Batman was"¦?" "What if Batman was crazy?" gave us Moon Knight. "What if Batman killed people?" gave us The Punisher and "What if Batman was fundamentally terrible gave us the latter half of Frank Miller's career. But the one that endured the longest and has had the most variations was the simplest: "What if Batman were eeeeeeeevil?" this is fully a third of all Elseworlds stories. The other two thirds are "What if Superman was evil?" for the record. There's the one where Batman is a vampire that murders everybody.  There're a couple with evil Batmen who aren't Bruce Wayne, like The Blue Bat. But in-continuity there have been a huge number of evil batmen. Some were actually bad guys pretending to be Batman while others were more indirect, evil mirrors to our Dark Knight. So let's talk about both types and how they've changed over time.
                                                                                     Source: youtube.com
10. Wrath
Wrath is a pretty major unknown but I absolutely love his limited set of appearances.
He debuted in Batman Special # 1 "The Player on the Other Side". In this story, we learn the tale of a young boy whose criminal parents were killed in a gunfight with the police. Their young son made a vow that night to avenge their deaths. He dedicated himself to learning and training until he was a human weapon, a one man war, known as The Wrath.
He returned to Gotham years later where he ran afoul of Batman, who beat him despite Wrath being a pretty even match for him. The character would resurface for a fun Batman Confidential story that revealed that it was James Gordon who killed Wrath's parents in his rookie cop days.
There was also a New 52 version in John Layman's Detective Comics run that was also good, even if he lost some of the Evil Batman design aesthetic. But as far as Evil Batmen go, he's maybe the most direct and for sure the most underutilized.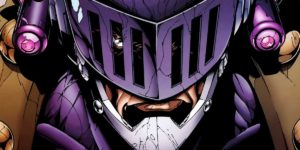 Source: sciencefiction.com
9. Prometheus
Grant Morrison is very good. And he created Prometheus.
Real name and motivation unknown, Prometheus rigged up a helmet with a disk drive (ah the nineties) that would let him load skills into his helmet on the fly to counter the specific members of the Justice League.
He found the winner of a "be a Justice Leaguer for a day" contest, killed him, and replaced him, infiltrating the satellite and taking out pretty much the entire league single handedly. He would've won if not for Catwoman hanging around. He would come back later on in Cry for Justice where he caused the death of Arsenal's young daughter (it's not very good, don't read it) and then Green Arrow tracked him down and shot him in the head with an arrow.
He's also in JLA/Avengers, where he fights Captain America and Captain America schools his ass. It's pretty great.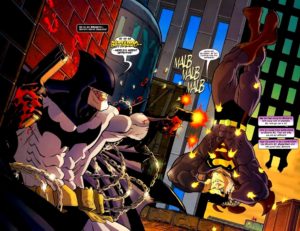 Source: dc.wikia.com
8. Batzarro
Batzarro is underrated as heck.
Bizarro is a kind of hit or miss character. Some people love him, some people hate him. I'm somewhere down the middle, personally. But oddly enough I really appreciate Batzarro as a character.
Wayne Bruce, AKA Batzarro has a phenomenal costume. The no eyes "blind as a bat" thing is pretty fun but the upside down empty utility belt is a billion times better. Batzarro was created by the Joker alongside the 3rd Bizarro # 1 (it's confusing). Batzarro tried his best but was so bad at it he technically counts as evil I guess.
He gave his life jumping in front of a bullet shot at Batman by The Joker but was placed into the Phantom Zone and seemed to have healed, fighting crime alongside Bizarro, which basically just means committing crimes.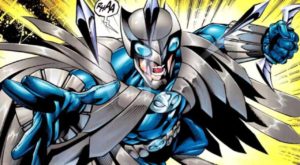 Source: comicbook.com
7. Owlman
Earth-3 is one of those old school comic book concepts that we didn't see very often for a long while.
And I was sad about that. I love the Crime Syndicate, and I especially love Owlman. Earth 3 is a world where all morality is reversed. So the world's greatest villains were actually that earth's version of the Justice League of America.
And they all hate each other. Seriously, half of all Crime Syndicate stories are just them screwing each other over in complicated power grabs. Owlman is their version of our Dark Knight. His true identity varies, but the one I'm most familiar with was Thomas Wayne Jr., Bruce's brother who was the only one to survive the shooting of the Waynes.
Thomas Jr. committed his life to crime and became the Owlman, the grim avenger of the night, but with crimes. He's incredibly smart, but super underhanded, violent, and smug. Oh so smug.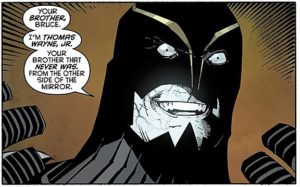 Source: comicsalliance.com
6. Lincoln March
"Owlman" might not be the correct name for this character but it's the one that gets unofficially used by fans.
Lincoln March was a mayoral candidate in Gotham City who also turned out to be a major figure behind the Court of Owls, and one of their most powerful Talon operatives. He also believed himself to be Thomas Wayne Jr., a long lost brother of Bruce Wayne's. this was never confirmed, though, so he could have just been a crazy person and not the bat brother indeed.
March stayed undercover until he was required to break, at which point he attacked Batman and revealed his supposed true identity. Bruce refused to believe him and the two fought until a massive explosion made it seem that Lincoln had died.
He hadn't, though, and resurfaced during Batman Eternal until the Court of Owls grew tired of his disobedience and kidnapped him.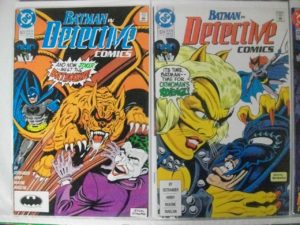 Source: buybigbang.com
5. The Batmaniac
Turns out this one is so obscure I literally could not find an image of him anywhere on the internet.
Here's one so obscure that he doesn't even have a dc wikia page (although hopefully someone will change that.) The Batmaniac appeared in a three issue arc lasting from Detective Comics # 622 until # 625.
In the arc, a comic book company began publishing a Batman comic book, containing tons of speculation about Batman's true identity. A mentally ill vigilante loved the comic, and became convinced that he was the Batman, painting a bat on his face and shotgunning criminals in the streets. As a result, the writer of the comic killed off "Batman" and ended the series, horrified by the influences his actions had.
Batman, meanwhile, tracked down and beat up the Batmaniac, ending his reign of terror for good. Track down those comics, if you can, they're super fun and totally underrated. John Ostrander really knew how to write a Batman comic.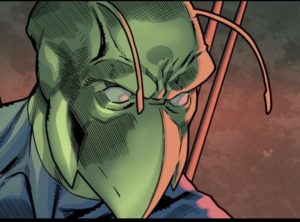 Source: dc.wikia.com
4. Killer Moth
Yes. THAT Killer Moth.
I know, but hear me out. So Killer Moth originally appeared as a crook with a basic idea: criminals need their own Batman. So he got a cave and some gear and took a flying creature themed identity. He also started a protection racket. Criminals would pay him and in turn, he'd give them a Moth Signal that they could use to signal him if the Batman gave them trouble. Not sure how great an idea that is. I mean, I feel like that's just gonna attract cops like"¦
*puts on sunglasses*
…moths to a flame.
*CSI music cue*
But seriously though, Killer Moth very quickly dropped his Batman but evil gimmick and just became a loser Batman villain who fought Batgirl a lot. And then for a while he was a literal bug man. Named Charaxas. It wasn't a great time. But now he's back to that wonderful silly costume. I'm secretly a huge Killer Moth fan. On my desk in front of me right now, I have three different Lego minifigs of him.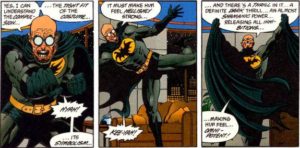 Source: wbgames.com
3. Hugo Strange
And now we're transitioning from people who just mirrored Batman's gimmicks to people who actually pretended to be Batman.
First up, Hugo Strange. Strange was hired to profile Batman for the GCPD's anti-vigilante task force. Strange became obsessive in his attempts to figure out what was going on inside the Dark Knight's head. As a result he decided that the best way to think like a crazy person in a Batman costume was to become a crazy person in a Batman costume. So he made his own costume.
It's funny because he so rarely has done this, but it's the best image of him so later writers would replicate it frequently. Less frequently replicated is the golden age idea of Hugo Strange making giant monsters.
Both collided in the Rebirth era for "Night of the Monster Men" in which Hugo Strange made some very big monsters and then wired himself into a Batman costume that was rigged to kill him if Batman tried to hit him. It did not work.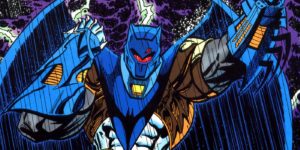 Source: cbr.com
2. Azrael
Knightfall is better than people give it credit for being.
Bane ran Batman through a vicious gauntlet, culminating in their fight, which Bane won by breaking the Bat("˜s spine). In the aftermath, Bruce Wayne went looking for someone to replace him as Batman, Should he pick a fellow Justice Leaguer? Maybe another Gotham hero? Or perhaps that long suffering adult sidekick who's been waiting to take over for a long time? Nope! He gave it to the former cult member who spent his time running around with a flaming sword. Jean-Paul Valley, AKA Azrael was given the Batsuit and immediately decided that it wasn't good enough.
You know what it needed? Giant spiky murder gloves. And maybe a big razor sharp metal cape. And some belt-fed guns. And what the hell, just make it a scary death suit of bat-murder armor. Why not?
This incarnation, given the fan nickname Azbats, served for around a year until Bruce Wayne came out of his retirement and beat the stuffing out of him.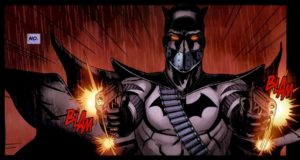 Source: dc.wikia.com
1. Jason Todd
Oh Jason, Jason, Jason. You're just so committed to being an a-hole it's almost impressive.
From being an a-hole as Robin to being an a-hole as the Red Hood to being an a-hole as Batman. That's right! After Batman was killed in Final Crisis"¦ wait hang on. What I meant to say was, after Batman was hit with the Omega Sanction by Darkseid, sending him back in time to live out all of history while being pursued by the Hyper-Adapter in Final Crisis, the various Robins fought over who would get to be the new Batman.
Dick Grayson put on the costume everyone knew he was going to inherit, Tim Drake pulled that sweet seventies suit out of the bat-closet, and Jason Todd wore a bunch of guns and a metal mouth grate and just shot at people. He's very bad at this Batman thing.
And there you go folks, a nice little look at evil Batmen and their history. Because I'm a big fan of the concept!