Look, everybody's gotta work. As fun as it is, being an adventure hero doesn't pay super great, so most comic book characters have to take up secondary jobs to fund their villain-punching or wrong-righting. Of those jobs, journalist makes up a disproportionately high number. Seriously, there are sooooooooo many journalists in comics. Just pages and pages worth. Perhaps it's because good reporting is in itself a form of crime-fighting, exposing evil, and bringing truth to power. So, yeah, let's look at some of our favorite characters who are worthy of fictional Pulitzers.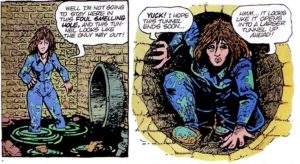 Source: forums.thetechnodrome.com
10. April O'Neil
(Teenage Mutant Ninja Turtles, Mirage Comics/Archie Comics/IDW)
I mean come on, how could I leave April off the list?
Admittedly, her original comic book counterpart might not have been a journalist. But listen, Turtles fans, by this point, that original cartoon has basically supplanted the comics as the franchise's default canon. Like, when you get a Turtles adaptation, that's what you're adapting. And so the yellow jumpsuit-wearing reporter is forever burned into our brains.
April worked with her team, including Burne, Vernon, and Irma, to get out the story with Channel 6 news. In her job, she met and befriended the Teenage Mutant Ninja Turtles. She spent a lot of time running around with a handheld camera, filming unstabilized or white balanced.
Now that I say these things out loud, I think April was actually kinda terrible at her job.  Like, I've taken classes in TV news journalism and location filming, and I'm pretty sure that everything April did is just a major "what not to do". Also, she knew a lot about the Turtles that she kept out of the record, which seemed irresponsible. But whatever! April O'Neil was also a journalist.