Look, everybody's gotta work. As fun as it is, being an adventure hero doesn't pay super great, so most comic book characters have to take up secondary jobs to fund their villain-punching or wrong-righting. Of those jobs, journalist makes up a disproportionately high number. Seriously, there are sooooooooo many journalists in comics. Just pages and pages worth. Perhaps it's because good reporting is in itself a form of crime-fighting, exposing evil, and bringing truth to power. So, yeah, let's look at some of our favorite characters who are worthy of fictional Pulitzers.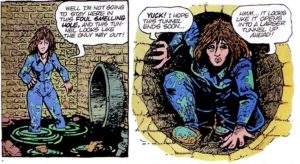 Source: forums.thetechnodrome.com
10. April O'Neil
(Teenage Mutant Ninja Turtles, Mirage Comics/Archie Comics/IDW)
I mean come on, how could I leave April off the list?
Admittedly, her original comic book counterpart might not have been a journalist. But listen, Turtles fans, by this point, that original cartoon has basically supplanted the comics as the franchise's default canon. Like, when you get a Turtles adaptation, that's what you're adapting. And so the yellow jumpsuit-wearing reporter is forever burned into our brains.
April worked with her team, including Burne, Vernon, and Irma, to get out the story with Channel 6 news. In her job, she met and befriended the Teenage Mutant Ninja Turtles. She spent a lot of time running around with a handheld camera, filming unstabilized or white balanced.
Now that I say these things out loud, I think April was actually kinda terrible at her job.  Like, I've taken classes in TV news journalism and location filming, and I'm pretty sure that everything April did is just a major "what not to do". Also, she knew a lot about the Turtles that she kept out of the record, which seemed irresponsible. But whatever! April O'Neil was also a journalist.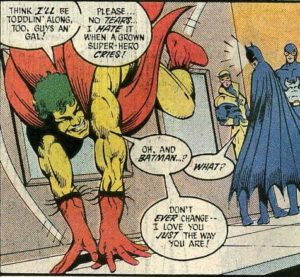 Source: moviepilot.com
9. The Creeper
(The Creeper, DC Comics)
Jack Ryder was a Gotham City news reporter who specialized in aggressive and argumentative practices to rile up his guests.
While reporting on nanotech specialist Dr. Vincent Yatz, he was caught trying to steal some of the doctor's regeneration tech for safekeeping, and was abducted by mobsters. In an attempt to keep his research safe, the Doctor injected his last sample into Ryder to keep it out of the mobsters' hands. The mobsters then gunned Jack down. But the nano tech brought him back as the bouncing and psychotic Creeper. Creeper fought crime solo in Gotham before he met and teamed up with Batman as they pursued the Hellgrammite.
Creeper had the ability to shift back and forth between his villainous identity and his real life as Jack Ryder. Also, Creeper's origin was revised like three separate times, and now he's maybe a demon or something? I dunno, it's complicated. But, hey, a news provocateur who's also a crazed superhero!
A pretty neat concept.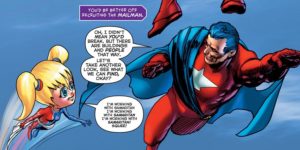 Source: henchmen4hire.com
8. Samaritan
(Astro City, Wildstorm/Vertigo)
Born in the 35th century, Samaritan was faced with the troubling reality that Earth was going to die out within one generation.
Scientists tracked this horrible environmental catastrophe to one specific historic event. So to save the world, Samaritan was sent back in time. But on his chronal journey, he became enveloped in a strange time stream energy called Empyrean Fire . He gained amazing powers, popped up in 1985, stopped the explosion of the Challenger Space Shuttle, and saved the future.
But, as he was now trapped in the past, Samaritan figured he'd just start up a career superheroing. But he also needed to do something to make money, so he got a job as a fact-checker for a major metropolitan newspaper. Admittedly, he just used future technology to check facts while he flew around saving people, but a paycheck's a paycheck.
Astro City is one of the greatest long-running comics of all time, and Samaritan is an extended riff on Superman that says new things about the character and the world he inhabits.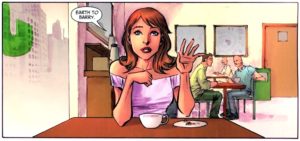 Source: dc.wikia.com
7. Iris West-Allen
(The Flash, DC Comics)
Iris West was born in the 30th century and sent back in time to the present. Yeah, bet you didn't know that.
She was raised by the West family, and eventually went to college as a journalist. She even went on to land an internship at the Daily Planet. Eventually, she scored a job with the Picture News in Central City, where she met police scientist Barry Allen. She and Allen fell in love and would soon marry.
Oh, and the Reverse Flash tried to screw up their wedding by replacing Allen, but he lost and Barry and Iris married. Barry hesitated to tell Iris about his secret identity, but Iris was a world class investigative reporter, so of course she found out anyway by"¦by listening to Barry talk in his sleep. Look, however you get the story doesn't really matter once you have it.
Unfortunately, the Reverse Flash eventually killed Iris and put an end to her illustrious career.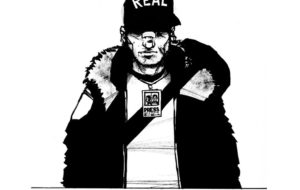 Source: pinterest.com
6. Matty Roth
(DMZ, Vertigo)
DMZ is a pretty good comic book.
In the story, a second Civil War broke out in the United States (the secession kind, not the superheroes punching each other kind). The war came to a head in New York City, eventually turning the bombed-out Big Apple into a demilitarized zone (or DMZ). Matt "Matty" Roth was a photography intern for the Liberty News Network, and was sent into the DMZ as part of reporter Viktor Ferguson's crew.
When they landed in New York, however, their helicopter was blown up, and everyone except Matty appeared to die. Matty became LNN's on-the-ground reporter, navigating the American and Free States armies with only his press jacket and cunning keeping him alive. Matty was depicted as someone facing a serious upgrade in responsibilities as he frantically tried to get out of the city. Dealing with strange and interesting characters like Zee the Medic and the illusive Central Park Ghosts, Matty came to shape the world he saw through his reporting.
He was a wonderful journalist from a wonderful comic book.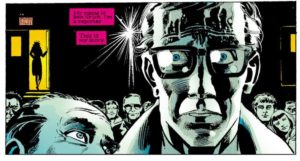 Source: longboxgraveyard.com
5. Ben Urich
(Spider-Man, Daredevil, Marvel Comics)
Ben Urich was the ultimate man-on-the-street journalist. He was the hard bitten reporter making his way through the dirty streets of Hell's Kitchen.
In his first appearance, he investigated Wilson Fisk in an attempt to prove that he was the Kingpin of crime. After he and Daredevil took down the Kingpin, Urich turned his attention to a different supervillainous businessman who spent time fighting Spider-Man: Norman Osborn, the Green Goblin.
Urich was an on-the-ground reporter through the Marvel superheroes Civil War. He founded the rival newspaper Frontline, dodged laser fire and explosions during Hulk and his Warbound's invasion of Manhattan, lost his wife in the Skrull invasion, and coined the term Dark Reign to refer to Norman Osborn's rise to power.
Depressingly, he also lost his nephew. Oh, he didn't die, he just became the Hobgoblin, and turned into a straight up monster with no remorse or honor.
But he became friends with Spider-Woman, so that was all cool!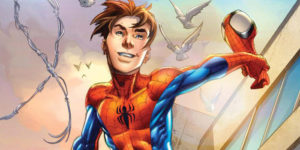 Source: screenrant.com
4. Peter Parker
(Spider-Man, Action Comics)
Although our friendly neighborhood Spider-Man started off as a simple shutterbug, he became a full-on photojournalist years ago.
Always under Jameson's direction to "get him some pictures of Spider-Man", Parker stalked the rooftops taking pictures of…well, himself, for money. That's right, Peter Parker dressed up and took pictures of himself around the city as a career. Spider-Man: the world's first Instagram model. Parker also regularly covered non-Spider-Man-related events a lot of the time, although they usually went horribly wrong and turned into Spider-Man-related events once some joker with metal wings or four extra arms started screwing around.
Unfortunately, other than the Raimi trilogy, most filmed Spider-Man adaptations left out much of Peter's job. I mean come on, if you're gonna keep J. Jonah Jameson around, give him and Parker a reason to interact. And please do keep Jonah around, and also keep J.K. Simmons playing the role. These are imperatives.
Or, if you're gonna recast him, that petition to cast Ice Cube was a neat idea.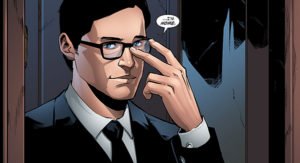 Source: latimesherocomplex.com
3. Clark Kent
(Superman, DC Comics)
Of course, this list wouldn't be complete without a visit from the most famous reporter in all of comicdom.
Over the years, multiple reasons have been listed for why the last son of Krypton went into journalism. The most prominent was that he wanted to be the first to hear about crises and crimes. I mean, one would say that perhaps he'd hear about crimes faster and more often if he were a police dispatcher or a 911 operator. In that job, he also wouldn't have to bang out a couple hundred words on infrastructure every few days.
The other explanation, of which I am a personal fan, was the idea that Clark saw the crusading heroism possible in journalism, and took that path to fight corruption, both in and out of costume. Clark might not have been the best journalist at the Daily Planet (we'll get to her later), but he had a lot on his plate, okay?
It's hard to be a journalist when you also have to stop Brainiac from retro-futurizing Metropolis for the third time.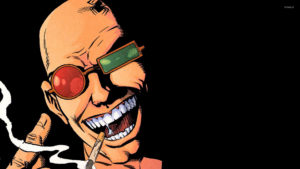 Source: suwalla.com
2. Spider Jerusalem
(Transmetropolitan, Vertigo)
Uh, maybe you guys would want to go check out Transmetropolitan right about now. It's really, really good but also, like, I dunno, maybe relevant?
A beloved drug addict, alcoholic, and columnist, Spider Jersusalem abandoned the city to live life as a recluse. But when he was told that he still owed his publisher two more books, he had to get back on the streets and start reporting again. Unfortunately, the antisocial and uncaring president nicknamed The Beast was ousted from office, and Gary "The Smiler" Callahan replaced him.
The Smiler was one of the most evil villains in anything I've ever read, and Spider had to topple him through nothing but cold, hard journalism. I give Transmet a re-read almost once a year, and it's easily one of the best comics of all time and an underrated masterpiece. And Spider was a stone cold badass who would do anything to get the story.
Also he was suuuuuuuuper heavily based on real writer (and my namesake, oddly enough) Hunter S. Thompson, and not mentioning that would be dumb.
                                                         Source: dccomics.com
1. Lois Lane
(Superman, DC Comics)
I mean, come on. Clark Kent and Peter Parker might have been the best characters who happened to be journalists, but who was the best at the actual job? That would be Lois Lane, hands down.
Lois grew up as a military brat, and that lifestyle trained her to be a stone cold badass. Lois would put herself in any situation, no matter how dangerous, to get the story.
People make fun of Lois Lane for always getting captured and saved by Superman, but that's only because she would throw herself at the story over and over again until it worked. Hell, she was a Pulitzer Prize-winning journalist. With Batman's assistance, she once broke into the Oval Office and stole a kryptonite ring. Also, despite being a wife and mother, she continued her journalistic career to this day. She also coined the name Superman.
Lois was one of the best fictional journalists of all time, and when it came to comics, there's no one better.
And there you go, reporters of all shapes and sizes. A whole pressroom full of whip-smart crack journalists, all ready to go out and fight for truth and justice. But mostly that first one.