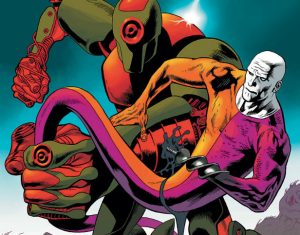 Source: scifinow.co.uk
9. Metamorpho
A weird one, but one I think would be a success. The Metamorpho comic book series was one of the best comic books to come out of 1960s DC and should be read by every fan of the company.
It followed adventurer Rex Mason, who comes into contact with the Orb of Ra and comes away hideously disfigured but gifted with incredible powers. Rex, his love Sapphire Stagg, her rich father Simon, and his caveman bodyguard Java, go off on globetrotting adventures, all while Simon Stagg secretly tries to sabotage and dispose of Rex.
It's an Indiana Jones-esque adventure flick with a Beauty and the Beast love story and an underlying sense of tragedy. That is a movie everybody would watch.
I've always said that superhero movies are at their best when they incorporate other genres. Winter Soldier is a superhero spy movie, Guardians is super hero sci-fi comedy, Ant-Man is a superhero heist flick. This would be a kick-butt adventure film with a super powered twist. Fresh, innovative, and exactly what the DCEU needs.