Abra Kadabra! Look, I normally try to time these lists so they coincide with some relevant event, but this time I just wanted to write about magicians. Comic book magicians are cool. And I wanted to rank them. So here we go, buckle in, pick a card, and ready your wands.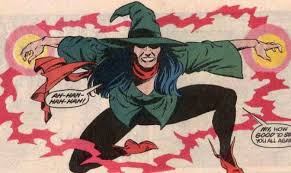 Source: superherohype.com
10. Enchantress
(Suicide Squad, DC Comics)
Look, Suicide Squad damaged a lot of actually cool characters, okay? Deadshot and Joker weren't the only ones it got deeply wrong.
June Moone, alias the Enchantress, is a freelance artist who's been possessed by an evil witch who has the ability to take over her body. Enchantress is deeply powerful, but with a catch. The more powerful Enchantress gets, the more likely she is to go crazy and try to kill everyone.
She's so dangerous that in the original Suicide Squad, Deadshot's only job was to shoot her in the face if she got even an ounce out of control. Also – and this is very important – in her first appearance, Enchantress was referred to as the Switcharoo Witcharoo, which is, I am pleased to announce, the single greatest thing ever in the history of anything. No hyperbole. After she served with the Suicide Squad, Enchantress would later shift over to the magic-based super team Shadowpact.
In the post-reboot DCU, June Moone is back with the Suicide Squad, where she's struck up a courtship with Killer Croc, of all people.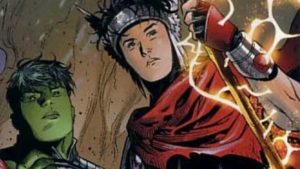 Source: therobotsvoice.com
9. Wiccan
(Young Avengers/New Avengers, Marvel Comics)
The Young Avengers are among the most underrated Marvel characters of the Twenty-First Century. And none of them is more fun to talk about than Billy Kaplan, aka Wiccan.
In a past life, Billy and his brother Tommy were the children created by Vision and the Scarlet Witch. But when she lost them, their souls found new homes. Billy had only just discovered his own abilities when the time-traveling Iron Lad recruited him to a new team of teenage Avengers. Billy picked a costume reminiscent of Thor's, and called himself Asgardian.
He soon began dating his teammate Teddy Altman, who was going by the name Hulkling, and the two got engaged. After the team defeated Kang the Conqueror, Billy embraced the mystical nature of his powers and changed his name to Wiccan. Soon after, Wiccan discovered that his boyfriend was actually descended from a Skrull and the Kree superhero Captain Marvel.
However, being non-human didn't make Billy love Teddy any less, because the real magic here is how great a couple they are.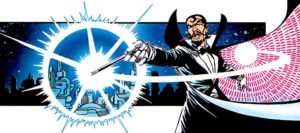 Source: writeups.com
8. Abra Kadabra
(Flash, DC Comics)
I friggin' love Abra Kadabra. The guy is an all-time weird DC villain.
Abra was from the Sixty-Fourth Century, in which science was so advanced that no one cared about magic anymore. This presupposed that people EVER cared about magic, but whatever. Abra wanted to be loved, so he stole a time machine and decided to go back in time to a period when "magicians were celebrities". Weirdly, he didn't wind up as a supporting player in Criss Angel: Mindfreak, but instead showed up in the Silver Age to menace Barry Allen.
He tooled around there for a while, taking turns being in future jail and getting punched in the throat at Mach 3, until Barry died in Crisis and Abra had to fight his successor, Wally West. Eventually, Abra signed up with the Demon Lord Neron for a power boost, and became a bigger threat. Although now he looks like a hamburger someone only cooked one side of.
Eh, fair trade.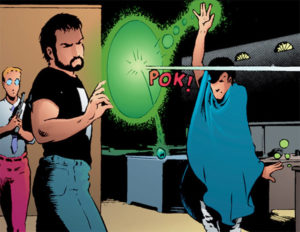 Source: writeups.com
7. Mirth
(Mage: The Hero Discovered, Image Comics)
Matt Wagner's Mage is finally finishing up after decades of silence, so now is a really great time to get caught up.
The series revolves around Kevin Matchstick, a guy who, down on his luck, discovered that he had secret mystical powers. He was trained in this matter by Mirth, a tricky mage with quite a bit of power to expend.
Mirth was also (HUGE SPOILERS FOR MAGE: THE HERO DISCOVERED, DON'T KEEP READING IF YOU DON'T WANT IT SPOILED, AND TRUST ME, YOU DON'T WANT IT SPOILED) the reincarnation of Merlin, the greatest wizard of all. This was because Kevin was actually The Pendragon, a modern rebirth of King Arthur.
Mage was a story about old heroes being reborn as new ones, and Mirth was the one who introduced us as readers to this very concept. Part of the reason Mirth was so great is that he was so likable. He accompanied Kevin for the duration of The Hero Discovered, and when he vanished, his absence was felt.
When he finally (SPOILERS) returned in Hero Defined, it was a real fist-pumping moment, just because of what a wonderful character he was.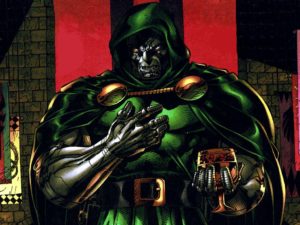 Source: comicvine.gamespot.com
6. Dr. Doom
(Fantastic Four, Marvel Comics)
That's right, with all of the terrible movie adaptations, everyone forgot that Doctor Doom was a hardcore warlock.
Victor Von Doom wanted to get his mother back from Hell, so he built a machine to do that. The machine blew up and scarred his face, so he retreated into the mountains to get some sweet armor, and started planning to become the greatest super villain ever. But magic was always a huge part of Doctor Doom's skill set.
Yeah, he could build a time machine or a platoon of Doombots. But he could also blast you with unholy magicks that were beyond your understanding. His magic use landed him in some unpleasant situations, however, like that time he got stuck in Hell for a while. It's okay, he eventually got out. Thor's hammer was involved; great comics. Doom also engaged Dr. Strange in mystic battles a few times, and he even worked alongside the Sorcerer Supreme on at least one occasion.
In recent days, Doom has taken a new lease on life, and he's adopted (however temporarily) the guise of Iron Man.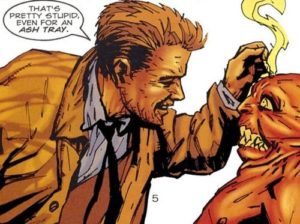 Source: pinterest.com
5. John Constantine
(Hellblazer, Vertigo)
It's a deep shame that we still don't have a good, faithful onscreen adaptation of John Constantine.
The magic trickster and sarcastic smoker-turned-demon fighter was an amazing character with some great stories told about him. Especially that Garth Ennis/Steve Dillon run. If you haven't read Dangerous Habits, change that, right flippin' now.
John first popped up in the pages of Swamp-Thing as an Occult Investigator before he was spun off into his own comic: Hellblazer. Hellblazer was one of those comics with vast swaths of all-time writers and artists taking turns making great comics. Again, that freaking Ennis run. Holy hell.
Read More: The Best Comics by Garth Ennis
If you need to be sold on Constantine, he once fought a demon known as Abraxas the Blade Demon, who acted as Jack the Ripper and had possessed a member of the Royal Family (Royal Blood, for those of you hunting down the arc). Constantine tricked devils and fought monsters for a living, and he used a crap-ton of magic to survive it all.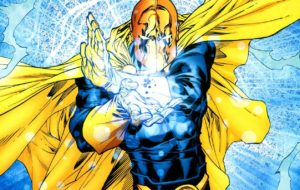 Source: comicvine.gamespot.com
4. Dr. Fate
(JSA, DC Comics)
Doctor Fate was crazy underrated, if only just because of his visual design. Look at that helmet, that was an all-time comic book design, right there. And the Ankh imagery? Ugh, so good.
Kent Nelson was an archaeologist who discovered the Helmet of Fate, an ancient relic that contained the mind and powers of ancient Egyptian magician Nabu. When Nelson put on the helmet, he became Dr. Fate, a blend of himself and Nabu (with Nabu gaining majority control).
That's one of my favorite things about Dr. Fate: he and Kent Nelson were two distinct people. They weren't the same guy. People who knew Kent were creeped the hell out by Fate, and people who knew Fate were uncomfortable around Kent. Kent Nelson wasn't the only Doctor Fate, but he's my favorite, so he's the one we'll pick for this.
Honorable mention goes to Hector Hall, who served on the Johns/Goyer/Robinson JSA team and was also pretty great.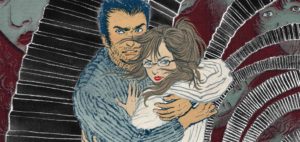 Source: talkingcomicbooks.com
3. Tom Taylor
(The Unwritten, Vertigo)
In the world of Mike Carey and Peter Gross's The Unwritten, the late Nineties and early Two Thousands were dominated by one book series. The books, about a dark-haired boy wizard with glasses who grew up and fought a bald snake-like monster of a man, introduced many to the world of reading and spawned a pop culture phenomenon. That's right, you know what books I'm talking about: the Tommy Taylor novels.
The thirteen books, written by Wilson Taylor before his strange disappearance, were beloved by many. Also, the real-life Tom Taylor (Wilson's son, upon whom the books' protagonist was based) was a celebrity. Unfortunately, he hated it. Tom wasn't Tommy, and he was sick of the comparison.
But when his origins came into question, he had to face off against a vast old conspiracy, and the very nature of storytelling as a whole.
The Unwritten is one of my favorite stories about stories ever, and once Tom embraced his magic destiny, he turned into a real badass.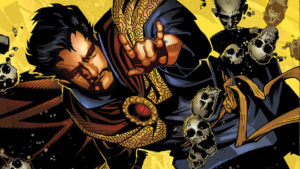 Source: marvel.com
2. Doctor Strange
(Doctor Strange, Marvel Comics)
Of course the Sorcerer Supreme would lock down a spot on this list. He's Doctor Flippin' Strange.
Stephen Strange was a self-absorbed surgeon operating at the top of his field. But after a tragic car accident, the damage to his hands was too much to continue with his work. He was devastated by the accident, and sought out a way to fix his hands. After he exhausted all scientific options, he found himself in the Himalayas, petitioning an old sorcerer known as The Ancient One.
After his training, Strange had a new ability: magic. Using spells and trickery, he attained the title of Sorcerer Supreme, and became earth's magical defender against the forces of evil. Nightmare, Dormammu, The Orb, all who wanted to conquer or destroy the earth through magical means, must do battle with Doctor Strange, Master of the Mystic Arts.
And I wouldn't have it any other way.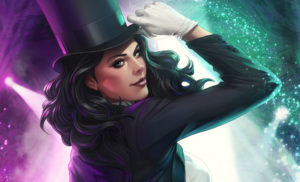 Source: sideshowtoy.com
1. Zatanna
(Batman, Justice League Dark, DC Comics)
I loves me some magic DC characters. Zatanna Zatara wasn't just a contender for the "Jesus, why do both of my names have to be weird as hell" award, she was also the child of Golden Age hero Zatara and Homo Magi representative Sindella. I guess names the professor never remembers how to spell run in the family.
Her power was the ability to use that cool backward-talking magic that works so well in comics, but really nowhere else. She also mind-wiped a bunch of her friends, like a major jerk-hole.  She balanced using her magic for superheroing and using it as a stage magician.
But I feel like being a known witch would hurt your ticket sales. Like, I thought half the appeal of magic shows was "How did they do it?" Doesn't it kind of ruin the thing if you know the answer is "Oh, she did it with magic. Like real magic. Which she knows. She's in the Justice League, and uses magic to decimate alien spaceships on the regular. I don't find it very impressive that she made that rabbit disappear."
And there you have it. Ten wizards, warlocks, and charlatans for you to peruse. Hopefully, you'll find at least one you like. Oh, and your card? It was the Ace of Clubs. I think.