The ladies of superhero comics have always been a bit underrepresented, even the powerful ones. With Wonder Woman doing great critically and financially, and Captain Marvel building up buzz, maybe it's time to list our most powerful and beloved female superheroes.
Here are some characters who are notable for crazy power levels or all-star fight records.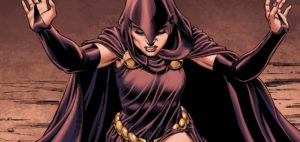 Source: dccomics.com
10. Raven
Raven was born the daughter of a human woman and a terrifying demon monster named Trigon.
As a half-demon child born of a human woman (a Rosemary's Baby, if you will), Raven has a deep set of powers. Foremost is her ability to astral project, which she uses to generate her soul self. This occasionally involves a giant shadow bird (surprisingly, not the last giant bird you'll see on this list) that can overload people's emotions to the point of unconsciousness.
Raven's also a powerful empath who can affect the emotional states of her targets, an ability that is incredibly dangerous if misused. She also has weaponized teleportation and flight, which can be used alongside her telekinesis to become a force of destruction.
In addition, by giving herself over to her father, Trigon, she would unlock a whole host of demonic abilities that could, if used, end the world pretty fast.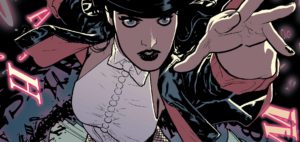 Source: dccomics.com
9. Zatanna
I'm going to be fully honest here. Zatanna has always been my hold out for Batman's one true love.
Paul Dini's Batman and Zatanna stories are excellent, and better than my favorite Batman/Catwoman and Batman/Talia tales. Of course, Zatanna's power level is also among the greatest in the DCU. Magic is a pretty big deal. And Zatanna is pretty good at doing it, having been trained by her father, the brave Golden Age magician Zatara.
Zatanna's magic operates through the use of backward speak. If she says something backward, it occurs. For instance, yelling Raeppa erif would cause fire to appear. Simple stuff. But impressive results. Admittedly, her big weakness is the fact that her abilities require her to be able to speak. So if you take away her voice (or her oxygen), she goes out.
However, if you can't do either of those things, she will destroy you with crazy amounts of magic powers.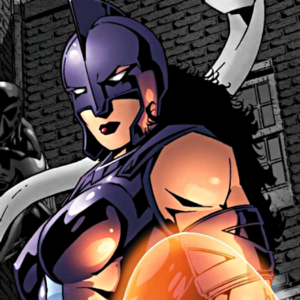 Source: marvel.com
8. Power Princess
Squadron Supreme is the most underrated comic book of all time. It's a Watchmen-level gem that's hiding under the surface. And Power Princess is a big part of it.
Princess Zarda was raised on Utopia Isle. During World War II, she joined the world's first super team, the Golden Agency. She outlived that team, and became a main member of the successor super team, The Squadron Supreme.
In the Squadron, the monster known as Overmind mind-controlled Power Princess and the rest of the team. After the Defenders freed them, the Squadron decided to take a more pro-active role in problem solving. The team became more and more corrupt, until a battle with a former member cost multiple Squaddies their lives. In the wake of the battle, Zarda disassembled the team. When the dimension-hopping miscreants known as the Exiles popped into their reality, Zarda went with them and joined the team for a while to help save other realities.
Strong, fast, and with some energy projection ability, Power Princess is an all-timer of a Marvel hero, and one who doesn't get her due.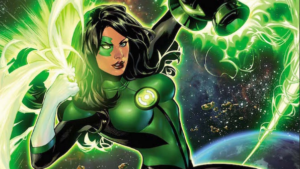 Source: tumblr.com
7. Green Lantern
Jessica Cruz is a fairly new addition to this list, but she's a Green friggin' Lantern, and therefore on a crazy high-tier power level.
Jessica Cruz battled severe anxiety for most of her life, and it was made worse by a traumatic encounter with two criminals. As a result, she kept to herself and stayed inside a lot. When the Crime Syndicate (Earth 3's evil Justice League) came to earth, their green ring bearer, Power Ring, was killed. His evil ring attached itself to Jess and manipulated her into fighting the League.
When she was freed, she was picked as Earth's next Green Lantern. Of late, she and the chosen Lantern before her, Simon Baz, have been working together, both as Lanterns and as members of the Justice League.
Jessica still struggles with her anxiety, but when she taps into her true power, she unleashes hell on her enemies in a burst of bright green light.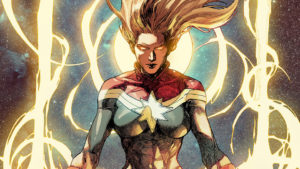 Source: marvel.com
6. Captain Marvel
Carol Danvers has gone through almost as many power sets as she has names.
She started as Ms. Marvel. In that persona, she was strong, fast, flight capable, and durable. In addition, she was resistant to poisons and toxins, and had limited precognition. Later on, she became Binary, and gained a whole new level of crazy powers. She was connected to the power of a white hole, allowing her the ability to manipulate stellar energy and heat. She could also fly through space and project beams of light energy. Oh, and she could now travel at speeds faster than light.
Eventually, she was deprived of the name and her powers, but she retained some of her Binary abilities. She was still able to absorb and project energy on a grand scale, although a smaller one than previously.
It has been theorized that she could still absorb and output energy on her Binary levels if pushed hard enough, but that hasn't happened yet. But regardless, she's pretty gosh-darn powerful.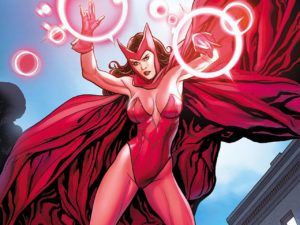 Source: pinterest.com
5. Scarlet Witch
Wanda Maximoff, the mutant who isn't a mutant anymore, but is rather an experiment by the High Evolutionary, because Marvel is mad at FOX, is one of the most powerful Marvel characters, hands down.
Wanda started off with nondescript hex powers, but those eventually transitioned into actual magical powers. Then she was retconned, so her powers were actually reality-warping, and there was no magic element. Then she was retconned again so that she had reality-warping powers and could also use actual magic.
Regardless, she's either actually magic or a reality-warping queen of what is and isn't real. She remade all of reality twice: Once when she created the House of M universe and imprisoned everyone in it; and again immediately afterwards, when she muttered, "No more mutants", and almost extinguished the race. She reduced the mutant population to a scant 198 in total.
Someone who can do that is not someone you want to mess with.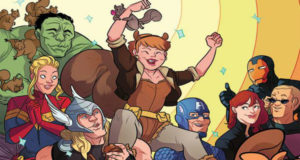 Source: boundingintocomics.com
4. Squirrel Girl
Damn right.
While her unbeaten fighting record is mostly done as a joke, it still stands to this day. And it's in continuity. Doreen Green is strong, fast, agile, and she talks to squirrels. She's also going to college to learn computer science, has some great friends, and made Galactus laugh.
Oh, and she's the most formidable fighter in the Marvel Universe.
Here is a list of villains Doreen has beaten down with her fists. She once beat Thanos up off-panel as the Watcher looked on. She punched out Fin Fang Foom who, in case you've forgotten, is a giant dragon monster. She single-handedly demolished Ego the Living Planet and Korvac, both of whom were foes it usually takes entire Avengers teams to defeat. She also put Deadpool, Dr. Doom, Wolverine, and the rest of the Marvel Universe in the OGN titled…well, Squirrel Girl Beats Up The Marvel Universe.
Squirrel Girl is the best. And when the comic starring you uses the adjective "Unbeatable" as a descriptor, you know you belong on this list. Plus, there are a bunch of people who get hilariously mad when you remind them that it's in continuity that Squirrel Girl once punched out Thanos, and people who take fun things too seriously are amusing to me.
Squirrel Girl, the most accomplished fighter in all of Marvel Comics.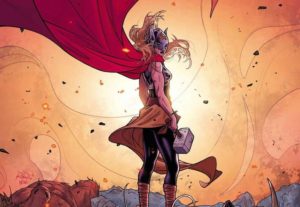 Source: aminoapps.com
3. Thor
Jane Foster is truly worthy.
For years now, she's been battling across the Marvel Universe, swinging her hammer and bashing in the faces of monsters and supervillains across the globe. Foster started off as the nurse to a handsome young doctor named Donald Blake, who secretly fought crime in his other guise as Thor. She was briefly in love with the doctor, but when Thor abandoned that identity, she moved on and married another doctor. She and Thor became friends from that point on.
She eventually became a doctor in her own right, and divorced her husband. Despite the years of magic and heroism that surrounded her, she was eventually diagnosed with breast cancer. Around this time, Nick Fury, Sr. revealed a secret to Thor the Odinson that made him unworthy, and he dropped his hammer.
Jane was the one to pick it up. She took on the powers and responsibilities of Thor, the mighty Avenger.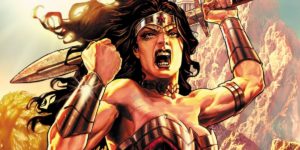 Source: geekmelee.com
2. Wonder Woman
Duh, of course.
The Amazing Amazon flat-out deserves a place on any list of notable female super badasses. A warrior, a hero, in some continuities a goddess, Diana is powerful not just for her strength, but for her heart.
Her strength of spirit leaves her able to cross boundaries and solve problems that no one else could. There's a reason she's up there with Superman and Batman in the DC power pantheon. Wonder Woman has all the strength and speed and durability of your average superhero, but with the added bonus that she was raised as a warrior. Diana honed her combat skills with the best the world had to offer on Paradise Island. She can fight and win and kill (if she needs to) with the best of them.
Highly trained, highly powerful, Wonder Woman.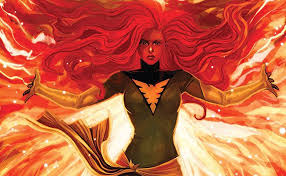 Source: popmatters.com
1. Phoenix
Who else could it be?
No one else on this list is at an Ate-a-Star level of power. Phoenix ate a star and killed millions. Billions. I mean, she is terrifyingly powerful. God level. It is frightening.
Now, arguably, Phoenix and Jean Grey are different beings, depending on how you view that retcon about her origins. If you say she's Jean, she's even more powerful, since Jean's telepathy is among the best in the world. If you say she isn't, then oh, well, she's just a cosmic monstrosity who enjoys decimating star systems for funsies and to satisfy her appetite. Still pretty spooky scary powerful.
There might be some deeply powerful female superheroes, but Phoenix is easily the most powerful. She's one of the most powerful comic book characters, period, and as a cosmic force of nature and pure unadulterated power, the firebird clinches the Number One spot.
And there you go, ten super-powerful superheroines. Not a comprehensive list, by any means, but a list of some notable ladies of comic book-dom who can lay down the law and kick some ass.