Positivity!? Yaaaaaaay!! This week, I wanted to write about something that makes me happy, and writing about the various animal sidekicks our favorite heroes have had makes me smile. So, write about them I shall!! Because here's the thing: superhero comic books are, at their hearts, goofy fun. And there's nothing goofier or more fun than adorable animals running around in capes fighting people. Honorable mentions for this list include Proty from the Legion of Superheroes, The Lying Cat from Saga, and Tippy-Toe from The Unbeatable Squirrel Girl, all of whom just barely missed the cut.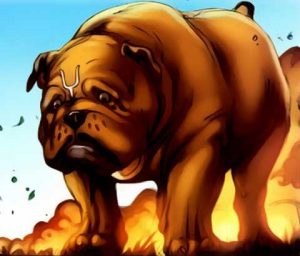 Source: comicvine.gamespot.com
10. Lockjaw
(Inhumans, Marvel Comics)
I'm not the biggest Inhumans fan. It has nothing to do with me not liking them (because I do); I just never really got into their comics. But Lockjaw, I've always loved.
Not just because he was in the criminally underrated Pet Avengers mini-series, but also because he's a big adorable doggie (I know he's not technically a dog, but he counts enough for this list) and I love dogs more than people, on average.
Lockjaw is a massive hound capable of teleportation. He's vastly intelligent and operates as a part of the Inhuman royal family. Also, he tends to make guest appearances in tons of comic books, because people love writing about and drawing Lockjaw. My personal favorites are his appearances in The Thing and Ms. Marvel, which are both hilarious and super fun.
Lockjaw just rules so goshdarn hard.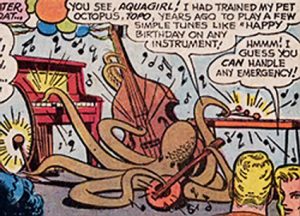 Source: writeups.com
9. Topo
(Aquaman, DC Comics)
Topo is Aquaman's pet octopus. That's it. Nothing else. He's not a super powered octopus, he's not a biomechanical octopus, he's just an octopus. Who fights underwater crimes. He can also use a bow and arrow. When people ask me why I love DC Comics, I really could just hold up a picture of that.
In the 1950s and 1960s DC was a wonderland of goofy ideas and fun concepts. The feeling I get upon seeing Topo is one of excitement and joy. It's sad that Topo's not around anymore. Yeah, a version of Topo appeared in the New 52, but that Topo was a sea monster, not an octopus capable of playing many musical instruments at once. It's a Topo, but it just isn't why Topo was fun.
"¦
#NotMyTopo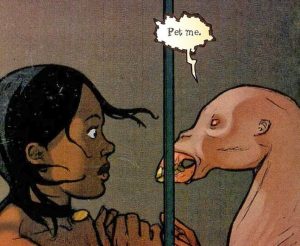 Source: wisdomofbookmonkey.blogspot.com
8. Pooch
(Hack/Slash, Devil's Due Publishing)
Pooch is the most horrifying, adorable thing I've ever seen. Or maybe the most adorable horrifying thing I've ever seen. Unsure on that front.
But anyway, Pooch is the spawn of the Neflords, ancient Lovecraftian horrors from Tim Seeley's incredible Hack/Slash. Pooch was initially dispatched to find and kill series star Cassandra Hack, but once he fell into the care of supporting characters Chris and Lisa, Pooch abandoned his mission. "Most humble Pooch", as he often refers to himself, lives with the duo, and he loves to be petted, despite his skin being apparently very uncomfortable to touch.
As the series went on, he eventually took up a role solving mysteries with junior detective Cat Curio as her faithful hound. Pooch is so instantly lovable, mostly due to his constant self-hatred and apologizing. Poor Pooch. Poor, pitiful, humble Pooch.
Plus, despite his fear of, well, everything, Pooch is loyal to a fault, combating serious threats to help those he cares about. Good dog.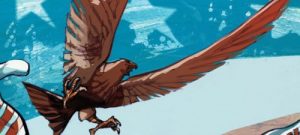 Source: comicbookresources.com
7. Redwing
(Captain America, Marvel Comics)
Redwing is a falcon (the bird type) owned by the Falcon (the marvel hero who's now known as Captain America). That wasn't confusing at all.
Redwing is one hardcore bird. He took out a Sentinel by himself. Half of the X-Men can't do that. Redwing and Falcon have a psychic connection so they can communicate during combat to fight crime more effectively.
But seriously, can we acknowledge that Redwing is just a bird who somehow manages to kick so much butt that criminals cower in his presence? And for most of his existence, he wasn't, like, a superpowered bird or a biomechanical bird or an alien bird. He's just a bird. I mean, I'm not one to judge. I once got seriously messed up by an angry goose, but that is a story for ANOTHER TIME.
Oh, and in the recent run, Redwing survived an encounter with Baron Blood and came away with vampire powers. This makes him infinitely more terrifying. On pretty much every level imaginable. Redwing soars in the sky before raining inevitable misery from the heavens in short violent bursts. Like a badass.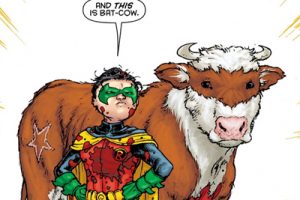 Source: ifanboy.com
6. Bat-Cow
(Batman, DC Comics)
Grant Morrison, you are just the best. Originally, this spot was supposed to go to Ace the Bat-Hound, but I didn't feel the comics version of the character had enough to him to generate an interesting entry. And then I remembered Bat-Cow, and I realized who really deserved the spot.
Introduced in the first issue of the new 52 reboot of Batman Incorporated, Bat-Cow was just a typical cow living in a slaughterhouse and marked for death, until Batman and Robin burst in to investigate. Damien Wayne, aka Robin V suggested that they keep the cow. And they did, christening it Bat-Cow.
Unfortunately, a later mission revealed the cow to be irradiated. Eventually the problem was solved, and Bat-Cow remained a part of the bat family through Damien's death. Batman gave him a cape and let him roam on a Wayne Enterprises dairy farm.
After a crossover with Infinity Man and the Forever People, Bat-Cow retreated into relative obscurity. I mean, he popped up in the third Lego Batman game, but then, so did I think literally every dc character. Heck, even"¦ um"¦ hang on. I was trying to finish that joke by naming an even more obscure DC character, but Bat-Cow is THE most obscure DC character. You win this round, reality.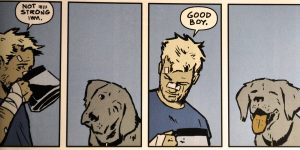 Source: screenrant.com
5. Pizza Dog
(Hawkeye, Marvel Comics)
Lucky, aka Pizza Dog, aka That Dog Hawkeye Had, is one of those characters you don't forget once you read about them.
Introduced in the Matt Fraction/David Aja Hawkeye solo series, Pizza Dog is Clint Barton's inverse: lucky. His first appearance has him survive being hit by a car, and he avoids death on several other occasions, as well. Clint, however, shows time and time again that luck is one of the many things he doesn't have access to.
Pizza Dog, so nicknamed because he loves eating pizza, accompanies Hawkeye (Clint Barton) and Hawkeye (Kate Bishop) through their adventures, even following Kate to LA for the latter half of the book.
But if I had to pick one issue to show this dog's greatness, I'd obviously have to pick #11, "Pizza Is My Business". The story takes place entirely from Pizza Dog's perspective, as he wanders around Clint's apartment complex, trying to figure out what's going on. The visual storytelling is incredible, and the writing, art, and even the lettering come together to take the reader inside the mind of a dog. The issue was so good, it won that year's Eisner Award for best single issue.
Pizza Dog forever.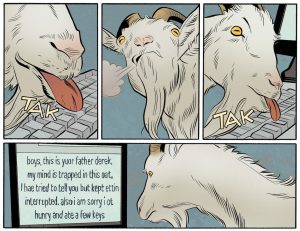 Source: bowtiemustache.tumblr.com
4. Vincent Van Goat
(Quantum and Woody, Valiant Comics)
I swear to god, we better get more Quantum and Woody this year. There is a Q&W shaped hole in my life that needs filling. But Vincent van Goat is a fantastic character from every perspective.
A horribly mutated monstrosity with immense murderous power, Vincent is also a goat. He may have a bit more going on under the surface, but on that surface he's a goat with laser vision, so that's pretty sweet.  Also, Vincent is secretly Quantum and Woody's dad in the body of a mutated female goat.
He talks with the use of a speak-n-spell. And is also pregnant. Yes, this is EXACTLY AS GREAT AS IT SOUNDS. MAYBE BETTER!!
James Asmus writes great comedic beats, and both Tom Fowler and Steve Lieber draw them out hilariously. Plus, his name is Vincent van Goat. Gaaaaaaaahhh!!! Why isn't this a monthly series right now?!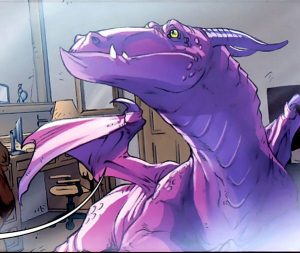 Source: comicvine.gamespot.com
3. Lockheed
(X-Men, Marvel Comics)
If you thought that somehow, I wasn't going to put a literal dragon on this list, than you clearly do not know me very well.
Lockheed originally appeared as a replacement for the X-Men's Blackbird in a bedtime story Kitty Pryde (Shadowcat) tells to Illyana Rasputin (Magik)…Because Lockheed was the name of the aircraft producer who built the Blackbird. It's a pretty good pun.
Chris Clairemont must've realized that Dragon + X-Men = so much awesome, because he eventually introduced a real version of Lockheed, who was a space alien dragon. Because the only thing better than "dragon" is "space dragon". Lockheed and Kitty Pryde formed a bond, and the duo became quite the team. Despite being the size of a housecat, Lockheed is a badass through and through.
He's even an agent of SWORD (think SHIELD, but for outer space). But again: Space dragon. Why would I need to say more?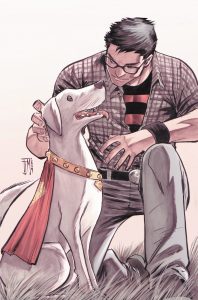 Source: comicbookissues.blogspot.com
2. Krypto
(Superman, DC Comics)
Krypto the Superdog rules so hard. He's a dog in a cape who flies around shooting lasers from his eyes and fighting crime. If you can't love that, we have very different views on life.
Krypto is a Kryptonian dog who made it to earth in one of a myriad of ways, depending on the continuity. In some, he's the test subject for Kal-El's rocket, in others he's specially chosen to accompany Kal and, in the New 52, he's trapped in the phantom zone. Over time, Krypto has become an integral part of the Superman family.
For story recommendations, I'd hit up Whatever Happened to the Man of Tomorrow or Action Comics #13 (2011). Plus, Krypto's use in the Geoff Johns/Francis Manapul Superboy arc is note-perfect and adorable.
I love dogs. I have two of them, in fact, and Krypto is the ultimate man's best friend. He's Superman's best friend, if you will.
I love silver age Superman comics, so it would have been easy to populate this list entirely with the likes of Streaky, Beppo, and Comet, but if I'm picking one super pet to take a place on the list, it's gotta be Krypto.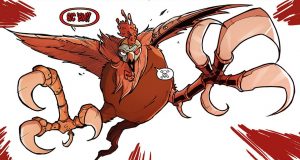 Source: comicvine.gamespot.com
1. Poyo
(Chew, Image Comics)
I know I'm going to get some flack for placing a non-Marvel or DC character at the top of this list, but Poyo earned the hell out of his place.
Hailing from John Layman and Rob Guillory's Chew (which you really should read if you haven't, it's super great), Poyo is a murderous biomechanical rooster, who works with the USDA to take out major threats. The Devil himself fears Poyo. Poyo's battles are legendary among all who face him, none of whom survive the encounter. Poyo is the alpha and the omega.
But in all seriousness, look at that image. Poyo's a cybernetic killing machine that will cluck you up. THAT IS THE BEST THING IN THE UNIVERSE.
Poyo started life as a cock-fighting rooster on the island of Yamapalu before series protagonist Tony Chu saved his life. Poyo killed his way into a job at the USDA, where he was outfitted mechanically for serious warfare. First used as a last resort, in case the mission went FUBAR, Poyo eventually became the USDA's choice operative against major level threats.
I don't want to say any more about his life and possible fate, because the series really is that great. If anything I just said sounds like a good time, do check it out.
And with that, we'll knock off for the week. Animals are sweet, super animals are sweeter. That is all.