HBO Max has become a hub for DC fans. Even though the DC Universe streaming service is no more, all of that content, and much more, has moved over to WarnerMedia's main streaming service. In February, lots of DC movies and TV shows will be arriving on the service for subscribers to enjoy. 
As has been the case since HBO Max launched, certain titles are rotating in and out of rotation. This month will see several key Batman movies return to the service, in addition to some beloved animated Batman shows. A couple of key DCEU movies are also part of February's DC lineup. Here is every DC movie and TV show coming to HBO Max in February. 
February 1 
Batman (1989)
Synopsis – "Having witnessed his parents' brutal murder as a child, millionaire philanthropist Bruce Wayne (Michael Keaton) fights crime in Gotham City disguised as Batman, a costumed hero who strikes fear into the hearts of villains. But when a deformed madman who calls himself "The Joker" (Jack Nicholson) seizes control of Gotham's criminal underworld, Batman must face his most ruthless nemesis ever while protecting both his identity and his love interest, reporter Vicki Vale (Kim Basinger)."
Batman Returns
Synopsis – "The monstrous Penguin (Danny DeVito), who lives in the sewers beneath Gotham, joins up with wicked shock-headed businessman Max Shreck (Christopher Walken) to topple the Batman (Michael Keaton) once and for all. But when Shreck's timid assistant, Selina Kyle (Michelle Pfeiffer), finds out, and Shreck tries to kill her, she is transformed into the sexy Catwoman. She teams up with the Penguin and Shreck to destroy Batman, but sparks fly unexpectedly when she confronts the caped crusader." 
Batman Forever
Synopsis – "Batman (Val Kilmer) faces off against two foes: the schizophrenic, horribly scarred former District Attorney Harvey Dent, aka Two-Face (Tommy Lee Jones), and the Riddler (Jim Carrey), a disgruntled ex-Wayne Enterprises inventor seeking revenge against his former employer by unleashing his brain-sucking weapon on Gotham City's residents. As the caped crusader also deals with tortured memories of his parents' murder, he has a new romance, with psychologist Chase Meridian (Nicole Kidman)." 
Batman & Robin
Synopsis – "This superhero adventure finds Batman (George Clooney) and his partner, Robin (Chris O'Donnell), attempting to the foil the sinister schemes of a deranged set of new villains, most notably the melancholy Mr. Freeze (Arnold Schwarzenegger), who wants to make Gotham into an arctic region, and the sultry Poison Ivy (Uma Thurman), a plant-loving femme fatale. As the Dynamic Duo contends with these bad guys, a third hero, Batgirl (Alicia Silverstone), joins the ranks of the city's crime-fighters."
Man of Steel
Synopsis – "A young boy learns that he has extraordinary powers and is not of this Earth. As a young man, he journeys to discover where he came from and what he was sent here to do. But the hero in him must emerge if he is to save the world from annihilation and become the symbol of hope for all mankind. Featuring an all-star cast, Man of Steel offers up an entirely new Superman: alienated, misunderstood, but forever a beacon of hope."
Batman: The Brave and the Bold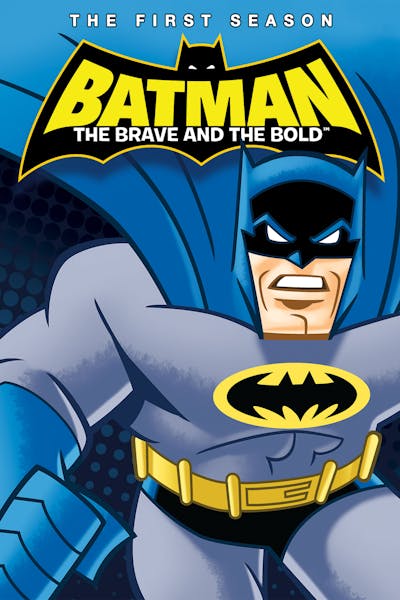 Synopsis – "Our caped crusader is teamed up with heroes from across the DC Universe, delivering nonstop action and adventure with a touch of comic relief. Blue Beetle, Green Arrow, Aquaman and countless others will get a chance to uphold justice alongside Batman. Though still based in Gotham, Batman will frequently find himself outside city limits, facing situations that are both unfamiliar and exhilarating. With formidable foes around every corner, Batman will still rely on his stealth, resourcefulness and limitless supply of cool gadgets to bring justice home."
Justice League (TV Series)
Synopsis – "Superman, Batman, Wonder Woman, The Flash, Green Lantern, Martian Manhunter and Hawkgirl have all used their unique powers to fight evil across the galaxy. These seven super heroes unite to become the Justice League. These adventures feature battles with favorite villains like Lex Luthor, Vandal Savage and sorceress Morgan Le Fey. Acts of justice include saving Aquaman from a coup and clearing Green Lantern's name in a charge of genocide."
Justice League Unlimited 
Synopsis – "Animated adventures of superheroes, including Superman, the Flash, Green Lantern, Batman, Wonder Woman, Martian Manhunter and Hawkgirl."
February 5 
Aquaman
Synopsis – "An action-packed adventure that spans the vast, visually breathtaking underwater world of the seven seas, 'Aquaman' reveals the origin story of half-human, half-Atlantean Arthur Curry and takes him on the journey of his lifetime—one that will not only force him to face who he really is, but to discover if he is worthy of who he was born to be…a king."
February 15 
The Batman (TV Series) 
Synopsis – "In Gotham City, where shadows run long and deep, lives The Batman. He's in his mid-twenties and just finding his way as protector, defender and Caped Crusader, while maintaining his public persona as billionaire bachelor Bruce Wayne." 
Static Shock
Synopsis – "Accidental exposure to an experimental mutagen leaves geeky high school student Virgil with super powers. Able to control electromagnetic forces, he channels his newfound powers to fight evil, aided by his pal Osgood, who builds gadgets to help Virgil fight crime." 
So which of these DC movies and TV shows are you most excited to watch? Is this enough to help make HBO Max worth it? Join in on the conversation over on Facebook or Twitter!