This year is the tenth anniversary of DC's Animated Film Division's kick-off of their long and illustrious run of mostly great movies, plus The Killing Joke. I kid, but for years, the DC animated film slate contained the films I most eagerly anticipated every year. I still list the number one entry on this list as one of my favorite comic book movies of all time.
For the tenth anniversary, DC is releasing a thirty-movie box set that you should DEFINITELY buy. Those movies are awesome. But if you do buy the set, here are the ten best movies you'll own. Watch "˜em fast.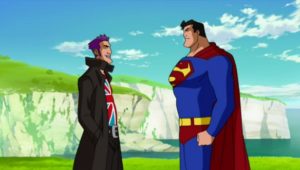 Source: comicsalliance.com
10. Superman vs. The Elite (2012)
An adaptation of What's So Funny About Truth, Justice, and the American Way?, this significantly less wordy film follows Superman's struggle with a The Authority-type team called The Elite, who deal with criminals in extreme and often lethal ways.
The squad is led by British snarker Manchester Black, a dude who couldn't be more of a clear Warren Ellis character parody if he also had wacky 3-D glasses. The Elite go around ridiculing sincerity and killing off villains. Meanwhile, Superman's higher-minded attitude leaves him the victor in all ways.
Yes, it's the cinematic equivalent of a strawman argument against one style of comic book writing, but it's the best version of that you could ever possibly get. Although, to be honest, other than Black, the Elite themselves are incredibly unmemorable. Say what you will about The Authority, those are some well-written characters.
Pretty good movie, all things considered.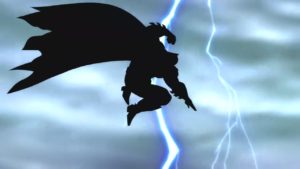 Source: hollywoodreporter.com
9. Batman: The Dark Knight Returns Parts 1 and 2 (2012 and 2013)
Look, adapting a beloved comic book is no easy feat. Especially not one as…uh…unique as Frank Miller's The Dark Knight Returns.
So DC Animated decided to adapt it into two separate films. But since you can buy both edited into one film I'm counting it as one slot. Peter Weller's Batman is a brutal machine of vengeance whose cruelty and viciousness is imbued in every frame of film. The dark and grimy world of Gotham pops off the screen.
Look, they put in the lady with the swastikas on her breasts. That is LITERALLY the last thing I would have ever possibly thought would be adapted to screen in any medium. I honestly believed we'd get Beppo the Super-Monkey on screen decades before we even got close to seeing Nazi Boob Lady in an officially released film.
Also, Carrie Kelly is one of the best Robins ever, and she's done real justice here.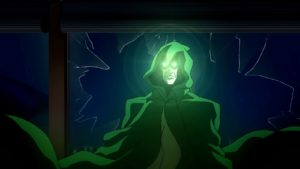 Source: notahoaxnotadream.blogspot.com
8. The DC Showcase Shorts (2010 and 2011)
I know, I know, not a movie per se, but these DC Animated shorts are all great and deserve to be credited, so I'll group them all together.
Catwoman is a neat little story that fills out and compliments Batman: Year One while also functioning in its own right.
Jonah Hex is a perfect little western that delivers fully on the promise it sets forth, a glorious one-shot of grim old west glory. So bitter and cynical, but in the good kinda way.
Green Arrow is fun and entertaining action/superhero fare. It also manages to squeeze in Green Arrow, Black Canary, Merlyn, and Count Vertigo, all in a fairly short runtime. Plus, Alan Tudyk as Green Arrow. That's pretty rad casting.
The Spectre, however, is the crown jewel. The first Showcase short is also the absolute best. An LA-based murder mystery featuring The Spectre bringing his own brand of Twilight Zone-style justice to normal criminals. This was the story that made me love The Spectre. A love which has never died. So. Friggin'. Good.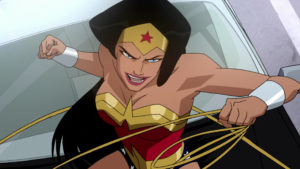 Source: heroichollywood.com
7. Wonder Woman (2009)
Before the jaw-droppingly awesome Wonder Woman film we got this year, this was all we had. But, hey, it was a pretty awesome film, and it held us all over for years.
Co-written by actual Wonder Woman writer (and best person to follow on Twitter) Gail Simone, this film follows Princess Diana as she meets Steve Trevor and heads back with him to stop Ares's plans. Sounds familiar, I know.
However, this film is notable for delving hard into the other gods and goddesses as supporting players. I mean, Oliver Platt as Hades is inspired casting. Oh, and speaking of inspired casting, the movie's loaded with nerd all-stars. Alfred Molina knocks Ares out of the park, Keri Russell is an awesome Wonder Woman, and of course we can't forget Nathan Fillion's Steve Trevor.
This is a fun and thrilling movie, and a great chaser for anyone who wants more WW after the more recent feature-length film.
P.S. This one just got a re-release on its own, in conjunction with the live action film, so you can get it without the other 29 movies if you want to.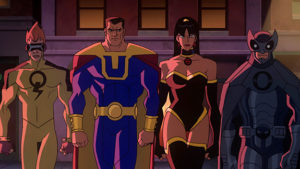 Source: comicmix.com
6. Justice League: Crisis on Two Earths
Grant Morrison's Justice League is shockingly rad. It's just one all-star level masterpiece after the next. New World Order is awesome, DC One Million is one of the best event comics ever, and World War III reduces me to tears with every read. But the under-appreciated gem of his run (other than Ultramarine Corps) is JLA: Earth 2. It's a reinvention of the classic Silver Age Earth 3 team, the Crime Syndicate, in true Morrison style.
Originally, Dwayne McDuffie and the Justice League Unlimited team wanted to adapt it into a feature called Justice League: Worlds Collide. Worlds Collide would have been a bridge movie that served as an epilogue for the Justice League animated series and a prologue for its follow-up, Justice League Unlimited.
It never came through"¦until the DC Animated team decided to take the ideas and re-shape them into a standalone movie. Crisis on Two Earths follows the Justice League and Crime Syndicate as they face off after the Alternate Earth version of Lex Luthor  summons the League for help.
Also, James Woods as Owlman is fantastic casting, I can't lie.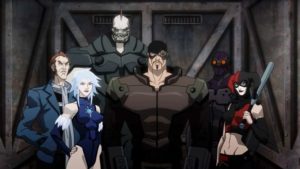 Source: dccomics.com
5. Batman: Assault on Arkham (2014)
Oh, look, a GOOD Suicide Squad movie! So it IS possible.
Taking place in the Batman Arkham video game franchise universe, B: AoA is a tense, gritty, fun film featuring a group of low-rent villains who are deployed to break into Arkham Asylum.
The team includes classics Deadshot, Captain Boomerang, and Harley Quinn, alongside personal favorites Killer Frost, Black Spider, and King Shark. Also, the only terrible thing about this movie is that KGBeast is wasted. WASTED, I TELL YOU. The film is a tense ride, and one that, like the original comic book, makes every character feel expendable.
It really does feel like a true Suicide Squad adaptation, owing more to the Ostrander/Yale style of storytelling than to"¦whatever the hell the live action movie was drawing from. It's just kinda excellent, and you should check it out.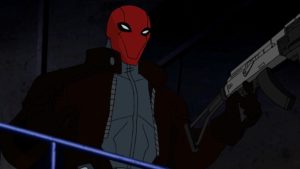 Source: batman.wikia.com
4. Batman: Under the Red Hood (2010)
This is one of the best examples of an adaptation that surpasses the original.
Judd Winick, who wrote the original Batman story arc Under the Hood, also worked on this story. He used this second chance to turn an okay-but-not-great comic book into a phenomenal feature film. Under the Red Hood is my favorite-ever Jason Todd story, a tale that shows his sad, pitiful life in all it's"¦uh"¦glory, I guess?
That opening scene is painful to watch, but in the best possible way. Plus, it adapts things that, while minor, greatly serve the overarching plot. Nightwing's role is a major one. Grayson needs to be a presence in Under the Red Hood as an effective counterpoint to Jason's "bad son" role. Besides, this movie got us classic-style Amazo onscreen for the first time, and that's pretty crazy.
Jensen Ackles isn't bad, either. One could say he's really very good. Maybe I should get around to that Supernatural show, anyway.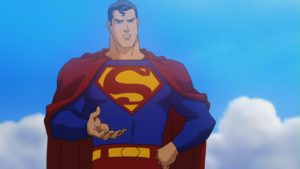 Source: ign.com
3. All-Star Superman (2011)
Oh, look, it's a movie that makes me sob like a little boy who let go of his balloon.
All-Star Superman is based on one of the best comic books of all time, and even though it's a shorter movie, it surprisingly doesn't cut too much out. And it keeps its gut-punch ending and beautiful story. In the film, Superman saves a solar mission and winds up over-radiated with sun energy. As a result, he's dying.
So with his last remaining time on earth, he embarks upon several labors to make the world a better place before he leaves it. At the same time, Lex Luthor begins his ultimate plan to finish Superman off and conquer the world. The film takes the form of a series of short installments showing Superman dealing with Atlas and Hercules, interviewing Lex Luthor in prison, fighting off two other Kryptonians, spending a day with a super-powered Lois Lane, and much more. And then it goes out on one of the best endings ever for a Superman comic.
If you're one of those people who feels Superman is boring, feel free to watch this one before you apologize.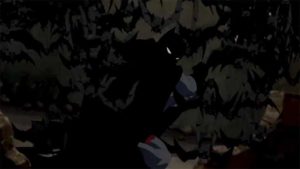 Source: craveonline.com
2. Batman: Year One (2011)
Dark Knight Returns is great and all, but THIS is Frank Miller's best Batman story.
And it's flawlessly ripped from the page and beautifully presented on screen. Batman: Year One tells the story of Bruce Wayne's first year as the Dark Knight and looks at Jim Gordon's first year on the Gotham Police Force. It's honestly more of a Gordon story than anything else, so letting Brian Cranston play the future comish is brilliant casting.
The story is an actual perfect adaptation, hitting all the key points and turning some of the most iconic moments in Batman history into the spectacles they deserved to be. Yes, Father, I shall become a bat should, by all rights, be the most iconic line in Batman history. And that speech he gives to the mobsters of Gotham is still pants-passingly terrifying.
Maybe the best Batman comic of all time begets my favorite Batman movie of all time. Who'da guessed?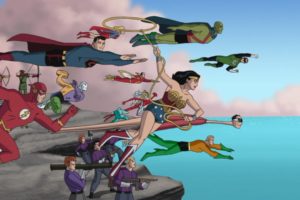 Source: comicsalliance.com
1. Justice League: The New Frontier (2008)
Yep, it's the second-ever DC Animated film, and for my money, also the best.
I have referred to New Frontier as the best-ever Justice League story many times, and this adaptation does it justice (no pun intended). The tale sets the formation of the League against the real world political climate of the 50s and 60s. And so New Frontier is about superheroes, but it's also about war and racism and the space race and communism.
The comic is, I would argue, the most novelistic thing DC's published since Watchmen, and the movie streamlines it to produce an excellent film. The cast is amazing, with Kyle MacLachlan as a surprisingly good Superman, David Boreanaz as a badass Hal Jordan, Lucy Lawless playing Wonder Woman as she was born to do, and featuring Keith David as the menacing Centre. Plus, Neil Friggin' Patrick Friggin Harris as the Flash. It's like all my favorite things came together.
New Frontier is meaningful and powerful and a classic of superhero cinema. There's no question which DC Animated film is the best, because it's very clearly this one.
And there you go, the ten best DC Animated films. Pretty much all of them are great, though, so just pick one and get watching. And if you pick Killing Joke or Flashpoint Paradox, just, like, pretend you didn't see it and pick again. Look, two stinkers out of 30 movies isn't a bad track record.