Ms. Marvel, alias Kamala Khan, has advanced considerably. She's a Pakistani American youngster who grew up loving superheroes and who, one foggy night in Jersey City, manages to tap into some unfathomable ability. Taking up the identity of Ms. Marvel, she finds herself saving the world, making new friends, standing up for the voiceless, and finding a strength she didn't know she had. So much so that she joins the Avengers, only to later leave them on her own will. Kamala is the protagonist of "Ms. Marvel," a new series on Disney+. She is a leader, a nerd, a hero, a sister, and so much more.
Of course, no TV series could possibly cover all that ground in a single season, but "Ms. Marvel" provides fans with all they desire and more. However, before seeing Kamala on the small screen, some viewers may require a refresher course in her exploits on paper. These comics are recommended reading for fans who can't wait to see "Ms. Marvel" on Disney+, and we've compiled them for your perusal. You'll find yourself rooting for Jersey City's greatest superhero in no time at all as you read about her hilarious missteps and terrifying ordeals.
Ms. Marvel's origin story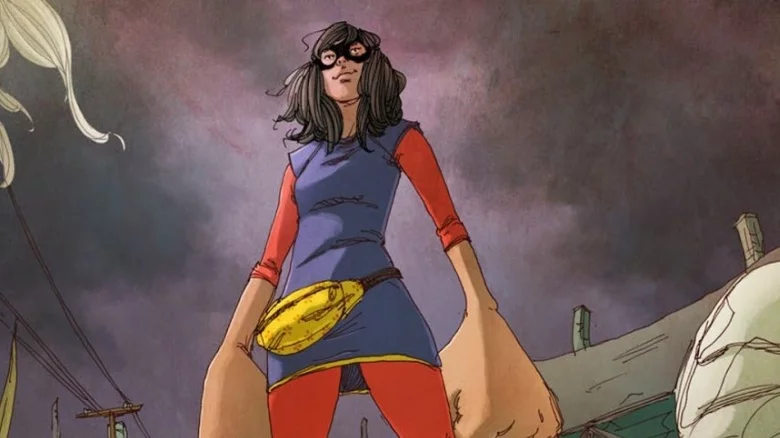 Beginning with "Ms. Marvel" #1 through #5 from 2014's "No Normal" story arc is the best spot to get caught up on Kamala's comics before viewing the TV program. Kamala wishes to have the same abilities as Captain Marvel, but she gets more than she bargained for when the mysterious Terrigen Mist activates her polymorphic abilities. She, like her hero, must utilize her power to save the defenseless and stand up to evil. However, it turns out that being a superhero while maintaining a social life, academic obligations, and a career is a rather big order.
This plot is fascinating right from the start. Kamala's geeky interests and her Muslim beliefs both contribute to the beautiful complexity of her personality. Her inner conflict between her want to make the world a better place and her desire to be a normal teenager who goes to parties and writes fanfiction about the Avengers on Planet Unicorn provides great dramatic tension. Furthermore, Kamala needs to realize that she can be a hero without having the powers of Carol Danvers. What we get is a fantastic first act that cements Kamala's reputation as an unconventional hero with a rock-solid moral compass.
Kamala attempts to be in three places at once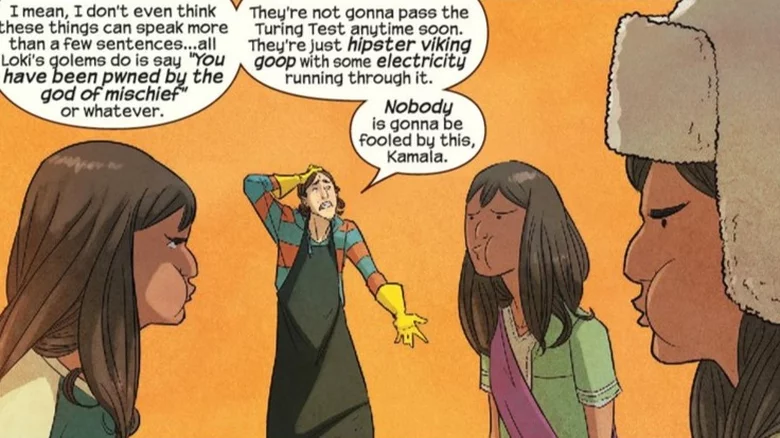 Ms. Marvel has to deal with both global threats and everyday issues. The latter is the main focus of the "Army of One" story arc, which spans issues #4 through #6 of "Ms. Marvel" in 2016. Kamala realizes that she will have to prioritize between her schoolwork, her Avengers missions, and attending her brother's wedding. So Kamala convinces her best friend Bruno to make some weird, stupid golems that can stand in for her when she needs them to. Even if each construct can only say a single catchphrase, she is confident that no one will notice. Jersey City is swiftly overtaken by Kamala golems since, naturally, things get out of hand.
This tale arc is not only a ton of fun, but it also provides a fantastic introduction to Kamala's loved ones. Specifically, it focuses on her brother Aamir and his fiancee Tyesha, who have just as many problems planning their wedding as Kamala has. It's touching and funny to watch two very different families become one through a shared tragedy. As Kamala's golems add obstruction, the situation only worsens.
Ms. Marvel joins the Avengers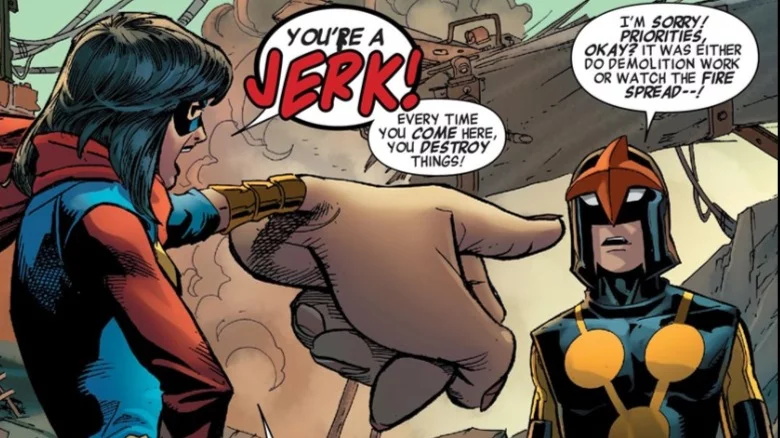 An angry Chitauri named Warbringer, who was flung into the sun by Nova, eventually makes his way to Earth in search of vengeance. He sets out to find artifacts from the Chitauri that will allow him to destroy the human race. The situation is exacerbated by the fact that the original Avengers have disbanded. In the first three issues of 2015's "All-New, All-Different Avengers," Tony Stark, Sam Wilson, Miles Morales, the Vision, Jane Foster, Nova, and the one and only Kamala Khan form a new team to stop the furious extraterrestrial. She doesn't hesitate to put up her hand when Tony Stark offers her the chance to join the Avengers; in fact, she begins doing so before he even finishes his request.
The romance between Nova and Ms. Marvel is the plot's high point. Despite his best efforts, Nova is unable to catch Kamala's attention, despite his frequent use of corny pick-up lines. The fact that Nova doesn't appear to worry about the Jersey City residents (or laundromats) caught in the crossfire isn't helping to pique her attention, either. The fact that we can hear their thoughts while they're interacting makes for some hilarious comedy. They, like any self-conscious adolescents, are ashamed of the foolish things they have spoken.
Ms. Marvel vs. gentrification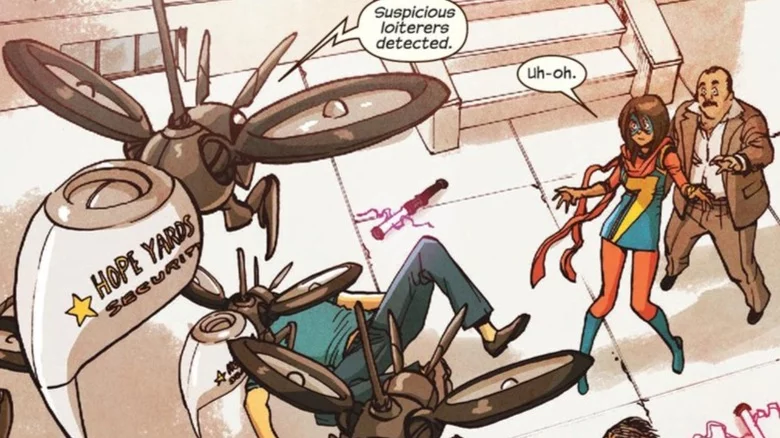 With "Super Famous," the first three issues of "Ms. Marvel" in 2015, Kamala faces off against gentrification. Kamala finds out that without her knowledge or consent, her likeness as Ms. Marvel has been plastered all over Jersey City's billboards, causing major upheaval in her social life. These enormous billboards promote Hope Yards, a modern new neighborhood. However, Hope Yards is not what it seems; its creators are hatching a plan that calls for insectoid security drones, cunning crowd-dispersal devices, and perhaps even a touch of mind-controlling nanotechnology.
The new characters introduced in this exciting plotline will play significant roles in future issues of "Ms. Marvel." Notable among them is Bruno's new girlfriend Mike, toward whom Kamala feels conflicted. Meanwhile, Aamir asks Kamala to be his date's chaperone when he meets Tyesha, a very hip young lady (and, it turns out, a major fan of Frank Herbert's "Dune" series). Obviously, both of these situations are quite uncomfortable for Kamala, but they're great for us.
The Khan family goes to space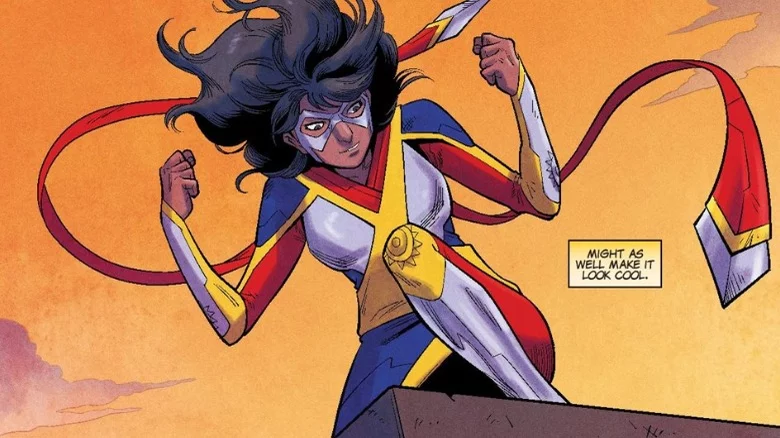 Things on "Ms. Marvel" quickly went off the rails after G. Willow Wilson handed the baton to Saladin Ahmed. Kamala's parents are kidnapped in the first five issues of 2019's "Magnificent Ms. Marvel," and they are replaced by genetic clones that turn into gloop. It gets even more shocking when Kamala and her parents — her real parents — are shipped off to the alien world of Saffa. Visually, this new series is different from the previous "Ms. Marvel" comics, but Ahmed does a great job of retaining Kamala's unique personality peculiarities. For instance, Kamala is overjoyed to discover that her Saffan quarters smell like gingerbread and embraces when she is taken around.
In this iteration of the story, Kamala's parents play a significant role in her exploits. They accompany her as she helps protect Saffa from invaders and admonish the bare-chested extraterrestrial hottie Cheb Hura to stop flirting with their daughter. Most notably, this arc sees Ms. Marvel outfitted with a brand new, ultra-cool supersuit. Built with Kree nanotechnology, this one folds up into a clutch and reacts to her thoughts.
Ms. Marvel clashes with Captain Marvel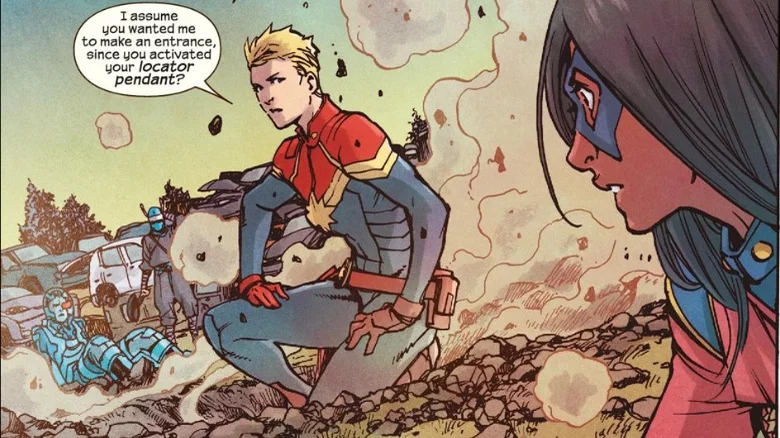 The events of 2016's "Civil War II" shook the foundations of Marvel Comics. The plot revolves around a disagreement between Iron Man and Captain Marvel about whether or not to use a precognitive Inhuman's ability to punish criminals before they do their crimes. As a result of this struggle, Kamala is left in charge of apprehending any criminals predicted to act in violation of the law in Jersey City, and the ramifications of this situation quickly spread throughout the city. In time, though, Kamala starts to question Carol's instructions. She has to reckon with her complicated feelings for her longstanding hero and the people she claims to admire.
This story arc, featured in issues #7–#11 of 2016's "Ms. Marvel," encapsulates the intensity and moral complexity at the core of "Civil War II," while also serving up a healthy dose of Ms. Marvel's trademark eccentricities. Consider the following: In the first battle scene, a Canadian ninja fights while operating a tank through the streets of Jersey City. The most important part of this arc is that it shows Ms. Marvel realizing for the first time that her hero isn't perfect. It's imperative that Kamala muster the guts to confront Carol, even if it means losing Carol's esteem forever. And the events of "Civil War II" further separate Kamala and Bruno. Kamala's life takes a dramatic shift after reading these essential comics.
Ms. Marvel faces an internet troll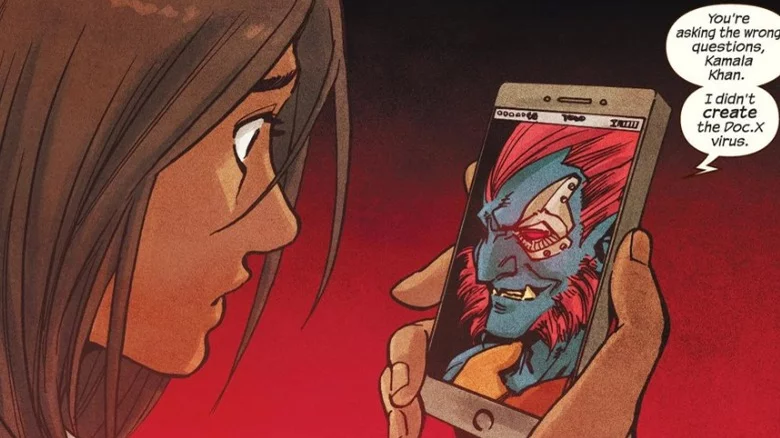 Kamala enjoys playing the massively multiplayer online game World of Warcraft. Kamala's passion becomes her biggest nightmare in the 2017 story arc "Damage Per Second," which spans issues #14–#17 of "Ms. Marvel." Kamala fights the virus Doc. X, who at first appears to be a real-life Battlecraft troll, in this astute examination of the culture of the internet. This deadly villain exploits the interconnected networks of the modern world to discover Kamala's identity as Ms. Marvel, and then threatens to broadcast it to the world unless Kamala performs what it wants. When that plan falls through, Doc. X shifts his attention to Kamala's friend Zoe. It is not well known that Zoe is a lesbian. She's been writing love letters to her best friend Nakia on her phone since she's head over heels for her. Doc. X threatens to distribute those letters to the entire student body if Kamala doesn't cave in.
The aftermath is one of the series' most emotionally powerful moments. Devastated by the onslaught of hostility, Kamala and her friends console Zoe in the school corridor. This demonstrates their unwavering support for her in the face of any and all trolls. Kamala confesses that Doctor X is the most terrifying supervillain she's ever faced, making him one of Ms. Marvel's most fearsome foes. Given this, it's even more impressive that she ignored his criticism.
Kamala quits the Avengers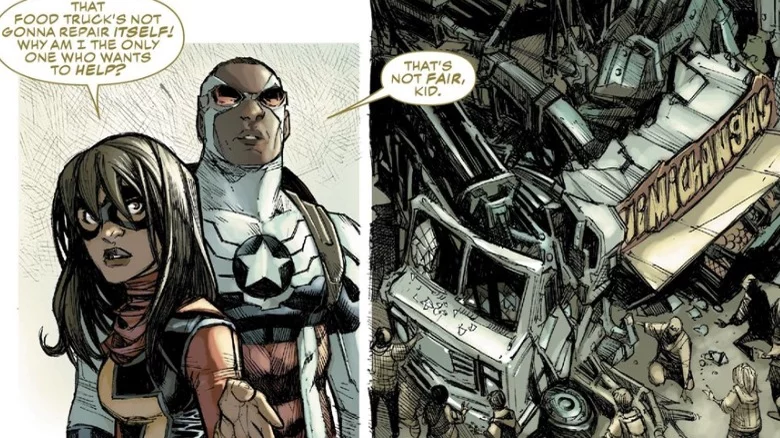 Kamala is convinced by the aftermath of "Civil War II" that the original Avengers don't give enough thought to the effects of their actions on people. Her disgust at the destruction they cause prompts her to resign, and in "Champions" #1 from 2016 she teams up with other adolescent superheroes to form the Champions.
Kamala has matured much as seen by her newfound disinterest in the Avengers, a group she has always loved. This comic is great for readers who like a darker take on "Ms. Marvel," as the tone is just as adult. As opposed to Kamala's regular escapades, in which she battles trolls and bird-inventors, the Champions take on more practical threats, like as human trafficking and mining mishaps. For the first time ever, Ms. Marvel will be in charge of her heroic team, which includes Miles Morales, Viv, Vision's daughter, and Amadeus Cho. The Champions launch a movement in typical millennial fashion by giving a rousing speech that quickly goes viral online.
Ms. Marvel becomes a fugitive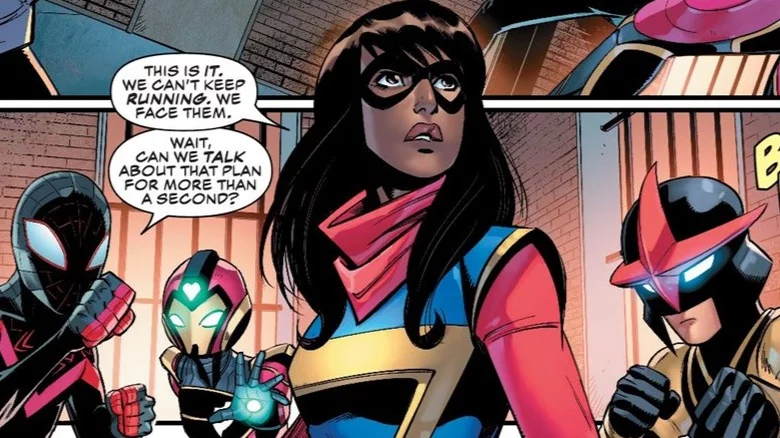 Tensions boil over into all-out conflict in "Champions" #1 through #5 of 2020. The public places the blame on the Champions after their attempt to safeguard youth activist Ailana Kabua goes awry. The government forms C.R.A.D.L.E. after concluding that teenage superheroes pose a threat to society and the teens themselves. As if things weren't bad enough, one of the Champions' own is passing secrets to C.R.A.D.L.E.
Ms. Marvel is at the center of it all; she is so committed to the cause that she delivers orders to her fellow Champions even when lying in a hospital bed. Within a short amount of time, Kamala, Miles Morales, Sam Alexander, and Riri Williams are all on the run from C.R.A.D.L.E. It's exciting, but she's beginning to worry if she's making the proper choice. This storyline is a monumental part of Ms. Marvel's saga, and it's highly recommended that you read it before watching the Disney+ series. Kamala is thrust into an entirely new set of challenges and pressures, and she meets new people that alter the course of her remarkable career. But it's not all bad news; Kamala is still the type of teenager to check if there's any breakfast left before the Champions charge into combat.
Ms. Marvel and Captain Marvel take on the apocalypse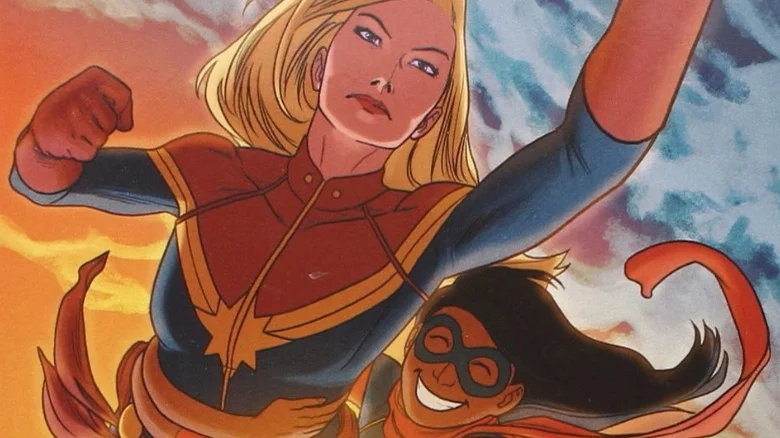 You can't have a complete collection of "Ms. Marvel" without include the "Last Days" story arc, which spans issues #16 through #18 from 2015. If you think "Civil War" disrupts several Marvel plots, just wait until "Secret Wars." The way that this massive crossover event ties into Kamala's plot is particularly stunning, but it affects all of Marvel's series in some manner.
While many other heroes race around in an effort to save the end of the world, Kamala is more concerned with keeping her own community from crumbling. But when things start to spiral out of control, aid in the form of Carol Danvers is on the way. Kamala meets her hero in person for the first time and holds her own as they tour Jersey City. Carol thoughtfully gives her a GPS pendant bearing their combined emblems. And the touching moments don't stop there: Bruno and Kamala must confront their affections for one another as they face the end of the world. Almost makes us sad that Ms. Marvel went on to have so many more incredible exploits after that finish. Almost.