With the Hulu series firmly on track to be one of the most beloved Marvel television projects, I thought I'd dive into the original Brian K. Vaughn and (mostly) Adrian Alphona (but also with a heck of a lot of other great artists) run on the title that kicked it off. From there, I hand-selected the ten best stories produced within Runaways #1-18 (2003) and Runaways #1-24 (2005), as well as the X-Men/Runaways Free Comic Book Day Special. Vaughn's tenure with the series made the Runaways the Marvel universe institution they are today, and thank God for it. They're wonderful. And here are the highlights of the run that gave them life.
RUNAWAYS SPOILERS ARE ALL OVER THIS LIST. DON'T READ ON IF YOU DON'T WANNA SEE 'EM.
                                                                         Source: marvel.com
10. Dead Means Dead
Runaways #19-21 (2005)
The penultimate story of Vaughan's Runaways tenure.
And the last arc on this list (because I'm not a huge fan of Live Fast). This one is the immediate fallout of Gert's death, and those are the best scenes in it. The ultimate high point is the scene in which Molly talks to the Leapfrog about Gert's death. I love the Leapfrog. It does not get enough love.
We also get the Runaways fighting a giant ridiculous monster, and that's pretty friggin' fun. Also, there's a nice little shot at Civil War in there. The overall themes about needing to let go of the past are good and well executed, and I'm really starting to warm up to Xavin. They're great. This is also the beginning of Chase's turn, which I don't like later on, but the degree to which it happens here is fine.
It makes sense that he'd be really damaged by Gert's death, and seeing it work out this way makes sense, even if I don't love how it works for the character.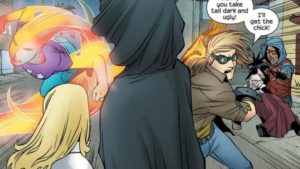 Source: geeksmedia.com
9. Lost and Found
Runaways #11-12 (2003)
What do you do when you're looking to find some teen runaways with super powers? Enlist some former teen runaways with super powers, of course!!!!
In this arc, the police chief of LA, who's in The Pride's pocket, recruits Cloak and Dagger to go and catch these kids. The duo and our heroes meet, and we get the obligatory misunderstanding, fight, then team up story, which is at least heavily lampshaded, and then the duo goes off to help them.
Unfortunately, this doesn't work out, but it's a fun little story. Plus, it establishes threads that are later called back in an even better story in the 2005 series. This is also the Runaways' first real exposure to the rest of the Marvel universe, something that would prove integral later on in the book.
A wonderful little two-parter in the middle of a great run.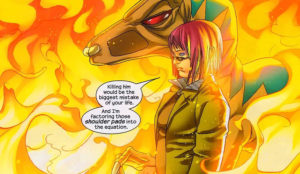 Source: lovingthealien.net
8. Parental Guidance
Runaways #14-18 (2005) 
This one's initial premise is one of my favorites in the series, even if it doesn't carry it off as well as I'd hoped.
In the first pages of the first issue of the original Runaways series, we meet Alex as he plays online video games with a group of his fellow nerds. Those same nerds are now wondering where their friend went, and after some hacking, they figure out that Alex was a member of The Pride"¦and that The Pride were secretly the good guys all along. Oops.
They opt to take revenge against the Runaways by resurrecting Alex and taking them on. However, and this is where the arc falters a bit for me, they accidentally resurrect a young Geoffrey Wilder, who then takes charge and leads them. Honestly, I feel like the Dorks are an interesting enough band of villains on their own, but they just wind up taking on henchman roles in the service of Geoffrey.
On the other hand, this arc also features Gert's death, which is successfully meaningful and hard to read, but for the right reasons.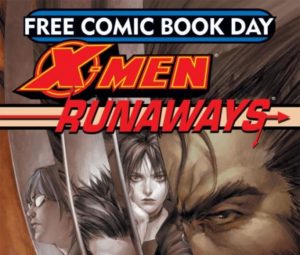 Source: marvel.com
7. X-Men/Runaways
X-Men/Runaways FCBD #1
I wish more people would read this.
It's written by Brian K. Vaughan. It's drawn by Skottie Young. It's great! And it was free!
Officially titled We Don't Need No Education, the story seemingly takes place between East Coast/West Coast and Parental Guidance, and it features the X-Men fighting the Runaways. That's really all it is. It's an 11-page Free Comic Book Day special, so there's not much room for much else. But it turns out incredibly well!
The team from the X-Men side is the Astonishing Squad, which is also perfect. Astonishing X-Men is the X-Men's return to being straight-up superheroes after the Morrison years and their influence. The whole thing reads like the fight comic you would want from these characters. Old Lace is missing, and the Runaways are looking for her. They run into the X-Men, who want to "save" Molly from this band of troublesome teens. A fight ensues and is resolved. Ta-dah!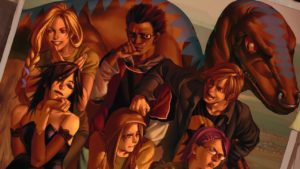 Source: youtube.com
6. Eighteen
Runaways #18 (2003)
This is the final issue of the original Runaways series, and it's a great way to go out.
After the gang takes down The Pride and their former teammate, Captain America and SHIELD separate them and place them in foster homes. But, of course, they break out and run away.
Most of the actual issue revolves around the team's efforts to track down Old Lace, who's locked up in an old Avengers West Coast facility. It's a great little epilogue to the events of the main series, and it sets our heroes up for my favorite Runaways status quo: on the run and bound for adventure.
While I'm happy we got more, for the Runaways in general and Vaughan's run in specific, this could have been the final issue and it still would have worked perfectly.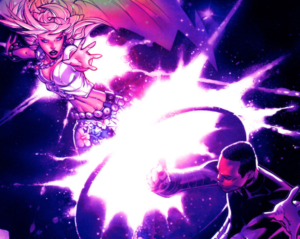 Source: comicvine.gamespot.com
5. Star-Crossed
Runaways #7-8 (2005)
I forgot how good this story is.
In regard to the previous series, I would argue that Karolina is the least-developed character. She's great and fun to read about, but it isn't until Volume Two that we begin to get any real plot stuff about her. Also, after all of the hints in the previous story, we finally get confirmation that Karolina is gay. Which is super awesome.
There still aren't a ton of gay superheroes, and Karolina is indisputably one of the best. At the same time, a new Super Skrull emerges from the heavens to  proclaim that he's joined with Karolina in an arranged marriage. Xavin may be my least favorite Runaway, but he's really good in this arc.
I especially like the discussion of how gender is very fluid for Skrulls, which is a neat idea for shapeshifters. In addition, the last scene is super heartfelt, and it legitimately makes me emotional every time I read it.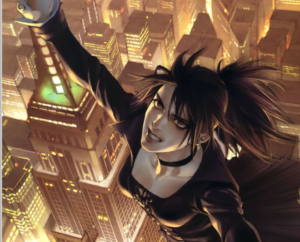 Source: comicvine.gamespot.com
4. East Coast/West Coast
Runaways #9-12 (2005)
Hey, hey, folks, it's guest star time!
Yeah, there are guest spots in Runaways prior to this point, but this arc is just Vaughan let loose to play with all of the toys he wants. After someone who looks a lot like Cloak puts Dagger in a coma, the real Cloak turns to the only people he has left: the Runaways. But even as all this is happening, the New Avengers are hunting him down.
This arc is pretty solid. Especially the Spider-Man bits. Holy Lord, Vaughan should have been on a Spidey book. Also, Molly's initial encounter with Wolverine, Captain America, and Iron Man is incredibly funny. Vaughan clearly wanted to pump the guest stars in this arc, and tying it back to Cloak and the original series was a wonderful idea. The Marvel Universe is a super fun playground, and it's always nice to see people take advantage of that.
I love the original New Avengers team; they're super fun, and very well written in the brief snippets we get.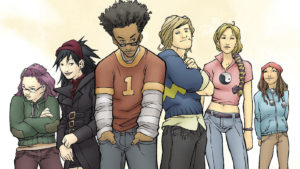 Source: npr.com
3. Pride and Joy
Runaways #1-6 (2003)
The opening story of the series is part of the reason it's as well remembered as it is. It's a great introduction, it establishes everything we need to understand the team, and it's structured really darn well.
Hell, what I've seen of the Hulu series so far is JUST this one story expanded into an ongoing TV show about a band of teens and tweens united by one thing: Their parents are all friends, and they make them hang out about once a year. This year, the teens get bored, and they go exploring, only to discover – oh, s**t – their parents are weird murders who look like they're in a cult. In short, their parents are supervillains.
In a panic, the kids search each other's houses for evidence of criminal activity, but all they find are secrets about themselves. Karolina's bracelet is removed, and her alien light powers are awakened. Chase steals the X-Ray goggles and Fistigons. Gert meets Old Lace, her dinosaur from the future. Molly uncovers her mutant abilities. All of them are pretty easy to relate to here, and they all come off as fun and charming characters. Alex is a strong leader, Chase is comic relief, and Nico makes an awesome powerhouse.
It sets a lot of pieces in play for the rest of the original series.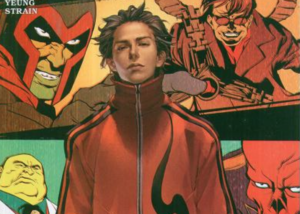 Source: basementrejects.com
2. True Believers
Runaways #1-6 (2005)
The Runaways' second series kicks off with one of its best arcs.
And this one has a hard battle to fight. With the death of  The Pride, figuring out what the Runaways do next became the challenge. Here, we get to watch them beat up the Wrecking Crew and talk about the other D-List Marvel Villains they've annihilated. Then we get the inciting incident for the rest of the arc: Gert from the future appears in The Hostel and dies, revealing that her murderer is still young enough to be stopped in their time period.
Her attacker? Victor Mancha, the future Victorious, and son of one of the world's greatest supervillains. I forgot how this arc is designed to keep you guessing about who his dear old pappy actually is. There are multiple great fakeouts that are designed to obscure the true mastermind. Even his name is a cute trick, designed to manipulate readers into thinking they've figured out the puzzle. I like Victor, although I've always preferred him in his later appearances in Avengers A.I. and The Vision over his original debut. But this is easily his best story in the series.
Oh, and Darkhawk and some other heroes are also here, but I'm out of room to talk about them. They're fine.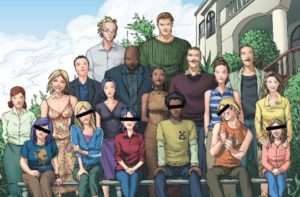 Source: goodreads.com
1. The Good Die Young
Runaways #13-17 (2003)
It's kind of fitting that this is the best Runaways arc. It's the full culmination of the entire 2003 series, and a great one at that. After a year of build-up, we finally get the Runaways vs The Pride showdown. And we finally get to see who the traitor is. And it's"¦HUGE SPOILERS, SO DON'T KEEP READING THIS SENTENCE IF YOU DON'T WANT TO KNOW THAT THE MOLE IN THE RUNAWAYS IS…Alex Wilder. Honestly, the best mole choice they could have possibly made.
Alex was the first issue's POV character, and seeing him reveal himself as the big bad is a really great moment. And it's exciting to see the rest of the team beat his ass. Also, the Gibborim are so friggin' Marvel Comics. They're giant biblical monsters that want to destroy the earth. And I love them. Plus, The Pride get a bit more character development here, as they're depicted as the backbiting sociopaths they are. It's a satisfying conclusion to a wonderful series.
The comics that follow are all good, but this is the height they reached. The Best Runaways story of all time.