For those who don't know, "Gotham" is super duper loosely based on one of the most critically acclaimed DC Comics of the last fifteen years. But whereas Gotham takes place pre-Batman in a fairly grounded reality, Gotham Central takes place well after the dark knight has risen to prominence. By the time Gotham Central starts up, Commissioner Gordon is taking time off after an assassination attempt and Harvey Bullock has been kicked off the force for his conduct. But as for the other detectives in Gotham's Major Crimes Unit and the villains that stalk the streets, life goes on. Here are my ten favorite stories from the near-perfect series.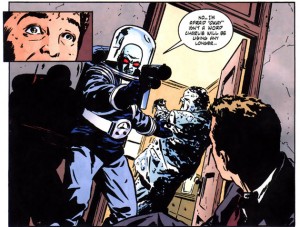 10. "In The Line Of Duty" (Issues 1-2)
It says something about a series when the FIRST story makes the 'best of' list. "In The Line of Duty" introduces the detectives of the MCU (Major Crimes Unit) and sets up the world they live in. In the first few pages, Detectives Marcus Driver and Charlie Fields investigate an apartment on a routine search for a kidnapped girl. Unfortunately, they wind up blundering into Mr. Freeze's lair and things go bad.
Gotham Central always did a pretty good job of showing that Batman's gallery of supervillains, even the lesser ones, would absolutely destroy any poor officer of the law that would stumble into their path.  It really sets the tone for the rest of the series, from the relationship between the police and Batman to to lovable cast of characters. Also, holy hell does this end with one of the best moments of the series between Driver and Batman. Like, note-perfect.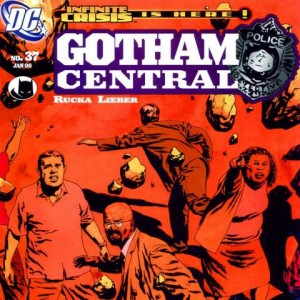 9. "Sunday Bloody Sunday" (Issue  37)
Gotham Central didn't usually cross over with the regular DC universe. "Sunday Bloody Sunday' was the big exception.
The penultimate story in the series, this one showed Detectives Crispus Allen and Renee Montoya trying to navigate the insanity that was 2005's Infinite Crisis. Magical beings drop from the sky, C-list supervillains run rampant on the streets and the skies quite literally run red.
The DC Universe can be a scary place and SBS really exemplifies that. As Allen struggles his hardest to get Montoya home after she's injured by a magical phenomenon, the world turns itself upside-down in his path. It's harrowing and intense and it's only one issue. Seeing these characters who, for the entire preceding series we have seen kicking butt and taking names, really out of their elements is existentially terrifying. I mean, when Captain Marvel falls out of the sky fearing for his family's lives, what hope does a police detective like Allen have?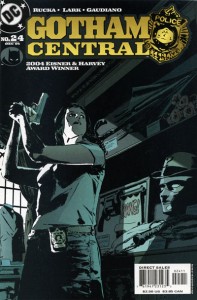 8. "Corrigan" (Issues 23-24)
If you know one single thing about GCPD, you know that they are corrupt as hell. And they don't come much crooked-er than Crime Scene Investigator Jim Corrigan, known for swiping evidence to sell online to private collectors. And when Crispus Allen gets into trouble with Internal Affairs and the bullet that will clear his name goes "missing" in Corrigan's hands, Detective Montoya goes on the warpath.
Not only does this story set up story threads that pay off way later on, but it also gives the reader a better view into the sickness and corruption that infests the GCPD. The MCU may be full of upstanding detectives handpicked by Jim Gordon himself, but the rest of the force? That's a snake pit you don't want to find yourself on the wrong side of.
If "Sunday Bloody Sunday" is a story about Crispus saving Renee, "Corrigan" is a story about Renee protecting Crispus. Not only will they fight for each other, but Renee is a force to be reckoned with. Also, the arc includes a beatdown that is satisfying in the moment but ultimately tragic, which is a writing trick that series co-writer Greg Rucka pulls off excellently.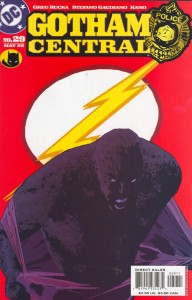 7. "Keystone Kops" (Issues 28-31)
Just like every hero is different, so is every city. And in this story we get to see the MCU go up against a villain they aren't used to. After an unfortunate accident, a GCPD cop is exposed to a leftover experiment by Flash villain Dr. Alchemy. In order to figure out what's going on and cure the officer, Montoya and Allen go to Keystone City and team up with KCPD Detectives Chyre and Morillo.
Chyre and Morillo were two of my favorite supporting characters from the Geoff Johns Flash run so seeing them palling around with our resident detectives was a real fanboy moment for me. The foursome work really well together and seeing Renee and Crispus's reactions to the very different world of the KCPD are especially entertaining.
This arc is essentially a Batman/Flash crossover where only the supporting casts cross over which is absolutely perfect. Plus, we get some great furthering of Montoya's overall character arc in this one. Plus, Dr. Alchemy is a Gotham-caliber villain so seeing him get his due makes the story more than worth it.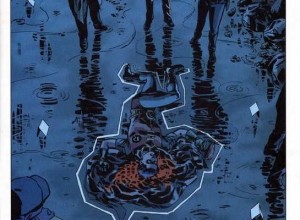 6. "Dead Robin" (Issues 33-36)
When a kid in a Robin costume (who may or may not be the real deal) turns up dead in an alleyway, thrown from a rooftop, what do the detectives of the MCU do? And what happens when a second dead Robin surfaces in Gotham Harbor?
It is these questions that touch off a major investigation that brings multiple worlds colliding together. MCU Captain Maggie Sawyer starts questioning the relationship she has with the press, Detective Romy Chandler deals with the loss of her partner and her resentment of Batman and Stacy the Receptionist gets some great character development. "Dead Robin" also gives us a scene involving the MCU and the Teen Titans which is wonderful, especially the art and coloring which show off the heroes as larger than life figures, even the teenaged ones. It's a mystery until the end with red herrings and twists at every turn. Also, reporter Simon Lippman is a pretty great part of the supporting cast and this is his time to shine.
Oh and when Batman shows up? The situation gets real in a way that truly reinforces the character's greatness. "Kill the lights in the squad room"¦ and the box" sends chills down my spine no matter how many times I read it.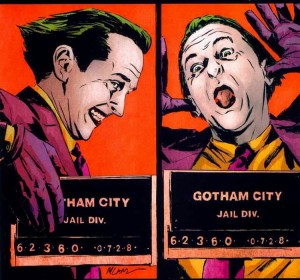 5. "Soft Targets" (Issues 12-15)
It seems Gotham has a sniper problem, and whoever it is has been taking shots at public officials with critical results. But when the shooter's identity comes to light, the entire MCU goes into crisis mode. The sniper is such a great villain reveal that's treated with the right amount of tension and build-up. It's the Joker. The sniper is The Joker. And the MCU responds with the appropriate amount of of abject terror.
I've heard "Soft Targets" called the best Joker story of all time and I don't know how much I can disagree with that. It was, for certain, one of the biggest inspirations for the character's portrayal in "The Dark Knight". The Joker in the interrogation room scenes in this are bone-chilling. Plus, we get Detective Patton's defining moment and not everyone survives the arc. "Soft Targets" is tense and unsettling and leaves you on the edge of your seat.
Plus, scariest Joker story I think I've ever read, hands down.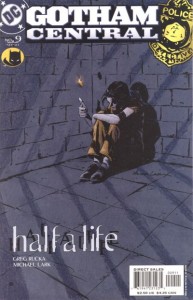 4. "Half A Life" (Issues 6-10)
Oh look, it's the most famous Gotham Central story of all time. The one that won all those awards. And deservedly so because it. Is. Spectacular.
Detective Renee Montoya's life begins to fall apart. One of her previous collars attempts to sue her, someone forcibly outs her as gay to the entire department and she's framed for murder. What follows is an emotionally raw story not just about being falsely accused of murder but of coming out to a prejudiced family as well.
"Half a Life" was the recipient of an Eisner, a Harvey, and a Gaylactic Spectrum award for its handling of gay rights and discrimination and it deserved all three awards. Plus it pulls the Gotham Central trademark of dropping a surprise mystery Batman villain in the third act. Also, we meet Montoya's girlfriend Daria who is a character I really like. Montoya went on to be the most enduring Gotham Central character and "Half A Life" is almost entirely why. Plus, it's a thrilling mystery with an immensely satisfying conclusion.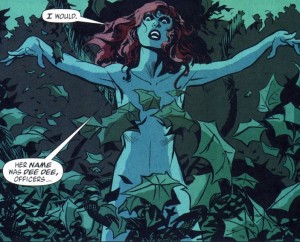 3. "Nature" (Issue 32)
Having a series that focuses on the golden boys and girls of the MCU means we get spared from having to watch the corruption on evil of the rank and file officers on the streets. But sometimes, a dip into that world can lead to a great story. As is the case here.
While "Corrigan" exposed us to the seedy underbelly of Gotham beat cops, "Nature" puts us in the perspective of one of those cops. Officers Munroe and DeCarlo are as bad as they come and hearing Munroe's thought process throughout the issue is deeply sickening. Some people just should not be trusted with power and when they are, things go bad. Other than brief cameos from Montoya and Allen, this issue leaves out the main cast in favor of giving us a look into the corruption on the streets firsthand.
Munroe and DeCarlo murder, steal, and extort like the pieces of garbage they are, even abusing their connection to Corrigan to get away with it all. But as they learn by the end of the tale, the police aren't the only ones out for justice in Gotham. And, without spoiling it, let's just say those sinister forces in the dark will do a hell of a lot worse than arrest you if they catch you.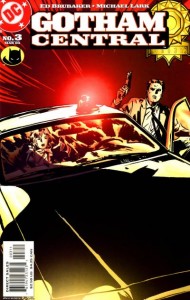 2. "Motive" (Issues 3-5)
As much as I love Greg Rucka's work on the series, my absolute favorite story arcs of the series were the ones written by his co-writer Ed Brubaker (slight spoiler for my number one entry, I guess?). Also, I find it super fitting that the second story in the series is also the second best.
"Motive" is a classic two-pronged detective story.  As Marcus Driver and Romy Chandler try to close the case that got Detective Fields killed in the first issue, SGT. Davies and Detective Crowe get to work catching F-list Batman villain Firebug. The mystery unwinds and untangles until both cases are solved neatly, in perfect procedural fashion. Driver and Chandler make a perfect pair and Driver's personal stake in the case ratchets up the intensity. Plus, the mystery in itself will keep you guessing, like any good detective story. I think "Motive" is so good because it nails all the beats of a procedural cop drama but still feels fresh and innovative. It never stops feeling like Gotham Central. Plus, Firebug is seriously underused.
And no, I don't mean FireFLY.
I mean FireBUG.
Different guys.
One is DEMONSTRABLY dumber than the other.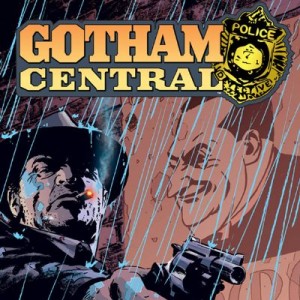 1. "Unresolved" (Issues 19-22)
I really like a good cop drama and a good mystery so it's fitting that this is my absolute bar-none favorite Gotham Central story.
After a hostage situation ends in blood, Detective Driver re-opens a disturbing cold case looking for new information. Brand new evidence points them straight at the Mad Hatter, but this is anything but an open and shut case. Especially when Driver and new partner Detective MacDonald discover that the previous Detective on the case was disgraced former officer Harvey Bullock. The story hurtles off towards its conclusion with corruption, fear, drunkenness and straight-up detective work looming in its wake.
"Unresolved" is the best Bullock story and showcases the MCU team at their finest in a pitch perfect detective story. The investigation is interesting and tough to predict.  Bullock's recent past (and the reasons for his firing) are dark and twisted up in Gotham's own corruption. Let's just say there's a reason the cops in "Nature" idolized Bullock so much, and it ain't a good one. "Unresolved" is the best because it is what Gotham Central was: a police procedural that takes place in a universe Batman is also in. And in the end, isn't that just the best idea?