And we're back with another load of Brave and the Bold episodes. I love this show top to bottom, but this is a much more mixed bag than the last two, so strap in!
                                               Source: braveandbold.wikia.com
21. Duel of the Double Crossers!
Guest Stars – Teaser: The Outsiders (Black Lightning, Metamorpho, Katana), Episode: Jonah Hex
Man, I really wish I liked this episode more than I do, because I don't like it very much.
The focus is on Jonah Hex, who is forced to work as a galactic bounty hunter for Mongul, recruiting aliens for Warworld gladiator matches. He grabs Batman last, hoping that the Bat can help free him. The duo team up, and while Bats grapples his way through match after match, Hex works on the inside to free the competitors and pit Mongul against his sister Mongal and her Female Furies. This episode does get points for the flirtation between Lashina and Jonah Hex, which is cute and fun. But honestly, I would've loved more of an Old West Hex episode, rather than the sci-fi blend we wound up getting. Mongal's pretty fun, though, I guess. So is Steppenwolf.
Verdict: Okay.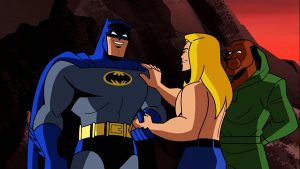 Source: basementrejects.com
22. Last Bat on Earth!
Guest Stars – Teaser: Mr. Miracle, Episode: Kamandi
Oof, two in a row, and right off the bat, too.
Look, I love this show. I love it a lot. But I also never cared about Kamandi. I just never really was able to get any degree of interest in him. But this is the most interested I've ever been in Kamandi, so points there.
In this one, Gorilla Grodd time travels to the far future. He conquers the gorilla army, leading them against the tigers and Kamandi to take over the post-Great Disaster world. Batman follows him there and helps save the world and prove the worth of humans. Good moments in this one include the race of bat people living in the bat cave, and Grodd himself, who's always fun. Also, the teaser is A number one great! Like, SOOOOOOO good. Mr. Miracle is always fantastic, and his banter with Batman as they escape from various deathtraps makes the opening segment of this one totally worth watching. Plus Big Barda and Oberon!!!!!
Verdict: Okay.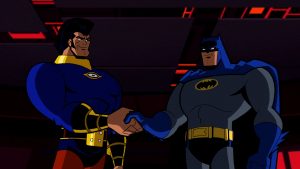 Source: comicvine.gamespot.com
23. When OMAC Attacks!
Guest Stars – Teaser: Hawk, Dove, Episode: OMAC
I swear to God I like this show, okay? I just don't like this run of episodes. Overall, the show is good!! And this episode is good!
In it, the Global Peace Agency calls Batman to deal with a foreign dictator general alongside their operative OMAC, a mild mannered janitor named Buddy Blank, who is transformed sans-memory into the hulking and confrontational OMAC. OMAC is aggressive and violent – unlike the quiet and heroic Buddy – and winds up accidentally transforming the dictator into the jagged metal monstrosity known as Shrapnel.
Bats and OMAC fight Shrapnel, and OMAC learns a valuable lesson about restraint and de-escalating conflict. Also, OMAC is voiced by Jeff Bennett, who brings some of his Johnny Bravo persona to the character, which is pretty fun. And I love Buddy. Plus, we get the continuation of the Equinox plotline, which has been running steadily throughout many of the past couple eps.
Verdict: Good.
                                                         Source: dc.wikia.com
24. The Fate of Equinox!
Guest Stars – Teaser: Two-Face, Episode: Dr. Fate
Aaaaaaaaand here's the culmination of that Equinox arc. And it's a really good episode, too!
Turns out that Equinox was an attempt to create a being in perfect harmony with both Order and Chaos, but he lost his mind and developed a God complex. So now Dr. Fate and Batman have allied to stop him from annihilating the entire universe and replacing it with something new. Dr. Fate and Bats have a great back and forth centered on Fate's magic use versus Batman's more technological approach.
Also, this one culminates with a big knockdown drag-out fight between Batman and Equinox that feels really satisfying, especially since Batman has been gifted with the superpowers of all of his friends for the fight.
And, in keeping with tradition, Red Tornado shows up and has his powers stripped from him, only to have Batman wind up not using them. Poor Red Tornado.
Verdict: Good.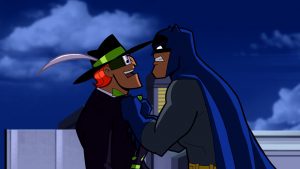 Source: theflickcast.com
25. Mayhem of the Music Meister!
Guest Stars – Teaser: n/a, Episode: Black Canary, Green Arrow, Aquaman
Oh, look, it's a contender for the best episode of the entire series. Like, I was in the room at Comic-Con when this debuted, and it received a standing ovation. And I was on my feet clapping along with them because, oh, my God, this episode is literally perfect.
Neil Patrick Harris is so damn good as the titular Music Meister, Black Canary finally gets the spotlight, and all of the music is charmingly catchy. Jesus Christ, if Drives Us Bats or Death Trap isn't stuck in your head when the credits roll, there's something legitimately wrong with you. Getting to hear the cast sing their hearts out results in an episode that could ONLY come from Brave and the Bold. This ep was a labor of love by the show's creative team, and it shows.
Seriously, if you only watch one episode from this entire series and no more, make it this one.
Verdict: Perfect Perfect PERFECT!!!!!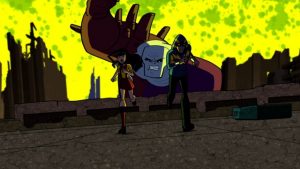 Source: comicvine.gamespot.com
26. Inside the Outsiders!
Guest Stars – Teaser: Green Arrow, Episode: The Outsiders (Black Lightning, Katana, Metamorpho)
Normally, I don't really like The Outsiders on this show, but this is one great episode. And not just because it features one of my favorite DC Villains ever.
This one gets straight to the point. The Psycho Pirate has captured The Outsiders, and Batman has to enter each of their minds to save them from being turned into fuel for Psycho Pirate's emotional vampire nature. Psycho Pirate is creepy as heck here, and his metal-masked smile just serves to paint a spooky backdrop for the proceedings.
The episode gives solid characterization to the Outsiders, who've otherwise been pretty one-note. Black Lightning's dream is amazing and unexpectedly hilarious, making me like him so much more as a character. Plus, the final scene with Batman smiling ear to ear while beating the stuffing out of the Psycho Pirate is just beautiful. Great performance from Bader, really selling the comedy of the scene (also, this is the last episode of Season 1).
Verdict: Great.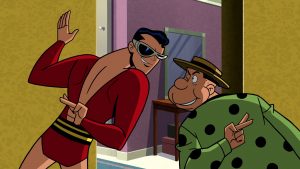 Source: thebatmanuniverse.net
27. Long Arm of the Law!
Guest Stars – Teaser: Plastic Man, Episode: Plastic Man, Woozy Winks
And we have now started Season 2, ladies and gentlemen. And this time we get back to one of our old favorite characters, Plastic Man. Plastic Man is attempting to become a stronger hero with a better moral compass, and he's inducted a sidekick (the lovable Woozy Winks) to train as his own.
But he's also attempting to balance that with his family, including his disproportionately hot wife Ramona and his bouncing baby boy, Baby Plas. On a routine trip to the museum, Plastic Man runs into new villain Rubberneck and old foe Kite-Man, and he needs to save his family from the duo, with Batman's help.
This is an incredibly strong Plastic Man episode, and easily my favorite. And part of that is because The Re-Animator, Jeffrey Combs himself, plays Kite-Man. Jeffrey Combs plays Kite-Man. Those are the greatest four words I've ever heard, read, or written.
Verdict: Great!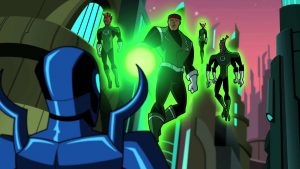 Source: youtube.com
28. Revenge of the Reach!
Guest Stars – Teaser: The Challengers of the Unknown, Episode: Blue Beetle, Green Lantern (Guy Gardner), Kilowog
Last episode, we returned to our old friend Plastic Man; this week, we get a Blue Beetle-centric episode with some Guy Gardner action. Yay! Back to basics!
Here, Beetle is trying to operate as a hero on his own. He starts by trying to single-handedly take out Evil Star. I love Evil Star. Beetle succeeds, and tags along with Batman to take Evil Star back to Oa, home planet of the Green Lantern, where he'll go to prison.
Once there, the GLs flip out upon seeing Beetle, explaining that Beetle's suit is actually an alien life form of The Reach, a vicious race of conquerors and parasites who inhabit hosts, take control, and wipe out each planet's indigenous race. And wouldn't you know it – that's when the scarab takes over Beetle's mind and summons The Reach to come destroy Oa. So while Guy and Batman fight off the descending alien invasion, Beetle must fight for control of his body and his destiny as a hero. Also, in the teaser, we get some evil alien starfish. Hmmmmm, I wonder if that's gonna be important later.
Verdict: Good!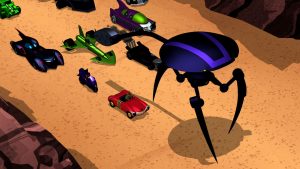 Source: braveandbold.wikia.com
29. Death Race to Oblivion!
Guest Stars – Teaser: Captain Marvel, Episode: Green Arrow, Green Lantern (Guy Gardner), Huntress, Plastic Man
Hey, look! It's Young Justice and Gargoyles writer Greg Weisman!! And he's turned in a really fun, action-packed episode for your enjoyment!
It draws its inspiration in equal measure from the cult film franchise Death Race and the cartoon series Speed Racer. Mongul gathers a group of heroes and villains, and tells them to race each other for the survival of their home cities. If Mongul's minion Steppenwolf wins, Mongul's Warmoon will annihilate the earth altogether. What ensues is a fun and fast-paced race. Everyone is playing for keeps, especially Batman, who seems to have taken on a much more vicious attitude than normal. It's one of the more cartoonish episodes, but it benefits from that, and the race itself is fun to watch, especially for The Joker's mid-race play-by-play commentary.
Verdict: Good!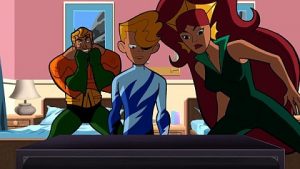 Source: ign.com
30. Aquaman's Outrageous Adventure!
Guest Stars – Teaser: Enemy Ace, Episode: Mera; Arthur, Jr.; Blue Beetle; Green Arrow; Batman
Well, we finally have it, an episode where Batman isn't the main character. This one focuses on our perennial favorite, Aquaman, who is on vacation with his family and is bored out of his mind.
While he keeps sneaking off to go help other heroes deal with their enemies, Batman is on the trail of The Penguin as he tears through Gotham. One of the funniest episodes of the show, this one is sold on how much fun Aquaman and his family are. Well, that and the AMAZING old-cartoon title cards, but still. Arthur, Jr. and Mera could easily come off as annoying, but they don't. They instead manage to be clearly loving family members. Also, having Junior wear that oft-forgotten old Aquaman costume is a wonderful touch. It's funny, well-paced, and doesn't feel all over the place, as it could have. Exactly the kind of episode that makes this show so incredible.
Verdict: Perfect!
And that's another ten down. Next time we'll have another assortment that will include the next big story arc after Equinox and what many consider to be the best episode of the series, Chill of the Night.