Hey, howdy ho, ladies and gentlemen, I've always loved superhero cartoons. Growing up on Superfriends, Spider-Man, X-Men, and Batman: the Animated Series, I have a huge attachment to these shows, and always have fond memories of them. One of my favorite things has been to find really fun, well-written episode guides for these shows that go over the course of the series. But one of my favorite shows, the criminally underrated Brave and the Bold, has never really gotten a great one of those. So I figured I'd do it. Ten episodes at a time, we're gonna break down one of the most fun shows ever produced by DC animation. Get ready to taste the hammers of justice!
                                                          Source: youtube.com
1. "Rise of the Blue Beetle"
Guest stars – Teaser: Green Arrow, Episode:  Blue Beetle
So, first episode out of the gate is good, if not as incredible as the series would later become.
This one introduces us to the premise of the show, with Batman teaming up with various other DC heroes to fight ridiculous villains. Our teaser features Batman and Green Arrow fighting the Clock King. And let me just say that picking Clock King as your first villain is a brilliant tone setter for the show. It celebrates all the cheese in the DCU with aplomb. I love it.
The majority of the episode is about Blue Beetle coming into his own as a hero under Batman's guidance. We immediately get a sense of this Batman and his "so-not-dealing-with-this" attitude, which is instantly endearing. Beetle is fun and establishes Bats as a mentor figure, which is a smart move. Plus, the aliens Batman and Beetle save from Kanjar Ro are awesome and adorable. Plus, they get horribly brutalized, and I find that funny because I'm a monster.
Verdict: Good!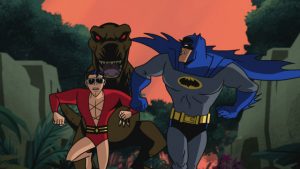 Source: comicvine.gamespot.com
2. "Terror on Dinosaur Island"
Guest Stars – Teaser: Plastic Man and Fire, Episode: Plastic Man
I was actually not super looking forward to this one ahead of time. Plastic Man is my least favorite of the regular guest stars on BatB, and this is definitively his episode. But hey, he's voiced by Tom Kenny, and that is the opposite of bad.
Watching it again made me like it more, though. It still isn't true Brave and the Bold – more standard superhero fare, but it's GOOD standard superhero fare. Gorilla Grodd is a solid villain, and the use of Dinosaur Island gives it points. Plus, Kite Man cameo. That's pretty friggin' sweet.
The plot follows Plas and Bats as they try to stop Grodd from turning millions of people into apes, while Plastic Man struggles with avoiding his baser criminal impulses. Again, it's good, but it isn't exciting. If I were just showing someone the series without doing this episode guide, I'd probably not have this be the second episode I showed them. There are much better episodes to come.
Verdict: Decent.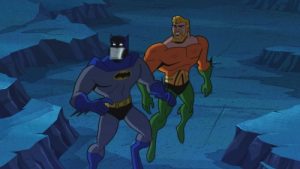 Source: batman.wikia.com
3. "Evil Under the Sea"
Guest Stars – Teaser: The Atom, Episode: Aquaman
Heeeeeeeeeeere we friggin' go. This is the first true indicator of what kind of a show this is gonna turn into.
And, of course, that's because it features the series' breakout star, Aquaman. John DiMaggio's Aquaman is my single favorite version of the character of all time. He's fun, light hearted, and moderately egotistical, but not so much that he stops being a real hero.
In the episode, Batman is lured to Atlantis by some strange seismic activity. He finds Aquaman and his newly returned brother Orm, who has secretly betrayed Aquaman to work alongside Black Manta as"¦The Ocean Master. The heroes fight the villains and it all goes good in the end, blah blah blah. But this episode also features my favorite character ever: Fluke the Dolphin. Fluke is a dolphin who Batman hates. Hates JUST SO MUCH. It's incredible. If you ever wanted to watch Batman stare down a dolphin like it was the Joker, this is the episode for you.
Verdict: Perfect!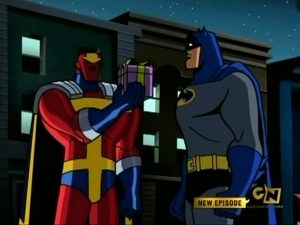 Source: animatedsuperheroes.com
4. "Invasion of the Secret Santas"
Guest Stars – Teaser: Blue Beetle, Episode: Red Tornado
Christmas episode time! Sweet! This one is the first example of BatB's ability to tug at the heartstrings in a big way. The plot centers around Red Tornado, who is trying to understand the Christmas spirit, despite being an android. He and Batman team up to stop the plans of Toyman-knockoff Funhaus, while Batman comes to terms with his hatred of Christmas.
This episode features one of my favorite depictions ever of the Batman origin. It's so simple and artful and classy, and I love it. Seriously, Batman v Superman coulda learned a thing or two from this episode. And the ending makes me tear up like a solid third of the times I watch it.
Red Tornado is so endearing to watch, I wish the series would've used him way more. Plus, the teaser features Sportsmaster as a villain, and that is glorious. How dare you not love Sportsmaster. He commits crimes! With sports!
Verdict: Great!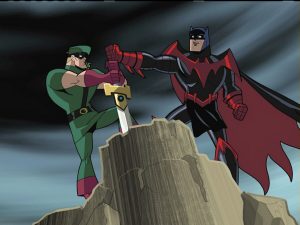 Source: goldenagecomics.com
5. "Day of the Dark Knight"
Guest Stars – Teaser: Guy Gardner, Episode: Green Arrow
For an episode in which Batman and Green Arrow travel back to Arthurian times to fight Etrigan the Demon, this one doesn't quite measure up to expectations.
It's good, all of these are, but it's more serviceable than standout. Which is sad, because the last two were incredibly solid shows. This one has great moments, especially with Etrigan's rhyming speech pattern, but it still feels like it could've come out of any Batman cartoon. Green Arrow gets some more characterization, at last, though. Since he's gonna be the go-to partner for the entire show, that's a really good thing. Plus, the Bat Knight costume is friggin' sweet.
It's sad, because I think with a more fun guest star, this one could have been better, but Green Arrow always winds up feeling like the default, even if he's well acted and written. And I like the competitive streak between the two, it plays off their relationship in the first episode's teaser.
Verdict: Decent.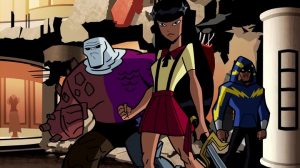 Source: dc.wikia.com
6. "Enter: The Outsiders"
Guest Stars – Teaser: B'Wanna Beast, Episode: Wildcat, the Outsiders (Black Lightning, Katana, Metamorpho)
Sir, please don't enter The Outsiders.
This episode is pretty fun, and it does a lot of character groundwork. First, we have Wildcat's mentorship of Batman, and his fears that he's growing too old for crime fighting. Then we've got the youthful rebellion of the Outsiders, who feel like outcasts because of their superpowers. I like these Outsiders. Black Lightning and Katana are great, and, while I'm more a fan of Metamorpho's classic incarnation, this version is also good. Bats and Wildcat win over The Outsiders, and convince them to turn to the side of good, specifically under Wildcat's training. Good arc, good character work, solid ending. Fun episode, overall.
Really enjoyable chase scene midway through, too.  Oh, and in the teaser we meet B'Wanna Beast, whose power is to horrifically fuse two animals together in a way that ensures that both animals are left with permanent psychological scars. HE MAKES A PELICAN SHARK BY TACKLING A PELICAN INTO THE OCEAN LIKE HE'S TRYING TO MURDER-DROWN IT. If that doesn't make you wanna watch, I don't know what will.
Verdict: Good.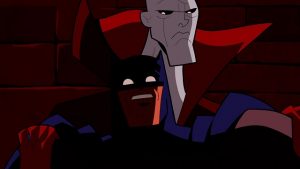 Source: dc.wikia.com
7. "Dawn of the Deadman"
Guest Stars – Teaser: Kamandi, Episode: Deadman, Green Arrow, Speedy
Wooo! More Gentleman Ghost! Gentleman Ghost is maybe my favorite recurring villain on this show. And although this isn't my favorite of his episodes (that one will come on another list), it's a really good one.
While in London, Batman is attacked and buried alive by the Gentleman Ghost, who is attempting to raise an army of the dead. Batman astral projects his spirit out of his body and meets Boston Brand, aka Deadman, a wandering ghost who has become disillusioned with unlife. He helps Batman get the attention of Green Arrow and his sidekick Speedy, who free Batman's body so the quartet can defeat Gentleman Ghost's army of ghost criminals.
Brand is a fun character, and I'd totally watch more of him, especially since I think he's the type of character who would make a great addition to the main cast. Teaser gives us some Kamandi, which is okay. I like Kirby, but I've never been a Kamandi fan, so this opening was kind of meh. But the rest of the episode? All-star great.
Verdict: Pretty good.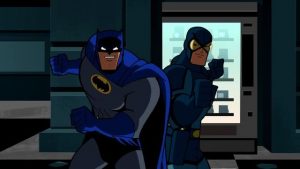 Source: superheroshows.blogspot.com
8. "Fall of the Blue Beetle"
Guest Stars – Teaser: Blue Beetle (Ted Kord), Episode: Blue Beetle (Jaime Reyes)
Well, this is a seriously great episode. And we're starting to see how much more serious this show can get.
The episode follows the current Blue Beetle as he finds out about Batman's relationship with the previous one (played by the awesome Wil Wheaton), and decides to look into why he isn't around anymore. This episode is a peak example of why this show is great. It's both a fun storyline with some serious and heartfelt moments, and it also serves as a love letter to its guest-starring character.
I'm a huge Ted Kord fan, and this is the best possible version of him we could've ever seen on screen. They play him as Batman's parallel, someone who is just as smart and capable, if not more so, given his actions. Plus, this one has a fun twist that works really well, leaving us unsure of where it's going at any one point.
Verdict: Excellent!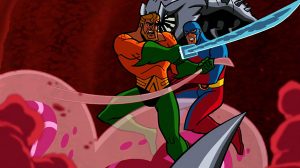 Source: basementrejects.com
9. "Journey to the Center of the Bat"
Guest Stars – Teaser: Plastic Man, Elongated Man, Episode: Aquaman, Atom
Man, two really good ones in a row! Sweet! This one is great because it's an Aquaman episode, and Aquaman is the breakout star of the show. He is the best-iest.
In the episode, Batman contracts a horrible techno virus from battling Chemo, and Aquaman and the Atom shrink down to go fight the battle inside Batman's body. At the same time, a sick Bat works to stop Chemo and his boss, The Brain.
Part of the fun of this one comes from the fact that the episode's team-up doesn't involve the Dark Knight. Atom and Aquaman play off each other really well, and their white blood cell buddy (named Platelet) is my favorite thing ever. Plus, we get French-accented Brain, which gives me joy in my cold dead heart. This one loses a point for making Elongated Man annoying in its teaser, but wins it back for the rest of the ep.
Verdict: Great.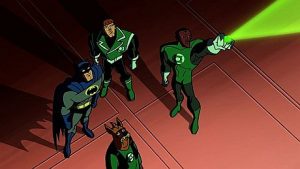 Source: mattsignal.blogspot.com
10. "The Eyes of Despero"
Guest Stars – Teaser: Dr. Fate, Episode: Green Lantern Guy Gardner, Green Lantern G'Nort, Green Lantern Sinestro
Another episode that is good rather than great, but that's okay. This one opens with the majority of the Green Lantern Corps (including a Hal Jordan cameo) mysteriously disappearing during combat with cosmic conqueror Despero. So now it's up to Batman and the three Lanterns who were imprisoned in the GL equivalent of a time-out chair to save the day.
So the fate of the world rests on the shoulders of the angry and jerkish Guy Gardner, the dumb but lovable G'Nort, and the cold and calculating Sinestro. They go off, fight Despero, and things don't exactly go the way they planned. Look, you don't have to be a comic book nerd to know that maybe the dude named "Sinestro" isn't totally on the up-and-up.
The real star of the ep is G'Nort, who is adorable and he's my baby and I love him. All and all, the ep is fine, but after two home runs, it suffers in comparison.
Verdict: Good.
And that's the first ten episodes of Brave and the Bold, the most underrated superhero cartoon of all time. At some point in the future, I'll take a look at the next ten, because I love this show. And if anything I actually said piqued your interest, go give the show a shot, it's quite excellent. Presuming you actually read the article and didn't just scroll down to the comments to screech about how it wasn't dark enough.
*Sigh*, the Internet. I'm gonna go watch the Aquaman episode again.