After years of bouncing around between film and TV, and from network to network, it looks like Garth Ennis, Darick Robertson, and Russ Braun's The Boys is coming to Amazon. Maybe. So I thought I'd take a look at my guilty pleasure comic, a comic that I can't even decide if it's good or not. But I like it. So let's revel in some nastiness, and talk about the best arcs and issues from The Boys. MAJOR SPOILERS THROUGHOUT. I AM NOT GIVING ANOTHER WARNING, SO BE ADVISED.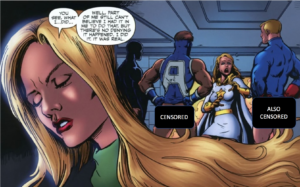 Source: funnyjunk.com
10. Believe
(The Boys #44-47)
It's time yet again for Believe, a Christian Superheroics festival attended by The Seven and numerous other heroes!
And just in time for Butcher to find out that Hughie's new girlfriend Annie January is secretly Starlight, the newest member of the Seven. He no longer thinks Hughie is a traitor, but he needs to figure out what to do about it, anyway. Also, Hughie and Annie's relationship is undergoing strain due to their mutual secret-keeping.
This story also goes a long way toward setting up the final arcs of the book. It's a brutal end of the second act. And the Homelander's plans are slowly coming to fruition, which should make everyone afraid. Relationships start to fray. Not just Annie and Hughie's, though. This is the arc in which Annie starts to separate herself from the Seven and stand up for herself.
And it's the arc in which Butcher begins to do things that aren't exactly likable. In fact, they're downright horrific, and the series progresses.