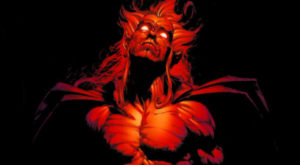 Source: comicbook.com
8. Marvel's The Devil
We'll get to the Christian god at some point. But first, we should talk about his opposite number.
Despite the shockingly small number of references to a "devil" in the actual canonical Bible, The Devil left a lasting impression on pop culture. Marvel's devilish side is actually quite populous. There's Azazel, who got retconned into being Nightcrawler's dad, because comics are sometimes dumb.
We also have X-Men and New Mutants villains S'ym and Nastirh, who usually fought Magik and eventually wound up causing Inferno. And they both also became techno organic? It's weird.
But Mephisto is the big one. Mephisto is pretty much THE Devil when it comes to Marvel comics. They also have a Lucifer who sometimes shows up in Ghost Rider, but Mephisto is the go-to demonic figure who fought Silver Surfer, the X-Men, X-Factor, the Avengers, etc. He's also the first person Thanos talked to after he assembled the Infinity Gauntlet. He's a good listener.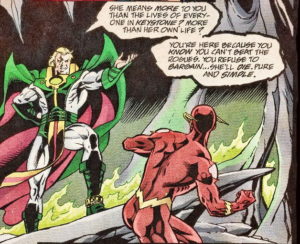 Source: tumblr.com
7. DC's The Devil
Like Marvel, DC has a number of Satans, including Belial, the three Lords of Hell, and the one we'll focus on here, Neron. Neron first appeared in the '90s event comic Underworld Unleashed, in which he appeared to villains across the earth and promised to supercharge their abilities in exchange for their immortal souls. That was pretty fun.
Most of these villains immediately said yes, and that was how we got Charaxas, aka Killer Moth, who at that time was an actual mothman. He also turned Blue Devil into a genuine demon, rather than just a guy in a suit, and that was definitely for the better.
Neron's creepiness is off the charts, and the neon green color pallet that goes along with him is all-time great. It practically glows on the page. Neron would appear on and off for decades, most recently popping up in Apollo and Midnighter. But as far as abilities go, he's nowhere near as strong as Mephisto.
Winner: Marvel