It's been a while, folks. But welcome back to the First Ten. This is a recurring series in which I look at the first ten issues of a comic book series to see how it found its footing.
One of my first installments in this series was for the Dan Abnett and Andy Lanning series Nova, and today we're discussing its sister book by the same team. But this one had a much greater impact.
The series spun out of the Annihilation Conquest event, specifically its tie-in miniseries about Quasar and Star-Lord. It's also responsible for forming the Guardians team that would go on to be in the feature film. Rocket, Drax, Gamora, Groot, Star-Lord, and Mantis all joined the Guardians for the first time during this run. The team was previously composed of a completely different group of characters.
This series ran a total of 25 issues, beginning in July 2008 and ending in June 2010. It crossed over somewhat heavily with the various Marvel cosmic events and went on to inspire a major motion picture.
So let's get into it.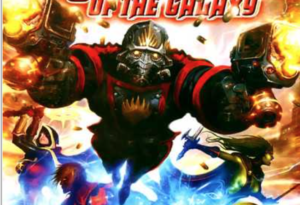 Source: comicvine.gamespot.com
1. Somebody's Got to Do It
Writers: Dan Abnett and Andy Lanning
Artist: Paul Pelletier
One of the things that becomes most apparent when doing these rundowns is how important a first issue is. Hitting the ground running can be a great way to launch a book. Hell, it worked for Nova, and it still works here – just not quite as much.
The one criticism I have of the first issue is that readers who haven't read Annihilation: Conquest are pretty much lost. Now, I did, so I'm on board. But it's very much a sequel to that event, and it needs that context.
On the good side: pretty much everything else. The issue focuses on the Guardians' first mission, which involves dealing with a threat posed by the Church of Truth, who worship Adam Warlock. The field team for this issue includes Star Lord, Drax, Gamora, Rocket, Adam Warlock, and Quasar; with Mantis, Cosmo, and Groot back at base. It rules really hard, and it's incredibly fun.
And marketing the Guardians as the pro-active cosmic team is a great way to handle things. The device of using the debrief logs like OTF interviews for a reality show is smart, and it helps introduce the reader to the vast array of characters.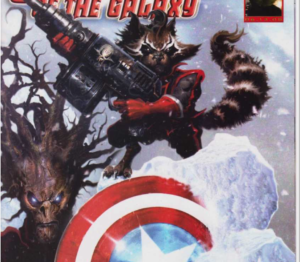 Source: comicvine.gamespot.com
2. Legacy
Writers: Dan Abnett and Andy Lanning
Artist: Paul Pelletier
It's funny how quickly this book ties itself back to classic Guardians of the Galaxy lore.
In this issue, the team responds to an alert about a disturbance in space, where they find a ton of Limbo Ice. Encased in that ice is the gate to Avengers Mansion; a bunch of weird leech monsters; and Major Victory, aka Vance Astro, leader of the classic Guardians of the Galaxy team. Vance seems displaced, and doesn't know where or when he is. He just knows that he needs to be in the year 2008 for some reason.
I love that this team of Guardians gets their name from the team that exists in the far future. As Adam Warlock points out in this issue, history doesn't repeat itself, but sometimes it rhymes. I've never really read very much about Astro's Guardians team, but I'm excited to learn about them through this series.
Especially since the cover for the next issue has Starhawk on it.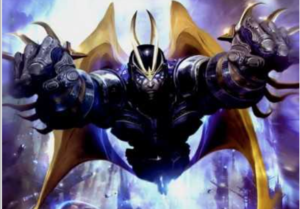 Source: comicvine.gamespot.com
3. Damages
Writers: Dan Abnett and Andy Lanning
Artist: Paul Pelletier
And Starhawk cometh!
I gotta say, Pelletier's art in this series is gorgeous. Like, it's just outright beautiful and fun and dynamic.
In the actual issue, the Guardians keep fighting the Church, almost dying a horrible heat-death before Gamora risks her life to save them.
Back in Knowhere, Cosmo and Mantis are trying to look after Vance Astro when Starhawk appears. He's driven by murderous rage, and he tries to murder Vance before he vanishes. Then poor Cosmo has to deal with cleaning up the event like the good space boy he is. Also, Star-Lord begins to come into his own in this book, and I really like him.
Quasar remains my favorite among the main characters, because her Annihilation: Conquest miniseries is super awesome. But Peter Jason Quill is coming up in the ranks as a neat second.
Next issue, we get into our first major crossover. But shhhhhhh, because it's a secret one.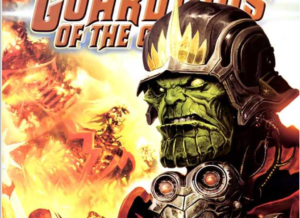 Source: comicvine.gamespot.com
4. Beyond Belief
Writers: Dan Abnett and Andy Lanning
Artist: Paul Pelletier
Secret Invasion time, folks!
Secret Invasion is a Marvel comics event from 2008. It features several main teams who've been infiltrated by Skrull sleeper agents. Here though, the Skrull stuff is pretty peripheral.
After the Guardians return from their mission, Knowhere suffers a massive explosion. In the aftermath, the security staff notices that several of those killed were actually Skrull sleeper agents, and that sends them into a panic. Meanwhile, Starhawk is still hiding on the station and stalking Vance Astro.
Even with all of that going on, there's a big revelation that's way more important. During a conversation between Mantis and Star-Lord, we learn that Star-Lord convinced Mantis to use her telepathic ability to "convince" the rest of the Guardians to join the team. Drax overhears this, and the issue ends with him less than pleased about it. But this reveal in itself is pretty great. It sets the morality level at a hard gray, and makes Star-Lord come off as a huge a-hole, which is a pretty interesting development.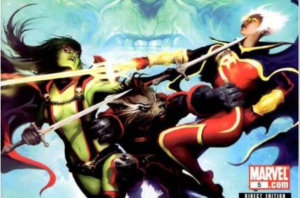 Source: comicvine.gamespot.com
5. Deception
Writers: Dan Abnett and Andy Lanning
Artist: Paul Pelletier
"¦
Holy hell. This is one heck of an issue. With Knowhere still on lockdown figuring out the Skrull problem, Drax sneaks off to do something, and Quasar tracks him. And Starhawk's back, but now he's a lady. Yup. Future is always in flux and all that.
Starhawk seems to think that Vance Astro's presence is disrupting time, starting with the fact that the 21st century isn't supposed to have a Guardians of the Galaxy team.
It looks  as though Cosmo's a Skrull, which demolishes my heart. Cosmo, no!!! You were the good boy; how could you? Oh, and Drax isn't a Skrull, but he decides that the only way to figure out who is and isn't a Skrull is to kill everyone on Knowhere and see who reverts. Lord almighty, that sure is a plan.
Again, it seems that the Secret Invasion tie-ins are what this series needed to really pick up and get going.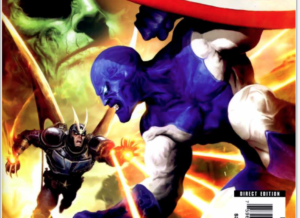 Source: comicvine.gamespot.com
6. Death
Writers: Dan Abnett and Andy Lanning
Artist: Paul Pelletier
Well, Drax killed everyone on Knowhere. Temporarily.
And it turns out that the Skrulls were actually good Skrulls who didn't support the invasion of Earth and were just trying to help people. So it's all good, right? Nope. Drax tells the Guardians about Star-Lord and Mantis's brainwashing, and the entire field team – except for Rocket – quits.
Now that we've covered the plot, let's move on to the specifics. Cosmo is a good boy again, so we're good on that front. Also, I'm surprised that they reveal Peter's manipulation to the rest of the team this early. They could have dragged it out for a while longer without giving it up, and I would have supported that.
Mantis's fears of the changing future (and what exactly is going on with Starhawk and Vance) make for a great plot line that feels mysterious and exciting. The book is finally starting to put down roots and settle in for the long haul, which is really nice. And now that we've wrapped up the first real arc, we can move on.
But who will the team members be? Just Star-Lord and Rocket? Or are we getting the band back together?
Quick side note: The follow-up on the Drax/Cammi stuff from Annihilation is much appreciated.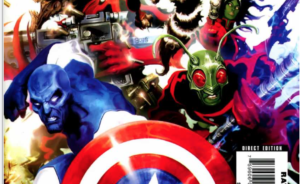 Source: comicvine.gamespot.com
7. No Future
Writers: Dan Abnett and Andy Lanning
Artist: Paul Pelletier
The team members are on the outs with each other, and everybody's up to his or her own thing. Rocket's working to keep the Guardians going alongside Groot, Mantis, Major Victory, and Bug, who are fresh from their team-up in Annihilation: Conquest. I like Bug. It's nice to see him back.
We also get more Groot and Mantis. Plus, it looks as though Starhawk and Major Victory's dark future is tied to the Badoon, the alien race the new Guardians are currently fighting.
Meanwhile, the former Guardians are all busy with their own struggles. Adam Warlock and Gamora are looking into the Universal Church of Truth and trying to figure out its Warlock connection really is.
Drax and Quasar are searching for Cammi. Buuuuuut it appears that their search is actually leading them toward Moondragon. That scene has a War of Kings callout. Not sure if we'll get to it here, but that event will hit this book hard in a little while. Finally, Star Lord is trapped in the Negative Zone, where he's confronted by Blastaar. I like Blastaar; I hope he sticks around.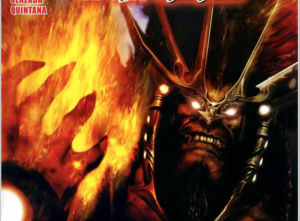 Source: comicvine.gamespot.com
8. Past Mistakes
Writers: Dan Abnett and Andy Lanning
Artists: Brad Walker and Carlos Magno
Okay, I get it now. I've been enjoying this series so far, but here's where I totally understand why it's so beloved. It rules extremely hard.
This issue reveals what happens to Star Lord between his quitting the Guardians and his face-to-face meeting with Blastaar. Turns out that Quill still feels bad about unleashing the Phalanx on Hala and destroying most of the Kree back in Annihilation: Conquest, and with the Skrull Secret Invasion in progress, he wants to warn them.
But Ronan the Accuser is not super happy about Star-Lord's big Phalanx f**k up, so he sentences him for his crimes to banishment in the Negative Zone. And there he meets Blastaar, who tells him that he's going to help the conqueror raid the inter-dimensional Prison 42 and use it to invade Earth. That is exactly the end of Marvel Universe BS that I live for.
In case you don't remember, 42 is the secret prison that Mr. Fantastic and Iron Man built during Civil War to hold the superheroes who refused to register with the government. Seeing it pop back up is so wonderful. In addition, I'm loving the new Rocket-led Guardians, especially Bug. Bug remains great, and needs to be more prominent.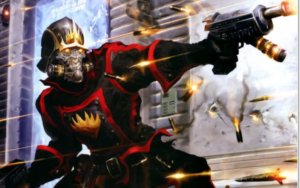 Source: comicvine.gamespot.com
9. Prison Break
Writers: Dan Abnett and Andy Lanning
Artists: Brad Walker and Carlos Magno
This arc kicks the series into high gear with some fun, focused stuff as Star-Lord is sent into 42 to talk the inmates into surrendering. The inmates are all former superheroes and supervillains, so they're obviously not interested.
At this point, we meet Jack Flag, who will soon become a new Guardian. Flag's a low-rent Captain America ally who Bullseye beat up and stabbed through the spine after Norman Osborn's Thunderbolts Squad arrested him. It's a nice little bit of continuity. Jack is effectively running 42, and he's the only guy who doesn't want to wage a head-on war with Blastaar's minions. Unfortunately, the other inmates do, and they open the gates.
Star-Lord responds in the most understandable way possible: by beating on a D-List Spider-Man villain until he agrees to send out a telepathic distress call to Mantis. That Spider-Man villain is Carrion, in case you're curious. I'll give you a minute to look him up.
Our issue ends as the Guardians arrive at 42 to rescue Star-Lord and stop Blastaar from conquering the earth. The Skrulls are having a go at the same thing, so maybe it's not the best time, Blastaar?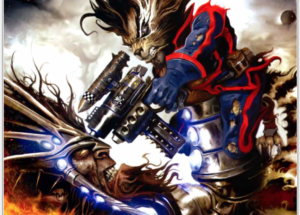 Source: comicvine.gamespot.com
10. Blastaared
Writers: Dan Abnett and Andy Lanning
Artists: Brad Walker and Carlos Magno
This issue concludes the second major arc of Guardians of the Galaxy, and it does so with gusto. In it, the Guardians rejoin Star-Lord; welcome Jack Flag; and bounce to Earth, where they make sure Reed Richards knows to never, ever open the portal to 42 again. This is also the first meeting between this Guardians squad and the rest of the Marvel Universe, which is fun.
Blastaar is stymied at the gates, and it looks like another major threat is all wrapped up. But it does look as though this book is still headed somewhere, and that's fun, too. It repeatedly teases the War of Kings – first, Adam Warlock describes it as a horrific event that needs to be stopped, and second, Starhawk says it will be the war to break all of time. So it seems like big things are coming to our Guardians team. And with that, we'll wrap up our look at these ten initial issues.
In all, I'd say the book takes a little time to get great. But, by the end of the first arc, it's pretty much there. By the end of the second, it's rocking on all cylinders. It's plain to see why Marvel thought these galactic jokesters would make a phenomenal film. And boy, did they.
You can get these comics in the various trade collections of the Abnett and Lanning run or, if you're like me and hate having money, you can pick up the massive Marvel omnibus they put out a while back. It's pretty great, and friggin' massive.