It's been a while since Infinity War, and Marvel already has another movie in theaters, so I think it's safe to talk about the film's conclusion.
Something unprecedented happened at the end of Infinity War – something totally unreal, strange, and never before seen; something that left my jaw agape in surprise.
Thanos actually won for once? Like, that never happens. Seriously, Thanos is as much a perpetual loser as Charlie Brown. He's a failure who sucks at accomplishing anything, ever. It's weird as hell, and I don't know what to do about it. So I thought I'd walk you guys through Thanos' history with this list of his embarrassing failures and defeats.
We're going to look at how everyone from the Silver Surfer to Squirrel Girl obliterated this guy in a string of failures so profound and numerous that it makes the US Housing Industry look like the Gold Standard. But to understand Thanos' many…many…many failures, we have to start way back at the beginning.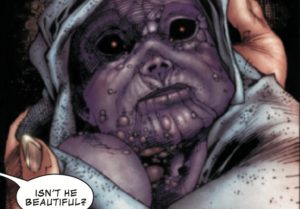 Source: tmstash.com
Chapter One: Thanos is Defeated by Life
Thanos was born an Eternal on the planet Titan, where a genetic condition known as deviant syndrome caused him to be huge and purple and all bumpy-chinned.
His mother responded in totally fashion by immediately trying to  murder him, but he survived and became a precocious child with violent impulses. Then he met a flirty girl who encouraged his violence and drove him to ever greater acts of revenge.
After Thanos spent some time pillaging around the galaxy, he fell in love. When he made his desire known, the girl told him that the only way they could be together was for Thanos to track down the many women he'd been with – and the children he'd sired – and kill them all. Thanos complied, then realized that his mystery woman was the avatar of Death itself. This drove him insane and left him with his famous obsession and his Mad Titan status.
Lesson Thanos Should Have Learned: Don't  fall in love with someone without first asking their name and whether they're a specter of death.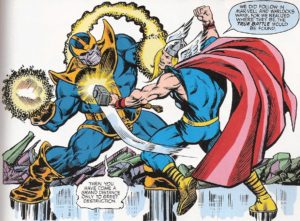 Source: bronzeagebabies.com
Chapter Two: Captain Marvel and the Avengers Defeat Thanos
Thanos' first experience in actually fighting the Marvel Universe came when he obtained a Cosmic Cube (the Tesseract, for any cosmic squares reading this) from AIM and used it to conquer the universe.
But you can't conquer the Marvel Universe without raising someone's hackles, so before too long Captain Marvel (the Mar-Vell version) and the Avengers showed up to squash his fun. Thanos siphoned the power from the Cosmic Cube, and decided he was done with it. He then made like a real adult, and threw it on the ground. Captain Marvel just sorta went over, picked up the cube, and used it to very easily defeat Thanos.
Thanos fled, and his girlfriend – Death – dumped him for his failure. Ouch. To be honest, the Avengers didn't even really do much besides beat up some of Thanos' minions. For a first attempt, it still wasn't great. I mean, he got farther than most, but he also lost in a super embarrassing manner. As we're about to see, that's pretty typical.
Lesson Thanos Should Have Learned: If you have an item of ultimate power that is granting you victory, maybe shouldn't put it down until everything is totally settled in your favor. And even then, still hang on to it.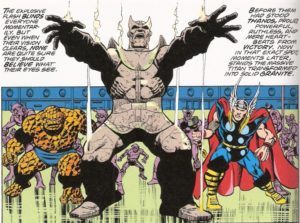 Source: chasingamazingblog.com
Chapter Three: Spider-Man and the Thing Defeat Thanos
So Thanos went through the typical break-up ritual: He hung around in his underwear, ate some ice cream, plotted to kill every single being in the universe…you know the drill.
Yeah, he decided to win Death back by giving her every living creature. I have to say, this is a flawed plan. Like, being Death is her job. By killing everything, you are just massively overworking her, and then making her immediately obsolete. Nice gift, Thanos. You coulda just given her your helicopter.
So Thanos decided to go about achieving this goal by collecting the Soul Gems. I've gone over the whole deal with the Soul/Infinity Gems/Stones in a PREVIOUS ARTICLE. Here, I'll just say that they're all the same thing.
Thanos collected almost all of the Soul Gems, except the one in Adam Warlock's head. He didn't want to deal with that. Then he captured Captain Marvel and the Avengers, and wound up killing Adam Warlock for good measure. Looking good, Thanos, you're rocking this whole thing.
Then Spider-Man and the Thing showed up. They found a way to resurrect Adam Warlock, and he imprisoned Thanos in stone, where he'd live an unholy half-life without the escape of death. Cold, Adam, cold.
Lesson Thanos Should Have Learned: If you're going to get your girlfriend a present, first make sure it's something she actually wants.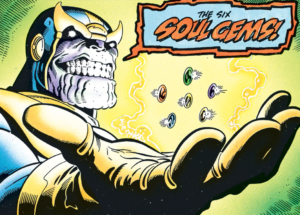 Source: tumblr.com
Chapter Four: The Silver Surfer Defeats Thanos
The next chapter in the Thanos saga was the creatively named Thanos Quest.
Death fixed Thanos, and our big purple boy immediately went about trying to murder the Silver Surfer for pretty much no reason. And he didn't even really fight the guy; he mostly just toyed around with him and then faked his own death, which is barely even a challenge.
Thanos then went around and beat up the Elders of the Universe so he could collect the Infinity Gems. After he did that, he"¦went back and messed with the Silver Surfer some more.
That's just a waste of opportunity. It's like when someone gets a promotion, but can't stop doing the old job for the new hire. Just move on, dude. You have the power of the whole universe literally in your hand (or on it, rather). Can you please use it more seriously?
Lesson Thanos Should Have Learned: Literally what I just said. Scale your dreams to your capabilities, guys.
                                          Source: vox.com
Chapter Five: Adam Warlock and Nebula Defeat Thanos
And now for the Infinity Gauntlet.
Thanos wiped out half the universe, and the Avengers and Fantastic Four and everyone else showed up to stop him. Blah blah blah…You know the drill. But after Thanos pretty much won, he lost – this time for psychological reasons.
Turns out that A: Death was no longer really into him, and that robbed him of all motivation for his actions. And B: Having the Infinity Gauntlet gave him all the knowledge in the universe, which accidentally gave him enough intelligence to realize how ill-equipped he was to deal with all that power.
In Thanos' moment of weakness, Nebula got the glove off and Adam Warlock acquired the gauntlet for himself. This may be the only thing Adam is known for in most circles. And it's also why it took me until the 2008 Guardians of the Galaxy series to really like the character. I once described him as "a mannequin that someone occasionally puts the Infinity Gauntlet on". Now I see that this wan't really fair. The combined efforts of both Adam Warlock and Nebula took down Thanos.
Lesson Thanos Should Have Learned: Stop trying to kill half the universe, dude. It never turns out well.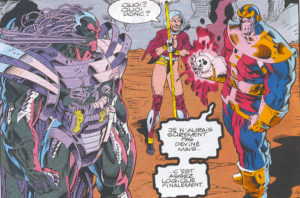 Source: comicvine.gamespot.com
Chapter Six: Tyrant Defeats Thanos (In Theory)
After his epiphany, Thanos became a good guy for a while, palling around with Warlock and the Infinity Watch, and defeating a number of threats to the universe.
But we need to talk about Tyrant and his whole deal first. Tyrant was Galactus's robot son. Yes, I know. Essentially, Galactus was bored and lonely one day, so he built a robot to be his friend/son. Unfortunately, while Galactus only eats planets to survive, Tyrant was…well, a tyrant. He conquered and reigned and did evil all over the galaxy.
Galactus eventually had enough and defeated his robot son, then stripped him of most of his power and banished him. Tyrant then returned and tried to conquer the universe again. But Thanos and several former associates of Galactus got involved and stopped him.
Thanos went up against Tyrant one-on-one for a time before making his escape. When asked if he was, you know, going to help out further, Thanos said, "Naw, I'm good. Plus, I thought about it, and Tyrant would have murdered me if I tried."
Lesson Thanos Actually Learned This Time: Pick your battles.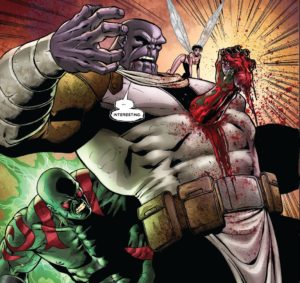 Source: boundingintocomics.com
Chapter Seven: Drax the Destroyer Defeats Thanos
Annihilation time, folks!!!
When Annihilus decided to conquer everything that ever was, Thanos thought that seemed like a pretty sweet deal and hopped on board as an ally. This turned out to be the wrong call, though. After Thanos helped Annihilus capture Galactus, Moondragon revealed to the Mad Titan that Annihilus's plans weren't exactly for domination of the galaxy. No, his plans were to annihilate it.
They wanted to burn down the friggin' universe, and contrary to his previous attitude, Thanos was super not down with that. He very much wanted to rule, not to destroy, at least not since his Infinity Gauntlet-induced revelation.
Thanos had a change of heart and went to release Galactus. At that point, he had another change of heart. By which I mean his heart was shifted from inside his body to a different locale when Drax the Destroyer punched through Thanos's chest and ripped it out.
Lesson Thanos Should Have Learned: Look behind you, my dude. Drax isn't exactly sneaky; he shouldn't be able to catch you by surprise.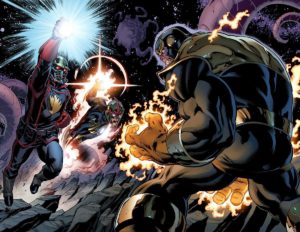 Source: pinterest.com
Chapter Eight: Nova and Star-Lord Defeat Thanos
After that death, the Universal Church of Life found Thanos and forcibly resurrected him, which made him very angry.
At the same time, the Cancerverse – a dimension without death – was encroaching upon all of reality. The Guardians struck an uneasy alliance with Thanos to stop this invasion, and Thanos played along. Mostly. He did have to kill Drax after Drax tried to kill him. But nobody's perfect.
Thanos lured Death to the Cancerverse and destroyed the whole thing. But Death still rebuffed Thanos's advances, and that made him angry. He decided that he'd just have to kill another universe to get Death to love him.
With the universe falling apart around them, Star-Lord ordered the Guardians to teleport out while he and Nova stayed behind. Their goal was to keep Thanos occupied for 60 seconds, the time it would take for the universe to collapse and kill all three of them. So, Star-Lord and Nova sacrificed themselves to save the universe.
Lesson Thanos Should Have Learned: Don't get distracted. Focus on your goals.

                              Source: vsbattles.wikia.com
Chapter Nine: The Avengers and the Guardians of the Galaxy Defeat Thanos
Buuuut our story isn't over just yet, because, as I'm sure you've guessed, Thanos cheated death again.
This time he resurrected himself by"¦mumble mumble…cop out…mumble mumble…and he decided to gather all the weird cosmic gizmos in the Marvel Universe, including the Cosmic Cube and the Ultimate Nullifier. Unfortunately for him, a random gathering of Avengers – the same team members from the 2012 movie (guess what year this comic came out) – decided to do something about it.
Thanos' activity was so worrying that the Guardians of the Galaxy, fresh of their last fight with Thanos, showed up to help out the Avengers. This was sorta like the Avengers comic to hand to anyone who liked the movie. It played up the Avengers, explained who that end credits guy was, and introduced the team that would soon be part of the MCU.
Lesson Thanos Should Have Learned: If you want to stay dead, don't make a cameo in a billion-dollar movie.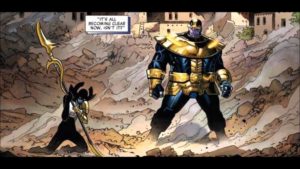 Source: youtube.com
Chapter Ten: Thane and a Whole Bunch of Other People Defeat Thanos
And that brings us to 2014's Infinity, a big Marvel cosmic event in which about Thanos sent his Black Order to Earth as a galactic war raged in space.
This is where we got the weird aliens that menaced the MCU Avengers in Infinity War. Thanos first attacked the Inhumans in Attilan, and that culminated in Black Bolt detonating the city around him. This didn't work.
Thanos eventually managed to track down his last son, Thane. But Thane was strong enough to overpower his father and imprison him in living amber. Thanos suffered numerous defeats after that. Dr. Doom murdered him by having his spine ripped out during Secret Wars, he was beaten up in the opening salvo of Civil War 2, and had a long fight with the Ultimates.
The Civil War 2 fight is of particular note, mostly for the effect Thanos had. He was able to punch through War Machine's armor and kill him, which kicked off the conflict between Iron Man's band of heroes and Captain Marvel's more proactive group.
Lesson Thanos Should Learn Already: Just stop, Thanos. Just…stop.
There you have it: A history of Thanos's failures for you to rub his nose in. I feel confident in saying that after 2019's Avengers 4, we'll have one more to add to the list.