Welcome back to our long, hard look at the newest wave of Lego Batman minifigures and what they mean in terms of comic book and Batman history. Last time, we covered some villains, some oddities, and some Super Friends. This time, we have more of the same. But we also delve into some non-Batman characters, and I try to find new and different ways to talk about four different vacation-themed Legos. I did not need this headache this week.
                                                                      Source: brickbybrick.gr
11. Swimming Pool Batman w/Dolphin
I won't use this entire entry to talk about that dolphin that Batman secretly hates. I will not use this entry to discuss the dolphin Batman hates more than he hates The Joker. I will no…Okay, I'm going to talk about that one dolphin that Batman hates.
Fluke the Dolphin is friends with Aquaman in the criminally underrated animated series Batman: The Brave and the Bold. In that series – specifically, in the first episode – Batman describes Fluke as "the most annoying creature in the entire universe". He also visibly hates this dolphin as much as possible.
But here's the thing: We've seen Batman interact with The Joker in this show. He does not hate THE JOKER as much as he hates this dolphin. Joe Chill, who killed Batman's parents, is the only character in the series who inspires such a degree of anger in Batman angry. This begs the question: What did Fluke DO to earn such enmity?
I never want to know.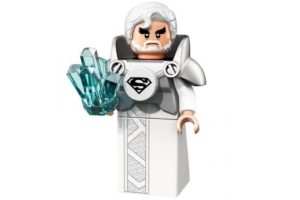 Source: kubik-shop.by
12. Jor-El
Um"¦This is new. I was prepared to talk about Batman stuff this week, not Superman stuff. I'll have to change my hat for this.
Okay. Jor-El was a Kryptonian scientist who was deeply worried about his home planet, so he stuck his baby in a rocket and shot it into space. That baby would crash land on Earth and grow up to be Superman. There are tons and tons of versions of Jor-El.
Original Recipe Jor-El was very proto-Superman, with a superhero-ish outfit and the Clark Kent good looks. Later, they'd reinvent Jor-El as an emotionless scientist on a very different version of Krypton. Then someone wanted to bring back the original, and they sorta did. And some people who liked that "˜70s movie started to turn him into Marlon Brando. Or a soldier/scientist.
They recently brought him back to life as a villain, because everything even partially related to Doomsday Clock is bad and disappointing. Ugh.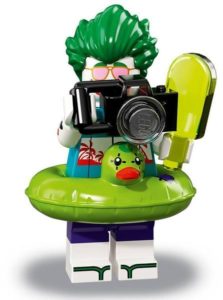 Source: thebrickpeople.com
13. Vacation Joker
Okay, first Vacation Lego. Well, with this one, it's actually easy to find something to talk about, because it's a clear reference to something I know about: The Killing Joke.
Alan Moore and Brian Bolland's The Killing Joke is typically one of the first Batman comics that people read. And if that's the case for you, you'll probably like it! But here's the thing: It actually isn't very good. There's no doubt that it's fine; even the worst Alan Moore/Brian Bolland comic is excellent from a craft perspective. But this isn't their best work, either as individuals or as a team. Even Alan Moore has come out and said that he doesn't think it's good. Especially if you buy the recent release.
The original was colored in a hurry, giving it these weird chromatic designs that made it haunting and weird. The recolor strips all of that away. The writing is okay, but it turns Barbara Gordon into a prop for the purpose of torturing Batman and the Commissioner, which is kinda gross. The scripting ranks among Moore's lazier work, and it wasn't even supposed to be in continuity until some writers put Batgirl in a wheelchair in the main comics.
If you want an awesome Alan Moore Batman story, go pick up that DC Universe: The Stories of Alan Moore collection. It includes the super underrated Mortal Clay, which is a thousand times better than Killing Joke!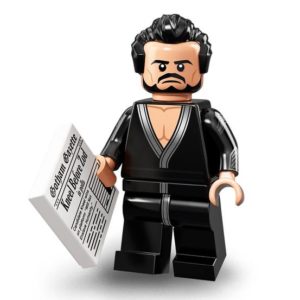 Source: shopify.com
14. General Zod
More Superman characters? This is not at all what I signed up for.
General Zod is a classic Superman villain, but it's hard to talk about him, because there have been oh, so many versions. Original Zod, General Dru-Zod, was a Kyptonian military man who tried to overthrow the government. They threw him into the Phantom Zone, but – joke's on them – it enabled him to survive Krypton's destruction. The '80s brought us Pocket Universe Zod, who lasted literally one month and then died.
Good"¦Good job, I guess?
Then there was also that weird Cosmonaut Zod that no one remembers from the early 2000s. And Regular Zod and New 52 Zod. Sometimes there were multiple Zods within years of each other. But the minifig and the LEGO Batman Movie character were based very specifically on Terrance Stamp's turn as Zod in Superman 2. This made Zod an icon.
Kneel before Zod, dudes.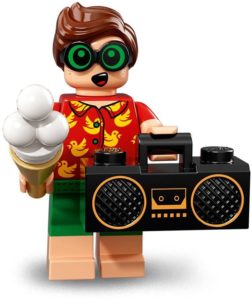 Source: brickbybrick.gr
15. Vacation Robin
Well, Dick Grayson has vacation gear on. But that's not especially notable, because he travels a lot. And not just with Batman, either. He started out as a world traveler with"¦Haly's Circus! That's right, we're talking about circuses now.
Like The Greatest Showman, but without all that bad pseudo-Imagine Dragons music. Run by the under-characterized Mister Haly in the original and the more developed Garrison Haly in the New Earth version. The star attraction was the Flying Graysons, a family of aerialists who endanger their son's life on a nightly basis.
We – and child services  – were surprised to see that it wasn't Dick Grayson who took the fatal fall. Tony Zucco, a common thug, sabotaged the ropes, and John and Mary Grayson fell to their deaths.
As an adult, Dick would take over the circus. He tried to run it until the Joker attacked, and the combined forces of evil supervillains and popular demand on the entire world closed the circus for good.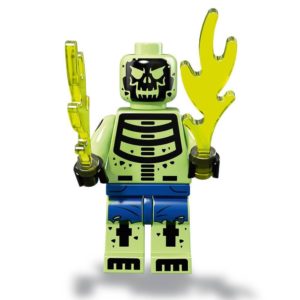 Source: brickbybrick.gr
16. Dr. Phosphorus
I love good ol' Dr. LightBrite.
And no, this isn't Blight, but you're easily forgiven for that misconception. Dr. Phosphorus was once a simple man named Alex Sartorius, and he wanted to open up a nuclear power plant in Gotham City. I think that might be"¦Hang on; I'll check. Yes, it is! That IS the worst idea anyone has ever had!!! I think I have an award here somewhere, probably under all these Who's Who comics.
Anyway, the plant melted down, irradiating Sartorius and turning him into a horrible skeleton man with radiation powers. He's so flippin' scary-looking, I'm shocked that he isn't more widely used. Honestly, the most memorable version of the character isn't even him!! It's Blight, a completely different character from the Batman Beyond cartoon, who took significant visual cues from our good doctor.
See, toldja we'd get back around to it. I am nothing, if not honest.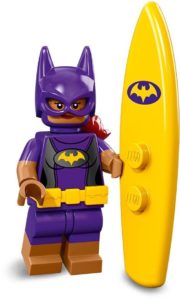 Source: brickbybrick.gr
17. Vacation Batgirl
As much as I love Batgirl, this entry isn't gonna be specifically about her, because it's gonna be about that surfboard. Batman on a surfboard is a classic piece of media iconography, so we have to look at where that comes from!
In an episode of the '66 Batman TV show titled Surf's Up! Joker's Under!, set in the middle of the explosion of surfing culture, Batman wanted to cash in. So did The Joker, it seems, and he went to mess around on Gotham's Beaches. He kidnapped a teen surfing whiz so he could use his brain-swapping machine and"¦be really good at surfing.
It seems like there must be an easier way to do that. So Batman and The Joker had a surfing competition as Robin and Batgirl just sorta watched. Then there was a fight scene, and the episode ended. But it will live on through gifs for all of history and time.
Cockroaches may one day rule the earth, but they'll still be entertained by Adam West ruling the waves.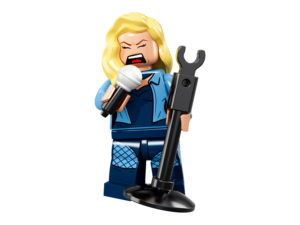 Source: coleka.com
18. Black Canary
Aw, man, I want this one.
I love Black Canary. Dinah Laurel Lance is a straight-up badass. The daughter of the original Black Canary, Dinah took on the superhero identity with gusto. She was a founding Justice Leaguer, in fact. JLA: Year One is among my personal favorites when it comes to comic books, and she had a fantastic role in it.
She served as the bridge between the older generation of Golden Age Justice Society heroes and the newer Justice League brigade. I wish the New 52 hadn't come around to erase all of that. Canary found her place in the DC Universe through her associations with others. She was the more likable half of her romance with Green Arrow, a founding member of the Birds of Prey, the youngest JSA member, and the best JLI leader.
What an awesome, criminally underused character.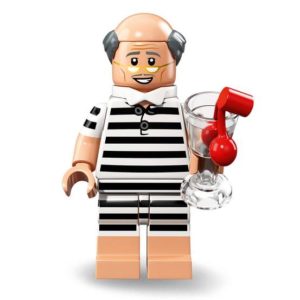 Source: shopify.com
19. Vacation Alfred
I know that the black and white striped thing Alfred is wearing here is meant to be an old timey bathing suit, but it's still a black-and-white striped full body costume. So let's talk about the most important time Bruce Wayne wore one of those: Bruce Wayne: Murderer!
Ah-ha! Told you I'd find something to talk about. Bruce Wayne: Murderer and its follow-up, Bruce Wayne: Fugitive, start out with a pretty awesome inciting incident.
After a long night of being Batman, Bruce comes home to Wayne Manor and finds a murdered woman. Before he can do anything, the police burst in on an anonymous tip and see the whole scene. Bruce has no alibi, because he can't reveal his secret identity. So he's arrested.
What ensues is a big Bat-book event about clearing Bruce Wayne's name and finding the real culprit. It's fun, and I won't spoil it here. Go check it out.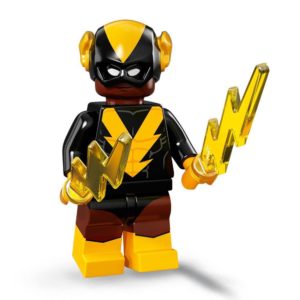 Source: brickipedia.com
20. Black Vulcan
Time for a history lesson, boys and girls!
Black Vulcan isn't just a Super Friends character; he's a great piece of trivia, as well. In the 1970s, DC comics was all set to create a black superhero. That superhero was The Black Bomber, a racist white man who could hulk out and become a black superhero. Writer Tony Isabella realized what a horrible idea that was, and pitched a new character named Black Lightning.
Black Lightning was an actual black man, a teacher who used lightning powers to defend the inner city of Metropolis against crime and racism. The comic was a success, and Isabella was officially credited as its creator, but he later left the company due to creative differences. When the Super Friends producers were looking for more diverse characters to add to the Justice League lineup, they found Black Lightning and wanted to use him. DC told them no problem, but they had to pay a royalty fee to Isabella, the character's creator. Hanna-Barbera said they weren't gonna do that, and created Black Vulcan instead.
A cheap knockoff done to get out of paying royalties. What a depressing note to end on.