When the first wave of Lego Batman minifigs was released a while back, I put together a little two-part column in which I talked about each one and their secret ties to comic book history. Now that Lego has decided to release a new 20-figure wave of these guys, I figure I should do another one. So in this list – and in a follow-up later this week – I'll analyze each and every one of the figures, and teach you the super-secret comic book history hiding inside the plastic.
                                                                           Source: ebay.com
1. Disco Harley
Let's talk about the musical history of Batman villains. Because some of them, like this disco-ed out Harley Quinn, sure do have their own musical history.
I'll limit my research to three for the purpose of this entry. First up, Harley's beau, The Joker, has a famous musical moment in Christmas with The Joker (the first produced episode of the Batman Animated Series in which Joker appears). The Clown Prince of Crime makes his entrance singing the oft-repeated parody version of Jingle Bells, about Batman smelling and other such things. Fun fact: It's highly possible that in this universe, Joker made up the song himself, which is funny.
Johnny Karaoke is another notable musical Bat-villain. He sings karaoke and tries to murder people with a sword. He also dies after like three appearances. He's great.
For our ultimate and final musical Bat-villain, join me for our next entry"¦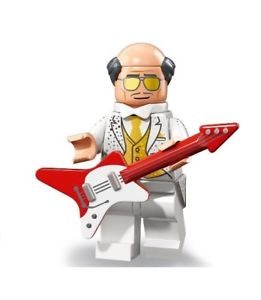 Source: ebay.com
2. Disco Alfred
"¦because we're going to talk about Batman's history in actual straight-up musicals!
The big one is Mayhem of the Music Meister!, an episode of the Batman: Brave and the Bold animated series featuring hypnotic music-based villain Music Meister, who almost succeeds in conquering the world. That is, until Batman and Black Canary stop him. Music Meister rules. Neil Patrick Harris plays the character, and he rules, too.
During the late 1990s and early 2000s, Warner Bros. came close to partnering with composer Jim Steinman on an official Batman musical. The project never happened, but you can find some of the songs online. They're weird. Not bad at all, but it's super odd hearing these earnest songs and imagining a dude in a batsuit singing them.
Finally, we have the 100 percent unofficial Holy Musical, [email protected] (sic), a funny Starkid stage musical based on various aspects of the Batman mythology. If you recognize the name Starkid, you're probably thinking of  their Very Potter Musicals, which are great fun. The actual production is deeply hilarious and super loving of the source material. If you liked Lego Batman, you'll probably love this. Keep in mind that it's for mature audiences, though.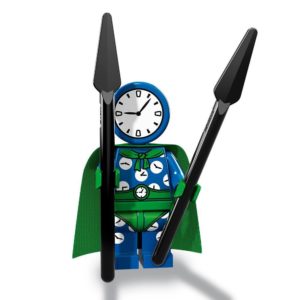 Source: brickipedia.com
3. Clock King
I love the Clock King so much that it causes me pain.
William Tockman is but one of several Clock Kings. Tockman took care of his sister for years, until a doctor told him he had six months to live. In order to help his sister, he decided to rob  a bank. This illegal, but morally understandable, act was avenged when Green Arrow beat the stuffing out of him and threw him in jail.
Because Green Arrow is a d*ck, he didn't do anything to help his situation, and Tockman's sister died while he was in prison. Also, remember how he had six months to live? Lol…His doctor made a mistake. After getting out of prison, Tockman swore vengeance against"¦Green Arrow. Okay? I mean, I get that eventually you're going to want to do that, but don't you wanna put that quack doctor at the top of your hit list, buddy? Not even a little?
Not a fan of your priorities, but I get the motivation.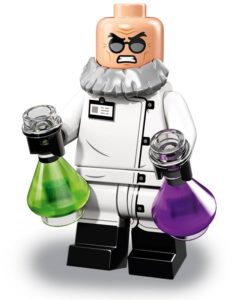 Source: brickset.com
4. Hugo Strange
It may have taken a while for Hugo Strange to get a Lego minifig, but he's one of Batman's oldest villains.
A psychologist and scientist who's become obsessed with the Dark Knight, Strange uses his Monster Men, giant monster people who obey his every whim, to attack Batman. Later, his obsession focuses more on trying to replace him as the new Batman. This seems ill-advised at best. Batman is a finely-honed master combatant with more skills and talents than a thousand men, and Hugo Strange is a vaguely dumpy psychologist who would most likely struggle to do a chin-up.
His Batman-ing plans are not going to pay off. They're just going to end with a sad psychologist dressed in a third-rate Batsuit, crying over his broken glasses before The Joker shoots him.
Most recently, Strange appeared in  the Bat-Family crossover Night of the Monster Men, in which he and his army of building-sized monsters fought Batman, Nightwing, and the Detective Comics Bat-Team.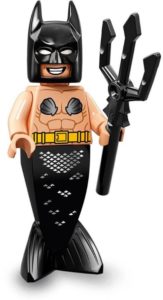 Source: brickset.com
5. Mermaid Batman
Look, some of these are waaaayyyy harder than others. Like, dumb villains? I could talk about those all day. Anyway, I found a single panel of Batman as a mermaid online, and that's it.
So, we can talk about the other types of mermaids who exist in DC Comicdom. First, we have sort-of mermaids like the Aquaman Atlanteans. They don't have sweet fish tails, but they can swim underwater and talk to sea creatures, and that's all neato.
In addition, there are more of the Gillman-type sea monsters. These are your Creature from the Black Lagoon types, most notably Nina Mazursky of the New 52 Creature Commandos. Or, more accurately, the Agents of S.H.A.D.E., who are pretty much the same thing, but with a name that is slightly less cool.
Finally, we have an honest-to-God mermaid, Lori Lemaris, who was Superman's college girlfriend. Did you know Superman had a mermaid girlfriend in college? He did.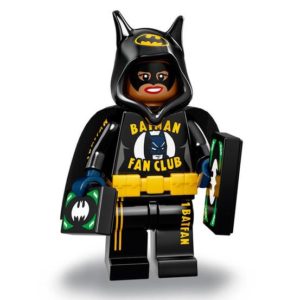 Source: minifiguredisplay.com
6. Soccer Mom Batgirl
Sports! And Batman! Historically, I've been a far bigger fan of the latter, but I do enjoy a baseball game every now and again.
Batman's sporting abilities are decently documented. While his gymnastics ability is unrivaled, Bruce Wayne is also a devotee of many of the classier pastimes, including fencing, some polo, and even a bit of racquetball. He's definitely a good tennis player and golfer.
In a number of media pieces, he's been seen shooting hoops on the Basketball court. I would love to get dunked on by The Batman. Dude would be like the Harlem Globetrotters. In addition, he's played an occasional game of baseball. In one of those games, he joined the Justice League against a team of super villains. Comics are weird.
Most recently, Batman/Flash: The Button, had Batman hanging out in the cave watching a hockey game. He was having fun.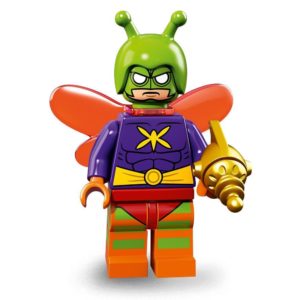 Source: brickipedia.com
7. Killer Moth
I dearly love Killer Moth, aka Cameron van Cleer, aka Charaxas, aka Drury Walker. That costume is perfection. It's so dumb and silly that it comes all the way around to being legendary.
I've run through the Killer Moth facts sooooo many times while working here that I've pretty much got it down to a science. A-hem. Batman villain, Batgirl villain, deal with the devil, giant demon mothman, dead, replaced, replaced again.
Honestly, turning into a giant demon moth was the worst thing that ever happened to him. It changed him from an incredibly silly, wonderful piece of comic book magic to just another grim and gritty antagonist from the 90s. It's weird to see how he's evolved from a villainous anti-Batman into a regular Bat-antagonist.
Then he latched onto Batgirl for a while, and then he made that whole Neron deal, and then he became incredibly boring.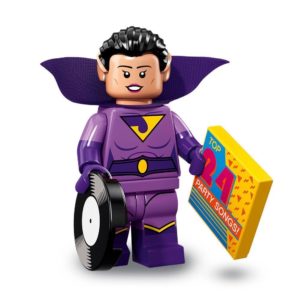 Source: brickipedia.com
8. Jayna
The Wonder Twins!!!!!
They're the hallmark of the Super Friends TV show, and for a good reason. Super Friends created a whole batch of brand new original characters to add to Superman, Batman, and Aquaman (who was just pleased to make the cut). It's so odd that the Wonder Twins became THE SYMBOL of the Super Friends when numerous characters were specifically developed as such (several appear on this or the following list).
But Zan and Jayna are some of the most cartoon-y characters in the series, so it makes sense that people remember them – and their pet super-monkey Gleek – over other Filmation additions. To my knowledge, Gleek wasn't a huge fan of the FOX drama Glee, so I'm not sure where the name comes from.
Originally from the planet Exxor, the twins have weird shape-changing powers. Jayna can turn into animals and Zan can change into"¦*squints*…types of water? Like ice or steam? Oooookay.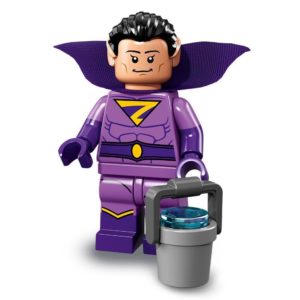 Source: brickipedia.com
9. Zan
BET YOU THOUGHT WE WERE DONE! We are not.
Because there are two Wonder Twins, we're gonna go through their history in non-Super Friends media. Because people love putting them in things. Dark and gritty versions of the characters appeared in the comics' Extreme Justice, but they'd be almost entirely forgotten.
On TV, they cameoed as statues in the DCAU Justice League cartoon. Later, alternate versions known as Downpour and Shifter fought Aquaman in JLU. And, like almost every other DC character who wasn't Batman or Wonder Woman, they were featured in a Smallville episode.
They also popped up in Teen Titans Go, which adults watching the Cartoon Network hate, but pretty much every kid I've ever met likes quite a lot. Make of that what you will. Also, they joined the rest of the Super Friends in cute  Lego Batman Movie cameos.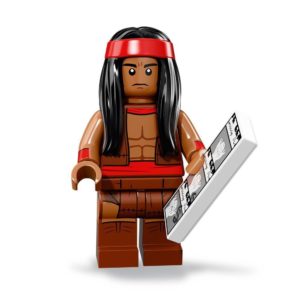 Source: brickipedia.com
10. Apache Chief
More f***ing Super Friends! I should have broken this up in some way. But we're hammering ahead with this thing, so here goes!!!
Apache Chief was one of the aforementioned added Super Friends superheroes. But I didn't know that this and other characters were actually added to bring greater racial diversity to the Justice League lineup, which is AWESOME! The Justice League was pretty uniformly white, so fixing that problem was a smart move.
That's true even though the additions weren't the most racially sensitive ones. I mean, we're talking about a Native American character called Apache Chief. Chief's super power is his ability to grow to a giant size, which he usually uses to fight Giganta. While he never made it into the comics, a character from the Joe Kelly JLA run (Manitou Raven) was a stated tribute to the character. In the previously mentioned Super Friends tribute JLU episode, Apache Chief, redubbed Long Shadow, was played by Gregg Rainwater, an actor of Osage and Cherokee descent.
After Rainwater reprised his role as Tye Longshadow in Young Justice, Chief retired for a while. He popped up again later in – you guessed it – The Lego Batman Movie.
Next week: Part 4!