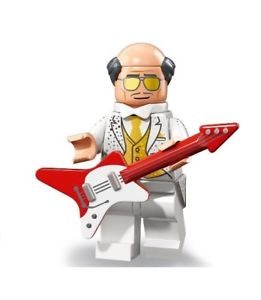 Source: ebay.com
2. Disco Alfred
…because we're going to talk about Batman's history in actual straight-up musicals!
The big one is Mayhem of the Music Meister!, an episode of the Batman: Brave and the Bold animated series featuring hypnotic music-based villain Music Meister, who almost succeeds in conquering the world. That is, until Batman and Black Canary stop him. Music Meister rules. Neil Patrick Harris plays the character, and he rules, too.
During the late 1990s and early 2000s, Warner Bros. came close to partnering with composer Jim Steinman on an official Batman musical. The project never happened, but you can find some of the songs online. They're weird. Not bad at all, but it's super odd hearing these earnest songs and imagining a dude in a batsuit singing them.
Finally, we have the 100 percent unofficial Holy Musical, [email protected] (sic), a funny Starkid stage musical based on various aspects of the Batman mythology. If you recognize the name Starkid, you're probably thinking of  their Very Potter Musicals, which are great fun. The actual production is deeply hilarious and super loving of the source material. If you liked Lego Batman, you'll probably love this. Keep in mind that it's for mature audiences, though.