Comic book movies. There are a lot of them. Some say there are too many. Some say there aren't enough. But I say let's look at – and review – every single one of them in alphabetical order to create a broader picture of comic book movie-dom in general. For this list, I used Wikipedia's list of comic book-based films, so if there are gaps, I'll fill them in at a later date. But for now, let's start off. This…um…this initial list isn't the best opening. But we'll dive in (Also, if you aren't reading the final scores in the same intonation Adam Sessler used on X-Play, you're doing it wrong).
SPOILER ALERT FOR ALL OF THESE.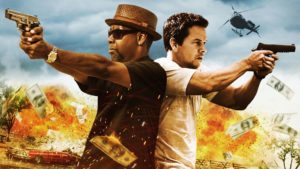 Source: theactionelite.com
1. 2 Guns
It's so weird that the first comic book movie on this list is this little-seen buddy action movie based on a Boom! Studios comic.
And it's…fine. A little less than good. Honestly, it's just kind of a nothing movie. But at the same time, it's weirdly complex.
Denzel Washington and Marky-Mark co-star as thieves who are trying to steal money from the mob, they think. But it's actually from the CIA. Oh, and Washington is secretly DEA, and Marky-Mark is secretly Navy? This movie is so complicated, and yet so dumb.
There's some snappy dialogue and fancy shooting? I think? I watched this whole movie from beginning to end immediately before I sat down to write this, and the details of it are already pouring out of my head like sand through an hourglass. Um. Let me think. I liked the beat in which Washington comforts the baby while wearing the Frankenstein mask. That was good.
How It Compares to the Comic: I dunno? Look, guys, I've read a lot of comic books. I've read hundreds, if not thousands, of comic books. But I haven't found the time to sit down and give 2 Guns a read. It might be great! Maybe the next one will be good?
But for this one, it's a…
…2 ½ out of 5