Comic books are kind of all about the status quo. Things may change, but they pretty much always change back. Even previously un-thought of revisions (bringing back Jason Todd or Bucky Barnes) have been put into action and carried through to completion in ways no one would have expected. Hell, we have the same main Green Lantern and Flash that we had in 1958! But when you're shaking stuff up, you sometimes have to do more than kill a character or bring one back.
You either die a hero or live long enough to become a villain, according to some movie or something (I don't remember, exactly), but that isn't really true for comic books. In comics, if you live long enough, you definitely will both die AND become a villain. To be honest, you may go through this multiple times. Some of these changes are permanent, but others only last through a single arc. And some were intended to be permanent, but – oopsie daisy – someone wanted their favorite childhood hero to stop ripping people's skulls off and go back to being a good guy. All in all, "heel-turns" – as the wrestling nerds call them – are surprisingly common in comic books, so and I thought I should talk about a few of the more interesting ones.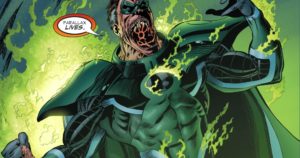 Source: blogspot.com
10. Green Lantern/Parallax
Green Lantern – DC Comics
Honestly, I don't think this one is that good, but it's probably the most famous of the hero-to-villain switches, so I had to include it.
This is really the best example of how hero-to-villain twists work. During the Death and Return of Superman, the evil Cyborg Superman teamed up with Mongul to annihilate Coast City and turn it into Engine City. They succeeded in killing everyone in the city and fracturing Hal Jordan's psyche. Hal tried to use his ring to bring it all back, but the Guardians of the Universe were like, "That's a terrifying use for your powers. Please stop doing that." And Hal was all like, "I am not going to stop doing that, and if you try to stop me, I will kill you."
So the Guardians decided to strip Hal of his ring by reason of insanity, and Hal decided to prove he wasn't insane by murdering pretty much all of the Green Lanterns and the Guardians. He dubbed himself Parallax and became a full-on supervillain.
Years later, the character underwent several rehabilitations. First, he sacrificed his life in Final Night to reignite the sun, which had been eaten. Next, during Day of Judgment, his ghost fused with the Spectre so he could atone for his crimes.
Finally, they just brought him back to life during Green Lantern Rebirth and decreed that all that evil stuff was the fault of a giant yellow space bug named Parallax who possessed Hal and did all the bad stuff.