Comic books are kind of all about the status quo. Things may change, but they pretty much always change back. Even previously un-thought of revisions (bringing back Jason Todd or Bucky Barnes) have been put into action and carried through to completion in ways no one would have expected. Hell, we have the same main Green Lantern and Flash that we had in 1958! But when you're shaking stuff up, you sometimes have to do more than kill a character or bring one back.
You either die a hero or live long enough to become a villain, according to some movie or something (I don't remember, exactly), but that isn't really true for comic books. In comics, if you live long enough, you definitely will both die AND become a villain. To be honest, you may go through this multiple times. Some of these changes are permanent, but others only last through a single arc. And some were intended to be permanent, but – oopsie daisy – someone wanted their favorite childhood hero to stop ripping people's skulls off and go back to being a good guy. All in all, "heel-turns" – as the wrestling nerds call them – are surprisingly common in comic books, so and I thought I should talk about a few of the more interesting ones.
                                     Source: blogspot.com
10. Green Lantern/Parallax
Green Lantern - DC Comics
Honestly, I don't think this one is that good, but it's probably the most famous of the hero-to-villain switches, so I had to include it.
This is really the best example of how hero-to-villain twists work. During the Death and Return of Superman, the evil Cyborg Superman teamed up with Mongul to annihilate Coast City and turn it into Engine City. They succeeded in killing everyone in the city and fracturing Hal Jordan's psyche. Hal tried to use his ring to bring it all back, but the Guardians of the Universe were like, "That's a terrifying use for your powers. Please stop doing that." And Hal was all like, "I am not going to stop doing that, and if you try to stop me, I will kill you."
So the Guardians decided to strip Hal of his ring by reason of insanity, and Hal decided to prove he wasn't insane by murdering pretty much all of the Green Lanterns and the Guardians. He dubbed himself Parallax and became a full-on supervillain.
Years later, the character underwent several rehabilitations. First, he sacrificed his life in Final Night to reignite the sun, which had been eaten. Next, during Day of Judgment, his ghost fused with the Spectre so he could atone for his crimes.
Finally, they just brought him back to life during Green Lantern Rebirth and decreed that all that evil stuff was the fault of a giant yellow space bug named Parallax who possessed Hal and did all the bad stuff.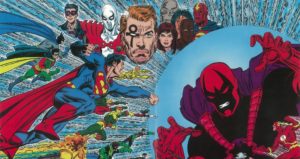 Source: insidepulse.com
9. Hawk/Extant
Hawk and Dove, Armageddon 2001, Zero Hour - DC Comics
Okay. This is going to be long and frustrating, so strap in.
Anyway, Hawk was Hank Hall, half of a superhero duo along with his brother Don Hall, aka Dove. When Don died, the Dove identity was passed on to Dawn Granger. And thus, Hawk and Dove were reborn.
In 1991, DC put out the big annual crossover event Armageddon 2001, in which a hero named Waverider went back in time ten years to stop the rise of a hero-turned-supervillain who betrayed everybody and took over the world.
That villain was Monarch, who was supposed to be"¦Captain Atom. Yup. However, this twist leaked to the press way early, and DC panicked. In an attempt to keep the story relevant, they changed the ending, and Monarch became Hawk in spite of all the clues that pointed to Captain Atom. And in spite of the fact that the story directly stated that Hawk wasn't Monarch. Oops.
In damage control mode, DC had the newly evil Hawk/Monarch fight Waverider. They absorbed his time powers, and he became Extant, the time rewriting supervillain. He then died in a plane crash, but one that is infinitely more complicated than you'd assume.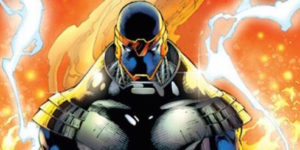 Source: comicbook.com
8. Captain Atom/Monarch
Captain Atom, Armageddon 2001 - DC Comics
Lol – do-over!
Remember all that annoying Armageddon 2001 BS I just went over? Yeah, so here we go.
It was very clear that DC intended Captain Atom to be Monarch, right down to his interactions with Waverider, which brought him into the present. Buuuuuut…as I mentioned, he was Hawk.
Not quite sure what to do, Captain Atom bounced around for a long time and wound up in the Wildstorm Universe. Because of his unique physiology, and although he tried to avoid it, he became a death-bringer for that dimension. He eventually found his way home, where he was imprisoned and tortured by the Atomic Knights. This drove him insane, and he was locked in a containment suit that turned out to be the Monarch suit. Full circle.
It only took fifteen years to get there.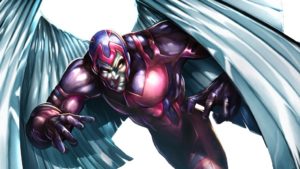 Source: nerdist.com
7. Angel/Archangel
X-Men, X-Factor - Marvel Comics
X-Men change sides like"¦well, like X-Men change costumes. But most of that is villains becoming heroes, not the other way around.
However, we do have the story of Angel. Original X-Man Warren Worthington, III stayed on with the team for some time. Then, after a brief stint with the Champions, he returned to New York to found X-Factor with his old X-teammates and his college roommate Cameron Hodge.
But Hodge secretly hated Warren and wanted him dead. So, when Harpoon heavily damaged Warren's wings during the Mutant Massacre, Hodge took his chance. He convinced the doctors to amputate Warren's wings, which eventually drove Warren to attempt suicide. Apocalypse saved him, gave him new metal wings, and set him up as his Horseman of Death. Warren fought the X-Men until they managed to break his conditioning and bring him back to their side.
And Hodge? He was decapitated"¦by metal wings.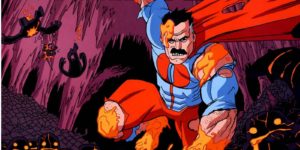 Source: ultimatecomiccon.com
6. Omni-Man
Invincible - Image Comics
There aren't many iconic non-Marvel/DC superheroes, but Invincible certainly qualifies.
The landmark series just recently wrapped up after close to a 200-issue run. But it all started with a simple concept: What if your dad were the greatest hero on Earth? And what if you began to inherit his powers?
Mark Grayson always looked up to his dad, but was his dad worthy? As it turned out, no. Nolan Grayson, aka Omni-Man, wasn't a champion of the downtrodden, a defender of the weak; he was a galactic conqueror prepping the Earth for conquest under the Viltrumite Empire.
He put his plan into action by massacring the Guardians of the Globe and asking Mark to join him as fellow conqueror of Earth. Mark freaked out and fought back. Omni-Man responded by beating his own son almost to death, fracturing his bones and atomizing his blood vessels. Yeesh.
Omni-Man would have a much longer and more fully developed character arc throughout the rest of the series, but that first set of arcs really made quite a first impression.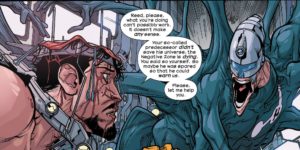 Source: cbr.com
5. Mr. Fantastic/The Maker
Ultimate Fantastic Four, Ultimate Comics: Doomsday Trilogy - Marvel Comics
The Ultimate Universe was kind of a neat experiment.
It set out to retell classic Marvel stories from a modern perspective. Spider-Man was pretty consistently awesome through the series, but others kind of floundered as they searched for direction. This included Ultimate Fantastic Four, who started off very strong, but then lost their way. So they threw a curve-ball.
In the Ultimate Comics: Doomsday Trilogy – individually titled Ultimate Enemy, Ultimate Mystery, and Ultimate Doom – several groups of Marvel heroes found themselves menaced by a mysterious threat. That threat turned out to originate with Ultimate Reed Richards, who had finally snapped and was making decisions "for the greater good". This devastated his relationship with Sue Storm, led her to get together with the Thing, and gave the ultimate universe a phenomenal big bad.
And then he crossed into the regular Marvel Universe"¦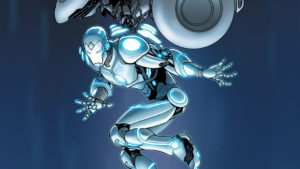 Source: news.marvel.com
4. Iron Man
Iron Man, Avengers: The Crossing, Superior Iron Man - Marvel Comics
Tony Stark, everyone's favorite Marvel hero, couldn't possibly turn super evil. I bet you think he didn't do it once. And you'd be right. He did it twice.
The first time came during Avengers: The Crossing, in which we learned that he'd been a mole for Kang literally the entire time he'd been in the Avengers. Yup, he was always evil.
Tony went nutter-butters when everyone found this out. He tried to kill all the Avengers, but failed. A teenage version of himself killed him and replaced him in the Avengers. Buuuuut, when the Avengers fought Onslaught, died, and were rebooted into the Heroes Reborn pocket continuity, this was all wiped away, and classic Tony Stark was back in action.
The second time took place during the Avengers/X-Men event Axis, in which most of the Marvel heroes and villains had their moral polarities switched, making good guys bad and bad guys good. Iron Man was stuck in bad mode even after everyone else reverted, and he continued to use his evil Symbiote armor and predatory iPhone app to menace San Francisco.
Superior Iron Man is a good comic. You should check it out.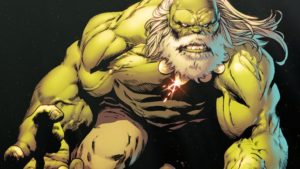 Source: hollywoodreporter.com
3. The Hulk/Maestro
The Incredible Hulk, Hulk: Future Imperfect - Marvel Comics
The Hulk is always fun. He's also kind of dumb. But what would happen if he were smart? And evil?
Well, you'd have the premise behind the classic Hulk story titled Future Imperfect, in which Hulk was flung into an alternate future during which Banner and the Hulk merged to become Maestro, the ultimate Hulk. Maestro eliminated all the other super people on Earth and took control of the planet.
The writers liked the character, even after Hulk defeated him, so he continued to show up. This happened largely in works by Maestro creator Peter David, including Captain Marvel, 2015's Secret Wars miniseries Future Imperfect, and the resurrection of Spider-Man 2099 from the 2010s.
Maestro was also spotlighted in the Marvel Now Contest of Champions series, which I really need to read because it's supposed to be awesome. But Maestro is a pretty solid heel turn for a hero who always took time to ride that line.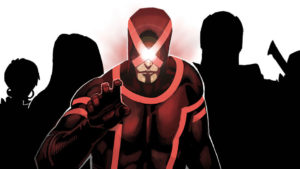 Source: marvel.com
2. Cyclops
X-Men - Marvel Comics
I'm deeply conflicted about Cyclops. On one hand, I've always found him to be annoying and kind of a jerk. On the other, the steadfast efforts by Jay and Miles as they worked to X-Plain the X-Men really brought me around.
But nothing could bring me around about his development post-Schism. Essentially, he and Wolverine had a philosophical difference of opinion over whether Mutant children should be used as soldiers in the war for Mutant rights, since they're children and all. Cyclops came down heavily on the side of We should keep throwing the bodies of Mutant children at problems until those problems solve themselves.
Cyclops later had a big ol' fight with the Avengers over whether a scared teenager could handle being possessed by a big fiery space bird. Instead, Cyclops was the one possessed by the space bird, and he murdered his mentor. Then a cloud killed Cyclops.
See what I mean? Conflicted.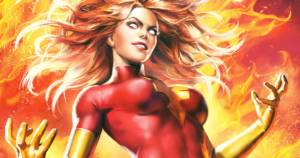 Source: boundingintocomics.com
1. Phoenix/Dark Phoenix
(Uncanny X-Men, The Dark Phoenix Saga, Marvel Comics
This one had to be here, but its circumstances are much weirder than they initially seemed to be. In the original comics, Jean Grey became the Phoenix when cosmic energy upgraded her powers. Some time later, she snapped as she dealt with the Hellfire Club (mostly due to some really gross moves on Mastermind's part) and became the Dark Phoenix. She ate a star, killed billions, and was sentenced to death.
The X-Men fought on Jean's behalf, but she eventually took her own life to avoid being out of control for the rest of her life. Buuuuuuuut none of that actually happened. You see, due to a massive retcon, it turned out that Phoenix was a completely separate being who posed as Jean. Phoenix turned evil and died, but Jean didn't. Instead, she spent a few years in a cocoon floating in a bay.
And there you go: a list of ten hero-to-villain transitions, all of which deserved a mention. Maybe I'll do the other half of the exchange next time.